Not so long ago, I had lunch with two of the City's brightest female stars: Helena Morrissey and Sian Westerman.
We met at Westerman's offices at Rothschilds, where she is a managing director. Morrissey runs Newton, the giant investment management firm.
Sian and Helena are both friends of mine. We still have a laugh about the occasion because we had to pre-order our main course and, when it came, I got the super-svelte Helena's piece of plain fish and she was given my beef with all the trimmings, and, being typically English and full of reserve, while we each thought it strange, neither of us pointed out the mistake.
There was a serious aspect, though. This was for them to do a pincer movement on me about the need to support the "30% Club". They're co-founders of the campaign, which aims to see 30 per cent of corporate directorships held by women.
Morrissey had the idea in November 2009, when she attended a lunch at Goldman Sachs as part of that bank's Diversity Week, where men and women from assorted organisations discussed improving gender balance among the higher echelons of business. As the discussion unfolded, it became clear to Morrissey that however hard any one company tried, there was little sign of a breakthrough and only 10 – 15 per cent of senior roles were being filled by women.
A few months later, Morrissey and Baroness Goudie, the women's rights campaigner, who had met at the Goldman gathering, decided to follow up on that discussion. They canvassed the opinions of 40 senior women and in March 2010, they decided to hold a further meeting of 10 women to agree a plan. Ahead of that session, Morrissey floated the notion of setting a numerical target, of 30 per cent. Why 30? "Research suggests that 30 per cent is the proportion when critical mass is reached – in a group setting, the voices of the minority group become heard in their own right, rather than simply representing the minority."
Where I differ from Morrissey and Westerman, and their fellow members – hence the invitation to lunch – is that their push is voluntary, and I believe strongly in the need for quotas.
They've had success. The proportion today of women on boards is 20 per cent, and only two companies in the FTSE100 now have all-male boards. Much of this is down to the 30% Club.
My problem, though, is that progress is slow. For every directorship that goes to a woman, there is just as likely to be one that was previously held by a woman but is now taken by a man.
The 30% strategy is one of stealth. "My approach is not to be angry or militant," said Morrissey in an interview in The Times. "We've seen more women getting on to boards when men said: 'This isn't a women's issue, it's a business issue.'"
To which my response is that unless women get angry or militant they will only advance so far. Indeed, it was only by being angry or militant that they secured the right to vote in the first place.
Chairmen will pay lip service to the demands of Morrissey and Co, they will smile sweetly, and who knows, they may even earmark a place or two on their board for women. But in the main, once women are out of earshot, they will revert to their traditional sexism.
How do I know this? Because, unlike Morrissey, I spend time in bars, football grounds, golf clubs, and other places where men gather. Indeed it would pay her and the other members of the club to cross-dress – then they would hear very different, private views being expressed.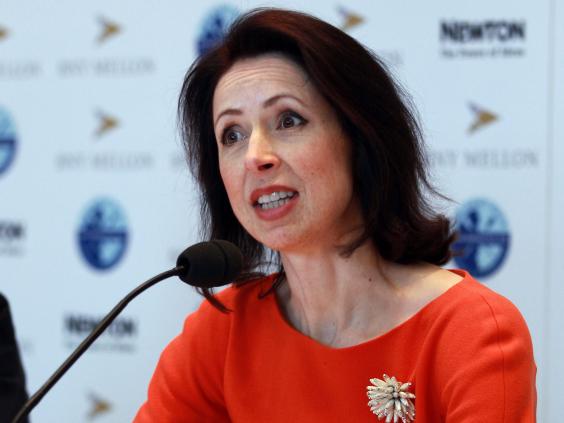 Morrissey does not believe me and that is her right. But I am only telling it as I find it.
I am not in favour of quotas per se. I regard them as abhorrent. But where women in the boardroom and at the top of business are concerned, they're unavoidable.
It would seem in this, I am not alone. Christine Lagarde no less, supports the need for quotas. When the head of the IMF is of this view, then surely the argument for them has formidable weight. At Davos last week, Lagarde was on a panel which said that quotas are required to remove the "tyranny of low expectations" for women. Making the numbers of women legally enforceable, they said, was "unfortunate but necessary."
Lagarde's experience is not dissimilar from mine. Like her, I once worked in a large commercial law firm. In her case, she says she was "strongly against" quotas until she joined Baker & McKenzie, which "completely changed" her view. "I grew up in a big international law firm that I love but the number of female partners was so low and had been so low for such a long time that I soon realised that unless we have at least targets, if not quotas, there was no way we were going to have a significant number of females in the partnership," she said.
Now, says Lagarde, she is, "pro-quotas, pro-targets. We should be made accountable in order to reach those targets."
Corporations and firms, all male-dominated of course, will give excuses why that can't and shouldn't happen. They will be denying good men a place at the top table; they simply don't have the female talent pool to fill the requisite number of senior positions; they resent yet more intervention and red tape.
Those reasons may gain sympathy with the 30% Club, especially if they're presented in a sincere manner. But Morrissey and her fellow members are fooling themselves if they don't believe sexism lies at the heart of it.
At my law firm, the male recruits were viewed immediately as future partnership material; the women not so. There was no doubt they had to work harder to prove themselves worthy. Either they were regarded as likely to be going to have time off for babies, or they were not going to have children – in which case, the male partners would harrumph there was something wrong with them. If that appears harsh, that's the way it was, and, judging from the conversations I have and overhear, the way it still is.
Even Davos itself, the supposed high temple of modern management, has a quota. Every major corporation is required to send one female delegate. How many of the representatives at this year's conference were women? Not the aimed for 25 per cent but a measly 16 per cent (actually down from 17 per cent last year).
In her interview, Morrissey added this sentence: "A lot of the chairmen who support this have told me they're doing it because they've got daughters." It was meant to back up her cause, but I would demur. To my mind, it shows that chairmen only become committed when they have to, that they don't really want to. What if they don't have daughters, what then? What about sisters? Haven't they got mothers?
If that's the sort of slow-burn that is being applied it will take forever to achieve equality. Let us not forget as well, that 30 per cent is only 30 per cent, less than a third. As Sheryl Sandberg, the chief operating officer of Facebook and another Davos panellist, said: In the last US election, women [represented] 20 per cent of the vote in the Senate and every headline in the US said, 'Women take over the Senate.' Twenty per cent representation of 50 per cent of the population is not a takeover, it's a problem."
Sorry Morrissey and Westerman, but you know where I stand. And now I'm with Lagarde and Davos: quotas are the only answer.
Reuse content