Scratch the skin, and the most ancient wounds may begin to fester.
Shortly before his by-election triumph, Ukip leader Nigel Farage said in an interview that a ban on the entry into Britain of people living with HIV would be "a good start" to immigration control. Others can and will dismantle the assumptions behind this policy.
Take note, though, that the Farage interdiction came at the end of a week of rising panic about another condition: Ebola. For an island nation, the atavistic terror of imported pestilence runs deep. Paradoxically, it also breaks through into public conversation at the slightest opportunity.
Into this ever-bubbling cauldron of fear and loathing goes a specific aversion to the migrant-borne plague. For long it has not only driven the merchants of dread into a fever but also haunted our collective dreams.
In 1897, just as alarm about waves of supposedly disease-ridden Jewish incomers from eastern Europe filled the populist press, Bram Stoker published Dracula. In the Irish writer's vampire classic, when the Russian ship Demeter is wrecked off Whitby, "an immense dog sprang up on deck from below… and running forward, jumped from the bow on the sand". In canine form, the bloodthirsty Count – that ultimate illegal migrant – bounds ashore in unsuspecting Yorkshire to poison the national bloodstream.
The current Ebola epidemic is too serious a subject for throwback fantasies. As I write, the outbreak has killed a reported 3,900 people in West Africa. With a mortality rate in excess of 50 per cent, it has more than doubled the global total of all Ebola cases. Its scientific prognosis should sober up any pundit in love with the imagery of medieval apocalypse. A month ago, a paper from three scientists at the University of Toronto plotted the potential epidemic curve and calculated that, without better prevention fast, "a peak in the epidemic would not occur until April 2015… with a final size greater than 140,000 cases". However, a big change in the "decay" parameter in their model – in other words, more effective prevention and control – would cut that shocking figure to about 10,000.
As David Miliband, the head of the International Rescue Committee, said this week in Freetown, Sierra Leone, "We're at an absolute tipping point" between limited and unconstrained catastrophe.
Precisely because swift action may still make such an overwhelming difference, we should mind our language – and watch our rhetoric. In the late 1980s, the UK government's initial Aids-prevention propaganda instructed us: "Don't die of ignorance." The campaign in some ways misfired – but the sentiment did take root. Gradually, stigma diminished, myths expired and the rate of infection slowed. Public education over HIV largely worked – if not for Nigel Farage. Today, perhaps, we need to rescue a slogan from the Second World War to quell help those seductive ancestral voices: "Careless talk costs lives."
See the Ebola outbreak mapped
See the Ebola outbreak mapped
1/7 25 March 2014

This outbreak of the Ebola virus first emerged in the Guéckédou region of Guinea, at a crossroads with both Liberia and Sierra Leone

2/7 31 March

On 31 March the WHO confirmed the outbreak was now international, spreading first into Liberia's northern-most Lofa region

3/7 27 May

The virus spread to Sierra Leone at the end of May - just as agencies were hoping the worst was over

4/7 27 July

In Sierra Leone the virus boomed, and then it spread to Nigeria when the Liberian diplomat Patrick Sawyer flew from Monrovia to Lagos

5/7 9 August

The Nigeria cases sparked fears around the world, and there have now been deaths in Spain and Saudi Arabia involving people who had travelled to West Africa. The numbers of cases continue to rise

6/7 17-20 September

In mid-September, Senegal confirmed its first case linked to the Ebola outbreak, a development the WHO described as a top priority emergency. Numbers of cases continued to grow exponentially in Guinea, Sierra Leone and Liberia, as experts warned they could number one million by January if not contained

7/7 8 October

Two cases of Ebola have now been reported in the US and Europe - the first times the virus has been contracted among health workers outside Africa
Easier said than done. Two millennia of population-scything epidemics seem to have hard-wired the language of pestilential blight, curse and even punishment into our culture. Just look at that last sentence. The scourging scythe and its grim reaper belong to the visual repertoire of the Middle Ages, as vivid in my (and your) mind as on the frescos of some Gothic crypt.
Plague scenarios, and plague stereotypes, always hover close to our fingertips. Reading an otherwise informative article about the risk from new "zoonotic" diseases (those, such as ebola, that jump from other animals to humans), I'm stopped short by this sentence: "Once these stowaway viruses get off the plane, they don't have to learn a new language or new local customs." Thus Faragism meets epidemiology. Centuries of superstitious terror weigh on our words, inflected in the case of Ebola by a specific horror of contagion "out of Africa".
These clusters of symbols can prove almost as hard to eradicate as the diseases themselves. Most people who grew up in post-war Britain will remember learning the rhyme that runs: "Ring-a-ring 'o roses, A pocketful of posies, A-tishoo, A-tishoo, we all fall down." You will almost certainly have been told that the words refer to symptoms of the plague. There is zero evidence for that. No one even made such a connection before the mid-20th century. Yet millions of children came to believe it. Perhaps the popularity of rhyme and myth alike served as a kind of cross-generational hangover from the most recent general pandemic to afflict the West: the so-called Spanish flu of 1918-1919, which killed up to 70 million people in the wake of the Great War.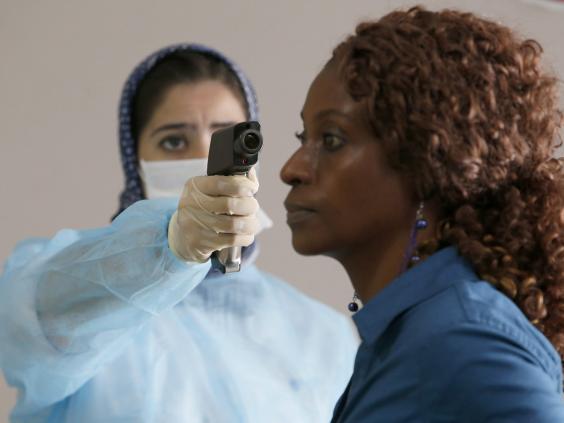 That war, with its mass transport of vast numbers of combatants and civilians, speeded transmission of the deadly virus. If epidemics trigger primitive fears, they also feed on modernisation. The image of the rat scuttling down the gangplank of a trading ship in dock does capture this causality. Commerce and contact have always amplified outbreaks, from the Antonine Plague of the AD160s across the networked Roman Empire to the rampant syphilis that – according to the "Columbian hypothesis" – arrived in Europe from the New World after 1492. The Black Death that shrank England's, and Europe's, population by more than a third after 1348 moved so fast, and cut so deep, because trade and travel had boomed around the continent.
Today, with Ebola, air travel may carry the pathogen – and also breed confusion, as witnessed in the Government's flip-flopping approach to screening at airports. This week's sudden reversal of policy, which now favours the interrogation of West African arrivals in spite of an incubation period for Ebola that may last 21 days, owes more to Dracula-at-Whitby fears than to solid proof. Already, innocents have begun to suffer – such as nine-year-old Kofi Mason-Sesay from Sierra Leone, excluded from a Stockport school after a worried parents' revolt.
During her first treatment for cancer, the American critic Susan Sontag wrote Illness as Metaphor: a landmark warning against the temptation to give dumb germs an emotional life of their own, still less to enthrone microbes as agents of judgement and retribution. As Sontag wrote: "Any disease that is treated as a mystery and acutely enough feared will be felt to be morally, if not literally, contagious… Contact with someone afflicted with a disease regarded as a mysterious malevolency inevitably feels like a trespass; worse, like the violation of a taboo." She traced the twisted logic of stigma and silence through tuberculosis in the 19th century to cancer in the 20th. A decade later, she sadly had to update – though not revise – her analysis in Aids and Its Metaphors.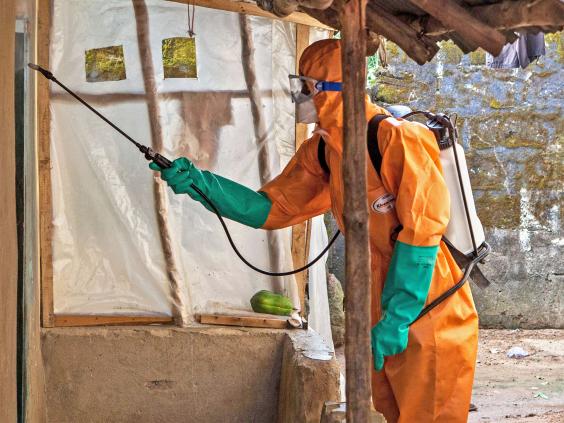 Sontag's thesis remains as liberating, as necessary, as ever. Its insights ought to strengthen a rational response to Ebola. Yet knee-jerk metaphors may already have obstructed resistance to the crisis, with racist assumptions about West Africa as a sump of species-hopping contagion. World Bank president Jim Yong Kim has complained that Western support for the afflicted nations has been too little, too late. Meanwhile, the Toronto researchers found that, in Liberia at least, they could observe the "uninterrupted exponential growth of an epidemic" without hindrance for many weeks – this in late 2014. If people in West Africa die of ignorance, perhaps they die of prejudice as well.
Even before modern medicine, knowledge gleaned through observation and deduction could mitigate those deadly metaphors of doom. England's most celebrated "plague village" is Eyam in Derbyshire. There, in 1665 and 1666, a collective decision to impose a voluntary quarantine after the disease had arrived in a flea-ridden bale of cloth meant that the people sacrificed themselves (260 out of 350 inhabitants, by early estimates) to save their neighbours. Without any awareness of viral or bacterial transmission, they grasped the prophylactic logic of isolation, hygiene and "lockdown".
At the same period, Samuel Pepys's diary entries about the Great Plague that killed perhaps 100,000 in London show a curious combination of scientific scrutiny, human sympathy and pleasure-seeking insouciance. It begins for Pepys on 7 June 1665, when, "I did in Drury Lane see two or three houses marked with a red cross upon the doors, and 'Lord have mercy upon us' writ there": his first glimpse of the sickness. Seven months follow in which anxious laments for the loss of friends ("Poor Will that used to sell us ale at the Hall door – his wife and three children dead, all I think in a day") alternate with close study of the "Bills of Mortality" and the statistical story they can tell. On 30 November, with the total falling fast, "great joy we have… in the weekly Bill". By New Year's Eve, "the town fills apace, and shops begin to open again".
Almost 350 years ago, Pepys – a pioneer of the Royal Society, after all – reacted to mass death on his doorstep with sorrow, inquiry, precaution (he moved across the river to Woolwich) but no superstition or panic. Pepys, who through his navy job had a stake in border security, might not have been impressed by a government that mandates tough-looking disease-detection gestures at airports without explaining, even to staff, how they will work.
We have, as in every epidemic, a long heritage of hysteria to overcome. But we can also draw on a patrimony of evolving reason. Just now, we need more Pepys, less Dracula.
Reuse content