Another person is lost to the Royal Bengal tigers of the Sundarbans mangrove forests, straddling India and Bangladesh, almost every month. It is the only region in the world where humans are routinely killed by wild cats.
"Two more men were killed last month – one on the 11th of July and the other on the 26th. In both cases, they went very close to the jungle to fish and a tiger attacked and killed them," says Anil Mistry, 48, a resident of the village of Bali, in the Indian portion of the Sundarbans. "It's not uncommon for people to be killed on the river but more often it happens when they venture deep into the forest to collect firewood, crabs or honey."
Joseph Vattakaven, of WWF-India, says: "The Sundarbans is a unique habitat that's very harsh for tigers and people. These conditions leave the tigers very little prey – mainly spotted deer and wild boar – and more than anywhere else in the world they prey on human beings."
Nobody knows how many people have died in the hundreds of villages that lie scattered across the Sundarbans, a maze of swamp, islands and mangrove forests described by Amitav Ghosh, in his novel The Hungry Tide, as "the trailing threads of India's fabric, the ragged fringe of her sari".
Official estimates are sketchy and are generally thought to greatly underestimate the reality because so many of those killed simply go missing. Often the victims are there illegally and relatives fear a fine or the loss of their fishing permit.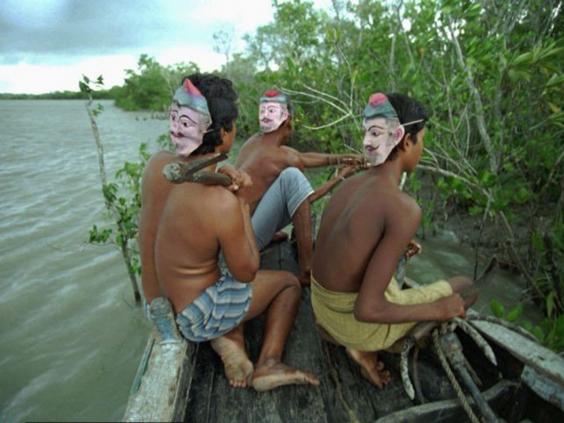 In recent years, tigers and humans have been increasingly thrown together, as climate change combines with years of forest subsistence to put resources under increasing pressure. Fish catches are declining, rivers are silting up, cyclones are becoming more frequent and intense, while rising sea levels result in less fresh water, more floods and faster rates of erosion.
There is a theory that the tigers of the Sundarbans are more aggressive than elsewhere because the water in this coastal area is more salty, putting them in a state of discomfort – but most experts believe this to be a myth.
Meanwhile, dwindling resources are forcing communities to go deeper into the "core" of the forests to collect honey, fish, shrimps, crabs and wood for their boats and homes. This makes them more vulnerable to tiger attacks, while the tigers are forced to come out of the forest because they are finding less prey.
Belinda Wright, a tiger conservationist and founder of the Wildlife Protection Society of India, who also lives in Bali village, says: "You can't walk through the forest. You have to crawl – human beings become four-legged animals and so the tigers treat you like one of their prey. Over the years people have become completely dependent on the mangrove. This is one of the most impoverished areas in India; there are no roads, no electricity, and only minimal health care facilities."
The tigers have become conditioned to eat humans, Mr Vattakaven says, and because they are so deep in the forest no one can see them and the tides take away the remains.
"The tigers have had a massive impact on villagers' lives. Just to know that after darkness you could get killed – that changes the mindscape," he adds. "It's always there in the background. Whenever someone goes to fish or collect honey they stage an elaborate farewell because it might be their last trip. People pray for their safety.
"Everyone knows someone who has been killed by a tiger – every village has lost at least one person. And on top of the deaths there are many that have been marked, bitten, scratched – it is common for people to show their wounds."
Despite the trauma inflicted on the victims and their families, many insist that they do not hate the animals. Instead, they are seen as the forest's protector, especially against the threat of logging.
In Pictures: Save the Tiger
In Pictures: Save the Tiger
1/9 Save the Tiger

Evgeny Lebedev, second left, with rangers from the regional government's anti-poaching initiative

2/9 Save the Tiger

A Siberian tiger stands on a hill in the Hengdaohezi Breeding Center for Felidae in Harbin of Heilongjiang Province, China. The center, established in 1986, is the world's biggest captive breeding base for Siberian tigers and more than 800 Siberian tigers have been raised here

Getty

3/9 Save the Tiger

A Siberian tiger (Panthera tigris altaica) cools itself down in a pool in Rio de Janeiro

AFP/Getty

4/9 Save the Tiger

One of two Siberian tigers, delivered by Russia in a swap deal in which Moscow has procured two Persian leopards, is pictured in Tehran's Eram Zoo

AFP/Getty

5/9 Save the Tiger

Tiger skin seized from a smuggler by customs officers in Lhasa, Tibet

GETTY

6/9 Save the Tiger

Javan tigers were slightly smaller than their mainland cousins but were renowned for their especially long whiskers (The Image Bank / Getty)

The Image Bank/Getty

7/9 Save the Tiger

A tiger at India's Ranthambore National Park where four new sanctuaries and a 'tiger corridor' have been approved to stem the animal's decline

Aditya Singh/AFP/Getty Images

8/9 Save the Tiger

A Bengal tiger track in Royal Bardia National Park, Nepal

WWF

9/9 Save the Tiger

A Bengal tiger captured by a camera trap in Nepal

WWF
Ms Wright has also noticed a tendency among villagers to appreciate the tiger's place in the larger scheme of things. She remembers meeting the father of Rupali Bowlia, a 14-year-old schoolgirl who was attacked and killed by a tiger in 2004 as she sat behind her family's mud house doing her homework.
"A couple of years later I was astonished to see her father, Bimal Bowlia, attending one of our gatherings to celebrate wildlife week. He told me: 'We need to understand and respect what's out there – the sky, the jungle, and even [the tiger] – if we are to prosper and be safe," she says.
There is a strong sense among those in the Sundarbans that the death-toll has fallen significantly this decade, at least in the Indian quarter. Mr Vattakaven puts this down to an ongoing project to build nylon fences around the forest to contain the tigers, and tightening restrictions on people going deep into the forest.
Other measures have been tried with less success, he says, including electrified "human" dummies on boats. The idea was that the tiger would attack, get an electric shock and associate that feeling with humans, making them less likely to strike again.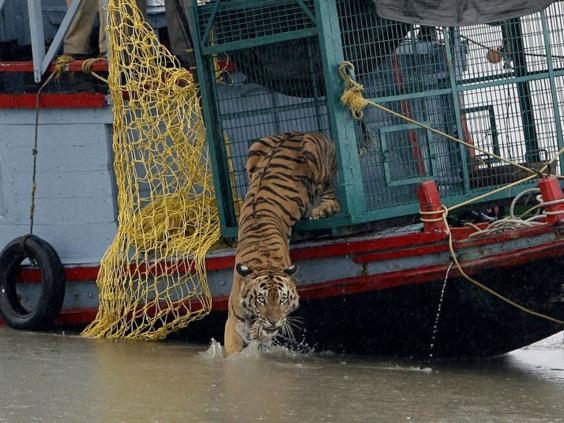 "I'm not sure that one worked," says Mr Vattakaven. "But the nylon fences and increased restrictions on entering the forest are helping bring down numbers. The fence is primarily meant to keep tigers in the forest but it also acts as a physical and psychological barrier to people going in."
But there is still much more to be done. Only a few villages have streetlights – a significant deterrent for tigers who much prefer the dark – and more fences need to be built. There also needs to be more enforcement of laws preventing people going into the forest core and an increase in people patrolling the perimeter, adds Mr Vattakaven.
Most difficult of all, people need to be made less dependent on the forest. New jobs need to be created, for example by developing tourism in the area, he says. But he insists that for most, moving away from the Sundarbans isn't an option.
"When you've been born with the idea that tigers are there you get used to a certain life. People love the place. It's a unique habitat and rich in culture. People are very passionate about the area so they wouldn't move unless they had to," he says.
How to help:
Text: TIGER 70060 to make a £3 donation
Telephone: 0844 7360036
To adopt a tiger: bit.ly/WWFAdopt
To donate to WWF Russia: wwf.org.uk/protecttigers
This is a charity donation service.  Texts cost £3 plus one message at  your standard network rate (age 16+; UK mobiles only). The WWF will receive 100 per cent of your £3  gift. The WWF may contact you  again in future. If you would prefer  it not to call, please text NOCALL WWF to 70060. If you would  prefer not to receive SMS  messages from the WWF, please  text NOSMS WWF to 70060. If  you wish to discuss a mobile  payment call 0203 282 7863.  Except for the Adopt a Tiger programme, donations made  through the provided links and telephone number will go towards  the WWF's tiger projects in the Russian far east.  For more details, visit  wwf.org.uk/tigerterms. WWF UK, charity registered in England, number 1081247, and in Scotland, number SC039593.