The opening lines of William Blake's famous poem have long evoked the enigmatic beauty of tigers in the wild. At the time Blake wrote his poem in the mid-19th century, there were probably more than 100,000 tigers in the wild.
These days, for the tourists drawn to India, Nepal and other "tiger range states" in the hope of glimpsing a wild tiger, they burn less brightly – their numbers estimated at as few as 3,200 following a 95 per cent decline in the past century alone.
Mirrored by a 95 per cent shrinking and fragmentation of the tiger's range area over the past 150 years, this dramatic fall in wild tiger numbers has accelerated in recent decades because of poaching for tiger parts – their skins for their distinctive beauty and their bones and other parts for use in traditional Asian medicines.
More recently, increased pressure in the context of the rapidly expanding wealth in South-east Asia, the presentation and even consumption of tiger parts has become a fashionable status symbol.
Despite the trade in tigers and their parts being illegal since 1975, recent analysis has found that tiger seizures by law enforcement officers between 2000 and 2014 represented at least 1,590 tigers killed for their parts, suggesting an average of more than two tigers killed per week.
I recall the sad experience of seeing tiger skins and other parts which had been recovered from poachers, in my first visit to see our work overseas after I joined WWF.
From the perspective of a conservation organisation such as WWF, tigers are a crucial species for the integrity of the ecosystems in which they live. As top predators, tigers keep populations of prey species in check – which in turn maintains the balance between herbivores and the vegetation upon which they feed, and so on.
In Pictures: Save the Tiger
In Pictures: Save the Tiger
1/9 Save the Tiger

Evgeny Lebedev, second left, with rangers from the regional government's anti-poaching initiative

2/9 Save the Tiger

A Siberian tiger stands on a hill in the Hengdaohezi Breeding Center for Felidae in Harbin of Heilongjiang Province, China. The center, established in 1986, is the world's biggest captive breeding base for Siberian tigers and more than 800 Siberian tigers have been raised here

Getty

3/9 Save the Tiger

A Siberian tiger (Panthera tigris altaica) cools itself down in a pool in Rio de Janeiro

AFP/Getty

4/9 Save the Tiger

One of two Siberian tigers, delivered by Russia in a swap deal in which Moscow has procured two Persian leopards, is pictured in Tehran's Eram Zoo

AFP/Getty

5/9 Save the Tiger

Tiger skin seized from a smuggler by customs officers in Lhasa, Tibet

GETTY

6/9 Save the Tiger

Javan tigers were slightly smaller than their mainland cousins but were renowned for their especially long whiskers (The Image Bank / Getty)

The Image Bank/Getty

7/9 Save the Tiger

A tiger at India's Ranthambore National Park where four new sanctuaries and a 'tiger corridor' have been approved to stem the animal's decline

Aditya Singh/AFP/Getty Images

8/9 Save the Tiger

A Bengal tiger track in Royal Bardia National Park, Nepal

WWF

9/9 Save the Tiger

A Bengal tiger captured by a camera trap in Nepal

WWF
This results in a balanced yet dynamic ecosystem which in turn provides a healthy environment and important financial, cultural and spiritual benefits for local communities. The wild tiger population can therefore be used as a barometer for the health of the whole ecosystem. But, for so many of us – and for centuries judging by Blake's poem, as well as the way in which they are revered in many countries where they are found – the tiger is iconic and to be valued for its inherent beauty and majesty. 
The lion may be the king of the jungle but the tiger, the largest of the big cats, holds a special place in our affections, as evidenced by the tiger being one of the most popular of WWF-UK's "adoptions".
As part of our tiger conservation work, WWF has identified 12 "priority landscapes' as a focus for projects on the ground. These are landscapes where we know there's a great opportunity for wild tigers to recover given the right support – support such as boosting anti-poaching operations and increasing populations of tiger prey.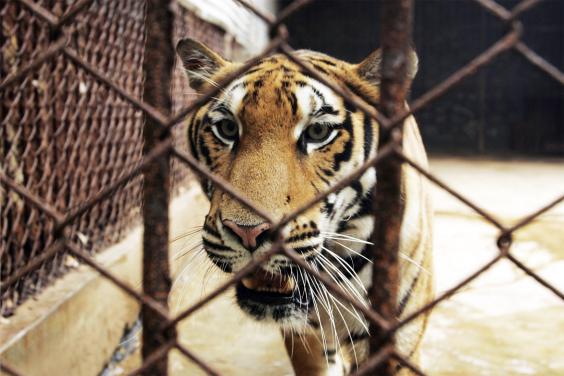 WWF is working with the governments of countries in which wild tigers are still found – from India and Nepal through to China and the Russian far-east, and south to Indonesia and Malaysia – to ensure that tigers remain a top conservation priority for them.
When the 13 tiger range states met in 2010 – the most recent Chinese year of the tiger – at the global "Tiger Summit" in St Petersburg, wild tiger numbers were at a critically low level. 
At that meeting, attending governments committed to the most ambitious and visionary species conservation goal ever set – to double tiger numbers before the next Chinese year of the tiger, in 2022. The programme, labelled "Tigers Times Two", or TX2, is the first time that governments have committed to this kind of target for a wild animal species, and has propelled tiger conservation efforts to a new level.
WWF was a driving force behind the 2010 St Petersburg Tiger Summit and remains a major force behind TX2.  WWF's contribution in support of the TX2 project has been the "Tigers Alive Initiative", helping tigers to recover in our priority landscapes and beyond.
Tigers in the wild need large areas over which to roam as they can travel more than 100km to establish their territories – that's the same as walking from London to Portsmouth! 
For this reason, WWF's Tigers Alive Initiative works with governments local communities and other organisations to help protect tiger habitats and create "wildlife corridors" connecting those habitats – in some cases, across international borders.
With tiger habitat being lost at an alarming rate, and the surge in poaching over recent years, the future of tigers in the wild remains precarious. 
But given protection, space to roam and sufficient prey, tiger numbers can claw their way back from the brink – we are already beginning to see that happen in some places. 
We're determined to make sure these magnificent, much-loved creatures survive, and thrive. With the support of people from all around the world, we can help tigers burn brightly once more.
For more information about WWF's work to help protect tigers, visit: wwf.org.uk/tigers
David Nussbaum is the CEO of WWF-UK
How to help:
Text: TIGER 70060 to make a £3 donation
Telephone: 0844 7360036
To adopt a tiger: bit.ly/WWFAdopt
To donate to WWF Russia: wwf.org.uk/protecttigers
This is a charity donation service.  Texts cost £3 plus one message at  your standard network rate (age 16+; UK mobiles only). The WWF will receive 100 per cent of your £3  gift. The WWF may contact you  again in future. If you would prefer  it not to call, please text NOCALL WWF to 70060. If you would  prefer not to receive SMS  messages from the WWF, please  text NOSMS WWF to 70060. If  you wish to discuss a mobile  payment call 0203 282 7863.  Except for the Adopt a Tiger programme, donations made  through the provided links and telephone number will go towards  the WWF's tiger projects in the Russian far east.  For more details, visit  wwf.org.uk/tigerterms. WWF UK, charity registered in England, number 1081247, and in Scotland, number SC039593.
Tomorrow: The hunters protect the hunted