It took a picture to change a "migrant crisis" into a "refugee crisis". And so, the publication of powerful and distressing images from a beach in Turkey has forced a shift in the climate of public opinion; made the media think again about calling them "cockroaches" and the like; and, as a direct result, pushed politicians across Europe into at least talking about the issue.
For the refugees will continue to flow and they will continue to find routes through the walls Europe is trying to build. Unless we want to replicate the Iron Curtain – in any case an impractical proposition on the southern coastal frontier of the EU – breeze blocks and razor wire will not solve anything for the long run. This is the largest movement of people in Europe since the end of the Second World War, and the EU's leaders have failed to get the measure of the challenge.
The Prime Minister, too, has reacted to the images, but sadly inadequately. As a parent himself he was moved by the images that went viral, he said, and the stories that lie behind them. He rightly reiterated that "Britain is a moral nation and we will fulfil our moral responsibilities". He is also right to say that the crises in Iraq, Syria, Afghanistan and elsewhere have to be resolved if this tide of humanity is to be stemmed.
And yet there followed no concrete commitment to assist a single refugee in anything the Prime Minister said. It is an astonishingly weak response, shamefully so, and one that suggests Britain is in fact not ready to shoulder its moral responsibilities. Not a single man, woman or child will be offered safety. More will drown.
When the Prime Minister declares that "there isn't a solution to this problem that is simply about taking people" he is wrong. Of course the answer to the problem of refugees is to take them in; what else is there to do? Leave them to fester on the beach, in grim camps, outside a railway station in Budapest?
It is a moral imperative to act. For a man who used to style himself a "compassionate Conservative" he has displayed terrible weakness. His actions now will mark or mar his premiership, and the signs are that he will leave office with Britain a morally diminished nation. The SNP leader, Nicola Sturgeon, said "that wee boy has touched our hearts". Not, it would appear, at the top of the Tory party.
"Refugees welcome" is the name of our campaign, and it should be the message Europe sends to all those escaping war, rape, and torture. Some nations in the EU have displayed moral leadership – Germany and Sweden in particular. This has bred resentment in those nations about other EU partners, notably Britain, that have proved less welcoming. It has also created ill-feeling towards Germany from those states who think Europe should do less, apparently including Hungary, or at least its government.
The leadership of the Czech Republic, where police have marked identity numbers on the arms of refugees, and Slovakia, which proposed a bar on Muslims entering the country, certainly need to reset their moral compasses too. Meanwhile, Italy and Greece continue to be overwhelmed, with pitiful support from their northern neighbours. 
This, then, was the challenge for Britain – to take a lead and demonstrate that here is a safe haven. David Cameron seems afraid to face down the more flinty critics in his own party, but the change in public opinion in recent days should have helped him do that.
He has, inevitably, changed the tone of the language he uses, but not the substance of policy. It has not been his finest hour.
This newspaper has started a campaign for the UK to welcome a fair share of refugees.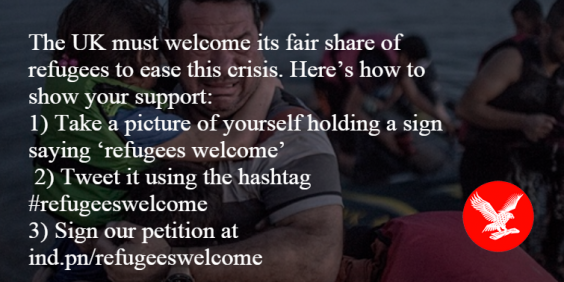 Click here to sign The Independent's petition
Reuse content