Right on cue, on the Lebanese border on 1 December, dressed in black ski masks and waving the al-Qaeda Jabhat al-Nusra flag, came "moderates" to hand over 16 captured Lebanese soldiers and policemen in return for 13 of their own – including the ex-wife of the Isis leader, Abu Bakr al-Baghdadi.  
All eyes, of course, were on Saja, the young woman from the Iraqi Dulaimi tribe, whose brother is the bodyguard of the "caliph" of the so-called Islamic State, but whose marriage apparently lasted only two months. One of the three sons she shepherded to freedom with her is Baghdadi's child.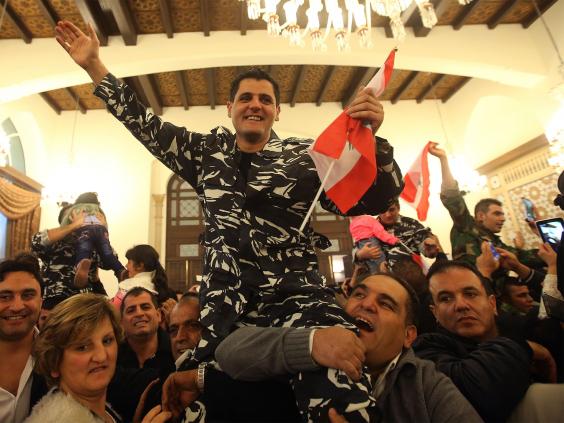 But the real story lay behind the prisoner exchange – and Nusra's claim to be a moderate force in Syria. For it was Qatar, a source of financial support to Nusra, which negotiated the swap, along with General Abbas Ibrahim, the head of Lebanon's General Security and the most powerful man in Lebanon. The general has been travelling to Doha on the Emir of Qatar's private jet for months to seek the lives of his soldiers and policemen who were seized in the border town of Arsal in August of last year. Four were executed in captivity by Nusra; a soldier's body was also released by the group on 1 December. 
But for many months, Qatar – whose funds have armed the al-Qaeda Nusra – has been trying to portray its Islamists as "moderate" fighters who can play a role in a future Syria. Earlier this year, Qatar's Al Jazeera Arabic television chain aired an interview with the Nusra leader – nom de guerre, Abu Mohammad al-Golani – in northern Syria, in which he claimed – not very convincingly – to have fought Isis in pitched battles after 700 of his men were killed by the caliphate's fighters. He assured Syrian Christians that they would be safe if they converted "to the bosom of Islam". Last year, Qatar also negotiated the release of 13 Christian nuns from Nusra captivity in the Syrian village of Yabroud, reportedly spending $12m (£8m). 
Five things we know about Abu Bakr al-Baghdadi
Five things we know about Abu Bakr al-Baghdadi
1/5 What he looks like

Aside from footage of the Isis leader giving a speech in Mosul, Iraq, upon the declaration of Isis's so-called "caliphate" last year, there are only two confirmed photos of al-Baghdadi in existence

2/5 How old he is

US records on al-Baghdadi exist from the time when he was held at Camp Bucca, the main American-run prison in Iraq after Abu Ghraib was embroiled in a torture scandal. They say he was born in Samarra in 1971, making him around 44 years old

3/5 He's an educated man

Al-Baghdadi is believed to hold an undergraduate degree, masters and PhD from the Islamic University in Baghdad

4/5 There's a bounty on his head

The Isis leader is listed as a terrorist by the FBI and since 2011 there has been a $10 million reward posted for information which could lead to his capture

5/5 He was a polite, football-loving student

When he was younger, al-Baghdadi was a keen footballer with his local mosque's team. Former friends described him as their best player, one calling him the "Messi of the team". He married around the year 2000 after completing his PHD, and lived the quiet life of a family man until the 2003 invasion
Could it be, therefore, that the British Prime Minister was including the al-Qaeda lads in Nusra – sectarian killers and head-choppers though they are – as part of his army of 70,000 armed "moderates" in Syria?  
If he was – given the millions spent on the nuns' release – Nusra men are likely to prove very expensive "ground troops" for the RAF and its two Tornados if (or when) they bomb Syria. General Ibrahim was also involved in the exchange of the nuns and is now ready to negotiate with Isis itself for the remaining soldiers in captivity.
Just why the Isis caliph's former wife should be included in the prisoner exchange – she was grabbed by security men on the Lebanese border at Masnaa 15 months ago – is still unclear, although her new husband, by whom she has apparently had two children, may be associated with Nusra. Her sister worked with al-Qaeda in Iraq and her father, an Isis founder, was killed by the Syrians two years ago. She could be seen, grey veiled and holding the hand of one of her children, climbing into a Lebanese Red Cross vehicle for the journey to join Nusra forces in Syria.
But Qatar's role in all this is crucial, and British MPs taking part in today's Commons debate may want to question David Cameron about the UK's lucrative relationship with an emirate from where funds travel to Nusra. Qatar also owns the al-Udeid air base from which the RAF bombs Isis in Iraq. The emir, Sheikh Tamim bin Hamad al-Thani, is a Sandhurst graduate. 
Trade and investment between Qatar and the UK stand at £5bn a year; and Qatar has invested in Heathrow airport, Barclays Bank, Harrods and Canary Wharf. 
A "moderate" shareholding in Britain, no doubt.
Reuse content