Who else could round up four US presidents to wish him goodbye? Another world statesman perhaps, for his own funeral, or some secular or sporting saint. Or David Letterman taking final leave of The Late Show.
On Wednesday night, the grand old man of late night TV brought down the curtain on a 33-year career in that peculiarly American genre; more than 6,000 hour-long shows that from the outset in the early-1980s featured the classic Letterman mix of monologue, celebrities, goofy stunts and a daily "Top Ten" list, leavened by self-deprecation and withering sarcasm when the occasion merited it.
And this time, by presidents too.
First up was the immortal image of Gerald Ford after Watergate, re-assuring Americans that "our long national nightmare is over". Then came clips of Bushes 41 and 43 and Bill Clinton repeating the line, and finally Barack Obama with a straight-faced postscript: "Dave Letterman is retiring."
Mr Letterman ended the "nightmare" his way. There was none of the mawkishness and sentimentality of the final show, back in 1992, of his mentor Johnny Carson, whose Tonight Show turned late night into an American institution. Proceedings were sharp and fun, spiced up with a Letterman one-liner if things threatened to get too treacly. The man himself was plainly enjoying himself hugely.
The formula too held to the end. First the monologue, with jokes about his stepping down. "It's beginning to look like I'm not going to get the Tonight Show," he said – a reference to how NBC surprisingly named Jay Leno as Carson's successor, even though Carson had plainly wanted Mr Letterman, who had hosted The Late Show that ran immediately after his own, as his heir.
Then came the celebrities, this time taking turns in his final Top Ten list of "Things I've always wanted to say to Dave". "Thanks," said Tina Fey (she of the Sarah Palin impersonation) "for finally proving men can be funny."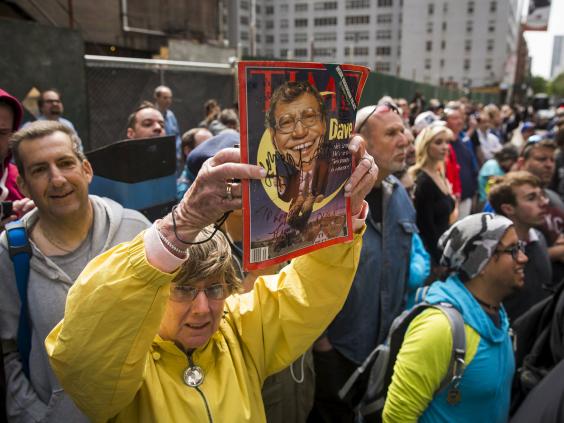 But in the case of Dave Letterman, that last has never been seriously disputed. Stung by his Tonight Show rejection, Mr Letterman decamped to CBS where he debuted in August 1993. Since then the plaudits have been unceasing. The show has been rated the 7th best-ever on US television; its host is listed by the magazine TV Guide among the country's greatest-ever TV stars.
Outwardly, the accolades have not gone to his head. The alliterative duet of Leno and Letterman stood at opposite ends of the late-night spectrum. The former, like Mr Carson, was essentially laid-back Hollywood, broadcasting from Los Angeles. Mr Letterman, by contrast, though of native Mid-western stock, came across as New York through and through.
The Late Show was taped five days a week in the heart of Manhattan at the Ed Sullivan Theatre, once home to that giant of the TV variety show. Mr Letterman might be gap-toothed and zany, a wry connoisseur of the frequent absurdity of the human condition. But he could also be as in-you-face as his adopted city. He bled for it too. For many, his finest hour remains his off-the-cuff monologue when The Late Show returned to the air, a week after the 9/11 attacks.
For once the overworked phrase "end of an era" is apposite. If Mr Carson represented the first generation of late night, the Leno/Letterman duet was the second. Jay Leno won the ratings battle, while Mr Letterman was the critics' favourite. Mr Leno hung up his gloves in February 2014. Now his frère ennemi is gone too.
Late night TV will survive, indeed the number of such shows is, if anything, increasing. For programmers, talk is cheap – and what else guarantees the networks so constant a flow of celebrities?
But late night's nature is changing. The line between comedy and news is increasingly blurred, in part thanks to Messrs Leno and Letterman. The most obvious example is The Daily Show of Jon Stewart (who in August is also stepping down). By no coincidence, Mr Letterman's successor Stephen Colbert, who takes over in September, cut his teeth on The Daily Show.
Nothing, however, will quite replace the Letterman style. "We've done over 6,000 shows... and I can tell you a pretty high percentage of those shows just absolutely sucked," he told the audience on Wednesday. "And in light of all of this praise, merited or not, do me a favour: Save a little for my funeral."
Reuse content