Nicki Minaj finding herself under fire for 'dragging' Melania Trump during the TIDAL X 1015 show is a fabulous example of how modern feminism adores to self-police itself into a soggy impotent corner. "Dragging", incidentally, for those in the parish whom's last ditch at modern parlance was beaming "totally bodcacious, dude", means "criticising".  "You better pray to God you don't get stuck with a motherfucking Melania," Minaj shouted.
But women dragging other women is wrong, ok? Women should never criticize other women. Minaj should not, it is believed, pass judgement on the eery cyborg Basic Pleasure Model Melania Trump. No criticism should be made of fragrant Melania, lurking behind her obnoxious handsy husband, wagering support in return for a shot at First Lady. Melania, whom Donald claimed in a 2005 interview, hid all evidence of moving her bowels. He found that impressive. Melania, whom when asked to give the most important speech of her life, was thought so very little of by her husband that she was merely slung someone else's old speech with a hasty cut n'replace on important nouns. Melania, Trump's only remaining handle on looking semi-human. See, he doesn't sleep alone?
Or as Minaj pointed out about this type of trophy wife: "You want brainless b*tches to stroke your motherf**king ego?" Melania, according to Minaj, is a vastly different type of woman to Hillary or Michelle. Minaj wasn't being polite, but she wasn't wrong. Nevertheless, Minaj soon recanted her words on Twitter following a backlash from women who assume feminism is like one long assessment for a Brownies Making Friends badge. And those who mistake feminism for Buddhism and think we should all sit around in a cloud of jossstick practicing deep compassion for other tit-owners, even when this particular tit-owner had more than whiff of Magda Goebbels sizing up curtains for an Albert Speer apartment redesign.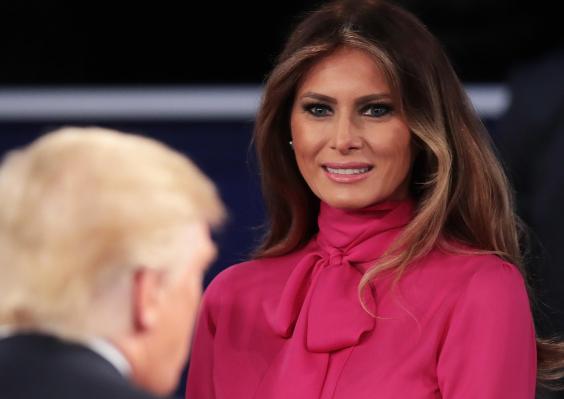 "There is a special place in hell for women who don't help other women," is the Madeleine Albright quote echo-chambered around my social media feed whenever a Minaj on Melania style incident happens. It always makes me howl with its Witchfinder General tones. Not content with men threatening us with God's judgement and the horrific fiery afterlife for 500 years over the crimes of being gobby, bolshy, ambitious or just plainly correct – we now threaten each other. That said, more amusing was Minaj's attempt on Twitter to smooth things over "Wasn't 'dragging'. She seems nice." said Minaj, sounding exactly like someone furiously backtracking after being caught bitching in a public toilet. Minaj continued, "But a smart man knows he needs a certain 'kind' of woman when running for President/attempting greatness." Which, of course, is what all gobby, assertive, equality-seeking bloody difficult women, myself included, would love to be 100 per cent correct.
Women so dearly want to believe in this day and age that powerful men aren't content, or in fact happier, with a silent, opinion-free, clothes horses who looks incredible in photographs and assists them in exuding macho virility. We have been spoiled with First Ladies such as Hillary and Michelle offering a picture of powerful marriages as a partnership of trust, cerebral jousting and, by and large, mutual respect.
What did Donald Trump say during the second presidential debate?
What did Donald Trump say during the second presidential debate?
1/8 On the leaked tape from 2005 where he talks about sexually assaulting women

"I'm very embarrassed by it, I hate it, but it's locker room talk. It's one of those things. I will knock the hell out of Isis"

Getty

2/8 On Hillary Clinton

"I hate to say it but if I win I'm going to instruct my attorney general to get a special prosecutor to look into your situation. There has never been so many lies, so much deception. You ought to be ashamed of yourself."

Rex

3/8 On Bill Clinton

"What he's done to women, there's never been anybody in the history of politics in this nation that's been so abusive to women."

AP

4/8 On whether his alleged opposition to Iraq War had been disproven

"It's not debunked. It's not debunked."

Getty

5/8 On exploiting tax loopholes

"I absolutely used it, and so did Warren Buffett, and so did George Soros and so did many people who Hillary is getting money from."

Getty

6/8 On claims he's sexist

"I have great respect for women. Nobody has more respect for women than I do."

Reuters

7/8 On what he respects about Hillary Clinton

"I will say this about Hillary - she doesn't quit, she doesn't give up. I tell it like it is. She's a fighter."

Reuters

8/8 On his controversial immigration policies

"It's called extreme vetting. We're going to areas like Syria, where they are coming in by the tens of thousands because of Barack Obama and Hillary Clinton wanting to allow a 550 per cent increase [of refugees] over Obama. People are coming into this country. We have no idea who they are, where they are from and what their feelings are about this country."

Getty
But Donald Trump's popularity is in no small part down to his traditional views on femininity and to Melania. Trump's third wife: younger and prettier than the last two rejected models. The one who doesn't fart. The one who doesn't tell him that hounding his opponent with her husband's ex shags is one of the lowest points in American political history. The one who knows her place and appreciates the basic age-old trade off of old disgusting men and perfect 10 women. The terrifying thing is many of us thought we'd seen the back of the likes of Melania. But her type is back, draped over American politics like a bikini model at a Birmingham NEC car show advertising BMW's. Minaj is right. We better pray we don't get stuck with a motherfucking Melania. Minaj can drag as much as she sees fit. 
Reuse content