The National Insurance rise announced by Philip Hammond in the Budget on Wednesday is not going to happen. The only thing that saved the Chancellor from the embarrassment of the "U-turn" headlines was that the rise was planned for April next year. That means that there is plenty of time to obscure the climbdown behind a review of the jobs market in the autumn Budget.
Normally, after a Budget, MPs have to vote on the Finance Bill that puts the measures into law. Hence the humiliation of George Osborne last year, when he dropped the cut in disability benefits (or, more strictly, the cut in the planned increase) in the days between his Budget speech and the Finance Bill. Tory MPs were threatening to rebel, and Iain Duncan Smith resigned as Work and Pensions Secretary anyway. 
There have been similar U-turns in the past. Gordon Brown had to send Alistair Darling, his Chancellor, to the Commons to announce a rise in the personal allowance in September, the middle of the tax year, in 2008. This was to head off a rebellion of Labour MPs against the abolition of the 10p income tax rate which Brown had announced as Chancellor the year before. The most celebrated case was in 1994, when Kenneth Clarke lost a vote to raise VAT on domestic energy. He had to put up taxes on cigarettes and alcohol instead. 
Hammond's retreat will avoid going down in history with these disasters because MPs don't have to vote on the change yet – although there are already enough Tories prepared to rebel. The Chancellor has time to fix the U-turn so that it won't look quite so U-shaped. More of a tangled knot by the time he has finished, I suspect.  
But the fuss raises two questions. One is why Hammond announced it this month when there will be a second Budget in November before the change happens. The other is why he thought he could get away with breaking the manifesto pledge: "A Conservative government will not increase the rates of VAT, income tax or National Insurance in the next parliament." 
The first is easy enough to answer. Hammond wanted to announce extra spending on social care, to try to relieve some of the immediate pressure on the NHS, and he felt it important to show that he was raising money at the same time. When I say, "at the same time", I mean he wanted to make the announcements at the same time, because in fact he will be spending the money before he raises it. He is Chancellor of the Exchequer, after all. But announcing them at the same time makes an important political point, not just to the country but to the Prime Minister: spending public money is easy; raising it is hard. A source "close to Hammond" told the Telegraph: "There is real frustration in the Treasury about this. No 10 want the spending but they aren't prepared to stand up for the decisions that have to be taken to pay for it." 
The mystery, though, is why Hammond – and Theresa May, who was fully consulted – thought it was all right to break a manifesto promise. Perhaps they thought, because it is true, that it was a sensible change to reduce the tax advantage of self-employment. (Yes, they know that the self-employed don't get sick leave and so on, but the advantage was about to increase.) Perhaps they thought that no one would therefore hold them to a "silly pledge" (Paul Johnson, Institute for Fiscal Studies) that the fools Cameron and Osborne should never have made. This is not how politics works. 
One of the Prime Minister's big things is that she does what she says she will do. This includes not having an early election in which she could make her own pledges. In which case she has to keep the pledges on which she stood in 2015. She and Hammond might say, "But we broke a more important promise to achieve a budget surplus by the end of the parliament." Again, that is not how politics works. You are allowed to break "silly pledges" by spending more or taxing less. You are not allowed to break them by taxing more. 
The 6 most important issues Theresa May needs to address
The 6 most important issues Theresa May needs to address
1/6 Brexit

The big one. Theresa May has spoken publicly three times since declaring her intent to stand in the Tory Leadership race, and each time she has said, 'Brexit means Brexit.' It sounds resolute, but it is helpful to her that Brexit is a made up word with no real meaning. She has said there will be 'no second referendum' and no re-entry in to the EU via the back door. But she, like the Leave campaign of which she was not a member, has pointedly not said with any precision what she thinks Brexit means

Reuters

2/6 General election

This is very much one to keep off the to do list. She said last week there would be 'no general election' at this time of great instability. But there have already been calls for one from opposition parties. The Fixed Term Parliaments Act of 2010 makes it far more difficult to call a snap general election, a difficulty she will be in no rush to overcome. In the event of a victory for Leadsom, who was not popular with her own parliamentary colleagues, an election might have been required, but May has the overwhelming backing of the parliamentary party

Getty

3/6 HS2

Macbeth has been quoted far too much in recent weeks, but it will be up to May to decide whether, with regard to the new high speed train link between London, Birmingham, the East Midlands and the north, 'returning were as tedious as go o'er.' Billions have already been spent. But the £55bn it will cost, at a bare minimum, must now be considered against the grim reality of significantly diminished public finances in the short to medium term at least. It is not scheduled to be completed until 2033, by which point it is not completely unreasonable to imagine a massive, driverless car-led transport revolution having rendered it redundant

EPA

4/6 Heathrow expansion

Or indeed Gatwick expansion. Or Boris Island, though that option is seems as finished as the man himself. The decision on where to expand aviation capacity in the south east has been delayed to the point of becoming a national embarrassment. A final decision was due in autumn. Whatever is decided, there will be vast opprobrium

PA

5/6 Trident renewal

David Cameron indicated two days ago that there will be a Commons vote on renewing Britain's nuclear deterrent on July 18th, by which point we now know, Ms May will be Prime Minister. The Labour Party is, to put it mildly, divided on the issue. This will be an early opportunity to maximise their embarrassment, and return to Tory business as usual

EPA

6/6 Scottish Independence

Nicola Sturgeon and the SNP are in no doubt that the Brexit vote provides the opportunity for a second independence referendum, in which they can emerge victorious. The Scottish Parliament at Holyrood has the authority to call a second referendum, but Ms May and the British Parliament are by no means automatically compelled to accept the result. She could argue it was settled in 2014

AFP/Getty
There will be a fudge, therefore. We can guess roughly what it will be. On Wednesday, Hammond set out changes to self-employed National Insurance contributions that would raise a net £215m in the year before the 2020 election. In the national finances, this is a trivial sum. What is likely to happen in the autumn Budget, then, is that this will be reduced to zero.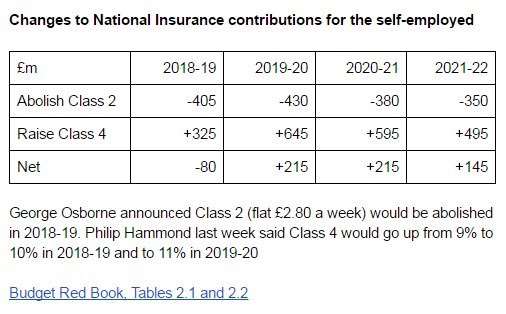 Then the Chancellor can say he hasn't "raised" National Insurance. If he restructures Class 2 and Class 4 contributions (to recoup the cost of abolishing Class 2, which Osborne announced last year) he could even avoid raising the rate of Class 4 contributions, which is also covered by the manifesto promise. This could be part of a wider change, giving the self-employed more legal rights, or even merging income tax and National Insurance. 
Spreadsheet Phil joked in his Budget speech that Norman Lamont was sacked 10 weeks after delivering what was also billed as "the last spring Budget" in 1993, in which he raised taxes in breach of an election promise. Hammond has time to put right the same mistake, so he will, I expect, last longer than the middle of May. 
Reuse content