It's a David and Goliath story that should warm any heart: a small band of peaceful vegans are keeping slaughter-industry bosses awake at night. The Save movement holds vigils outside abattoirs, to show love and compassion to pigs, cows and chickens in their final moments and to raise awareness of the cruelty we inflict upon them.
The movement hit the headlines when Anita Krajnc, a supporter in Canada, was put on trial. Her crime? Offering water to thirsty, traumatised pigs as they were transported for slaughter. 
The movement arrived in Britain 12 months ago, holding vigils at abattoirs from Cornwall to Scotland. Although I'm a vegan, I'm not a member of the movement, but I've watched with huge admiration as Save has shone a light in the darkest of corners.
UK news in pictures
UK news in pictures
1/20 26 June 2017

A festival-goer sleeps outside their tent at the end of the Glastonbury Festival of Music and Performing Arts on Worthy Farm near the village of Pilton in Somerset, South West England

Getty

2/20 26 June 2017

Canadian Captain Megan Couto (C) leading out troops of the Second Battalion, Princess Patricia's Canadian Light Infantry from Wellington Barracks heading for the Changing of the Guard ceremony at Buckingham Palace in central London. Media reports state that Megan Couto, will be at the head of some 40 Canadian soldiers along with the Royal Canadian Artillery Band at the Changing of the Guard at Buckingham Palace becoming the first female soldier in history to become Captain of the Guard. Canadian soldiers are serving as the Queen's Guard as sentries at Buckingham Palace, St. James's Palace, the Tower of London and Windsor Castle until 03 July 2017. Queen Elizabeth II invited Canada to send troops take part in the ceremonial duties in 2017 marking 150 years since Canadian Confederation

EPA

3/20 26 June 2017

Residents leave their home on the Taplow Block on the Chalcots Estate on June 26, 2017 in London, England. Residents of the Chalcots Estate have been urged to leave their homes due to fire safety fears in the wake of the Grenfell Tower tragedy. Four of the five Chalcots Estate towers in Camden, North London, are being evacuated after they were found to have similar cladding to that on Grenfell, attributed to contributing to the rapid spread of the blaze last week that killed at least 79 people

Getty Images

4/20 25 June 2017

Police officers on Romford Road in Forest Gate, east London, as people protest over the death of Edir Frederico Da Costa, who died on June 21 six days after he was stopped in a car by Metropolitan Police officers in Woodcocks, Beckton, in Newham, east London

PA

5/20 24 June 2017

Britain's opposition Labour Party leader Jeremy Corbyn addresses revellers from the Pyramid Stage at Worthy Farm in Somerset during the Glastonbury Festival

REUTERS

6/20 23 June 2017

British Prime Minister Theresa May addresses a news conference at the EU summit in Brussels, Belgium, June 23, 2017

Reuters

7/20 22 June 2017

Cosplay fans (L-R) George Massingham, Abbey Forbes and Karolina Goralik travel by tube dressed in Harry Potter themed costumes, after a visit to one the literary franchise's movie filming locations at Leadenhall Market in London, Britain

Reuters

8/20 22 June 2017

Racegoers cheer on their horse on Ladies Day at the Royal Ascot horse racing meet, in Ascot, west of London

Getty

9/20 21 June 2017

A reveller walks among the tipi tents at the Glastonbury Festival of Music and Performing Arts on Worthy Farm near the village of Pilton in Somerset, South West England

Getty

10/20 20 June 2017

A police officer lays some flowers passed over by a member of the public, close to Finsbury Park Mosque in north London, after one man died and eight people were taken to hospital and a person arrested after a rental van struck pedestrian

PA

11/20

The Borough Market bell is seen in Borough Market in central London following its re-opening after the June 3 terror attack

Getty Images

12/20

Two women embrace in Borough Market, which officially re-opens today following the recent attack, in central London

REUTERS/Hannah McKay

13/20

Mayor of London Sadiq Khan attends the re-opening of Borough market in central London following the June 3 terror attack

Getty Images

14/20

People walk through Borough Market in central London following its re-opening after the June 3 terror attack

Getty Images

15/20

News Corp CEO Rupert Murdoch, with one of his daughters, visit Borough Market, which officially re-opened today following the recent attack

REUTERS

16/20

A woman reacts in front of a wall of messages in Borough Market, which officially re-opened today following the recent attack, in central London

REUTERS/Hannah Mckay

17/20

Vivenne Westwood walks the runway at the Vivenne Westwood show during the London Fashion Week Men's June 2017 collections

Getty Images

18/20

Millwall fan and London Bridge hero Roy Larner on 'Good Morning Britain'

Rex

19/20

Richard Arnold, Roy Larner, Piers Morgan and Susanna Reid on 'Good Morning Britain'

Rex

20/20 11 June 2017

England players celebrate after defeating Venezuela 1-0 to win the final of the FIFA U-20 World Cup Korea 2017 at Suwon World Cup Stadium in Suwon, South Korea

AP
Feelings have occasionally boiled over as these big-hearted animal lovers witness first hand the barbarity of the meat industry, but the movement remains committed to its principle of "love-based, non-violent" protest. So why is this small, compassionate and kooky group considered such a threat to the meat industry?
The National Pig Association claims its members "cannot sleep at night" because of the actions of Save. And now a leaked memo shows that the Association of Independent Meat Suppliers has met with the official National Counter Terrorism Police Operations Centre team to discuss how to respond to vigils.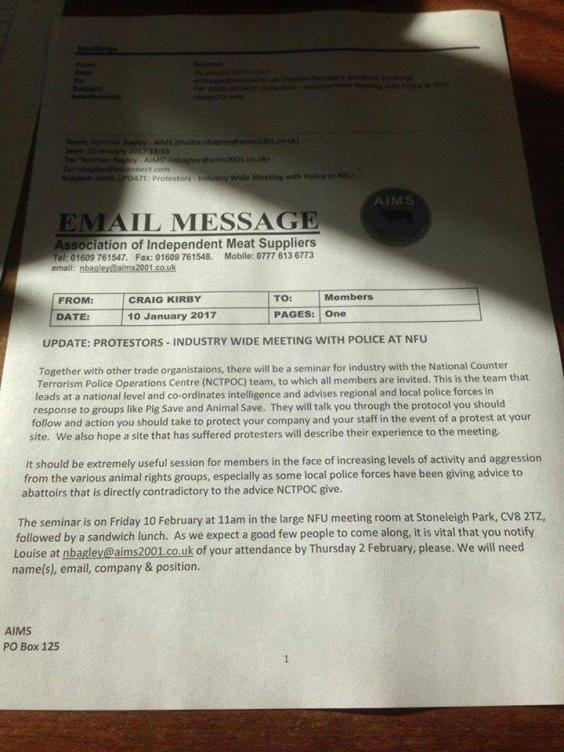 To regard Save vigils as terrorism is genuinely absurd: a panicked, guilty response from the planet's most brutal industry. Our counter-terrorism experts should be concentrating their efforts on genuine threats against British public safety, not a bunch of vegan campaigners who only wish to expose the reality of a commercial sector that the majority of its consumers remain in the dark about.
But although Save protestors are not terrorists, perhaps abattoir bosses have good reason to fear their work.
The meat industry is vulnerable when consumers learn the reality of how it operates; when they look directly at the faces of the animals it condemns to short, torturous lives and ferocious deaths. Protestors share videos from the vigils on social media, offering that connection to the general public. This makes an industry that has poured so much money, time and desperation into keeping consumers' eyes shut feeling nervous.
According to latest estimates, 542,000 Brits are now vegans, up from 150,000 in 2006 – a 350 per cent increase in just over a decade. Official supermarket revenue statistics for 2016 showed the biggest losers were meat and dairy, while the biggest gains came for dairy-free products. Overall sales of plant-based products are up 1,500 per cent.
Big food and hospitality brands, from Harvester and Wetherspoons to Pret A Manger and Sainsbury's, are launching successful vegan ranges. Last month, Sainsbury's reported that sales of its new own-brand vegan cheeses were 300 per cent greater than it had anticipated.
Activists are exposing the truth about the meat on your plate: that piglets who grow too slowly are killed by being slammed headfirst onto concrete floors, a standard industry practice called "thumping"; that in many chicken slaughterhouses workers routinely rip the heads off live birds; that pigs scream in gas chambers, or as they are boiled alive; that cattle sometimes experience having their legs sawn off while they are still conscious.
I've nothing but respect for Save as they rattle and expose those complicit in the meat industry. They are not terrorists.
It's often said that we accuse others of what we secretly know we are doing ourselves. So as abattoir workers toss and turn at night, perhaps they might ask themselves, who is really doing the terrorising?
The Independent reached out to both the Association of Independent Meat Suppliers and the National Pig Association for comment but neither responded
Reuse content