What I love about Cameron Sinclair is that, when he was 16 and read an article about the 10 worst buildings in Bath, he decided to "track down every architect mentioned and ask why their project was deemed a failure". As he said: "Just imagine a 16-year-old at your office asking why your project sucks."
I can, and I wish people would do it more. I wish I had had the gumption to go and find Sir Basil Spence and ask: "What were you thinking?" I can't now, because he died in 1976, but not before he had designed the old Home Office building, now the Ministry of Justice, in Petty France. You know the one: the concrete mushroom just off St James's Park in London.
And he designed Kensington Town Hall, which is near The Independent's office in west London. When I walk the last part of the way to work, from Notting Hill Gate, the backstreets of Victorian houses are a delight, and you can see why rich people like to live here. But then there is the bit where I have to cross a road without turning my head to the right in case I should catch a glimpse of the 1970s ugliness and be struck down by the unfeeling arrogance of it.
Britain's ugliest buildings
Britain's ugliest buildings
1/9 Old Home Office building, now Ministry of Justice, Petty France

Nominated by Carl Gardner

Rex Features

2/9 Lock Keeper's Cottage

Queen Mary University of London

Alamy

3/9 Buckingham Palace

'I've always found it uninspiring and unkingly,' says Simon Wilder

AFP/Getty Images

4/9 Seeley Historical Library, Cambridge

The history faculty library

5/9 The Walkie Talkie, London

A tower block in the City of London that is hideous, out of scale, wrong, a stupid shape, bigger at the top

AFP/Getty Images

6/9 Preston Bus Station

'The Brutalist masterpiece that has always reminded me of a concrete lasagne,' says Conor Pope

Getty Images

7/9 York University's Central Hall

Alamy

8/9 Brunel University in Uxbridge

Brunel University in Uxbridge

Andrew Cowie/AFP/GettyImages

9/9 Thamesmead Council Estate in South East London

Thamesmead Council Estate in South East London

Peter King
So all praise to Sinclair, the co-founder of Architecture for Humanity, who has launched the Dead Prize to recognise bad buildings and honour their failings. Nominations for the prize are open until 1 November, and suggestions can be submitted via Twitter to @deadprize. His focus is "getting a better understanding of how a design failed" and to "hopefully do something to rectify these designs against humanity".
As soon as I have written this, I shall nominate all of the Top 10 Horrible Buildings which I compiled recently for The Independent on Sunday's magazine. As well as Sir Basil's gruesome legacy, I listed Preston bus station ("concrete lasagne"), the University of York's Central Hall ("the spaceship", in the middle of "the largest plastic-bottomed lake in Europe"), the Southbank Centre in London – and Buckingham Palace, just to prove that old buildings can be ugly, too.
I could easily have compiled a Top 100. There are so many not well-known buildings which perhaps have even more of a lowering effect on the quality of life of the people who cannot avoid them. Council estates such as Thamesmead in south-east London or Southwyck House in Brixton, or Brunel University in Uxbridge.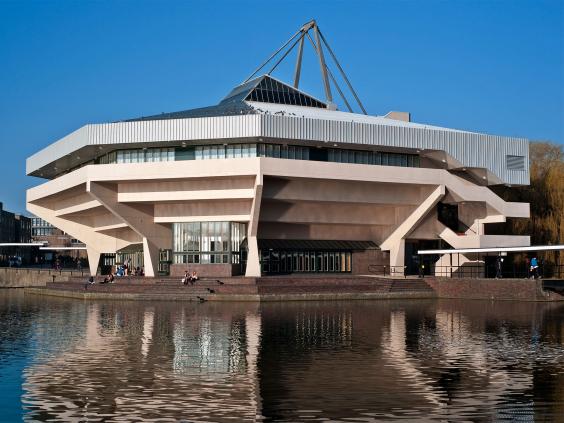 I admit my selection was biased: most of them are not just in Britain but in London. The Dead Prize is worldwide in scope – it was launched in Dubai – but I stick to what I know. It helps if you see these things week in and week out. Sometimes time softens the shock and can even turn it into affection. The ArcelorMittal Orbit, for example. I could not believe how bad that was when I saw the plans. Now, though, I think the twisted red metal tower is beautiful.
Video: 'The creation of The Orbit' - Time lapse video
However, there is one building that I see nearly every week which I grow to dislike more each time. I cannot believe that I left it out of my Top 10. Now, I can put right my omission, by nominating it for the Dead Prize. I hereby name the Walkie-Talkie, a tower block in the City of London that is hideous, out of scale, wrong, a stupid shape, bigger at the top. It has a ridiculous white border around its unattractive outline.
Sinclair says he doesn't want to "name and shame", although I don't see how he can do one without the other, and the Walkie-Talkie is certainly a crying shame. deadprize.org
Reuse content