The rebuilt Everyman Theatre, the so-called "theatre of the people" in Liverpool that launched the careers of actors including Jonathan Pryce and Julie Walters, has won the most prestigious award in British architecture.
The judges of the RIBA Stirling Prize said the 2014 winner was "truly for every man, woman and child" and hailed it as a 21st century theatre that "celebrates the past".
It beat a strong shortlist that included the Shard, the Library of Birmingham, and the London Aquatics Centre, designed by Zaha Hadid Architects, to the award.
Architects Haworth Tompkins, who also designed the revamp of the Bristol Old Vic, received the award at the Royal Institute of British Architects in London this evening.
The Everyman reopened this spring after a decade of planning in a project that cost £28m. Gemma Bodinetz, the artistic director of the 440-seat theatre, said it embodied the "renegade and generous spirit of the city".
RIBA Award 2014 winners
RIBA Award 2014 winners
1/20 London Bridge Tower/The Shard by Renzo Piano Building Workshop, London

2/20 Tate Britain, Millbank Project by Caruso St John Architects, London

3/20 Poole Harbour Second Crossing by Wilkinson Eyre Architects, Poole, Dorset

4/20 John Henry Brookes Building by Design Engine Architects, Oxford

5/20 Ditchling Museum of Art and Craft by Adam Richards Architects, Ditchling, East Sussex

6/20 London Aquatics Centre by Zaha Hadid Architects, London

7/20 London Library by Haworth Tompkins, London

8/20 Britten-Pears Archive by Stanton Williams, Aldeburgh, Suffolk

9/20 Mary Rose Museum by Wilkinson Eyre Architects/Pringle Brandon Perkins+Will, Portsmouth

10/20 King's Cross Station Redevelopment by John McAslan + Partners, London

11/20 Everyman Theatre by Haworth Tompkins, Liverpool

12/20 Red Bridge House by Smerin Architects, Redbridge Lane, Crowborough, Surrey

13/20 Porthmeor Artists' Studios and Fishermens' Cellars by Long & Kentish architects, St Ives

14/20 Cliff House by Dualchas Architects, Isle of Skye, Scotland

15/20 TNG Youth and Community Centre by RCKa, London

16/20 House No. 7 by Denizen Works, Isle of Tiree, Scotland

17/20 St George's Chapel by Hopkins Architects, Great Yarmouth

18/20 Library of Birmingham by Mecanoo, Birmingham

19/20 Private House (Lens House) by Alison Brooks Architects, London

20/20 Police Service of Northern Ireland Memorial Garden by Hall McKnight, Belfast, Northern Ireland
The judges commended the theatre's "quirky sense of humour" as well as its "clever use of materials with interlocking spaces and brilliant lighting". They praised the first naturally ventilated auditoriums in the country which also maintained "total acoustic isolation".
Stephen Hodder, president of RIBA, said the architects had "struck the perfect balance between continuity and change to win the hearts and minds of the people of Liverpool".
Most notable to passers-by is the new façade; replacing a low-key brick front is a "striking exterior" that features solar panels with pictures of 105 Liverpudlians.
Steve Tompkins, of Haworth Tompkins, said he "couldn't be more delighted" at the prize for an "intensive collaboration over almost a decade, during which we have grown to love the Everyman and the great city that it serves".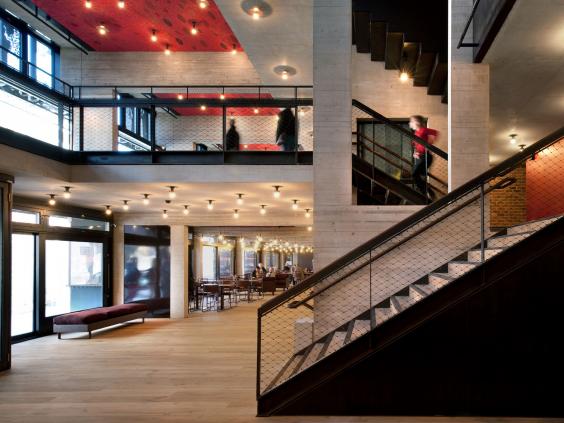 The original theatre opened in 1964 in the shell of a 19th century chapel on a busy thoroughfare in Liverpool, yet by the turn of the century it had fallen into disrepair.
Ms Bodinetz said: "10 years ago when we embarked on this journey with Haworth Tompkins we could never have imagined it would end in winning the Riba Stirling Prize; they have designed a building that supplies joy beyond expectations to every visitor and those of us lucky enough to work there."
A series of actors spent formative years on the Everyman stage including Pete Postlethwaite, David Morrissey and Anthony Sher. One photo of the so-called "class of 1974" shows a company of actors before they achieved national fame that included Walters, Bill Nighy and Nicholas Le Prevost.
Reuse content