When Anthony Caro OM and CBE died in 2013 he was Britain's most important sculptor. The Yorkshire Sculpture Triangle has drawn together more than 100 sculptures, works on paper, photographs and models, a fitting and wonderful way to celebrate and reassess his artistry and influence spread over three venues: Yorkshire Sculpture Park, the Hepworth Wakefield and the Leeds Art Gallery.
In the two main venues, the YSP is choosing to focus on Caro's relationship with painting, while the Hepworth Wakefield uses architecture as its theme. A vibrant statement Aurora (2000-2003) includes the Leeds Art Gallery in the tripartite conversation. Whatever the expressed curatorial intent, the result over all is a rich, resonant and joyous voyage of discovery.
Born in 1924, Caro was of the generation when art was not considered a career option. He pleased his stockbroker father by studying engineering but always knew that he wanted to be an artist. Studying with Henry Moore at the Royal Academy Schools, he famously knocked on Moore's door and asked to be his assistant.
Moving to the US in the Sixties to teach at Bennington College, Vermont, he was exposed to American sculpture and painting. There has been much written about America sculptor David Smith's influence on Caro, but Caro's work is always clearly identifiable from that of Smith. His sojourn in the US introduced him not only to Smith but to Ken Noland, Helen Frankenthaler and Jules Olitski – contemporaries who encouraged the artist to be brave. Returning to the US again in 1982, he started the Triangle Workshops with Robert Loder, where professional artists could meet and work together.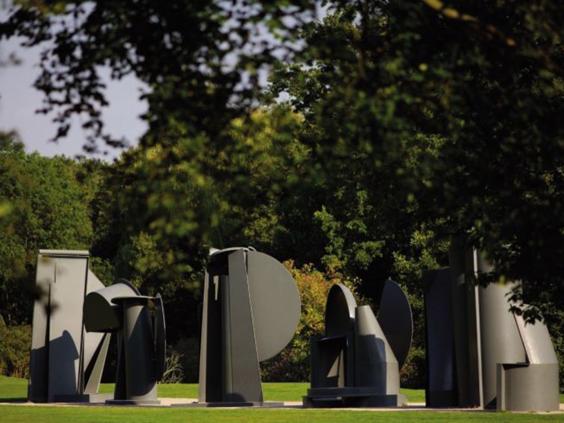 The Yorkshire Sculpture Park opened in 1977 with its director Peter Murray, who is still at the helm today. He has steered the museum to winning the Art Fund's Museum of the Year in 2014. The YSP's Longside Gallery starts with Caro's rarely seen early figurative work, including busts of art critic Clement Greenberg, and Sheila Girling, his painter wife whom he married in 1949. There is a rare opportunity to see student drawings annotated by Moore, showing Caro's affinities to and differences from his teacher. Facing these, a series of early colourful drawings are heavily influenced by Picasso but show an early sureness of line. Small bronzes show the inspiration of Picasso, Matisse and Giacometti as well as Moore on the young sculptor, including some early works incorporating found materials – a signal of an engagement with materials that would continue throughout his life.
When I lived in Camden, Caro's studio was a five-minute walk from me and his was the first studio I visited for my weekly, "In the Studio" column for this newspaper. Something he said was particularly memorable: "I am playing  all day, doing what I love... I want to try it all!''
I recall arriving at the gates of the studio, a former piano factory, to be confronted with piles of rusting steel kept for their potential use. Inside the studio, his long-serving assistant Pat Cunningham was seemingly everywhere, supervising the young artists who came to help with the welding and heavy lifting. On shelves, dolls-house scale models of all of Caro's works created by professional model makers after the sculptures were made helped to plan shows. Caro always made things at real scale. Some of these models are on display in both YSP and Hepworth Wakefield.
Before he got this studio, Caro worked in his garage. This lack of both space and assistants encouraged him to use lightweight metallic tubes. Hopscotch (1962), from this "garage" period, at the Hepworth Wakefield illustrates Caro's continuing fascination with architecture throughout his career, using seemingly cantilevered forms composed of aluminium and creating a definite space, albeit one not to enter.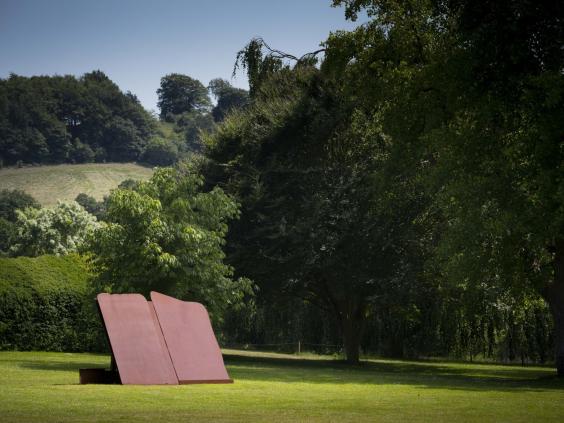 Returning to visit Caro in 2013, I saw his explorations with clear and coloured Perspex – a material he was integrating with steel and found materials. A work in Wakefield, Terminus (2013), incorporates raspberry-red Perspex, part of a crane, wooden beams and steel. One might think it a potential muddle in the making; but no, it's a joyful, right work, reflecting perhaps the fun the artist still took making it.
Caro introduced colour in the early Sixties. At YSP, Month of May (1963), with its clashing pinks, green and orange sets up a rhythm with nearby Paris Green (1966); together they show  a daring use of palette that still looks fresh today. It was also an innovation taken up by a generation of British sculptors most notably Phillip King.
They also illustrate another bold innovation, that of taking sculpture off the plinth, placing it squarely on the floor or on the ground.
Moving around these shows, there are many discernable influences. Is there a singular one that stands out? The answer is much more complicated. Caro was not an "either-or" artist. He embraced the challenges of different languages, both abstract and figurative, and in particular different materials.
Shortly before his death, I asked whether he thought he had always been rebellious, he replied, "I thought I was an easy-going person who did what was expected, but… I have been rebellious all through my life. Or rather I have not been rebellious, I have been questioning".
Reuse content