Ben Eine is a bit fed up with being described as a street artist. But while it is true that the street artist (sorry, Ben) who gained international fame when David Cameron gave one of his paintings to Barack Obama during his first official state visit, has come a long way from the covert world of graffiti in which he first made his name, it is difficult to know how else to describe him.
The 44-year-old is keen to break into the contemporary art market proper. But having spent 20 years tagging – in the process notching up between 15 and 20 arrests, five convictions for criminal damage and only narrowly avoiding a jail term -  and five years working with Banksy, he remains one of the street art movement's most established names.
Although broadly unknown when Samantha Cameron suggested his work might be a good gift for the Obamas in 2010, Eine was well-known in London circles for 'Alphabet Street' in the Capital's Spitalfields region where he painted the entire A-Z on shop shutters down Middlesex Street. These days you are more likely to find Eine, real surname Flynn, in his studio in San Francisco, than daubing the streets of London. He moved to America two years ago, an upheaval that coincided both with the commercial attention he garnered Stateside as a result of having an example of his work in the White House, and his falling in love with and marrying an American.
The overnight fame that a jovial exchange of gifts between world leaders gave Eine sent his profile – and the commercial impact of his work – sky rocketing. He concedes that the exposure "probably saved me five years of traipsing around the world promoting myself."
When we meet at The Independent's offices the artist is in London en route to Japan where he is exhibiting a collection of objets d'art, small cubes featuring his trademark typography rendered in concrete, metal and wood. He's produced a hundred of each in limited edition runs to be sold for a fairly hefty sum. It is his first foray into sculpture. But being somewhere between a piece of artwork to be admired in a gallery and a paperweight, I ask about their intended purpose: "Haha, I dunno really," he laughs. "They're just to admire. I'm going to sleep with mine [laughs]. In some small way they would add a bit of quality to your life. Hopefully. I dunno…" he trails off.
With his paintings now selling for tens of thousands the commercial opportunities are coming thick and fast. Eine tells me he's off to have lunch with Louis Vuitton after our interview. "The head dude at Louis Vuitton contacted me via Instagram, which is a weird way for people to communicate," he reveals. He has already collaborated with the fashion brand on a scarf design and is not sure what they might have to offer, but says he is "excited". Last year he joined forces with Virgin Airways which exhibited his paintings in First Class lounges (billed as the world's first "gallery in the sky") for the salubrious on long-haul flights to consider buying.
I ask the artist, who is immaculately dressed in a bright red jumper, expensive jeans and trendy thick-framed glasses, how associating with luxury brands sits within the world he inhabits which has always been seen as a bit gritty, dirty and, frankly, not very Louis Vuitton. "But we sell luxury products," he says. "My paintings sell for between £10,000 and £20,000. I'm not designing skateboards and stickers. They're luxury products so I saw the collaboration with Louis Vuitton as a natural progression between two people who make beautiful, well-crafted things."
And why shouldn't an artist have as keen a head for business as an eye for beauty? Banksy clearly does. But I'd imagine Eine faces a degree of stick from his pals in the graffiti world. Mind you, he conducted his career as a graffiti writer in a rather commercially savvy manner even then as he worked in insurance at Lloyds of London for 12 years concurrently. He used to go out tagging wearing a suit and tie and would sit down and read a newspaper if a policeman arrived. Who me? The perfect disguise. So, how did his illegal artistic expression fit with a career in insurance? "I did long-term re-insurance claims," he says appearing reluctant, yet sounding totally deadpan.  "Asbestos, health hazards, pollution. It was very boring. But I've got quite a mathematical brain and it paid well."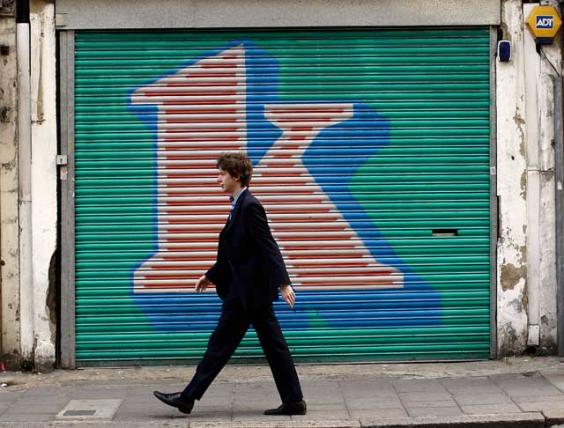 Eine didn't go to art school and so sees the two decades he spent on the streets as his only route into the position he now finds himself in. "I didn't have a platform outside of showing my work illegally on the street," he says. "I get branded as a street artist but it's actually a really bad description of what I do. We're called street artists purely because we started our careers a hundred years ago in graffiti and because we paint in the street. But we do so because it is the perfect canvas for our work."
The transformation from insurance man/guerrilla graffiti writer to celebrated international artist didn't happen as swiftly as the Obama/Cameron gift exchange might suggest. "I'd been arrested loads from graffiti and didn't want to go to prison," he says. "When I first got into graffiti I thought it was going to change the world. But when, 20-years-later, it still hadn't, I got bored of the self-imposed rules. Then street art came around and it just excited me that you could do anything: posters, stickers, sculpture, site specific responses. I really liked the way artists worked with their environment in clever ways. So I hooked up with Banksy and that was that."
I ask about Banksy and get fobbed off almost immediately. Having been talkative and relaxed, Eine suddenly gets a bit grumpy and answers my questions in monosyllables, before regaining his good humour and saying:  "Banksy's a very selfish, driven, paranoid artist. For good reasons."
He sees himself as a protector of dying handmade skills. His current reading matter, William Morris, Anarchy & Beauty Fiona MacCarthy, sits on the table in front of us, and Eine agrees when I suggest he sees street art as an extension of the arts and crafts design philosophy expounded by Morris and John Ruskin. Referring to his objet d'art, Eine says: "They're just so beautiful. They're all hand finished. I spent the last week in my studio in San Francisco sanding them down and hand waxing them. They are just really tactile, I can't stop touching and poking them. I don't know what they do, exactly. But I am trying to help keep old skills and crafts alive."
He is hopeful about greater crossover between the urban art movement and the mainstream art world. "I don't want to sell to street art collectors, I want to sell to art collectors," he says. "It's already going that way: more expensive, higher end galleries. For a long time it has been so much more than just painting fucking stuff on the street."
Ben Eine Objet d'art curated by Fragile Ventures, Megumi Ogita gallery in Tokyo, from 5 December www.fragileventures.com
Reuse content