It was a bloody and illicit sport, and one that left generations of Northern mill workers limping home across the cobbles. But today, the mysterious martial art of clog fighting is all but forgotten – after its expert practitioners took their unique skills and bruised shins to the grave.
Now, an artist is bringing the story of the once-popular pastime back to life in a new exhibition and is urging senior citizens in Lancashire to reveal its secrets. Anna FC Smith's exhibition at the Gallery Oldham in Greater Manchester depicts historical fights between men shod in wooden-soled boots, and uses sketches she has drawn at locations of reported battles.
Anna, who comes from Wigan, has spent months gathering evidence about the sport, even donning a pair of clogs and kicking at a side of ham to get the sound effects for one of the show's sensory exhibits.
"Clog fighting is part of Northern working-class history," Anna says. "It was about pride and machismo and it was part of masculine identity. The men had proper fighting clogs, which they polished for fights."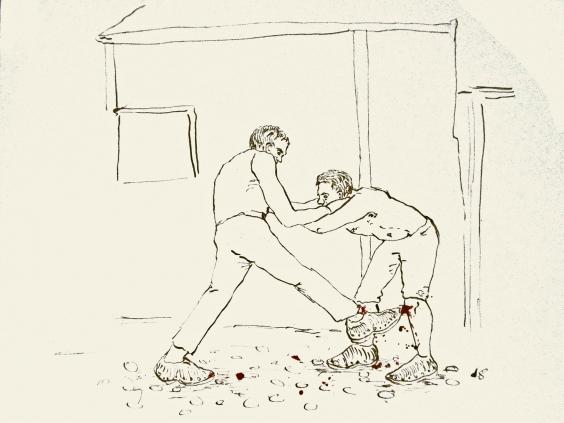 Clog fighting is believed to have started in mining communities in the North of England in the 1700s, but it was still secretly taking place in parts of the region right up to the mid-1950s.
The illegal "purring", as it was also known, would take place behind pubs and on moorland, where fighters could not be seen by the police or their wives, with large sums of money gambled on the combatants. The pairs of fighters sometimes wore their Sunday best – or reportedly battled naked except for their clogs – and kicked away until one of them admitted defeat or blood was drawn.
Anna says the fights, sometimes refereed by pub landlords, had strict rules. If a combatant received an unsporting kick in the groin, his opponent would be held down while the injured party got a retaliatory free kick at the cheat's nether regions. But it was sacrilege to kick a man who was writhing in pain on the ground.
"These rules were important in the days before the NHS, when a broken leg could leave a man out of work and unable to feed his family," she explains. "Honour was at stake. These men would avoid what they saw as less honourable blood sports, such as dog fighting."
Some men fought to settle grudges, others travelled around as "professionals" – though their names were mentioned only in hushed voices and their battles rarely recorded in newspapers. And Anna has met with a wall of silence from some elderly men while doing her research, as there is still a strong code of omerta surrounding the sport.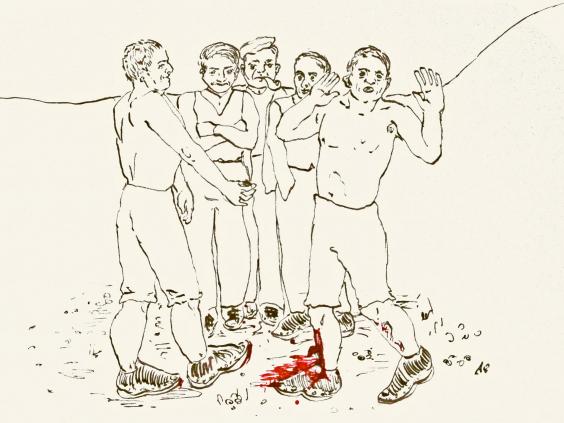 One of the few known practitioners in Oldham was Bobby Ogden, the late director of the town's rugby league club, the Roughyeds, who fought wearing clogs in his younger years. And according to Adrian Alexander, an Oldham councillor and former rugby player, who knew Bobby well, "his tactic was to always let the other man kick first because he knew the first kick would be the softest. Bobby would then land a huge kick in return, causing the other man to disengage."
He continues: "Clog fighters in Oldham were known for being the sneakiest in the country. They would put oil on their legs and sometimes try to wear shinpads."
Anna still wants to hear from local people who might be able to tell her more before the exhibition's opening at Gallery Oldham on Saturday. "This is a part of working-class history that hasn't been properly recorded," she says. "Few people talked about it. The memories are locked away in the minds of older people. If they don't talk about it now, it will soon be too late.
"But it's part of our history that we can't allow to be forgotten. Clog fighters thought of themselves as a noble breed. They never kicked a man when he was down."
Reuse content