At 91 years old, Dorothy Bohm is tiny and elegant with thick white hair styled into a neat bob, around curious dark eyes that closely examine whoever enters her Hampstead home. She speaks clearly, with a soft accent that bears the trace of her childhood years in Germany and Lithuania, which she left aged 14, as the Nazis moved in.
Hers is a remarkable story. Brought up with a nanny and governess, part of a cultured family, with a father who was a wealthy industrialist. From this comfortable life, she arrived alone in England, a young Jewish girl, sent away by her father to boarding school in order to avoid Hitler. Had she stayed behind, she would inevitably have disappeared, as her parents and younger sister did. She heard nothing from them for 20 years.  "I think I must have a guardian angel," she says, more than once during our conversation.
As war broke out, she moved to Manchester to study photography. Cut off from the family finances, she had to begin again.
"I was very young, most youngsters still had a home to go to, but here was I trying to live on a very small salary. It was tough.
"I think it was because of my father who believed in women, which meant I never doubted myself. Many of my contemporaries were thinking of marriage and children, not professions, so most of my friends were young men."
At first it was survival, taking portraits in a photographer's studio to support her, and her scientist husband Louis while he finished his doctorate. Like her father, her husband also believed in women, told her not to waste her time in the kitchen and encouraged her work. When his job took them abroad, she went with him and began to photograph outdoors on streets all over the world: Paris, Spain, Israel, Greece, America and South Africa. Her early work was black-and-white documentary photography. By 1969, her reputation was such that she had her first exhibition alongside war photographer Don McCullin at the ICA in London. His wall showed images of conflict but hers were of peace.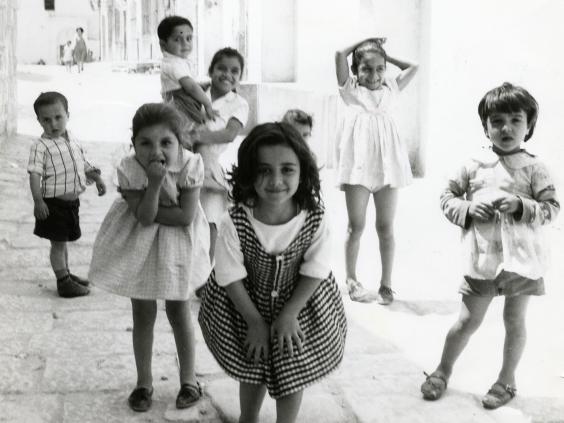 A small boy in Spain, head tucked in, while he holds a long chain attached to a mule laden with saddlebags. The boy ignores the mule but the mule watches the boy, alert and attentive like a big docile nanny. Lines and shadows arrested in a moment that only gifted observers can see; it's a touching and visually astute image. Another taken in Haifa, Israel shows Palestinian and Israeli children playing together.
"Quite a lot of photographers go in for things that are sad, war and so on but I couldn't. Maybe it was escapism but it was due to the fact that I knew what it was like," she says. She wanted her pictures to be about humanity and hope.
"I feel that we need things that somehow make us believe in humanity, and that's why I photograph the way I photograph. I try to find a certain dignity.
"Portraits were easy for me because I always thought there was something beautiful in every person."
One of the remarkable things about Bohm, and she is remarkable in many ways, is that throughout her life she has continued to experiment and explore.  "I'm a restless person," she says. In 1971, she set up the Photographers' Gallery with Sue Davies against advice from everyone who said it couldn't be done. Her husband agreed that on paper it was impossible – but told her to go for it anyway.
"Photography was my life, and I thought it would be wonderful. Sue Davies started the gallery, I was associate director and it was an amazing success from the beginning," she say.
She became friends with photography's greats: Bill Brandt, Andre Kértész, Brassaï. She continued to experiment, not just with the subjects she photographed but she also explored form. In the 1980s, as she turned 60, she began to use colour for the first time and her work veered towards abstraction when she began a series in which she photographed torn posters on the streets. Her Torn Poster, London (1984) is of a street poster in a state of decay. In one corner a beautiful woman wears military dress and diagonally opposite it there's a patch from Picasso's Guernica with a man's neck crooked back to exaggerate his open-mouthed scream. Abstract splodges of sky and torn areas complete the image. Bohm waited for these posters to reach just the level of disintegration that she required before photographing them. This image is on show at Somerset House in London, as part of an exhibition to celebrate 100 years of the Ben Uri Gallery.
The exhibition titled Out of Chaos fits perfectly with Bohm's life and work. It shows the art of migration and of migrants over the past century, from a collection, which began during the First World War with paintings by the disgraced pre-Raphellite Simeon Solomon, and the early modernist David Bomberg. A portrait of Queen Victoria by Solomon Alexander Hart, the first Jewish painter to become a Royal Academican, gives a sense of successful integration. Like Bohm, these artists were forced to begin again, escaping pogroms or Hitler. Also like Bohm, many of them never dealt directly with trauma in their work.
She's often said of her work that for her it was a way to stop the past disappearing, her photographs preserved the past when history wiped hers away. Twenty years after she left them, her parents returned. The Nazis didn't get them in the end but the Russians did.
Sony World Photography Awards 2015
Sony World Photography Awards 2015
1/40 Professional competition: Current Affairs category shortlist - from the series "Black days of Ukraine" by Valery Melnikov, Russia

Series Description: In 2014 the conflict between rebels and the government army in Ukraine led the country to the full-scale hostilities. The local residents of the strategically located city of Luhansk were left without water and electricity for three months over the summer, while constant gunfire could be heard above their heads. According to the Federal Migration Service, more than 800 thousand Ukrainian citizens had to be relocated as a result of the conflict

2/40 Professional competition: Landscape category shortlist - from the series "When I Am Laid In Earth" by Simon Norfolk, UK

Series Description: These fire lines I have drawn indicate where the front of the rapidly disappearing Lewis Glacier was at various times in the recent past. In the distance, a harvest moon lights the poor, doomed glacier remnant; the gap between the fire and the ice represents the relentless melting. Relying on old maps and modern GPS surveys I have rendered a stratified history of the glacier's retreat. Photographing time's thickness, trying to expose it's 'layeredness,' is something I've been attempting in different settings and through different channels for the last dozen years. It seems entirely appropriate to make these images here. Mount Kenya is the eroded stump of a long-dead, mega-volcano. Photographically, I hope to re-awaken its angry, magma heart. My fire is made from petroleum

3/40 Professional competition: Travel category shortlist - from the series "Overnight at the beach" by Adhi Prayoga, Indonesia

Series Description: Once a year, thousands of people will come to the beach Seger to perform the ritual ceremonies. They came to the location a few days before the main event. Even their stay at the beach with family and friends. At the peak of the event they will go down kepantai start at 4 am, to catch a type of marine worm nyale multicolor

4/40 Professional competition: Lifestyle category shortlist - from the series "Those who save lives, 2" by JM Lopez, Spain

Series Description: The new death threat in Aleppo comes from the sky in the shape of barrels full of TNT. They are launched from helicopters of the regime and they can reduce a building of five floors to rubble and dust. These home-made bombs are cheaper than a missile or a conventional rocket but their destructive power is much higher, this kind of weapon has killed more than 2.000 people since last January. One day Al-Assad's Army destroyed a whole block with a Scud missile in the neighborhood of Ard Al-Hamra killing a lot of people trapped under rubble because there wasn't any specialized rescue team. That day the Civil Defense Units were created with the aim of being the first ones to arrive and save as many lives as possible. Since then 135 people work in shifts of 24 hours 7 days a week in five different places inside the city of Aleppo

5/40 Professional competition: Landscape category shortlist - from the series " Series Name: Ganges, Death of a River" by Giulio di Sturco, Italy

Series Description: The Ganges is a prime example of the unresolved contradiction between man and the environment. The Ganges is a river intimately connected with every aspect of Indian life. It is a source of water, energy and livelihood for millions of people who live along the banks of this river and thanks to the fertile land, it provides food to more than one-third of the Indian population. It's ecosystem also includes one of the most numerous and varied animal and plant species. Despite this, today it is one of the most polluted rivers in the world because of toxic waste factories dump in its water every day, damaging human health and the environment that surrounds it. What will happen tomorrow? Is the Ganges destined to die under the blows of humanity, or can we hope for change?

6/40 Professional competition: Lifestyle category shortlist - from the series "Cat Mother " by Ramil Gilvanov, Russia

Series Description: Series of images from the life of photographer's family

7/40 Professional competition: People category shortlist - from the series "Swedish dads" by Johan Bavman, Sweden

Series Description: No other country provides such generous terms of parental leave as Sweden. The current system allows parents to stay at home with their child during 480 days in total – while receiving an allowance from the State. Out of these 480 days, sixty must be taken by the father or else are lost. Legislation is underway to reserve another thirty days for paternity leave. The purpose of this allocation is to improve gender equality. In order to promote a more equal sharing of parental leave between men and women, a so called equality bonus has also been introduced. The more days that are shared between parents, the higher the bonus. A couple may receive up to 1 500 euro in bonus. In spite of the generous allowance and bonus – unique in their kind – only a fraction of Sweden's dads use all their sixty days of parental leave. Even fewer parents choose to share the days equally between mother and father

8/40 Professional competition: People category shortlist - from the series "One hundred and forty centimetres" by Sabine Lewandowski, Germany

Series Description: 1 in 700 babies are born with Down syndrome. Down syndrome is the most common chromosomal abnormality in new-borns. Specialists call it trisomy 21. Down syndrome is not a disease - it is not curable. People with Down syndrome have often physical and mental impairments that make them different from others. Since 2012 it has been possible to determine by means of non-invasive tests before birth whether a child will have Down's syndrome, as necessary, initiate an abortion. The photo series "one hundred and forty centimetres" raises questions about our relationship with the stigma of "living with impairment," and the technical possibilities to determine this even before birth

9/40 Professional competition: Architecture category shortlist - from the series "Home" by Joanna Balas, Poland

Series Description: The word "home" we associate primarily with family and warmth. This is the place where we always want to go back to and where we feel safe. They are usually cosy and neat. Such houses encourage our friends to visit with pleasure. This series shows homes in Morocco, which are slightly different from our concept of home

10/40 Professional competition: Still Life category shortlist - from the series "Animal Behaviour" by Kimmo Metsaranta, Finland

Series Description: In the series I have constructed still live images using cats. Animals have their own will and they will not pose at the behest of the photographer

11/40 Professional competition: Travel category shortlist - from the series "erial Views Adria" by Bernhard Lang, Germany

Series Description: Aerial photographs of the adriatic coastline between Ravenna and Rimini, Italy. Photographed in August 2014. As thousands of sun worshipers lazed on the golden sands, sheltering underneath massive beach umbrellas, photographer Bernhard Lang took these photographs

12/40 Professional competition: Still Life category shortlist - from the series "Greenvironment" by Mong-Yong Sim, Malaysia

Series Description: This set of images takes you on a journey to explore different aspects of "green". From new life bursting out from the cracks on concrete walls to molds that lay quietly against red bricks. You'll be amazed how much "green" you have missed in your everyday life. If you pay more attention to your surroundings, you'll notice the tubes underneath a pot of hanging plant actually makes nice stand for it. You'll also find that branches struggle to get away from the glossy window so that you'll get to see them greeting you. Greenvironment wishes to send out a friendly reminder so that we all cherish the green around our environment

13/40 Professional competition: Conceptual category shortlist - from the series "Futuristic Archaeology" by Daesung Lee, Republic of Korea

Series Description: Still 35% of Mongolians are living a nomadic life and depend on their land for survival. This is increasingly difficult due to serious changes: 25% of the Mongolianland has turned into desert in the past 30 years. Potentially 75 % of Mongolian territory is at risk of desertification. These environmental changes directly threaten the Mongolian nomadic way of life, which has been passed from generation to generation. This project attempts at recreating the museum diorama with actual people and their livestock in a real place where decertifying in Mongolia. It is based on an imagination that these people try to go into museum diorama for survival in the future. This is accomplished with printed images on a billboard placed in conjunction with the actual landscape horizon. I hope to accomplish a sense that the lives of these nomadic people occur between this reality and a virtual space of a museum. Mongolian traditional nomadic lifestyle might be existed only in museum in the future

14/40 Professional competition: Campaign category shortlist - from the series "Lidos Of England: Lost & Found" by Jonathan Syer, UK

Series Description: Lidos were perhaps at their most popular between the wars when people took their holidays here in England. Many of them were built in the 1930s or earlier and were naturally located on the English south coast, which was a favoured holiday destination for those living in London and the home counties. However there were many that were built in towns and cities to cope with the demand that once was and many of these remain. However, when the affordability of overseas holidays started to emerge in the 1960s many of these lidos fell into decline and have never recovered. Some have survived and have benefitted from investment and so have taken on a new lease of life as popularity has started increasing again. Most have been left to decay or lost under modern developments, such as Ramsgate's once booming pool which is now under a car park. The ones remaining are desperately clinging on while campaigns are fought to save them from disappearing completely, relics of a lost golden age

15/40 Professional competition: Institute, United Kingdom, SHORTLIST, category shortlist - from the series "Glasgow; Second City of The Empire. On the run up to the Scottish Referendum" by ougie Wallace, UK

Series Description: London's Kensington & Chelsea has the UK's highest life expectancy at birth. I looked at this Glasgow community and the day-to-day lives of its inhabitants. I'm interested in commuters and capturing people on public transport. My intention was to juxtapose Glasgow with the setting of Kensington and Chelsea in London. Being from Glasgow, I am moved by what I perceive to be missing chunks of life and the bleakness of those shortened lives lived in the Calton, a small pocket of Glasgow, compared to those lived in Kensington and Chelsea. The difference in fortunes is not only apparent in mortality but in the cut of their suits and coats, the accessories they carry, the way the women apply their make-up, even their expressions tell a tale – confident and haughty vs downtrodden and malnourished. Using my trademark style of pathos vs bathos and my method of getting up close to my subjects I produced a series of pictures that give an important social account as well as entertain my viewer

16/40 Professional competition: Portraiture category shortlist - from the series "Hair" by Jens Juul, Denmark

Series Description: The hair is an intimate part of a person. Hair has some symbolic value: ideas of beauty, strength, eroticism, individuality, sensuality, masculinity, and femininity are closely linked to the hair. "When I bike to school and kindergarten with my children in the morning, we pass a hairdresser's, which is frequented daily by local residents. I was working intensely on another project at the time, but the idea just gripped me." "I started visiting different hair salons to capture the moment where we let other people get intimately close and shape the way the world sees us." "When I meet ordinary people, I'm intrigued by the fact that they have so many fascinating stories and interesting personalities. You don't have to go to distant places to experience drama and the unknown. The odds are, you'll find both right around the corner. In this case the stories were found at the local hairdresser." The project is not yet finished – there is still so much to discover in Copenhagen's hair salons

17/40 Professional competition: Sport category shortlist - from the series "Underwater Grace" by Jonathan Yeap Chin Tiong, Singapore

Series Description: Black and white treatment was chosen for this series of images to further enhance the body form underwater. It leaves the viewers a sense of space frozen in time and the subjects "floating"

18/40 Professional competition: Travel category shortlist - from the series "Faces" by Farid Sani, Iran

Series Description: This series is comparing faces and colors of four different cities which is describing culture of the people are living there. Each Image is a puzzle from different doors in each city. First Image : Venice Second : Tehran Third : Spandau Forth : Berlin

19/40 Professional competition: Travel category shortlist - from the series "ici on vit nu" by Peter Franck, Germany

Series Description: Travel will be shown with this photo series as a standstill.The pictures show motorhomes , caravans and their environment. They have arrived at the end of their journey and everything seems to persist in standing still. The travelers are gone, leaving the stage and the beach lonely again. Only a few anglers and a dog populate this scenery. A peculiarly quiet and deserted atmosphere is created. Planned as a movable places they are now arrested in this standstill

20/40 Professional competition: Contemporary Issues category shortlist - from the series "First Sight" by Brent Stirton, South Africa

Series Description: WEST BENGAL, INDIA 21 OCTOBER 2013: Blind girls Sonia, 12, and Anita Singh, 5, are born into poverty with congenital cataract blindness. They must accompany their parents everywhere as they cannot be left alone without risk. The surgery to cure this is simple and takes 15 minutes but because of the level of poverty in this family they have been unable to pursue the necessary operation. India has more than 12 million blind, the majority of which suffer from cataract blindness. Poverty is the main reason these millions of people are trapped in this condition. Donor funding has recently enabled both sisters to finally go for this operation. This essay is an attempt to tell the story of their lives before surgery, during the operation to regain their sight and after as they begin to discover light

21/40 Professional competition: Current Affairs category shortlist - from the series "Ukraine. Kiev. Euromaidan" by Vladyslav Musiienko, Ukraine

Series Description: Euromaidan was a wave of demonstrations and civil unrest in Ukraine, which began on the night of 21 November 2013 with public protests in Maidan Nezalezhnosti ("Independence Square") in Kiev, demanding closer European integration. The scope of the protests expanded, with many calls for the resignation of President Viktor Yanukovych and his government. The protests ultimately led to the 2014 Ukrainian revolution. Many protesters joined because of the violent dispersal of protesters on 30 November and "a will to change life in Ukraine". By 25 January 2014, the protests had been fuelled by the perception of "widespread government corruption", "abuse of power", and "violation of human rights in Ukraine". The protests reached a climax during mid-February

22/40 Professional competition: Contemporary Issues category shortlist - from the series "A Life Apart: The Toll of Obesity " by Lisa Krantz, USA

Series Description: For years, Hector Garcia Jr. battled severe obesity and all its consequences: the pain, the ridicule and the lost hopes. After years of repeatedly gaining and losing hundreds of pounds, Garcia, who at one point weighed 636 pounds, once again was stuck in the back bedroom of his parents' modest house, in San Antonio, Texas. His weight put him in a category known as severely obese, which makes up about 6.3% of the U.S. population. The rate of severe obesity is growing faster than the rate of people who are merely overweight. Neither the state nor local health agencies track the percentage of people with severe obesity, which is more dangerous than lesser degrees of obesity because it raises the likelihood of dying prematurely - one recent study suggests 14 years early - from heart disease, cancer and diabetes. An untold number of people with severe obesity live in isolation like Garcia, unable to find or access the medical and psychological help they need to combat its pervasive effects

23/40 Professional competition: Contemporary Issues category shortlist - from the series "Une Crise Humanitaire" by Corentin Fohlen, France

Series Description: Region Iriba in eastern CHAD - June 2014: In eastern Chad , in the area of Iriba (north of Abeche ) , Sudanese refugee camps in Darfur are installed since 2004. The climatic conditions and the presence of the desert are a brake on development of any form of sufficient agriculture to feed people .Here the refugees are entirely dependent on distributions from the World Food Programme (WFP) . The removal of 60% of food rations leave these people in an even more vulnerable position. Region Gore , southern CHAD - May 2014. Since January 2014, the lack of donor funding has forced the Program World Food (WFP) to reduce by 60% the food rations in refugee camps Central, located in Chad. The latest newcomers struggle to survive. They arrive exhausted, sick and malnourished. They fled the violence raging for months in Central Africa. Since the cuts rations , the rate of malnutrition among children has increased dramatically and worried humanitarian agencies can no longer cope

24/40 Professional competition: Sport category shortlist - from the series "Sweat and blood" by Marcin Klocek, Poland

Series Description: In the Ryogoku district of Tokyo are many heyas (beyas) - training quarters, where sumo wrestlers train and live. Very few of them let outsiders into the heya to watch their practice. However if one has a special invitation or is lucky then the experience of seeing the national sport of Japan at close distance and the wrestlers in all their sweat and blood is unforgettable. And if you are extremely lucky you can even rub shoulders with the great Yokozuna himself

25/40 Open competition: Split Second category winner: "Suspended animation" by Jaime Massieu Marcos, Spain

26/40 Open competition: People category winner: "Don Bohlul from Isfahan" by Saleh Rozat, Iran

27/40 Open competition: Travel category winner: "Winter dream" by Yasen Georgiev, Bulgaria

28/40 Open competition: Smile category winner: "Happiness" by Wilson Lee, Hong Kong

29/40 Open competition: Arts & Culture category winner: "Quetzalcoatl" by Héctor Muñoz Huerta, Mexico

30/40 Open competition: Architecture category winner: "Schoolyard" by Armin Appel, Germany

31/40 Open competition: Enhanced category winner: "Bomb" by Antony Crossfield, UK

32/40 Open competition: Nature & Wildlife category winner: "Wildlife in the city" by Antoine Weis, Switzerland

33/40 Open competition: Low Light category winner: "Early Dawn " by Nick Ng Yeow Kee, Malaysia

34/40 Open competition: Panoramic category winner: "Perfect Symmetry" by Norman Quinn, UK

35/40 Youth competition: Environment category winner: "Back alley" by Yong Lin Tan (age 19), Malaysia

36/40 Youth competition: Culture category winner: "Cante Alentejo" by Beatriz Mota da Rocha (age 15), Portugal

37/40 Youth competition: Portraits category winner: "Mellow Memories" by Stephanie Anjo (age 14), UK

38/40 Mobile Phone competition: 3rd place - "Fighting" by Ako Salemi, Iran

39/40 Mobile Phone competition: 2nd place - "Nyugati" by Janos M Schmidt, Hungary

40/40 Mobile Phone competition: Winner - "A day on the beach" by Turi Calafato, Italy
"My father was amazing. He was in one of the worst camps in Siberia; it was 40 degrees below zero for eight months. There were times in the early days when I didn't know if they were alive, and they didn't know if the other was alive. And he wasn't bitter, it was amazing," she says.
"When I talked to him I wanted to ask questions, then my mother said when he has talked to you he wakes up in the middle of the night and screams so please don't ask any more questions. I didn't."
Bohm still photographs now, not often she points out because it's intense. Her home is lined with her work, early portraits and snaps of her two daughters and five grandchildren. There are bright landscapes and flowers painted by her father after he came back. "As it happened, my family survived which is extraordinary," she says. "After what happened in my lifetime, and to me and my family, I just hoped that the world would be a better place, I think we all hoped."
Out of Chaos; Ben Uri: 100 Years in London is at Somerset House, London, to 13 December
Reuse content