I recently spent a night wandering, jet-lagged, around the strip-lit tourist malls of Cancún's Hotel Zone. Alongside the Hooters and the Wet'n Wild, the shopping in this purgatorial Spring Break resort is surreal: aisles and aisles of shot glasses shaped like cacti, figurines of glamorous skeletons smoking cigarettes, idolatrous portraits of Frida Kahlo, whose image circulates there like that of a national saint.
In the Thirties and Forties, the Mexican artistic elite, of which Kahlo was part, embraced the indigenous cultures that had been so devastated by the Spanish colonisation of Mexico in the 16th century. Kahlo was born into a  German-Jewish and Mestizo bourgeois family, but she chose to wear the traditional dress of the Tehuana, an indigenous Zapotec matriarchal community. This was a statement not merely about collectivism versus capitalism and the importance of a pre-Hispanic Mexican identity, but feminism too. Hers was an image of a powerful woman.
Today Tehuana clothing and other regional artesania – electric-blue shawls from Chiapas, silver from Taxco – are commodified and sold as symbols of "authentic" Mexico. But the indigenous peoples who have been designing and making these beautiful objects by hand for centuries still live in extreme poverty, often excluded from mainstream society, education, and employment. Ethnic hierarchy persists; in the hugely popular telenovelas (soap operas), most of the actors are pale-skinned and European-looking.
The situation of indigenous people in  Mexico today is complex and fascinating. For this  reason, I was looking forward to seeing  London-based artist Laura Eldret's week-long exhibition, The Juicers, which opened last Monday at the ICA Studio, London. She  travelled to Teotitlan de Valle in Oaxaca,  Mexico, famous for the rug-making traditions of the Zapotec community. She created a series of drawings, which Zapotec artisans then reimagined and weaved into rugs on traditional looms with natural dyes. A graduate of Wimbledon College of Art, Eldret has previously shown work at the South London Gallery.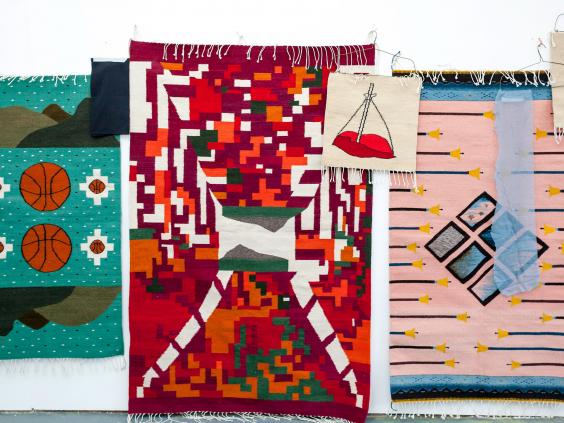 The idea for The Juicers is interesting, but the exhibition is underwhelming; there is simply not much here: a few non-descript rugs hanging from the ceiling, Eldret's drawings, which are crude and childlike in felt-tip, watercolour, and acrylic, and a film running on a laptop.
It's a shame; there is huge potential in the project to illuminate aspects of the changing traditions of the community. The surrealist André Breton said that Mexico is a surreal country; while the comment may be understood as that of a European traveller seeking the "exotic",  there is something joyfully incongruous and alive about much of Mexican visual culture; none of this is conveyed here.
However, the exhibition should be understood as a work in progress. It's the first of Fig. 2, a "dynamic exhibitions programme", which consists of 50 exhibitions by 50 different  artists over 50 weeks, curated by Turkish-born, London-based Fatos Ustek. The focus rests on spontaneity; there is no advance scheduling. 
In Ustek's words, The Juicers is "a corridor" of ideas through which the visitor can walk, an insight into the artist's imagination. The final product of the Zapotec collaboration will not be revealed until the 50th week. Including both emerging and established artists, crossing disciplines between art, literature, science, and the humanities, the nature of Fig. 2 is that it affords artists an opportunity to experiment, rather than produce a polished exhibition. The speed of the turnover lends itself to a refreshing kind of imperfection.
Indeed, the entrance to the space feels like a nicely seedy dive bar, with a white neon sign above the door and a long concrete stairway with graffitied walls and exposed bricks  and pipes. This has all been left intact on  purpose: the space has been recently converted from the ICA's work studio, where exhibitions were assembled. It's comfortably messy rather than contrived.
Fig. 2 is based on Fig. 1, which also consisted of 50 exhibitions over 50 weeks, and took place at Fragile House Gallery, London, in 2000. Conceived by Jay Jopling and Mark Francis, the participating artists and writers included Richard Hamilton and Will Self, who wrote a series of stories live in the gallery while being observed by visitors. A film by Patti Smith and Robert Mapplethorpe was shown.
So how does Ustek envision Fig. 2 to be distinct from Fig. 1? She points out how much the artworld in London has changed over the past 15 years. Now there is a greater emphasis on art as "encounter" and "experience". Since the Noughties artists have been responding more to "the multiplicity of influences" of virtual reality. What is striking about this first exhibition though is its relative lack of concern with the hyperactive flows of digital information. After all, the Zapotecs have been making rugs in this way for generations; they are ancestors of a civilisation that flourished more than 2,000 years ago.
50 years of the Royal College of Art
50 years of the Royal College of Art
1/8 50 years of the Royal College of Art

John Pasche (1970)

2/8 50 years of the Royal College of Art

Brian Denyer (1963)

3/8 50 years of the Royal College of Art

Jonathan Barnbrook (1990)

4/8 50 years of the Royal College of Art

Mark Bonner (1991)

5/8 50 years of the Royal College of Art

Caz Hilderbrand (1982)

6/8 50 years of the Royal College of Art

Sara Fanelli (1994)

7/8 50 years of the Royal College of Art

Dave Ellis (1987)

8/8 50 years of the Royal College of Art

Ray Gregory (1971)
One of the more interesting rugs shows a series of horizontal bells that look like lotus flowers. Their stems are dyed with natural indigo, a mysterious pigment, which exists on the colour spectrum between violet and ultraviolet, associated with states of delirium. The bells refer to the Zapotecs' communal belling-ringing ritual. In the centre are several TVs, which appear more like windows than screens: they show mountain ranges, green peaks rising towards bright blue skies.
The Zapotecs are known as the "cloud  people" because of their belief that they were descended from the clouds, where they  will eventually return. These details are  poetic; more context would inject these works with meaning.
The exhibition's title refers to the juice bags with straws that are popular in the town. Images of the juice bags are shown on several rugs: green, red, and orange graphic motifs that recall the post-Pop art of Michael  Craig-Martin. No longer bound by tradition, are the rugs conceptual? Are they decorative? Either way, they don't work for me.
The film playing on the laptop shows scenes from the town. A food blender stands in the foreground, whizzing vivid green juice, while a woman works in a café. Another shot shows the illuminated interior of a church, adorned with candles and religious icons. There is the sound of music nearby; a fiesta is going on. This has a certain melancholy to it. But every street in Mexico is filled with music and art; the visual culture is dazzling, and needs only to be shown as such.
Like Ciara Phillips' print-making collaboration with Justice for Migrant Workers (J4MW), which was nominated for last year's Turner Prize, Eldret has reached beyond the artworld to engage with community. Like Phillips' work, however, the principle of social engagement is not enough. More nuance is needed. The next exhibition at Fig. 2, which opens today, is a film by London-based artist Charles Avery, who has been creating his own fictional island through various media over the last decade.
The ICA has a wonderful history of relating art to politics and culture in a challenging way. Being difficult is what it does best. In recent years, it has seemed more fashion-friendly than radical. Ustek is a talented curator; perhaps Fig. 2 will prove to be a space where artists  can take risks, and show work with something at stake.
Fig. 2, ICA Studio, London SW1  (020 7930 3647) to 20 December
Reuse content