When the Glasgow International Festival opens next month, director Sarah McCrory will present her first thematic group show for the programme, inspired by the city's industrial heritage and its artists' relationship to manufacturing.
The urban shift from heavy industry to the creative industries is a sensitive issue, and by no means one unique to Glasgow, but the sheer lustiness of the city's art scene, its self-sufficiency and its inventive, ongoing territorialisation of derelict post-industrial spaces in many ways make it a case apart. 
"If I were an artist, I'd move here in a hot minute," says McCrory, who relocated to Glasgow in 2012 to take the reins of the biennial festival following stints as curator of Frieze Projects and London's Studio Voltaire.
McCrory cites benefits such as available studio space, affordability, and a pace of life that allows "more time to develop ideas", as well as the fact that there's "still a culture of government funding: it's not amazing, but perhaps better than the rest of the UK." 
Over at the Glue Factory, an artist-run space on a knocked-about light industrial estate in the north of the city, the creative energy is almost palpable.
Entering through the street-side door, one passes through studios occupied by graphic designers and screen printers, and a sweltering kitchen taken over by a local music label hand-moulding rubber CD sleeves, before getting to the first suite of exhibition spaces.
Culture news in pictures
Culture news in pictures
1/30 30 September 2016

An employee hangs works of art with "Grand Teatro" by Marino Marini (R) and bronze sculpture "Sfera N.3" by Arnaldo Pomodoro seen ahead of a Contemporary Art auction on 7 October, at Sotheby's in London

REUTERS

2/30 29 September 2016

Street art by Portuguese artist Odeith is seen in Dresden, during an exhibition "Magic City - art of the streets"

AFP/Getty Images

3/30 28 September 2016

Dancers attend a photocall for the new "THE ONE Grand Show" at Friedrichstadt-Palast in Berlin, Germany

REUTERS

4/30 28 September 2016

With an array of thrift store china, humorous souvenirs and handmade tile adorning its walls and floors, the Mosaic Tile House in Venice stands as a monument to two decades of artistic collaboration between Cheri Pann and husband Gonzalo Duran

REUTERS

5/30 27 September 2016

A gallery assistant poses amongst work by Anthea Hamilton from her nominated show "Lichen! Libido!(London!) Chastity!" at a preview of the Turner Prize in London

REUTERS

6/30 27 September 2016

A technician wearing virtual reality glasses checks his installation in three British public telephone booths, set up outside the Mauritshuis museum in The Hague, Netherlands. The installation allows visitors a 3-D look into the museum which has twenty-two paintings belonging to the British Royal Collection, on loan for an exhibit from 29 September 2016 till 8 January 2017

AP

7/30 26 September 2016

An Indian artist dressed as Hindu god Shiva performs on a chariot as he participates in a religious procession 'Ravan ki Barat' held to mark the forthcoming Dussehra festival in Allahabad

AFP/Getty Images

8/30 26 September 2016

Jean-Michel Basquiat's 'Air Power', 1984, is displayed at the Bowie/Collector media preview at Sotheby's in New York

AFP/Getty

9/30 25 September 2016

A woman looks at an untitled painting by Albert Oehlen during the opening of an exhibition of works by German artists Georg Baselitz and Albert Oehlen in Reutlingen, Germany. The exhibition runs at the Kunstverein (art society) Reutlingen until 15 January 2017

EPA

10/30 24 September 2016

Fan BingBing (C) attends the closing ceremony of the 64th San Sebastian Film Festival at Kursaal in San Sebastian, Spain

Getty Images

11/30 23 September 2016

A view of the artwork 'You Are Metamorphosing' (1964) as part of the exhibition 'Retrospektive' of Japanese artist Tetsumi Kudo at Fridericianum in Kassel, Germany. The exhibition runs from 25 September 2016 to 1 January 2017

EPA

12/30 22 September 2016

Jo Applin from the Courtauld Institute of Art looks at Green Tilework in Live Flesh by Adriana Vareja, which features in a new exhibition, Flesh, at York Art Gallery. The new exhibition features works by Degas, Chardin, Francis Bacon and Sarah Lucas, showing how flesh has been portrayed by artists over the last 600 years

PA

13/30 21 September 2016

Performers Sean Atkins and Sally Miller standing in for the characters played by Asa Butterfield and Ella Purnell during a photocall for Tim Burton's "Miss Peregrines Home For Peculiar Children" at Potters Field Park in London

Getty Images

14/30 20 September 2016

A detail from the blanket 'Alpine Cattle Drive' from 1926 by artist Ernst Ludwig Kirchner is displayed at the 'Hamburger Bahnhof - Museum for Contemporary Arts' in Berlin. The exhibition named 'Ernst Ludwig Kirchner - Hieroglyphen' showing the complete collection of Berlin's Nationalgallerie works of the German artist Ernst Ludwig Kirchner and will run from 23 September 2016 until 26 February 2017

AP

15/30 20 September 2016

A man looks at portrait photos by US photographer Bruce Gilden in the exhibition 'Masters of Photography' at the photokina in Cologne, Germany. The trade fair on photography, photokina, schowcases some 1,000 exhibitors from 40 countries and runs from 20 to 25 September. The event also features various photo exhibitions

EPA

16/30 20 September 2016

A woman looks at 'Blue Poles', 1952 by Jackson Pollock during a photocall at the Royal Academy of Arts, London

PA

17/30 19 September 2016

Art installation The Refusal of Time, a collaboration with Philip Miller, Catherine Meyburgh and Peter Galison, which features as part of the William Kentridge exhibition Thick Time, showing from 21 September to 15 January at the Whitechapel Gallery in London

PA

18/30 18 September 2016

Artists creating one off designs at the Mm6 Maison Margiela presentation during London Fashion Week Spring/Summer collections 2017 in London

Getty Images

19/30 18 September 2016

Bethenny Frankel attends the special screening of Disney's "Beauty and the Beast" to celebrate the 25th Anniversary Edition release on Blu-Ray and DVD in New York City

Getty Images for Walt Disney Stu

20/30 17 September 2016

Visitors attend the 2016 Oktoberfest beer festival at Theresienwiese in Munich, Germany

Getty Images

21/30 16 September 2016

Visitors looks at British artist Damien Hirst work of art 'The Incomplete Truth', during the 13th Yalta Annual Meeting entitled 'The World, Europe and Ukraine: storms of changes', organised by the Yalta European Strategy (YES) in partnership with the Victor Pinchuk Foundation at the Mystetsky Arsenal Art Center in Kiev

AP

22/30 16 September 2016

Tracey Emin's "My Bed" is exhibited at the Tate Liverpool as part of the exhibition Tracey Emin And William Blake In Focus, which highlights surprising links between the two artists

Getty Images

23/30 15 September 2016

Musician Dave Grohl (L) joins musician Tom Morello of Prophets of Rage onstage at the Forum in Inglewood, California

Getty Images

24/30 14 September 2016

Model feebee poses as part of art installation "Narcissism : Dazzle room" made by artist Shigeki Matsuyama at rooms33 fashion and design exhibition in Tokyo. Matsuyama's installation features a strong contrast of black and white, which he learned from dazzle camouflage used mainly in World War I

AP

25/30 13 September 2016

Visitors look at artworks by Chinese painter Cui Ruzhuo during the exhibition 'Glossiness of Uncarved Jade' held at the exhibition hall 'Manezh' in St. Petersburg, Russia. More than 200 paintings by the Chinese artist are presented until 25 September

EPA

26/30 12 September 2016

A visitor looks at Raphael's painting 'Extase de Sainte Cecile', 1515, from the Uffizi Gallery in Florence during the opening of a Raphael exhibition at the Pushkin State Museum of Fine Arts in Moscow, Russia. The first Russian exhibition of the works of the Italian Renaissance artist Raffaello Sanzio da Urbino includes eight paintings and three drawings which come from Italy. Th exhibit opens to the public from 13 September to 11 December

EPA

27/30 11 September 2016

Steve Cropper and Eddie Floyd perform during Otis Redding 75th Birthday Celebration - Rehearsals at the Macon City Auditorium in Macon, Georgia

Getty Images for Otis Redding 75

28/30 10 September 2016

Sakari Oramo conducting the BBC Symphony Orchestra, the BBC Symphony Chorus and the BBC Singers at the Last Night of the Proms 2016 at the Royal Albert Hall in London

PA

29/30 9 September 2016

A visitor walks past a piece entitled "Fruitcake" by Joana Vasconcelo, during the Beyond Limits selling exhibition at Chatsworth House near Bakewell

REUTERS

30/30 8 September 2016

A sculpture of a crescent standing on the 2,140 meters high mountain 'Freiheit' (German for 'freedom'), in the Alpstein region of the Appenzell alps, eastern Switzerland. The sculpture is lighted during the nights by means of solar panels. The 38-year-old Swiss artist and atheist Christian Meier set the crescent on the peak to start a debate on the meaning of religious symbols - as summit crosses - on mountains. 'Because so many peaks have crosses on them, it struck me as a great idea to put up an equally absurd contrast'. 'Naturally I wanted to provoke in a fun way. But it goes beyond that. The actions of an artist should be food for thought, both visually and in content'

EPA
A month before the festival, they are thronged with third-year Painting and Printmaking students from Glasgow School of Art (GSA) hanging a weekend show. 
The factory spaces extend over three levels, some still dressed with gargantuan boiling tanks and other industrial infrastructure. Platforms jut out at half levels offering balcony views over a trio of students in brightly coloured masks practising for a performance work.
On an early spring day with dappled light trickling from moss-edged plastic panels in the roof, the Glue Factory looks like some airy bohemian dreamworld, but Alex Misick, the programme co-ordinator, notes that persistent leaks and – until recently – a complete lack of heating made for a challenging environment in which to make and show art.
Despite the drips and crumbling plaster, the Glue Factory is considered an established venue, five years into its current incarnation, offering extra gallery space to outside institutions alongside a programme that includes concerts and exhibitions. For Glasgow International, the Glue Factory has worked with London's Woodmill on "Rough House",a project that will itself explore interdependence.
The Glue Factory and Misick's position within Glasgow's art ecosystem are illustrative of the lack of hierarchy and DIY spirit that infuses the city's creative scene. After graduating from the Glasgow School of Art, Misick worked at the city's Centre for Contemporary Art before moving to the Glue Factory.
In his current role, he is informally mentored by his old boss (CCA director Francis McKee), but is also acting as a relatively experienced adviser on the renovation of the Pipe Factory, a younger, not-for-profit space in Glasgow's East End. 
The sense that every person and organisation is connected, often via multiple routes, is enhanced by the central role played by the GSA. By and large, the city's gallerists and organisers are GSA graduates; the first artists they show and represent are their peers, and the subsequent renovators of their spaces and designers of their exhibition posters are contemporaries drawn from sibling departments. The GSA has produced a prodigious number of Turner prize nominees – 30 per cent this past decade have come from the school – but it is also the alma mater of the city's most important gallerists, and many of those running its arts organisations.
Isla Leaver-Yap is director of LUX Scotland, an organisation that supports artists working with moving image. Having worked in both London and New York before founding the agency in her home city, Leaver-Yap sees Glasgow's co-operative set-up as encouraging a particular kind of art-making, one less aligned with a competitive commercial scene. "It doesn't mean that there's a lack of ambition, but it changes the way that people work," she explains.
Leaver-Yap cites the city's pre-eminent gallerist – Toby Webster of the Modern Institute – as an exemplary product of Glasgow's self-motivated and mutually supportive ethos. "He was an artist, he made work and he came through [the artist-run space] Transmission – that idea of not waiting for permission but starting something yourself has been key to people's practice in general."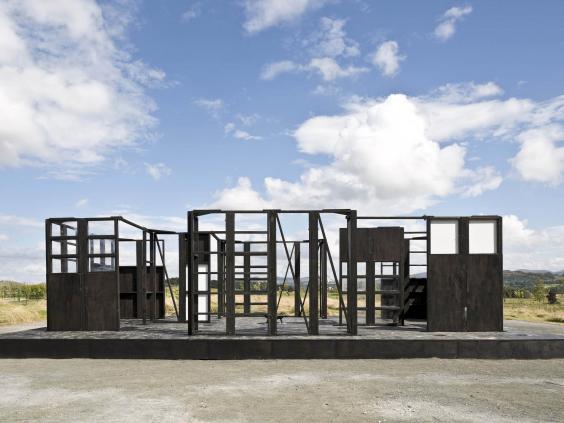 Founded in 1997, the Modern Institute is still one of only three contemporary art galleries in the city. Although the city has no collector base per se, Webster explains that the importance of maintaining a gallery in Glasgow extends much further than simply being geographically close to many of the artists he represents.
"When we started, we felt the economy had to come back here – it's a big thing to be able to put money back into the economy by employing people. We really like employing artists – they take care, and know what they're doing, they get into the work and understand the artists and what they my want. You get people with good visual vocabulary."
The Modern Institute will be showing on- and off-site projects during Glasgow International, including new large-scale work by the Polish artist Monika Sosnowska, known for her disconcerting manipulation of architectural forms.
Artists represented by the gallery – notably Martin Boyce – also form part of the director's programme, and works by artists currently employed by the gallery will be on display at venues around the city. 
Last summer, Paul Pieroni was appointed senior curator at the publicly funded Glasgow Gallery of Modern Art (Goma). Over the past nine months, he has embarked on a spirited and immersive study of the city's art scene and its heritage.
He's also had to negotiate the politics that surrounds such an institution in a city full of strongly opinionated working artists, few of whom feel any compunction in being vocal as to how – and indeed whether – Goma should represent the current art scene of its home city. 
"I'm interested in museums that lead, not ones that reproduce the zeitgeist," says Pieroni. "You might as well create your own 'new'." Accordingly his burrowing through Glasgow's cultural history has drawn him to figures such as beat writer Alexander Trocchi, the "anti-psychiatrist" RD Laing and the poet and songwriter Ivor Cutler. "If I was to say what most interested me, it's the depth of history here, and the weirdness of history here and how that's reflected in culture."
Pieroni sees Goma as not only representing Glasgow, but also reflecting wider artworld trends. During Glasgow International, it will show playful, underwater-inspired works by German artist Cosima von Bonin and a new sculpture and performance piece by Glasgow-based Tessa Lynch.
Running concurrently with Glasgow International's opening weekend, another festival, Counterflows, will explore marginal and experimental music. The two festivals cross-pollinate amicably and their programmes intersect: LUX Scotland, for example, is presenting an expanded cinema event as part of Counterflows rather than Glasgow International.  
Pieroni believes such cultural omnivorousness is core to the punchy contemporary art associated with the city. "Here you will have a finger in all these other pies – music, film, history – it's almost the perfect template on to which to press contemporary art, which is defined by an infinity of means. Glasgow is a city that moves fluidly between registers." 
Glasgow International Festival is at various venues from 8 to 25 April. Counterflows is at  various venues from 7 to 10 April
Reuse content