The first major UK exhibition of Jason Rhoades is surprisingly not in London but at the enterprising Baltic in Gateshead. Surprising, because at his premature death in 2006 Rhoades was already an art-world superstar, having been taken on by major galleries in America and Europe.
Born in 1965 near Sacramento, California, Rhoades had what he always claimed was an idyllic childhood, full of ranching and farm activities. When I met him at his studio once, he was full of plans and ideas, off to his beloved desert in the next few days, so it was with real sadness that I heard of his death: an accidental overdose, according to the accounts I read.
The question that has to be addressed now is how you show an artist who is no longer around to oversee the installation of his labyrinthine exhibitions. The Baltic has worked with a member of Rhoades' team when he was alive who is now employed by the Jason Rhoades Foundation, and although it is purely coincidental that Baltic curator Laurence Sillars was at Tate Liverpool when Rhoades was included in the Liverpool Biennial, it is fortuitous. Sillars was one of the volunteers in charge of working with PeaRoeFoam, a material that Rhoades invented, composed of Styrofoam balls, salmon eggs and frozen peas mixed with Elmer's Glue to make a paste that hardened into a robust material.
Developed as a way of getting around museums' budgetary constraints for building walls, Lawrence recalls that "too wet and it rotted; too dry and it did not harden". PeaRoeFoam is present in this show in a large work, Iwan's Rack (2003-04). This started as a shelving unit in the studio, a repository for materials coming back from shows. In the large room in the Baltic, the foam reveals its strange beauty, but there is also a process displayed. On one shelf are shovels speckled with blobs of polystyrene, on another a palette of the material that Rhoades would ship to institutions prior to their installation, complete with shovels and heavy-duty gloves. Boxes spill out another favourite material – Lego – as well as wagon wheels, some decked with the plastic vegetables that I saw in his studio.
This gallery floor with Rhoades' earlier work is strangely inert. It seems as if the process is shown, but there is little energy and excitement displayed. We are now so used to the adaptation of ready-made and found materials thanks to Marcel Duchamp, one of Rhoades' indisputable heroes, that we are inured to strange materials. Rhoades would also have been clearly aware of fellow maverick California artists Mike Kelley and Paul McCarthy, proponents of irreverence both with their subject matter and materials.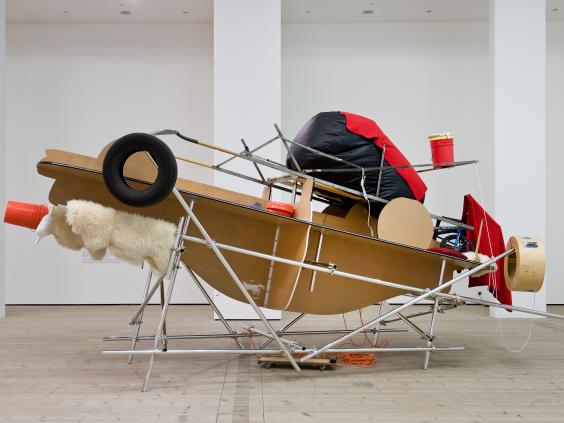 Rhoades was signed up by a major gallery straight out of UCLA's programme for artists, and there was always the problem for him of providing material to sell alongside the ambitious installations that largely fuelled his imagination. He dealt with this pragmatically, making several multiples, on display here. There is a crude but instantly recognisable "piss-take" of a Jeff Koons Right Handed Rabbit. There is also a colourful work, Bottle Pumpkin from Perfect World, composed of a gourd and snapshots of Rhoades with his cronies, and a sad work ironically named The Future is Filled with Possibilities.
There are reprisals here of Sutter's Mill, which Rhoades declared as the largest-ever sculpture when it was first made in Germany, reconstructed with its shiny scaffolding poles and here a reductionist sculptural drawing looking sadly dwarfed within the gallery.
It is only when I  enter the back room, entitled Creation Myth (1998), that I truly feel the energy of the artist is captured. There is a soundtrack of California noises complete with ads for Knott's Berry Farm, a naff theme park that Rhoades found irresistible. I see an advertisement for Matthew Barney's Cremaster 5 film. Barney, an obvious hero for Rhoades, is also an inventor of his own building material – Vaseline mixed with some secret hardening mechanism. The wall text says we are entering the creative brain, and what a strange space this is. There is a machine belching smoke rings from its plastic anus and a model train topped with a furry animal running along tracks. The installation is illuminated with multicoloured plastic buckets, on which are carefully labelled statements such as: "Vital Organs, Heart Lungs, Etc with Aura and Instinct".
This show highlights the problems of keeping artists' legacies alive without their input at key moments, especially when practices increasingly push the boundaries of both materials and complication. This work is in the Flick Collection in Berlin; an annotated notebook on the desk in Creation Myth shows the labels of material, down to the plaster casts of fish vertebrate that are ranged on the table alongside empty bottles of soft drinks and paper shreddings. Sillars says the show's installation took six weeks – twice as long as any other since he has been at the Baltic.
One of Rhoades' earlier work (not shown here), The Costner Complex (Perfect Process) (2001), was initially made for the Portikus gallery in Frankfurt. In it Rhoades decided to investigate the Italian pickling process of vegetables, setting this against a monitor showing a constantly changing medley of Kevin Costner films. It is this irrelevant pairing of Costner films, pickled vegetables, salmon eggs and frozen peas that makes unpicking Rhoades work a mammoth task for conservators. Chaos is part of the equation, and somehow that will be the most difficult thing to replicate as time goes on.
Watching hordes of school children being ushered around the Rhoades exhibition in Tyneside, I hope some of his fun, anarchic and irreverent approach to art-making inspires some of them to "make art not war".
Jason Rhoades, Four Roads, The Baltic,  Gateshead (0191 478 1810) until 31 May
Reuse content