The heavens crack, fountains of flame light up the night, a few cowled, huddled figures flee the apocalypse across arid rock: John Martin's epic painting of the fall of Sodom and Gomorrah is the opening image in All That is Solid Melts into Air, a powerful new Hayward Touring exhibition curated by Jeremy Deller and opening at Manchester Art Gallery on Saturday.
And it sets the tone. For Deller, fresh from the Venice Biennale where his installation in the British Pavilion was widely acclaimed, the painting does not depict a mythological event in the far-off Middle East but the horrors that Britain had conjured in the course of the Industrial Revolution. 
John Martin painted the work in 1852, when the reality of what we had done to our Earth, to our towns and to labourers now condemned to spend their working lives in the factories was sinking in.
"Within a 20 or 30 year [period] the Industrial Revolution just happens – there are no regulations [and] there is this trauma, the inversion of order," says Deller. The earth is on fire [and] there are these hellish scenes on your doorstop. But it's producing money for you …. It's impressive but it's frightening at the same time – you read accounts of people from France going to Manchester in the 1860s and they cannot believe what they are seeing.
"Then there is this moment, which I find interesting, when people take stock of what has happened and realise that they have probably let things happen too quickly and things have gone too far …."
That delayed recognition is at the heart of the exhibition, which borrows the title of Karl Marx's work on the nature of capitalism. First there is the giddy, euphoric experience of radical social and economic change. And then there is the belated shock and dismay at what the revolution had brought in train: the polluting of the environment, the creation of hellish towns, the transformation of peasants into automata. Around the time that Martin painted The Destruction of Sodom and Gomorrah, a chastened British parliament commissioned reports into living conditions in the new industrial towns. Investigators returned with photos of labouring women swathed in filthy rags, staring numbly into the camera.
These distressing early photographs are displayed alongside the Sodom painting, but also alongside a photograph of a heaving 1980s disco. Later, we see the smoking stage set of Judas Priest's "Live in the East" show from 1979 juxtaposed with an equally smoky scene from an early 19th-century steel-rolling mill. Further on, an Amalgamated Engineers Union banner from 1890 is set against a text message sent to workers on zero-hours contracts that reads: "Hello, today you have day off."
"Now with the digital economy we find ourselves in a situation comparable to the mid-19th century," says Deller. "We've spent 20 years enjoying the internet and now we realise, God, all these people know all these things about us. They know my buying habits, where I'm going on holiday, all this."  We find ourselves utterly dependent on a system which knows every detail of our waking lives.
Since his first show in 1993, which was set in his family's home, Deller has taken on the mantle of a sort of national poet, selecting and juxtaposing many strands of British experience in a way that gives his oeuvre the feel of a collective autobiography. "Why are we the way we are?" he asks. "What made us like this?" His posture oscillates between social historian and thunderstruck child.
Trained as an art historian, the 2004 Turner Prize winner differs from his BritArt contemporaries in that, as he puts it: "I don't have the same art making and producing skills." Instead he thinks, conceives and commissions, explores, discovers and selects. "I'm an artistic curator," he says. "Artistic curators can put a bit more of themselves in the show [than academic curators can]. This is a personal wander, not a straight line, more a meandering, a sort of musing on something."
Deller's most famous work, seen again in last year's Hayward Gallery retrospective, remains a filmed re-enactment of the Battle of Orgreave, the crucial encounter of striking miners and police in 1985 that presaged the miners' ultimate defeat. Deller presented it as a tragic epic whose bruises are still raw.
In All That Is Solid … he returns to the miners – or rather to one in particular, Welshman Adrian Street, a defiant eccentric who fought off fellow miners who tried to cut his long hair, fled to London in the 1950s, pumped lead and reinvented himself as a professional wrestler. Then, in 1973, he returned to his village and posed, in the show's most remarkable image, with miners covered in dirt from the pit. They included his own father, with whom he did not get on.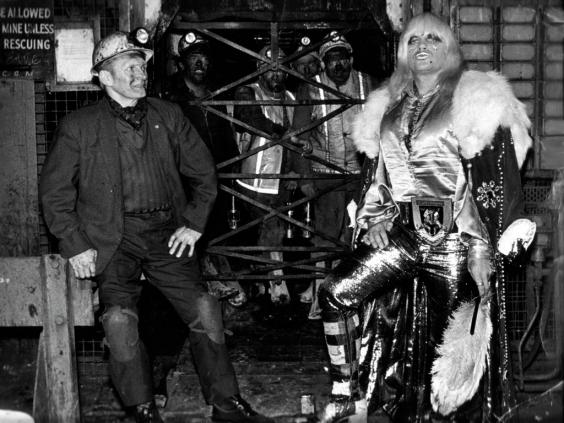 "I know [Street] very well," says Deller. "He's a great cipher for change. The image of him with his father is a metaphor for the changes going on in Britain. [It shows] what Britain was [and] what Britain will be: this shiny, clean, fame-based economy. He's like a one-man band, just doing it on his own.
"He and his dad had a terrible relationship. His dad was a prisoner of war of the Japanese [and] then he came back and went straight down the mines. He had been traumatised and was quite brutal with his son. So this is the image of Adrian returning to show his father, the miners, and Wales 'this is what I've made of myself'. He's a totally self-made man."
Street escaped his fate in spectacular fashion – today he lives in Florida – but he was marked for life by the mines. Likewise rock bands such as Judas Priest, Black Sabbath, Happy Mondays and Slade were the products of the industrial towns their members came from: their music reflected the brutally insistent rhythm of the metal-bashing factories and their shows were inspired by the garish brightness of a welding shop. In the exhibition, Happy Mondays pose in 1987 on a return to their roots in industrial Salford; next to that image, Deller displays singer Shaun Ryder's family tree going back to the early 19th century, featuring generations of miners, millwrights, weavers and cloggers and revealing how deep his roots are sunk in that landscape.
We may break away, Deller seems to say, but the Industrial Revolution, which transformed Britain before any other country, was a traumatic event that changed everything. We live in its shadow still.
'All That is Solid Melts into Air' is at Manchester Art Gallery from 12 Oct to 19 Jan 2014, and then tours to Nottingham, Warwick and  Newcastle.
Reuse content