Having lived under flight paths in both Washington DC and New York, where she now resides, Lauren O'Neill became captivated by the skies.
Rarely flying as a child, O'Neill made the most of the airport experience when she was older, choosing whenever she could to sit on the side of the aeroplane with the best view of both the airport and the city she was leaving.
The graphic designer came up with the idea for her Tumblr, Holding Pattern, while waiting for a flight three years ago. "I was watching the cargo cars, and all the different vehicles – this flurry of activity outside – and I thought I'd love to see it from overhead."
O'Neill, now 27, started to look up Google Maps of airports. "I noticed patterns, but the lines on the ground were different on each, and the geography also affected the structure. I found the design of the airports was even informed by the culture of the place. At Copenhagen Airport, for instance, you can see the Danish design sensibility: very organised, very clear, very functional."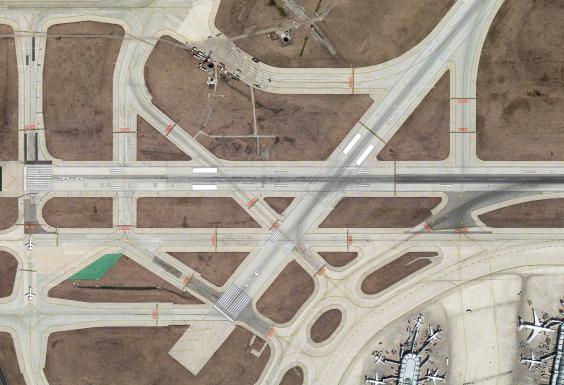 She made sure there was personality in each image she selected and cropped to highlight its composition. The image of New Zealand's Wellington International Airport, is among O'Neill's favourites, as the country is top of her travel wish list.
After requests from aviation enthusiasts for postcards and prints, O'Neill is now looking into hiring a commercial satellite to take her own aerial shots. In the meantime, she will continue with the blog from time to time. "Whenever I get a spark of wanderlust I start to look at airports again," she admits. "If I've updated the blog, I'm really craving a trip somewhere."
Visit: holding-pattern.tumblr.com
Reuse content