Laurie Lee is, of course, famous for his novel Cider with Rosie, but little is known about his artworks. However, next month an exhibition of his paintings and drawings to be shown in London will reveal that he was a talented artist. 
The works include a selection of never-before seen pen, brush and ink drawings, which his daughter, Jessy Lee, recently found in the lining of an old suitcase in the attic of Rose Cottage, her childhood home, in the Slad Valley, Gloucestershire. These include the dramatic Moon through Trees, and the war cartoons The Air Raid and The Dogfight, all dated circa 1940 and all of which  feature in the exhibition. 
"The drawings were randomly shoved into an empty textbook with the pages torn out," recalls Jessy. "I was really surprised and rather mortified that I hadn't tidied up as well as I thought I had – but very pleased. He constantly delights me. I thought, 'I can't be the only person to see them. I must show them to the world'."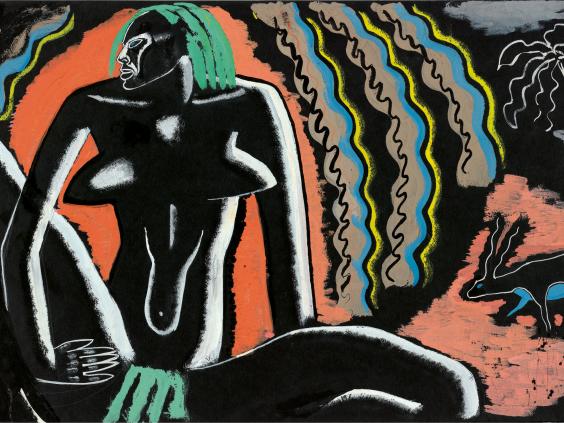 Jessy and her mother, Kathy, had stumbled across another batch of more  colourful unseen paintings and drawings after her father's death in 1997, which were hidden under his bed in the study. 
"My beloved cat died on top of the grey folder with all the work in it under the bed – that is when I found them. I had completely forgotten about them," says Jessy. "Mum said, 'You better have these. Laurie wanted you to have them'."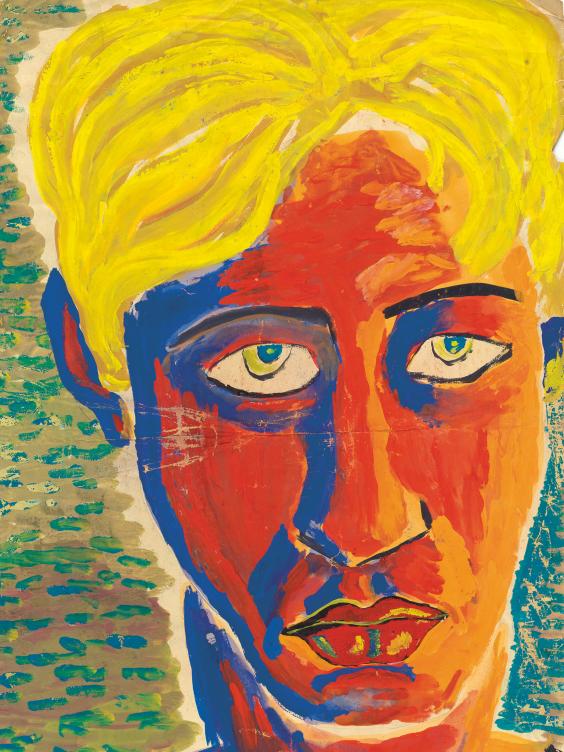 She then organised two small exhibitions of these artworks in 2014 in Stroud and London to mark the centenary of her father's birth. She also included some of the works in her book, Laurie Lee: A Folio, which was published that same year.
With more than 200 paintings and drawings now in her possession – "some are tiny sketches, I'm hoping somebody in the world of art will tell me how to preserve them" – Lee is also lending two unseen drawings from the original folder to be included in this new exhibition.
They include The Long Black Coat, circa 1940, which is thought to be of her mother's aunt Lorna Garman, the lover of both Laurie Lee and Lucian Freud and the stylised Nude in an Armchair, circa 1936, in which the identity of the sitter is not known. 
Other highlights include a large, garish Self Portrait, circa 1936, where, Jessy says, "He captures the serious and brooding side of himself beautifully, it looks like a Lucian Freud painting." Kathy and Jessy, from 1963, is a sketch of Jessy being breastfed as a baby by her mother, and Jessy says "it would have been a quick sketch. Mum wouldn't have stayed still that long – he just saw mum feeding me and grabbed a piece of paper." Jessy says of Guitarist with Singers, from 1937, that "I have such great memories of us all being on holiday together in Spain and dad's passion for the Spanish guitar". The undated Chicken is a simple sketch of a chicken: "It makes me laugh – it reveals his dry humour." Some of her favourites include the bright abstract nudes: "There is such fun and humour in his work."
He would be very surprised at having an art exhibition, and also very pleased and rather embarrassed
Jessy, 52, who was born four years after her father wrote Cider with Rosie, wasn't allowed inside her father's study in both their homes in London and Gloucestershire, unless invited. 
"I respected his privacy... and he never threw his work at me or anybody," she says. But she recalls seeing the grey folder of artworks stored in the corner of his study in Elm Park Gardens, Chelsea as a child. However, the first time she looked inside the folder was after his death. 
"After his death, I discovered much more depth to him than to just my old dad," she adds. "His extraordinary skills as an artist, all these paintings and drawings that nobody ever talked about. I think this is because he was surrounded by artists and he was so well known as a writer that he just stuck to his writing path," she says. 
She does remember him doing the odd sketch when she was growing up, including one of herself titled Jessy's Head 1969, which he had on his study wall. "He drew me and I scribbled his signature on the bottom of the picture," she says.
Jessy, a psychotherapist, devotes a lot of her time to running her father's estate. She still lives part-time in London and also in her childhood home, in Slad, where she has memories of having breakfast together with her father. "He locked himself away in his study to write at 10am," says Jessy, "and he wouldn't come out until 4.30pm when I was back from school." 
She adds: "He was good fun and a great practical joker. There were times when he was poorly [with epilepsy]. You'd have to be quite quiet," she says. 
Despite only knowing him as a writer when he was alive – "he was famous by the time I was born, it's all I knew" – she says his art reflects his writing.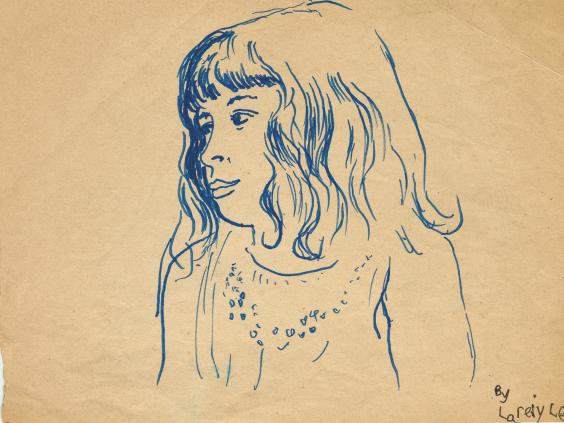 "There is a real synthesis between dad's writing and his paintings," says Jessy. "He writes with such colour and he is minimal. He doesn't write great thick books, His art is the same –  it's sort of minimal. It says so much without doing a great deal. This is where the art and the writing come together – you can so see it's Laurie." 
Her father studied painting at the art department of Reading University on a part-time course, following his return from Spain in 1936. Apparently his fellow students referred to him as "the English Picasso", and his teachers allowed him free rein to follow his own style.
He has been clearly influenced by his time in Spain, with works in the exhibition including his drawing Kill the Fascists, from 1938, and the abstract Landscape, Southern Spain, also from 1938, while Picasso's influence can be seen in Abstract Face, 1936, painted on black, and Nude Figure, 1940, of a crawling figure.
The co-curator of the exhibition, Harry Moore-Gwyn, says that working on this retrospective on Lee's work as a painter has been "an extraordinary voyage of discovery".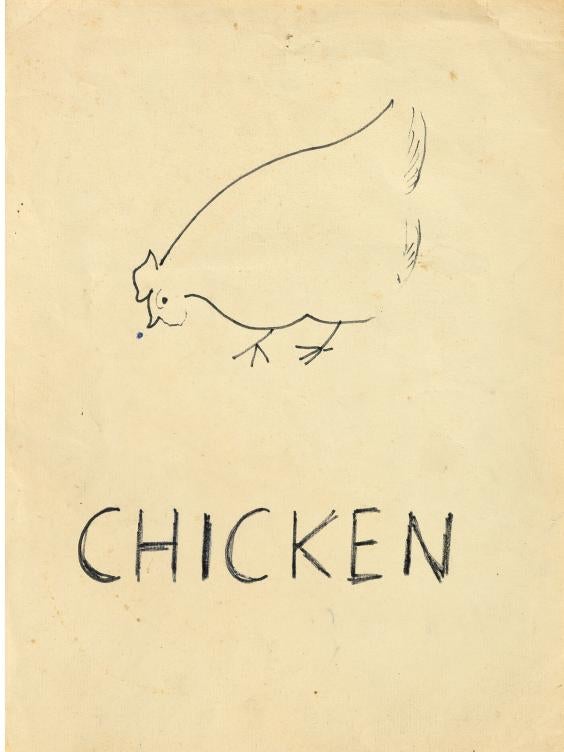 "Lee largely kept his art private, making few records of his subjects and sitters or the dates when they were painted. As such it has inevitably involved a certain amount detective work," he says. "The works themselves reveal Lee to be a highly individual painter, more progressive than his traditional training at the Reading University art department would suggest. 
"As well as Picasso emerging as an enduring influence on Lee's style, other influences emerge elsewhere through his many artist friends, such as in the vibrant colouring of Sir Matthew Smith or the primitivism of Sir Jacob Epstein (evident in a work like Nude Figure with Green Hair, 1937). A series of decorative and stylish nudes show clear comparisons with the art of Henri Matisse."
Jessy doesn't think she will find any more of his artworks, even though there is still "so much chaos" in the Slad cottage. And as far as she knows, he didn't give any artworks away, "but you never know".  
"He would be very surprised at having an art exhibition, and also very pleased and rather embarrassed," claims Jessy. "I don't think he thought he was any good at art, but then he didn't think his writing was any good at the beginning. He was self-effacing. He wasn't a boastful personality."
'Laurie Lee – the Artist' is at the Works on Paper Fair, Royal Geographical Society, London SW7, 11 to 14 February (worksonpaperfair.com)