As Cumbria faced destructive floods at the end of last year, history seemed to be repeating. Disasters are ten-a-penny, some natural, many more due to man's ham-fisted neglect of the planet or our inability to get by without recourse to violence.
The result is always the need for a new start, and how we respond and rebuild colours an uncertain future more than ever. Yet, for all the carnage and chaos that catastrophes bring, an odd truth is apparent: disasters do give us the chance to shape  things differently.
In Cumbria, building repairs are already under way, although Carlisle City Council wants to demolish its flood-damaged home – the 1964 Civic Centre, one of the city's best modern buildings. The council wants to replace it with a drab retail park – but shoppers might need a dinghy to sail their box-fresh trainers home because it will still be on a flood plain. 
Meanwhile, the question remains: what can be done in the long-term to break the cycle? Houses on stilts? Stop building on land that floods and let nature take back what is rightfully its own? 
With some prescience, architectural, responses to calamity are the subject of a new exhibition at the Royal Institution of British Architects later this month.
Creation From Catastrophe uses photographs, paintings, collages, drawings, maps and models to demonstrate how grand plans emerged from the ashes, from Christopher Wren's brazen scheme to give London an ordered and precise layout after the Great Fire of 1666, with St Paul's Cathedral at its heart, to the sprouting of America's first vertical forest of skyscrapers in Chicago after the apocalyptic fire of 1871, or how modern-day Chile and Nepal have rebuilt after devastating earthquakes.
"Most of us are seduced by the idea of being given another chance; to start afresh. Many architects are inevitably drawn to the idea of the tabula rasa – the opportunity to realise a perfect, authored vision unhindered by incremental layers of history, social relations and previous architects' ambitions," says Creation From Catastrophe curator Jes Fernie.  
Indeed, one of the great architectural movements of recent history emanated from the devastation of the Second World War; it lit the touchpaper of the Modernist project to build bold new housing estates and expressive city centres across Europe, even if the "blank slate" wasn't always as "blank" as all that: one of the great myths surrounding Birmingham's gorging itself at a post-war buffet of ring roads, shopping malls and skyscrapers was that the Luftwaffe had left nothing.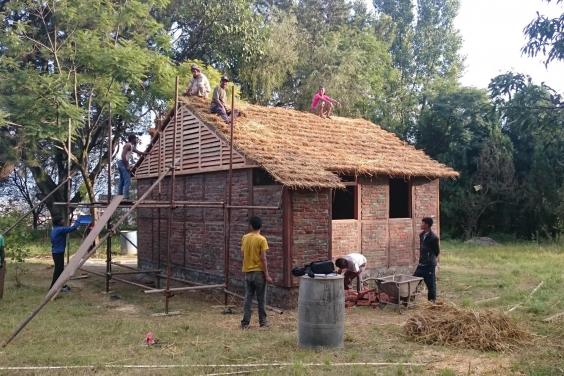 In fact, planners used the medium-scale bomb damage as an excuse to bulldoze great swathes of Brum and create a new city for the future. By contrast, neighbouring Coventry really was wiped off the map, and its rebuilding resulted in one of Britain's most attractive Modernist towns. 
Britain was also a destroyer: our bombers hit Cologne and Dresden without mercy. As with Nazi-destroyed Warsaw, the old towns of these historic cities were painstakingly reconstructed, while new districts were added. Meanwhile, in places like Plymouth, Rotterdam and Le Havre, architects took the opportunity to act radically – transforming street plans and erecting daring buildings.
"The combination of urgent need and 'never-again' ambitions meant saw the postwar era create some of the most forward looking architecture in history," says architectural writer Douglas Murphy, whose new book Last Futures: Nature, Technology, and the End of Architecture explores the quirks of the Modernist project in the 1960s.
Later, Modernism was seen as the solution in the face of natural disasters. In Skopje, for example, a devastating earthquake in 1963 resulted in an almost wilfully eccentric masterplan for rebuilding the Macedonian capital by Japanese architect Kenzo Tange.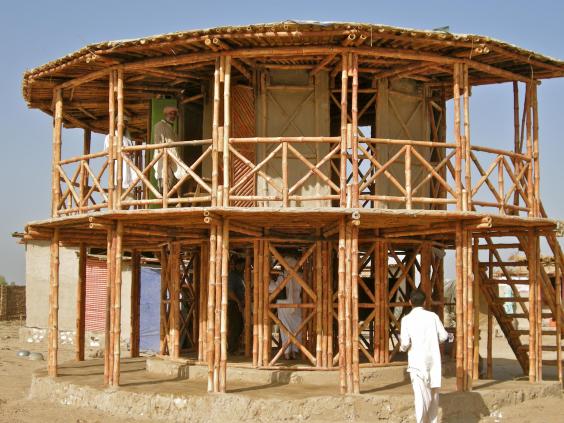 He tried to build the most futuristic city in the world – complete with walkways, platforms, capsule flats and towers – and almost managed it. In the end, only portions of his plan were acted upon but today Skopje still boasts numerous maverick buildings such as the avant garde Post Office and the chunky National Bank of Macedonia.
If architectural bravado used to be considered the best response to ruin, approaches have become more nuanced and more pragmatic in recent years. "Since the collapse of Modernism, it has moved to a more socially engaged approach that involves working closely with local people after a disaster; building on their skills and knowledge," says Fernie, who sees a  "distinct power shift" from the architect to the citizens.
A great recent example of this softer attitude is Shigeru Ban's Cardboard Cathedral, which popped up in Christchurch, New Zealand, after the earthquake of 2011 that devastated the 19th century original.
"Cardboard instead of concrete" is the motto of Ban's studio, which specifically works on disaster relief projects; quick to erect, the replacement cathedral is now one of the city's most robust, quake-proof buildings. "The strength of the building has nothing to do with the strength of the material," Ban has said. And while it is only a temporary solution, it has already become unique symbol.
Culture news in pictures
Culture news in pictures
1/30 29 June 2016

The first major solo exhibition by accessories designer, art director and fashion stylist Judy Blame has opened to the public and runs between 29 June and 4 September at the ICA, The Mall in London

2/30 28 June 2016

Prince Seeiso of Lesotho and Prince Harry on stage with the Basotho Youth Choir at the finale of the Sentebale Concert at Kensington Palace in London

Getty Images

3/30 27 June 2016

A woman looks at the Eugene Delacroix paintings made between 1849 and 1861 during a restoration at the Saints-Anges chapel inside the Saint-Sulpice church in Paris

AFP/Getty Images

4/30 26 June 2016

Chris Martin of 'Coldplay' performs on the Pyramid Stage on day 3 of the Glastonbury Festival at Worthy Farm

Getty Images

5/30 25 June 2016

Adele performing on stage at the Glastonbury Festival, at Worthy Farm in Somerset

PA

6/30 24 June 2016

US artist Joan Jonas poses during the presentation of her exhibition 'Joan Jonas: Stream or River. Flight or Pattern' at the Bitin Foundation in Santander, northern Spain. The display featuring experimental film and video-installation of pioneering Jonas will be open to the public from 25 June to 16 October 2016

EPA

7/30 23 June 2016

Evie Ferris and Georgia Scott-Hunter, Artists of The Australian Ballet next to one of Edgar Degas' iconic ballet dancer paintings 'Dancer with Bouquets' during the media preview for the 'Degas: A New Vision' exhibition at National Gallery of Victoria in Melbourne, Australia. The exhibition will run from 24 June to 18 September as part of the Melbourne Winter Masterpieces series

Getty Images

8/30 22 June 2016

Figures of characters from the comic series 'Uncle Walt' by US cartoonist Frank King are on display in the exhibition 'Pioneers of the Comic Strip. A different Avant-Garde' at the Schirn Kunsthalle museum in Frankfurt am Main, Germany. The exhibition that features the works of six primarily US illustrators created between 1905 and 1940, runs from 23 June 2016 to 18 September 2016

EPA

9/30 21 June 2016

(L-R) Actors Jonathan Holmes, Paul Moniz de Sa, Daniel Bacon, Chris Gibbs, Jemaine Clement, Penelope Wilton, Mark Rylance, Ruby Barnhill, Bill Hader, Rebecca Hall and Rafe Spall arrive on the red carpet for the US premiere of Disney's "The BFG," directed and produced by Steven Spielberg. A giant sized crowd lined the streets of Hollywood Boulevard to see stars arrive at the El Capitan Theatre

Getty Images for Disney

10/30 20 June 2016

Tony Bennett attends as the Friars Club Honors Tony Bennett With The Entertainment Icon Award - Arrivals at New York Sheraton Hotel & Tower in New York City

Getty Images

11/30 19 June 2016

A woman walks in front of the paintings 'Without title' (1960), left, and 'Come closer' (1960), right, during the opening of the exhibition 'Xanti Schawinsky - From the Bauhaus into the World' in Magdeburg, Germany. The exhibition starts on 21 June and lasts until 25 September

AP

12/30 18 June 2016

Recording artist Johnny Bond (L) and Van McCann of Catfish and the Bottlemen perform onstage at Firefly Music Festival in Dover

Getty Images for Firefly

13/30 17 June 2016

Students from both the Richmond and Covent Garden schools perform for Prince Charles, Prince of Wales, in his role as President of The Royal Ballet, as he visits The Royal Ballet School, White Lodge campus in Richmond Park in London

Getty Images

14/30 16 June 2016

A part of the installation 'The Floating Piers' by Bulgarian-born artist Christo Vladimirov Yavachev known as Christo is seen on the Lake Iseo, northern Italy

REUTERS

15/30 15 June 2016

A unique outdoor gallery has been revealed in Hampstead Heath, to mark the return of the Affordable Art Fair in London. The colourful 'running gallery' previewed seven of the artworks going on show at the fair this week from 16 – 19 June. These works, along with thousands more original pieces will be going on sale as the fair opens – all priced between £100 - £5,000

Oliver Dixon/Imagewise

16/30 13 June 2016

The artwork 'Accumulation: Searching for Destination' (2014-2016) by Japanese artist Chiharu Shiota is on display at the show Unlimited in the context of the international art show in Basel, Switzerland. Unlimited is Art Basel's exhibition platform for projects that transcend the limitations of a classical art-show stand, including out-sized sculpture and paintings, video projections, large-scale installations, and live performances. Unlimited is curated by New York-based curator Gianni Jetzer. The Art Basel exhibition is open to the public from 16 to 19 June

EPA

17/30 12 June 2016

A costumed artist performs with fire during International Kiev Fire Fest show. Teams from Greece, Belarus, Lithuania, Slovakia, USA, Czech Republic, Scotland and Ukraine, take part with their fire-shows in the two-day festival in Kiev

Getty Images

18/30 14 June 2016

A man leaves his house as anotherone walks past murals painted as part of a program of the municipality that aims at rescueing public spaces of the historical center in Mexico City. The murals were made on shops' metallic shutters

AFP/Getty Images

19/30 11 June 2016

People look at an art installation named "Fog Assembly" by Danish artist Olafur Eliasson in the castle of Versailles, near Paris

Getty Images

20/30 10 June 2016

Tomatoes float in an aquarium which is part of an artwork entitled 'Something that Floats/Something that sinks' by Japanese artist Shimabuku during the 13th Triennial of smale-scale sculpture in Fellbach, Germany. The exhibition runs from 11 June until 2 October

EPA

21/30 9 June 2016

Swiss artist, Olaf Breuning, stands in front of his artwork 'Text Butt' (2015) in the NRW-Forum in Duesseldorf, Germany. The retrospective can be seen in Duesseldorf from 11 June until 21 August

EPA

22/30 8 June 2016

An artwork entitled 'Hang it all' by Colombian artist Gabriel Sierra is seen during the exhibition 'Under the Same Sun: Art From Latin America Today' at the South London Gallery. The gallery is the final venue on the exhibitionís international tour, following the Guggenheim Museum, New York in June 2014 and the Museo Jumex, Mexico City in November 2015

EPA

23/30 7 June 2016

An interior shows British artist Michael Landy's artworks in the exhibition 'Michael Landy. Out of Order' at the Museum Tinguely in Basel, Switzerland. Landy is one of the Young British Artists (YBAs) generation that emerged in London in the 1990s. The exhibition runs from 8 June to 25 September

EPA

24/30 6 June 2016

A Banksy mural is left painted on the side of one of the classrooms at Bridge Farm Primary in Bristol. The 14ft piece, showing a child with a stick chasing a burning tyre, was discovered at the school along with a letter to the caretaker and was said to be a thank you by the elusive artist after the school recently named a house after him

Getty Images

25/30 5 June 2016

More than 6,000 Colombians pose in the nude for American art photographer Spencer Tunick at Bolivar Square in Bogota. Tunick, famous for his pictures of huge crowds of naked people, convinced more than 6,000 Colombians to strip down in Bogota's main public square - all in the name of peace

Getty Images

26/30 4 June 2016

Bulgarian artist Christo poses in front of the monumental "Mastaba" art work at the Maeght Foundation (Fondation Maeght) on the opening day of the exibition in Saint-Paul, southeastern France. The exibition takes place from 6 June to 27 November

Getty Images

27/30 3 June 2016

Dutch King Willem-Alexander attents the opening of the SONSBEEK '16: transAction, an international contemporary art exhibition in Arnhem, The Netherlands

EPA

28/30 2 June 2016

A sculpture by Colombian artist Fernando Botero is displayed during the opening of an exhibition entitled 'Botero in Hong Kong' at Central district. The outdoor public art installation showcases nine monumental sculptures by Botero from 3 June to 14 August

EPA

29/30 1 June 2016

Everything by my side, a theatrical performance that sees actors in white beds whisper to individual audience members, created by Argentinian artist Fernando Rubio, is unveiled as it makes its UK debut at Canary Wharf in London. Free to the public from 1-3 June. Everything by my side is presented by LIFT, a London-wide festival of international performance and it is the first time the work has been shown since New York City in 2014

PA

30/30 31 May 2016

Visitors look at the painting 'The Unequal Marriage' (1862) by Russian artist Vasili Pukirev during the exhibition 'The Secrets of Old Paintings' at the Tretyakov Gallery in Moscow, Russia. The exhibition is open from 1 June to 27 August as part of the project 'The Tretyakov Gallery opens its store rooms'

EPA
In an increasingly imperilled world, it's clear that architects must engage with disaster more than ever, but this aspect of their role is not given its due weight, says Dr Esther Charlesworth, an expert in the newly defined practice of "humanitarian architecture" or socially conscious design.
"How to design for a fragile and vulnerable planet should be our primary mission as architectural educators and practitioners. Where were the architects in the recent Paris climate talks? Where is the Pritzker Prize for humanitarian architecture?" 
Some architects are beginning to set their sights far ahead to consider how disaster might affect the world in centuries to come. Take the firm NLE, who have designed a range of seaborne public buildings for Nigerian delta communities, such as the Makoko Floating School which bobs on a Lagos lagoon like a giant houseboat. This Waterworld aesthetic could become de rigeur if sea levels rise.
It's a point not lost on Henk Ovink, the Dutch government's special envoy for water affairs.
Living in a country that has battled the sea for centuries, Ovink knows how crucial it is that we think ahead: "Water crises are the number one risk in the world. Two billion people will be devastated by 2050, four billion by 2080 – if we continue with our current practices. Of all worldwide disasters 90 per cent is water-related.
Global urbanisation gives us growth, prosperity, emancipation and development opportunities – but climate change and sea-level rise put a lot of pressure on our cities, societies and citizens, on our economy and ecology. If we don't act, the system will collapse." 
From Carlisle to Callantsoog in the Netherlands, from Cotonou in Africa to Chittagong in Asia, today's architects are testing fold-out shelters and flatpack bridges that can respond quickly to flooding, and houses on stilts or floats that will rise above a deluge.
Above all, open discussion within local communities is key, as Fernie says, pointing to Chilean firm Elemental's project to rebuild the city of Constitucion after a 2010 tsunami.
"It's a great example of what can be achieved in a short space of time," says Fernie. "Local people were brought in to a discussion about whether a section of their city should be expropriated and turned into a forest to ease the effects of future floods. It was a long-term, bold decision that entailed rehousing and uprooting one group of residents for the greater good."
But the question lingers: do we do enough? Disasters lead us down new architectural avenues; the tragedy is that these are only clear after the event.
As Douglas Murphy says: "Like the proverbial frog in a pot, urban change may have been urgently necessary for a long time, but often the cataclysmic disaster has to occur before the political ambition to affect it properly aligns ... considering the developing crises of the 21st century, this is a sobering thought." 
'Creation From Catastrophe' opens 27 Jan at Riba, Portland Place, London (architecture.com/WhatsOn/Jan2016/CreationfromCatastrophe.aspx)