As Cumbria faced destructive floods at the end of last year, history seemed to be repeating. Disasters are ten-a-penny, some natural, many more due to man's ham-fisted neglect of the planet or our inability to get by without recourse to violence.
The result is always the need for a new start, and how we respond and rebuild colours an uncertain future more than ever. Yet, for all the carnage and chaos that catastrophes bring, an odd truth is apparent: disasters do give us the chance to shape  things differently.
In Cumbria, building repairs are already under way, although Carlisle City Council wants to demolish its flood-damaged home – the 1964 Civic Centre, one of the city's best modern buildings. The council wants to replace it with a drab retail park – but shoppers might need a dinghy to sail their box-fresh trainers home because it will still be on a flood plain. 
Meanwhile, the question remains: what can be done in the long-term to break the cycle? Houses on stilts? Stop building on land that floods and let nature take back what is rightfully its own? 
With some prescience, architectural, responses to calamity are the subject of a new exhibition at the Royal Institution of British Architects later this month.
Creation From Catastrophe uses photographs, paintings, collages, drawings, maps and models to demonstrate how grand plans emerged from the ashes, from Christopher Wren's brazen scheme to give London an ordered and precise layout after the Great Fire of 1666, with St Paul's Cathedral at its heart, to the sprouting of America's first vertical forest of skyscrapers in Chicago after the apocalyptic fire of 1871, or how modern-day Chile and Nepal have rebuilt after devastating earthquakes.
"Most of us are seduced by the idea of being given another chance; to start afresh. Many architects are inevitably drawn to the idea of the tabula rasa – the opportunity to realise a perfect, authored vision unhindered by incremental layers of history, social relations and previous architects' ambitions," says Creation From Catastrophe curator Jes Fernie.  
Indeed, one of the great architectural movements of recent history emanated from the devastation of the Second World War; it lit the touchpaper of the Modernist project to build bold new housing estates and expressive city centres across Europe, even if the "blank slate" wasn't always as "blank" as all that: one of the great myths surrounding Birmingham's gorging itself at a post-war buffet of ring roads, shopping malls and skyscrapers was that the Luftwaffe had left nothing.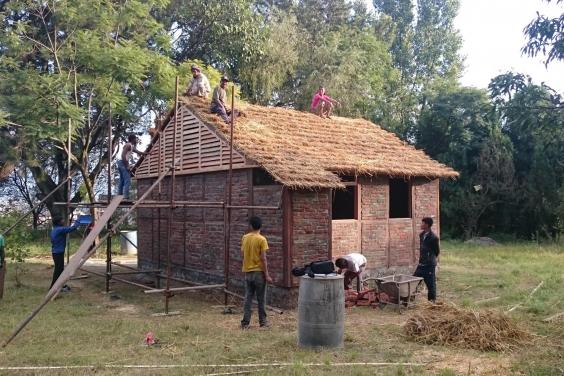 In fact, planners used the medium-scale bomb damage as an excuse to bulldoze great swathes of Brum and create a new city for the future. By contrast, neighbouring Coventry really was wiped off the map, and its rebuilding resulted in one of Britain's most attractive Modernist towns. 
Britain was also a destroyer: our bombers hit Cologne and Dresden without mercy. As with Nazi-destroyed Warsaw, the old towns of these historic cities were painstakingly reconstructed, while new districts were added. Meanwhile, in places like Plymouth, Rotterdam and Le Havre, architects took the opportunity to act radically – transforming street plans and erecting daring buildings.
"The combination of urgent need and 'never-again' ambitions meant saw the postwar era create some of the most forward looking architecture in history," says architectural writer Douglas Murphy, whose new book Last Futures: Nature, Technology, and the End of Architecture explores the quirks of the Modernist project in the 1960s.
Later, Modernism was seen as the solution in the face of natural disasters. In Skopje, for example, a devastating earthquake in 1963 resulted in an almost wilfully eccentric masterplan for rebuilding the Macedonian capital by Japanese architect Kenzo Tange.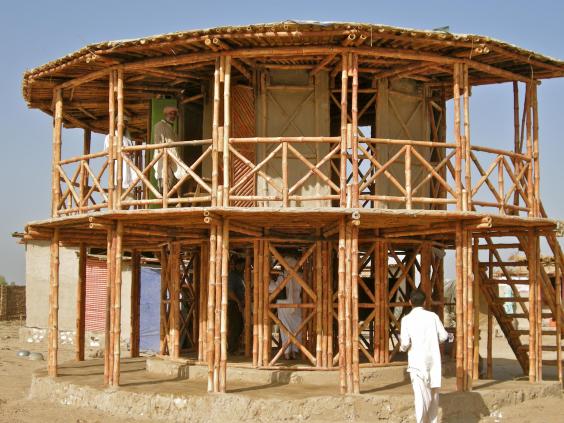 He tried to build the most futuristic city in the world – complete with walkways, platforms, capsule flats and towers – and almost managed it. In the end, only portions of his plan were acted upon but today Skopje still boasts numerous maverick buildings such as the avant garde Post Office and the chunky National Bank of Macedonia.
If architectural bravado used to be considered the best response to ruin, approaches have become more nuanced and more pragmatic in recent years. "Since the collapse of Modernism, it has moved to a more socially engaged approach that involves working closely with local people after a disaster; building on their skills and knowledge," says Fernie, who sees a  "distinct power shift" from the architect to the citizens.
A great recent example of this softer attitude is Shigeru Ban's Cardboard Cathedral, which popped up in Christchurch, New Zealand, after the earthquake of 2011 that devastated the 19th century original.
"Cardboard instead of concrete" is the motto of Ban's studio, which specifically works on disaster relief projects; quick to erect, the replacement cathedral is now one of the city's most robust, quake-proof buildings. "The strength of the building has nothing to do with the strength of the material," Ban has said. And while it is only a temporary solution, it has already become unique symbol.
Culture news in pictures
Culture news in pictures
1/30 30 September 2016

An employee hangs works of art with "Grand Teatro" by Marino Marini (R) and bronze sculpture "Sfera N.3" by Arnaldo Pomodoro seen ahead of a Contemporary Art auction on 7 October, at Sotheby's in London

REUTERS

2/30 29 September 2016

Street art by Portuguese artist Odeith is seen in Dresden, during an exhibition "Magic City - art of the streets"

AFP/Getty Images

3/30 28 September 2016

Dancers attend a photocall for the new "THE ONE Grand Show" at Friedrichstadt-Palast in Berlin, Germany

REUTERS

4/30 28 September 2016

With an array of thrift store china, humorous souvenirs and handmade tile adorning its walls and floors, the Mosaic Tile House in Venice stands as a monument to two decades of artistic collaboration between Cheri Pann and husband Gonzalo Duran

REUTERS

5/30 27 September 2016

A gallery assistant poses amongst work by Anthea Hamilton from her nominated show "Lichen! Libido!(London!) Chastity!" at a preview of the Turner Prize in London

REUTERS

6/30 27 September 2016

A technician wearing virtual reality glasses checks his installation in three British public telephone booths, set up outside the Mauritshuis museum in The Hague, Netherlands. The installation allows visitors a 3-D look into the museum which has twenty-two paintings belonging to the British Royal Collection, on loan for an exhibit from 29 September 2016 till 8 January 2017

AP

7/30 26 September 2016

An Indian artist dressed as Hindu god Shiva performs on a chariot as he participates in a religious procession 'Ravan ki Barat' held to mark the forthcoming Dussehra festival in Allahabad

AFP/Getty Images

8/30 26 September 2016

Jean-Michel Basquiat's 'Air Power', 1984, is displayed at the Bowie/Collector media preview at Sotheby's in New York

AFP/Getty

9/30 25 September 2016

A woman looks at an untitled painting by Albert Oehlen during the opening of an exhibition of works by German artists Georg Baselitz and Albert Oehlen in Reutlingen, Germany. The exhibition runs at the Kunstverein (art society) Reutlingen until 15 January 2017

EPA

10/30 24 September 2016

Fan BingBing (C) attends the closing ceremony of the 64th San Sebastian Film Festival at Kursaal in San Sebastian, Spain

Getty Images

11/30 23 September 2016

A view of the artwork 'You Are Metamorphosing' (1964) as part of the exhibition 'Retrospektive' of Japanese artist Tetsumi Kudo at Fridericianum in Kassel, Germany. The exhibition runs from 25 September 2016 to 1 January 2017

EPA

12/30 22 September 2016

Jo Applin from the Courtauld Institute of Art looks at Green Tilework in Live Flesh by Adriana Vareja, which features in a new exhibition, Flesh, at York Art Gallery. The new exhibition features works by Degas, Chardin, Francis Bacon and Sarah Lucas, showing how flesh has been portrayed by artists over the last 600 years

PA

13/30 21 September 2016

Performers Sean Atkins and Sally Miller standing in for the characters played by Asa Butterfield and Ella Purnell during a photocall for Tim Burton's "Miss Peregrines Home For Peculiar Children" at Potters Field Park in London

Getty Images

14/30 20 September 2016

A detail from the blanket 'Alpine Cattle Drive' from 1926 by artist Ernst Ludwig Kirchner is displayed at the 'Hamburger Bahnhof - Museum for Contemporary Arts' in Berlin. The exhibition named 'Ernst Ludwig Kirchner - Hieroglyphen' showing the complete collection of Berlin's Nationalgallerie works of the German artist Ernst Ludwig Kirchner and will run from 23 September 2016 until 26 February 2017

AP

15/30 20 September 2016

A man looks at portrait photos by US photographer Bruce Gilden in the exhibition 'Masters of Photography' at the photokina in Cologne, Germany. The trade fair on photography, photokina, schowcases some 1,000 exhibitors from 40 countries and runs from 20 to 25 September. The event also features various photo exhibitions

EPA

16/30 20 September 2016

A woman looks at 'Blue Poles', 1952 by Jackson Pollock during a photocall at the Royal Academy of Arts, London

PA

17/30 19 September 2016

Art installation The Refusal of Time, a collaboration with Philip Miller, Catherine Meyburgh and Peter Galison, which features as part of the William Kentridge exhibition Thick Time, showing from 21 September to 15 January at the Whitechapel Gallery in London

PA

18/30 18 September 2016

Artists creating one off designs at the Mm6 Maison Margiela presentation during London Fashion Week Spring/Summer collections 2017 in London

Getty Images

19/30 18 September 2016

Bethenny Frankel attends the special screening of Disney's "Beauty and the Beast" to celebrate the 25th Anniversary Edition release on Blu-Ray and DVD in New York City

Getty Images for Walt Disney Stu

20/30 17 September 2016

Visitors attend the 2016 Oktoberfest beer festival at Theresienwiese in Munich, Germany

Getty Images

21/30 16 September 2016

Visitors looks at British artist Damien Hirst work of art 'The Incomplete Truth', during the 13th Yalta Annual Meeting entitled 'The World, Europe and Ukraine: storms of changes', organised by the Yalta European Strategy (YES) in partnership with the Victor Pinchuk Foundation at the Mystetsky Arsenal Art Center in Kiev

AP

22/30 16 September 2016

Tracey Emin's "My Bed" is exhibited at the Tate Liverpool as part of the exhibition Tracey Emin And William Blake In Focus, which highlights surprising links between the two artists

Getty Images

23/30 15 September 2016

Musician Dave Grohl (L) joins musician Tom Morello of Prophets of Rage onstage at the Forum in Inglewood, California

Getty Images

24/30 14 September 2016

Model feebee poses as part of art installation "Narcissism : Dazzle room" made by artist Shigeki Matsuyama at rooms33 fashion and design exhibition in Tokyo. Matsuyama's installation features a strong contrast of black and white, which he learned from dazzle camouflage used mainly in World War I

AP

25/30 13 September 2016

Visitors look at artworks by Chinese painter Cui Ruzhuo during the exhibition 'Glossiness of Uncarved Jade' held at the exhibition hall 'Manezh' in St. Petersburg, Russia. More than 200 paintings by the Chinese artist are presented until 25 September

EPA

26/30 12 September 2016

A visitor looks at Raphael's painting 'Extase de Sainte Cecile', 1515, from the Uffizi Gallery in Florence during the opening of a Raphael exhibition at the Pushkin State Museum of Fine Arts in Moscow, Russia. The first Russian exhibition of the works of the Italian Renaissance artist Raffaello Sanzio da Urbino includes eight paintings and three drawings which come from Italy. Th exhibit opens to the public from 13 September to 11 December

EPA

27/30 11 September 2016

Steve Cropper and Eddie Floyd perform during Otis Redding 75th Birthday Celebration - Rehearsals at the Macon City Auditorium in Macon, Georgia

Getty Images for Otis Redding 75

28/30 10 September 2016

Sakari Oramo conducting the BBC Symphony Orchestra, the BBC Symphony Chorus and the BBC Singers at the Last Night of the Proms 2016 at the Royal Albert Hall in London

PA

29/30 9 September 2016

A visitor walks past a piece entitled "Fruitcake" by Joana Vasconcelo, during the Beyond Limits selling exhibition at Chatsworth House near Bakewell

REUTERS

30/30 8 September 2016

A sculpture of a crescent standing on the 2,140 meters high mountain 'Freiheit' (German for 'freedom'), in the Alpstein region of the Appenzell alps, eastern Switzerland. The sculpture is lighted during the nights by means of solar panels. The 38-year-old Swiss artist and atheist Christian Meier set the crescent on the peak to start a debate on the meaning of religious symbols - as summit crosses - on mountains. 'Because so many peaks have crosses on them, it struck me as a great idea to put up an equally absurd contrast'. 'Naturally I wanted to provoke in a fun way. But it goes beyond that. The actions of an artist should be food for thought, both visually and in content'

EPA
In an increasingly imperilled world, it's clear that architects must engage with disaster more than ever, but this aspect of their role is not given its due weight, says Dr Esther Charlesworth, an expert in the newly defined practice of "humanitarian architecture" or socially conscious design.
"How to design for a fragile and vulnerable planet should be our primary mission as architectural educators and practitioners. Where were the architects in the recent Paris climate talks? Where is the Pritzker Prize for humanitarian architecture?" 
Some architects are beginning to set their sights far ahead to consider how disaster might affect the world in centuries to come. Take the firm NLE, who have designed a range of seaborne public buildings for Nigerian delta communities, such as the Makoko Floating School which bobs on a Lagos lagoon like a giant houseboat. This Waterworld aesthetic could become de rigeur if sea levels rise.
It's a point not lost on Henk Ovink, the Dutch government's special envoy for water affairs.
Living in a country that has battled the sea for centuries, Ovink knows how crucial it is that we think ahead: "Water crises are the number one risk in the world. Two billion people will be devastated by 2050, four billion by 2080 – if we continue with our current practices. Of all worldwide disasters 90 per cent is water-related.
Global urbanisation gives us growth, prosperity, emancipation and development opportunities – but climate change and sea-level rise put a lot of pressure on our cities, societies and citizens, on our economy and ecology. If we don't act, the system will collapse." 
From Carlisle to Callantsoog in the Netherlands, from Cotonou in Africa to Chittagong in Asia, today's architects are testing fold-out shelters and flatpack bridges that can respond quickly to flooding, and houses on stilts or floats that will rise above a deluge.
Above all, open discussion within local communities is key, as Fernie says, pointing to Chilean firm Elemental's project to rebuild the city of Constitucion after a 2010 tsunami.
"It's a great example of what can be achieved in a short space of time," says Fernie. "Local people were brought in to a discussion about whether a section of their city should be expropriated and turned into a forest to ease the effects of future floods. It was a long-term, bold decision that entailed rehousing and uprooting one group of residents for the greater good."
But the question lingers: do we do enough? Disasters lead us down new architectural avenues; the tragedy is that these are only clear after the event.
As Douglas Murphy says: "Like the proverbial frog in a pot, urban change may have been urgently necessary for a long time, but often the cataclysmic disaster has to occur before the political ambition to affect it properly aligns ... considering the developing crises of the 21st century, this is a sobering thought." 
'Creation From Catastrophe' opens 27 Jan at Riba, Portland Place, London (architecture.com/WhatsOn/Jan2016/CreationfromCatastrophe.aspx)
Reuse content