The gilded young man gazing out with huge eyes from the Egyptian mummy mask has all the trappings of a youthful pharaoh, with strong facial features beneath a headdress that sweeps behind large ears, his eyes outlined in black as deep as the black of his pupils, while brightly painted deities and mourners observe their rituals below. 
But this is no successor to Tutankhamun's famed burial piece. For inscribed, not in hieroglyphs but in Greek, is the name of the high-ranking citizen so honoured in death, Titus Flavius Demetrios – and there is nothing Egyptian about a name like that. As an object illustrating cultural diversity, it takes some beating.
Titus, probably a Roman soldier who had acquired a taste for things Egyptian while stationed in northern Africa 2,000 years ago, eschewed a traditional memorial for himself in planning his own funeral rites, and picked out something local. The mask is one of the many objects retrieved from ancient Egyptian cemeteries and conserved in what can be regarded as our national collection of such artefacts.
For while the British Museum and the Ashmolean hold thousands of such pieces, the Egypt Explorations Fund (now Society), in effect the world's first crowd-funding exercise, ensured that provincial museums were enriched with their own relics. And it is pieces from a handful of these remarkable collections that are shown together for the first time in Beyond Beauty: Transforming the Body in Ancient Egypt, a free exhibition at Two Temple Place in London.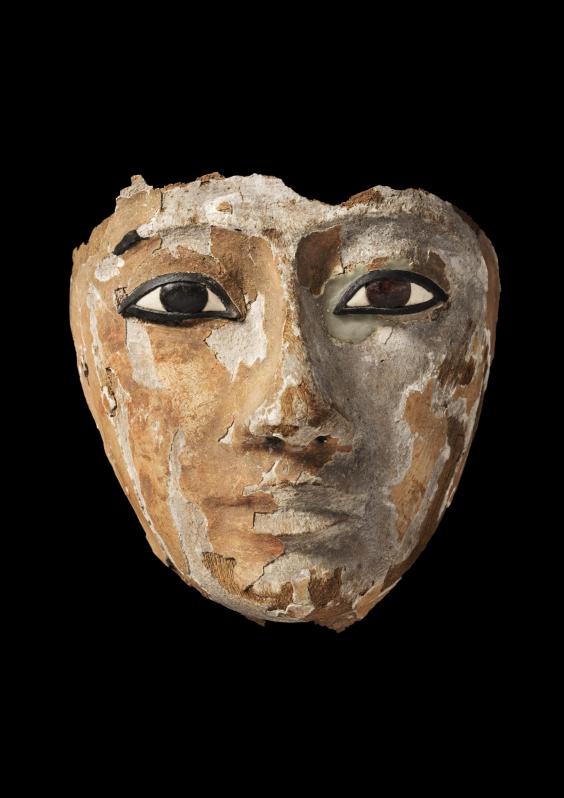 A 19th-century passion among philanthropists for educating and expanding the working classes' horizons coincided with a rash of archaeological digs in ancient Egypt that unearthed grave artefacts that were often spectacular, but which also revealed vast amounts about those who commissioned them – their aesthetic taste, yes, but also their customs and domestic life. And to encourage organised and accountable digging, the EEF invited Egyptology enthusiasts to subscribe to their projects, with the promise that their subscription would be rewarded with objects brought back to the new, local educational resource, the local and public museum. 
Such objects can no longer leave their country of origin, so those now in British collections are irreplaceable, says Egyptologist and curator of Beyond Beauty, Dr Margaret Serpico. She has brought together important and touching personal items from Rochdale, Ipswich, Macclesfield, Bexhill and other unsung repositories.
This is not the story of royal power and privilege, but of families, albeit of some social status, mourning children and parents, preparing them for the afterlife by kitting them out with jewellery, cosmeticst and clothing. In death gender becomes unimportant – the lavish personal ornaments are as likely to be those of deceased males as females. 
Culture news in pictures
Culture news in pictures
1/30 27 May 2016

An image of an indigenous Australian man is projected onto the sails of the Sydney Opera House during the opening night of the annual Vivid Sydney light festival in Sydney

Reuters

2/30 26 May 2016

A woman walks on steps lined with plastic cups, an art project of four college students, in Wuhan, China

Reuters

3/30 25 May 2016

A view of the Pyramid of the Louvre museum covered with a gigantic black and white trompe l'oeil photo of the Louvre building by French artist JR in Paris. The exhibition 'Contemporary art JR at the Louvre' runs from 25 May to 27 June

EPA

4/30 24 May 2016

Artist paints a reproduction of one of the vincent Van gogh's painting for the 'Loving Vincent' film in Wroclaw, Poland. 'Loving Vincent', the world's first fully painted animation feature film, will be about the life and death of the Dutch famous painter Vincent van Gogh

EPA

5/30 23 May 2016

John Oliver, Jimmy Fallon and Jennifer Lawrence during a taping of "The Tonight Show Starring Jimmy Fallon" in New York City

Getty Images

6/30 22 May 2016

French Moroccan director Houda Benyamina (C) poses with the Camera d'Or next to actresses Jisca Kalvanda (L), Oulaya Amamra (2ndL) and Deborah Lukumuena (R) at the Palme D'Or Winner Photocall during the 69th annual Cannes Film Festival

Getty Images

7/30 21 May 2016

Swedish artist Andreas Englund signs one of his murals at the Urban Nation museum for urban contemporary art, in Berlin

Getty Images

8/30 20 May 2016

(L-R) Autor Tom Brokaw, Legion of Honor's Grand Chancellor General Jean-Louis Georgelin, Actor Tom Hanks, Ambassador of USA in France, Jane D. Hartley and Doctor Gordon "Nick" Mueller attend Tom Hanks, Tom Brokaw & Gordon "Nick" Mueller receive the Legion d'Honneur Medal at Palais de la Legion d'Honneur in Paris

Getty Images

9/30 19 May 2016

Visitors study work by Tod Papageorge in the gallery areas at the "Photo London 2016" event at Somerset House in central London. Featuring work from some of the world's most respected photographers, the event is aiming to put London on the map as the global city of photography

Getty Images

10/30 18 May 2016

A view of the building that will house planned Urban Nation - Museum for Urban Contemporary Art in Berlin. The street art museum is scheduled to open in 2017

EPA

11/30 17 May 2016

Kate Morais looks at the 'Colossal statues of a king and a queen' (283-246 BC) - which are reflected in a display cabinet glass - which stand over five meters tall during a preview of the 'Sunken Cities: Egypt's Lost Worlds' exhibition at the British Museum in London. This is the museum's first large scale exhibition of underwater archaeological finds and tells the story of two lost Egyptian cities and their recent discoveries beneath the Mediterranean, excavated off the coast of Egypt near Alexandria between 1996 and 2012

Getty Images

12/30 16 May 2016

Kurt Cobain's Univox electric guitar played and destroyed by Cobain at Nirvana's 13 July 1989 concert at Maxwell's in Hoboken, New Jersey is displayed during Julien's Auction Music Icons Press Exhibition at Hard Rock Cafe, Times Square in New York City

Getty Images

13/30 15 May 2016

Cast of the "From The Land Of The Moon (Mal De Pierres)" attend the premiere during the 69th annual Cannes Film Festival at the Palais des Festivals

Getty Images

14/30 14 May 2016

Jamala representing Ukraine with the song "1944" celebrates with the trophy after winning the final of the Eurovision Song Contest 2016 Grand Final in Stockholm

Getty Images

15/30 13 May 2016

A mural on a restaurant wall depicting US Presidential hopeful Donald Trump and Russian President Vladimir Putin greeting each other with a kiss in the Lithuanian capital Vilnius. Kestutis Girnius, associate professor of the Institute of International Relations and Political Science in Vilnius university, said: "This graffiti expresses the fear of some Lithuanians that Donald Trump is likely to kowtow to Vladimir Putin and be indifferent to Lithuanias security concerns. Trump has notoriously stated that Putin is a strong leader, and that NATO is obsolete and expensive"

Getty Images

16/30 12 May 2016

People visit the artwork titled Seven Magic Mountains by artist Ugo Rondinone, near Jean, Nevada. The artwork was recently completed in the desert south of Las Vegas

AP

17/30 11 May 2016

Justin Timberlake attends the "Trolls" Photocall during The 69th Annual Cannes Film Festival

Getty Images

18/30 10 May 2016

Curator Ben Russell poses with a 2.4 meter robot called Cygan, built in 1957, on display at the Science Museum before announcing a new robot exhibition for 2017

Getty Images

19/30 9 May 2016

A Palestinian artist paints a graffiti on a wall of the United Nations school of Beit Hanun, in the northern Gaza Strip

Getty Images

20/30 8 May 2016

Jon Snow collects the award for best news coverage on behalf of Channel 4 during the House of Fraser BAFTA TV Awards 2016 at the Royal Festival Hall in London

PA

21/30 7 May 2016

Illustration View of the 'Empires' exhibition of Huang Yong Ping as part of Monumenta 2016 to Grand Palais from 8 May till 18 June 2016

Getty Images

22/30 6 May 2016

People, including Russian servicemen, attend a concert of Mariinsky Theatre in the amphitheatre of the Syrian city of Palmyra, Syria

Reuters

23/30 5 May 2016

A child looks at an artwork titled 'Bi-lateral Relations' by Uruguay artists Fernando Foglino and Valentina Cardellino during the Latin America and Caribbean Art Festival Visual Art Exhibition 2016 at the World Art Museum of the China Millennium Monument in Beijing. The exhibition runs until 26 May, and is part of joint activities to mark the China-Latin America and Caribbean Cultural Exchange Year

EPA

24/30 4 May 2016

(L-R) David Furnish, Lady Gaga and Macy's CEO Terry J. Lundgren attend Love Bravery by Lady Gaga and Elton John Launch at Macy's Herald Square in New York City

Getty Images

25/30 3 May 2016

The Hofburg palace is illuminated by a projection of Viennese artist Viktoria Coeln for the project Dystopia Eutopia in Vienna, Austria

AP

26/30 2 May 2016

A visitor looks at paintings by Yemeni female artists displayed at a gallery during an exhibition entitled Women Creativity for Peace in the capital Sanaa

Getty Images

27/30 1 May 2016

A man looks at an art piece during the Oshtoora festival in an open desert north Fayoum, Egypt. Oshtoora festival, or "A temporary sate," is held only once a year in a different locations within Egypt. The festival is based on expression of music, arts, and cultures in an open natural environment

AP

28/30 30 April 2016

Actress Lupita Nyong'o attends "Eclipsed" To Launch A Dedications Series In Honor Of Abducted Chibok Girls Of Northern Nigeria at Golden Theatre in New York

Getty Images

29/30 29 April 2016

Kabuki actor Shido Nakamura (in red) performs in a final dress rehearsal for the kabuki theatre show 'Hanakurabe Senbonzakura' in Tokyo, Japan. The latest digital technology kabuki theatre piece 'Hanakurabe Senbonzakura' is part of the Niconico Chokaigi festival in Tokyo. The festival was organized by video website Niconico, combining Kabuki, a traditional Japanese theatre art and cutting edge animation technology, co-starring kabuki superstar Shidou Nakamura and the popular virtual idol Hatsune Miku

Getty Images

30/30 28 April 2016

Members of the Australian ballet perform in the scene from "Scent of the Love" during the dress rehearsal for the national premiere of Symphony in C that comprises of five short ballet works at the Opera House in Sydney

Getty Images
On the other hand, at a time when exotic travel and scholarship was often the preserve of the Victorian male, the quests for these exotic objects, were often undertaken by women who were in no way held back by society's expectations. Among them were the novelist Amelia Edwards, who made her first trip to Egypt in 1873, and the adventurous Marianne Brocklehurst, whom Edwards met in a convoy on the Nile. It was Edwards who established he EEF; and Brocklehurst's travelling companion and sister, Mary Booth, became one of the fund's local secretaries, whose job was to raise funds and attract subscribers and donations. 
Amelia Oldroyd, whose family were in textiles in Dewsbury, joined excavations by the great Egytologist William Matthew Flinders Petrie, sewing and cooking for the team. On marrying, she became her home town's EEF secretary.
Artefacts handed to Dewsbury's museum, in exchange for funding digs, include an electron pendant in the shape of an oyster shell from Abydos (1800-1600BC). Objects held by Brighton and Hove include an incised clay female figure with a decorative necklace – and tattoos, suggesting that body art was practised. The ideal body presented for the journey to the afterlife often reflected tastes in earthly life, says Dr Serpico Assistant curator Heba Abd el Gawad, a PhD student from Durham University and an Egyptian by birth, explains the importance to modern Egypt of these collections.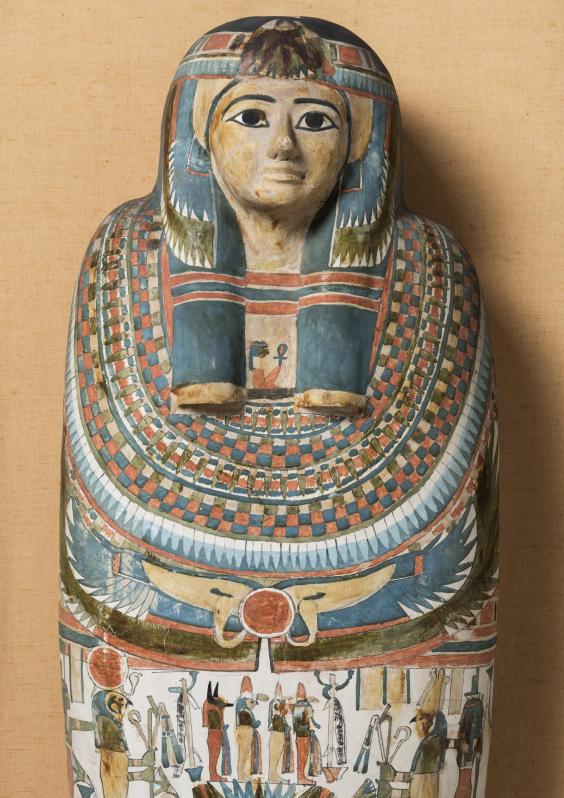 Far from wanting its objects back, she says, her country values their preservation. It is only the sale of unique objects that causes offence and uproar, such as Northampton Borough Council's disposal of its precious sculpture of Sekhema the scribe, snapped up by a private buyer for £15m in 2014, to fund other museum projects. A move criticised by Egypt's Ministry of Antiquities.
"It doesn't matter where in the world the objects are as long as they are accessible to all – they belong to us all," she says. And she believes that modern cultures can learn from Flinders Petrie, whose practice from the start was to respect the knowledge of local workers and pay them well. 
In this way he fostered in Egyptians a tradition of working on excavations over many generations, some descendants to this day working on new digs. By contrast, she points to the current destruction of important archaeological sites elsewhere in the Middle East by Islamic State. 
"Unlike Flinders Petrie, many Middle Eastern excavations don't involve local communities much. To do so might not stop all looting or desecration. But we can teach future generations that they have a link with the past that has an impact on their identity. It's important for them to know who they are."
 'Beyond Beauty: Transforming the Body in Ancient Egypt', Two Temple Place, London (twotempleplace.org), 30 Jan to 24 Apr