The gilded young man gazing out with huge eyes from the Egyptian mummy mask has all the trappings of a youthful pharaoh, with strong facial features beneath a headdress that sweeps behind large ears, his eyes outlined in black as deep as the black of his pupils, while brightly painted deities and mourners observe their rituals below. 
But this is no successor to Tutankhamun's famed burial piece. For inscribed, not in hieroglyphs but in Greek, is the name of the high-ranking citizen so honoured in death, Titus Flavius Demetrios – and there is nothing Egyptian about a name like that. As an object illustrating cultural diversity, it takes some beating.
Titus, probably a Roman soldier who had acquired a taste for things Egyptian while stationed in northern Africa 2,000 years ago, eschewed a traditional memorial for himself in planning his own funeral rites, and picked out something local. The mask is one of the many objects retrieved from ancient Egyptian cemeteries and conserved in what can be regarded as our national collection of such artefacts.
For while the British Museum and the Ashmolean hold thousands of such pieces, the Egypt Explorations Fund (now Society), in effect the world's first crowd-funding exercise, ensured that provincial museums were enriched with their own relics. And it is pieces from a handful of these remarkable collections that are shown together for the first time in Beyond Beauty: Transforming the Body in Ancient Egypt, a free exhibition at Two Temple Place in London.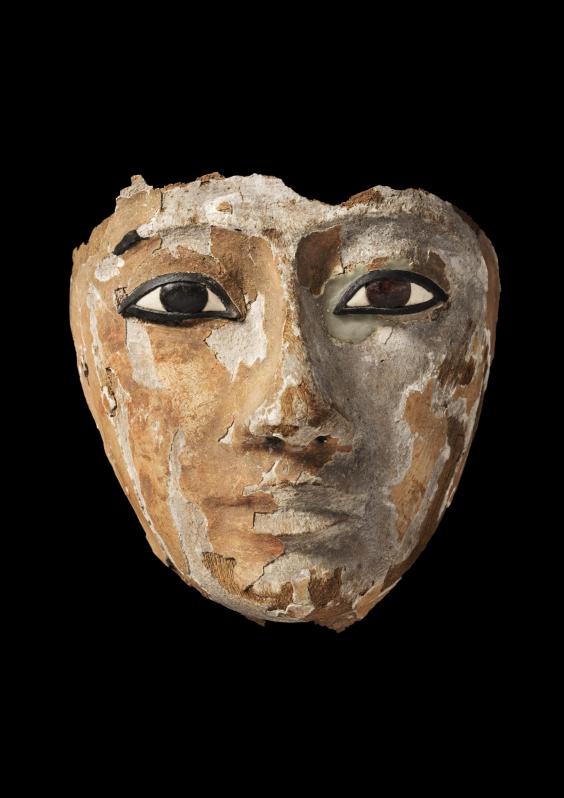 A 19th-century passion among philanthropists for educating and expanding the working classes' horizons coincided with a rash of archaeological digs in ancient Egypt that unearthed grave artefacts that were often spectacular, but which also revealed vast amounts about those who commissioned them – their aesthetic taste, yes, but also their customs and domestic life. And to encourage organised and accountable digging, the EEF invited Egyptology enthusiasts to subscribe to their projects, with the promise that their subscription would be rewarded with objects brought back to the new, local educational resource, the local and public museum. 
Such objects can no longer leave their country of origin, so those now in British collections are irreplaceable, says Egyptologist and curator of Beyond Beauty, Dr Margaret Serpico. She has brought together important and touching personal items from Rochdale, Ipswich, Macclesfield, Bexhill and other unsung repositories.
This is not the story of royal power and privilege, but of families, albeit of some social status, mourning children and parents, preparing them for the afterlife by kitting them out with jewellery, cosmeticst and clothing. In death gender becomes unimportant – the lavish personal ornaments are as likely to be those of deceased males as females. 
Culture news in pictures
Culture news in pictures
1/30 1 July 2016

EPA

2/30 30 June 2016

The world's largest disco ball is installed at the Duke Studios in Leeds ahead of The Big Disco event. The event, which is part of the Yorkshire Festival 2016, will see thousands of people partying under the Guinness World Record holding disco ball - which measures 10.33 metres in diameter and is two and a half times the size of a double decker bus

PA

3/30 29 June 2016

The first major solo exhibition by accessories designer, art director and fashion stylist Judy Blame has opened to the public and runs between 29 June and 4 September at the ICA, The Mall in London

4/30 28 June 2016

Prince Seeiso of Lesotho and Prince Harry on stage with the Basotho Youth Choir at the finale of the Sentebale Concert at Kensington Palace in London

Getty Images

5/30 27 June 2016

A woman looks at the Eugene Delacroix paintings made between 1849 and 1861 during a restoration at the Saints-Anges chapel inside the Saint-Sulpice church in Paris

AFP/Getty Images

6/30 26 June 2016

Chris Martin of 'Coldplay' performs on the Pyramid Stage on day 3 of the Glastonbury Festival at Worthy Farm

Getty Images

7/30 25 June 2016

Adele performing on stage at the Glastonbury Festival, at Worthy Farm in Somerset

PA

8/30 24 June 2016

US artist Joan Jonas poses during the presentation of her exhibition 'Joan Jonas: Stream or River. Flight or Pattern' at the Bitin Foundation in Santander, northern Spain. The display featuring experimental film and video-installation of pioneering Jonas will be open to the public from 25 June to 16 October 2016

EPA

9/30 23 June 2016

Evie Ferris and Georgia Scott-Hunter, Artists of The Australian Ballet next to one of Edgar Degas' iconic ballet dancer paintings 'Dancer with Bouquets' during the media preview for the 'Degas: A New Vision' exhibition at National Gallery of Victoria in Melbourne, Australia. The exhibition will run from 24 June to 18 September as part of the Melbourne Winter Masterpieces series

Getty Images

10/30 22 June 2016

Figures of characters from the comic series 'Uncle Walt' by US cartoonist Frank King are on display in the exhibition 'Pioneers of the Comic Strip. A different Avant-Garde' at the Schirn Kunsthalle museum in Frankfurt am Main, Germany. The exhibition that features the works of six primarily US illustrators created between 1905 and 1940, runs from 23 June 2016 to 18 September 2016

EPA

11/30 21 June 2016

(L-R) Actors Jonathan Holmes, Paul Moniz de Sa, Daniel Bacon, Chris Gibbs, Jemaine Clement, Penelope Wilton, Mark Rylance, Ruby Barnhill, Bill Hader, Rebecca Hall and Rafe Spall arrive on the red carpet for the US premiere of Disney's "The BFG," directed and produced by Steven Spielberg. A giant sized crowd lined the streets of Hollywood Boulevard to see stars arrive at the El Capitan Theatre

Getty Images for Disney

12/30 20 June 2016

Tony Bennett attends as the Friars Club Honors Tony Bennett With The Entertainment Icon Award - Arrivals at New York Sheraton Hotel & Tower in New York City

Getty Images

13/30 19 June 2016

A woman walks in front of the paintings 'Without title' (1960), left, and 'Come closer' (1960), right, during the opening of the exhibition 'Xanti Schawinsky - From the Bauhaus into the World' in Magdeburg, Germany. The exhibition starts on 21 June and lasts until 25 September

AP

14/30 18 June 2016

Recording artist Johnny Bond (L) and Van McCann of Catfish and the Bottlemen perform onstage at Firefly Music Festival in Dover

Getty Images for Firefly

15/30 17 June 2016

Students from both the Richmond and Covent Garden schools perform for Prince Charles, Prince of Wales, in his role as President of The Royal Ballet, as he visits The Royal Ballet School, White Lodge campus in Richmond Park in London

Getty Images

16/30 16 June 2016

A part of the installation 'The Floating Piers' by Bulgarian-born artist Christo Vladimirov Yavachev known as Christo is seen on the Lake Iseo, northern Italy

REUTERS

17/30 15 June 2016

A unique outdoor gallery has been revealed in Hampstead Heath, to mark the return of the Affordable Art Fair in London. The colourful 'running gallery' previewed seven of the artworks going on show at the fair this week from 16 – 19 June. These works, along with thousands more original pieces will be going on sale as the fair opens – all priced between £100 - £5,000

Oliver Dixon/Imagewise

18/30 13 June 2016

The artwork 'Accumulation: Searching for Destination' (2014-2016) by Japanese artist Chiharu Shiota is on display at the show Unlimited in the context of the international art show in Basel, Switzerland. Unlimited is Art Basel's exhibition platform for projects that transcend the limitations of a classical art-show stand, including out-sized sculpture and paintings, video projections, large-scale installations, and live performances. Unlimited is curated by New York-based curator Gianni Jetzer. The Art Basel exhibition is open to the public from 16 to 19 June

EPA

19/30 12 June 2016

A costumed artist performs with fire during International Kiev Fire Fest show. Teams from Greece, Belarus, Lithuania, Slovakia, USA, Czech Republic, Scotland and Ukraine, take part with their fire-shows in the two-day festival in Kiev

Getty Images

20/30 14 June 2016

A man leaves his house as anotherone walks past murals painted as part of a program of the municipality that aims at rescueing public spaces of the historical center in Mexico City. The murals were made on shops' metallic shutters

AFP/Getty Images

21/30 11 June 2016

People look at an art installation named "Fog Assembly" by Danish artist Olafur Eliasson in the castle of Versailles, near Paris

Getty Images

22/30 10 June 2016

Tomatoes float in an aquarium which is part of an artwork entitled 'Something that Floats/Something that sinks' by Japanese artist Shimabuku during the 13th Triennial of smale-scale sculpture in Fellbach, Germany. The exhibition runs from 11 June until 2 October

EPA

23/30 9 June 2016

Swiss artist, Olaf Breuning, stands in front of his artwork 'Text Butt' (2015) in the NRW-Forum in Duesseldorf, Germany. The retrospective can be seen in Duesseldorf from 11 June until 21 August

EPA

24/30 8 June 2016

An artwork entitled 'Hang it all' by Colombian artist Gabriel Sierra is seen during the exhibition 'Under the Same Sun: Art From Latin America Today' at the South London Gallery. The gallery is the final venue on the exhibitionís international tour, following the Guggenheim Museum, New York in June 2014 and the Museo Jumex, Mexico City in November 2015

EPA

25/30 7 June 2016

An interior shows British artist Michael Landy's artworks in the exhibition 'Michael Landy. Out of Order' at the Museum Tinguely in Basel, Switzerland. Landy is one of the Young British Artists (YBAs) generation that emerged in London in the 1990s. The exhibition runs from 8 June to 25 September

EPA

26/30 6 June 2016

A Banksy mural is left painted on the side of one of the classrooms at Bridge Farm Primary in Bristol. The 14ft piece, showing a child with a stick chasing a burning tyre, was discovered at the school along with a letter to the caretaker and was said to be a thank you by the elusive artist after the school recently named a house after him

Getty Images

27/30 5 June 2016

More than 6,000 Colombians pose in the nude for American art photographer Spencer Tunick at Bolivar Square in Bogota. Tunick, famous for his pictures of huge crowds of naked people, convinced more than 6,000 Colombians to strip down in Bogota's main public square - all in the name of peace

Getty Images

28/30 4 June 2016

Bulgarian artist Christo poses in front of the monumental "Mastaba" art work at the Maeght Foundation (Fondation Maeght) on the opening day of the exibition in Saint-Paul, southeastern France. The exibition takes place from 6 June to 27 November

Getty Images

29/30 3 June 2016

Dutch King Willem-Alexander attents the opening of the SONSBEEK '16: transAction, an international contemporary art exhibition in Arnhem, The Netherlands

EPA

30/30 2 June 2016

A sculpture by Colombian artist Fernando Botero is displayed during the opening of an exhibition entitled 'Botero in Hong Kong' at Central district. The outdoor public art installation showcases nine monumental sculptures by Botero from 3 June to 14 August

EPA
On the other hand, at a time when exotic travel and scholarship was often the preserve of the Victorian male, the quests for these exotic objects, were often undertaken by women who were in no way held back by society's expectations. Among them were the novelist Amelia Edwards, who made her first trip to Egypt in 1873, and the adventurous Marianne Brocklehurst, whom Edwards met in a convoy on the Nile. It was Edwards who established he EEF; and Brocklehurst's travelling companion and sister, Mary Booth, became one of the fund's local secretaries, whose job was to raise funds and attract subscribers and donations. 
Amelia Oldroyd, whose family were in textiles in Dewsbury, joined excavations by the great Egytologist William Matthew Flinders Petrie, sewing and cooking for the team. On marrying, she became her home town's EEF secretary.
Artefacts handed to Dewsbury's museum, in exchange for funding digs, include an electron pendant in the shape of an oyster shell from Abydos (1800-1600BC). Objects held by Brighton and Hove include an incised clay female figure with a decorative necklace – and tattoos, suggesting that body art was practised. The ideal body presented for the journey to the afterlife often reflected tastes in earthly life, says Dr Serpico Assistant curator Heba Abd el Gawad, a PhD student from Durham University and an Egyptian by birth, explains the importance to modern Egypt of these collections.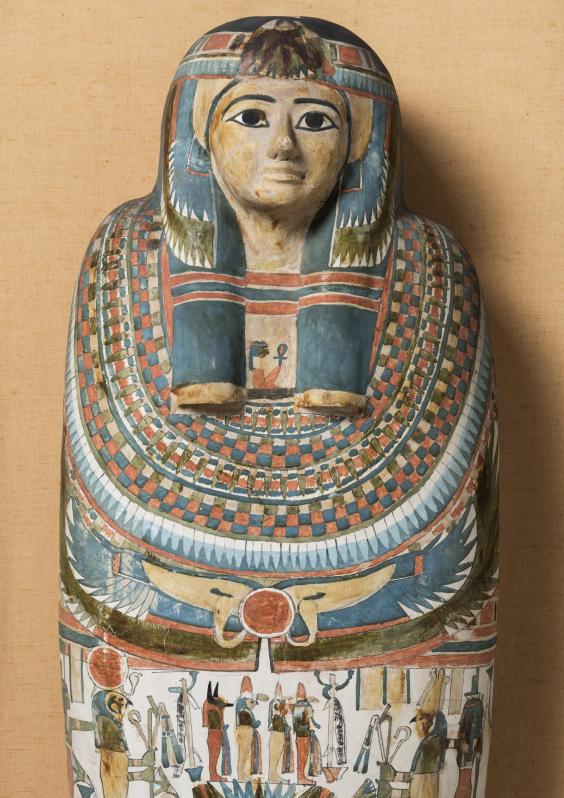 Far from wanting its objects back, she says, her country values their preservation. It is only the sale of unique objects that causes offence and uproar, such as Northampton Borough Council's disposal of its precious sculpture of Sekhema the scribe, snapped up by a private buyer for £15m in 2014, to fund other museum projects. A move criticised by Egypt's Ministry of Antiquities.
"It doesn't matter where in the world the objects are as long as they are accessible to all – they belong to us all," she says. And she believes that modern cultures can learn from Flinders Petrie, whose practice from the start was to respect the knowledge of local workers and pay them well. 
In this way he fostered in Egyptians a tradition of working on excavations over many generations, some descendants to this day working on new digs. By contrast, she points to the current destruction of important archaeological sites elsewhere in the Middle East by Islamic State. 
"Unlike Flinders Petrie, many Middle Eastern excavations don't involve local communities much. To do so might not stop all looting or desecration. But we can teach future generations that they have a link with the past that has an impact on their identity. It's important for them to know who they are."
 'Beyond Beauty: Transforming the Body in Ancient Egypt', Two Temple Place, London (twotempleplace.org), 30 Jan to 24 Apr
Reuse content