The rain is crisping towards hail as it lashes a squat building in the West Yorkshire countryside. Inside, Brian Donnelly, known to a community of fans around the world by the alias KAWS, is installing a family of recent sculptures.
The head of each figure bears traces of a skull and crossbones – blobby bones take the place of ears and a frill of teeth stands in for the mouth, while their dead-men's eyes are X-marks-the-spot crosses. It's a cartoon pirate signature that makes them instantly recognisable as the work of KAWS.
The group in the gallery are diminutive siblings to a quintet of gargantuan figures installed on the other side of the valley in the Yorkshire Sculpture Park's lakeside gardens. "I love it," enthuses Donnelly. "I love the photos you can get from it and the rolling hills and these giant wooden pieces among all the trees."
As a pioneer of art-as-brand, with an eye-catching practice that draws heavily on urban artforms and a synthetic aesthetic, this is an incongruous setting for the New York-based artist's first major UK show.
A week ahead of the opening, the installation team is laying fresh turf around the plinths, and stabilising paths churned up into gritty mud by the cranes and trucks used to piece together the weighty hardwood sculptures, the largest of which – Small Lie (2013) – stands at 10 metres tall.
The characters in this exhibition have been part of the KAWS lexicon since his days as a graffiti provocateur in the 1990s, when he gained recognition modifying ads on the sides of phone booths in New York. Companion, Accomplice, Chum and Bendy – riffs on Mickey Mouse, Bugs Bunny, the Michelin Man and a giant spermatozoa – have been conveyed in spray paint, oil on canvas, T-shirt graphics and collectible toy form, eventually expanding, in the past decade,  to become super-sized works of sculpture.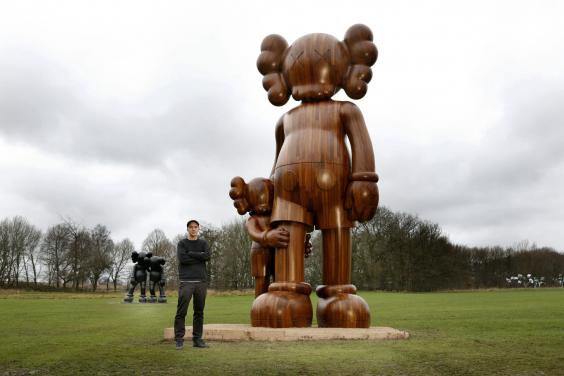 Their relationship to Donnelly hovers somewhere between avatar, id, conscience and inner child. The largest figure in the gallery is a five-metre-high Companion sitting with his head in his hands, originally commissioned for a ferry port in Hong Kong, and suggestive of the artist's own tendency to feel isolated in a numb crowd.
"I went on a site visit to Kowloon and there was just a sea of people," recalls Donnelly. "It's easy to pass people sitting on the street like this all day long – you don't think twice – but when you see something on that scale you might stop and think a little more about what's going on."
A neighbouring Companion – this partially dissected to reveal neon inner organs – is shown reclining. Its pose might recall, at a push, Antonio Canova's sleeping Endymion, but for Donnelly the composition sprang from simple empathy: "I was just thinking about giving the figure a break. This toy's sat on my shelf for some years and I pictured him relaxing."
Culture news in pictures
Culture news in pictures
1/30 30 September 2016

An employee hangs works of art with "Grand Teatro" by Marino Marini (R) and bronze sculpture "Sfera N.3" by Arnaldo Pomodoro seen ahead of a Contemporary Art auction on 7 October, at Sotheby's in London

REUTERS

2/30 29 September 2016

Street art by Portuguese artist Odeith is seen in Dresden, during an exhibition "Magic City - art of the streets"

AFP/Getty Images

3/30 28 September 2016

Dancers attend a photocall for the new "THE ONE Grand Show" at Friedrichstadt-Palast in Berlin, Germany

REUTERS

4/30 28 September 2016

With an array of thrift store china, humorous souvenirs and handmade tile adorning its walls and floors, the Mosaic Tile House in Venice stands as a monument to two decades of artistic collaboration between Cheri Pann and husband Gonzalo Duran

REUTERS

5/30 27 September 2016

A gallery assistant poses amongst work by Anthea Hamilton from her nominated show "Lichen! Libido!(London!) Chastity!" at a preview of the Turner Prize in London

REUTERS

6/30 27 September 2016

A technician wearing virtual reality glasses checks his installation in three British public telephone booths, set up outside the Mauritshuis museum in The Hague, Netherlands. The installation allows visitors a 3-D look into the museum which has twenty-two paintings belonging to the British Royal Collection, on loan for an exhibit from 29 September 2016 till 8 January 2017

AP

7/30 26 September 2016

An Indian artist dressed as Hindu god Shiva performs on a chariot as he participates in a religious procession 'Ravan ki Barat' held to mark the forthcoming Dussehra festival in Allahabad

AFP/Getty Images

8/30 26 September 2016

Jean-Michel Basquiat's 'Air Power', 1984, is displayed at the Bowie/Collector media preview at Sotheby's in New York

AFP/Getty

9/30 25 September 2016

A woman looks at an untitled painting by Albert Oehlen during the opening of an exhibition of works by German artists Georg Baselitz and Albert Oehlen in Reutlingen, Germany. The exhibition runs at the Kunstverein (art society) Reutlingen until 15 January 2017

EPA

10/30 24 September 2016

Fan BingBing (C) attends the closing ceremony of the 64th San Sebastian Film Festival at Kursaal in San Sebastian, Spain

Getty Images

11/30 23 September 2016

A view of the artwork 'You Are Metamorphosing' (1964) as part of the exhibition 'Retrospektive' of Japanese artist Tetsumi Kudo at Fridericianum in Kassel, Germany. The exhibition runs from 25 September 2016 to 1 January 2017

EPA

12/30 22 September 2016

Jo Applin from the Courtauld Institute of Art looks at Green Tilework in Live Flesh by Adriana Vareja, which features in a new exhibition, Flesh, at York Art Gallery. The new exhibition features works by Degas, Chardin, Francis Bacon and Sarah Lucas, showing how flesh has been portrayed by artists over the last 600 years

PA

13/30 21 September 2016

Performers Sean Atkins and Sally Miller standing in for the characters played by Asa Butterfield and Ella Purnell during a photocall for Tim Burton's "Miss Peregrines Home For Peculiar Children" at Potters Field Park in London

Getty Images

14/30 20 September 2016

A detail from the blanket 'Alpine Cattle Drive' from 1926 by artist Ernst Ludwig Kirchner is displayed at the 'Hamburger Bahnhof - Museum for Contemporary Arts' in Berlin. The exhibition named 'Ernst Ludwig Kirchner - Hieroglyphen' showing the complete collection of Berlin's Nationalgallerie works of the German artist Ernst Ludwig Kirchner and will run from 23 September 2016 until 26 February 2017

AP

15/30 20 September 2016

A man looks at portrait photos by US photographer Bruce Gilden in the exhibition 'Masters of Photography' at the photokina in Cologne, Germany. The trade fair on photography, photokina, schowcases some 1,000 exhibitors from 40 countries and runs from 20 to 25 September. The event also features various photo exhibitions

EPA

16/30 20 September 2016

A woman looks at 'Blue Poles', 1952 by Jackson Pollock during a photocall at the Royal Academy of Arts, London

PA

17/30 19 September 2016

Art installation The Refusal of Time, a collaboration with Philip Miller, Catherine Meyburgh and Peter Galison, which features as part of the William Kentridge exhibition Thick Time, showing from 21 September to 15 January at the Whitechapel Gallery in London

PA

18/30 18 September 2016

Artists creating one off designs at the Mm6 Maison Margiela presentation during London Fashion Week Spring/Summer collections 2017 in London

Getty Images

19/30 18 September 2016

Bethenny Frankel attends the special screening of Disney's "Beauty and the Beast" to celebrate the 25th Anniversary Edition release on Blu-Ray and DVD in New York City

Getty Images for Walt Disney Stu

20/30 17 September 2016

Visitors attend the 2016 Oktoberfest beer festival at Theresienwiese in Munich, Germany

Getty Images

21/30 16 September 2016

Visitors looks at British artist Damien Hirst work of art 'The Incomplete Truth', during the 13th Yalta Annual Meeting entitled 'The World, Europe and Ukraine: storms of changes', organised by the Yalta European Strategy (YES) in partnership with the Victor Pinchuk Foundation at the Mystetsky Arsenal Art Center in Kiev

AP

22/30 16 September 2016

Tracey Emin's "My Bed" is exhibited at the Tate Liverpool as part of the exhibition Tracey Emin And William Blake In Focus, which highlights surprising links between the two artists

Getty Images

23/30 15 September 2016

Musician Dave Grohl (L) joins musician Tom Morello of Prophets of Rage onstage at the Forum in Inglewood, California

Getty Images

24/30 14 September 2016

Model feebee poses as part of art installation "Narcissism : Dazzle room" made by artist Shigeki Matsuyama at rooms33 fashion and design exhibition in Tokyo. Matsuyama's installation features a strong contrast of black and white, which he learned from dazzle camouflage used mainly in World War I

AP

25/30 13 September 2016

Visitors look at artworks by Chinese painter Cui Ruzhuo during the exhibition 'Glossiness of Uncarved Jade' held at the exhibition hall 'Manezh' in St. Petersburg, Russia. More than 200 paintings by the Chinese artist are presented until 25 September

EPA

26/30 12 September 2016

A visitor looks at Raphael's painting 'Extase de Sainte Cecile', 1515, from the Uffizi Gallery in Florence during the opening of a Raphael exhibition at the Pushkin State Museum of Fine Arts in Moscow, Russia. The first Russian exhibition of the works of the Italian Renaissance artist Raffaello Sanzio da Urbino includes eight paintings and three drawings which come from Italy. Th exhibit opens to the public from 13 September to 11 December

EPA

27/30 11 September 2016

Steve Cropper and Eddie Floyd perform during Otis Redding 75th Birthday Celebration - Rehearsals at the Macon City Auditorium in Macon, Georgia

Getty Images for Otis Redding 75

28/30 10 September 2016

Sakari Oramo conducting the BBC Symphony Orchestra, the BBC Symphony Chorus and the BBC Singers at the Last Night of the Proms 2016 at the Royal Albert Hall in London

PA

29/30 9 September 2016

A visitor walks past a piece entitled "Fruitcake" by Joana Vasconcelo, during the Beyond Limits selling exhibition at Chatsworth House near Bakewell

REUTERS

30/30 8 September 2016

A sculpture of a crescent standing on the 2,140 meters high mountain 'Freiheit' (German for 'freedom'), in the Alpstein region of the Appenzell alps, eastern Switzerland. The sculpture is lighted during the nights by means of solar panels. The 38-year-old Swiss artist and atheist Christian Meier set the crescent on the peak to start a debate on the meaning of religious symbols - as summit crosses - on mountains. 'Because so many peaks have crosses on them, it struck me as a great idea to put up an equally absurd contrast'. 'Naturally I wanted to provoke in a fun way. But it goes beyond that. The actions of an artist should be food for thought, both visually and in content'

EPA
Donnelly was shod in fresh white Vans when he visited the Yorkshire Sculpture Park last summer, but he's not making that mistake again. Today he's wearing heavy-soled walking boots. Their label is not evident, but it's fair to assume that like many things Donnelly comes into contact with, they are obscure, limited-edition and highly covetable. A slight figure, and so softly spoken that at times his voice barely registers on a recording mic, Donnelly is nonetheless a member of that informal international club that defines a certain kind of 21st-century man-into-boy cool.
Peter Pan-like figures, they dictate an object fetishism that draws on the accoutrements of teendom and young manhood: graffiti, skateboarding, figurines, cartoons, sneakers, rare bands, rare brands, and other things that broadcast in-the-know-dom.
In the late 1990s, Donnelly shifted his focus from the telephone booths of New York to the savvy young entrepreneurs of Japan with whose eye for detail, urge to collect, and cool kid nerdiness he felt kinship.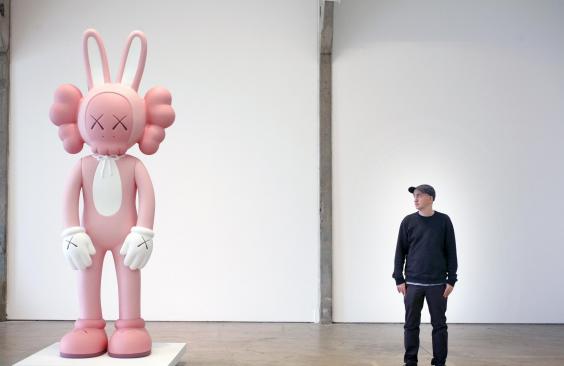 In Tokyo, he began producing collectible toy figurines, started his own brand (Original Fake), and collaborated with fashion houses, of which the most notable was BAPE, a label that was the apex of desirability for a certain tranche of hip and rarefied consumer. BAPE also had a gallery, and it was there that Donnelly first showed artworks of scale.
Thanks to Donnelly's decision to focus his energies on "product" rather than traditional artworks, the US art system, until very recently, gave him short shrift. His Original Fake brand was so popular that he "killed it" because it was taking over his life, but eight years ago he couldn't get gallery representation in his home country.
A waving turd character – Warm Regards – first appeared in response to a 2008 touring show in which Donnelly's peers were invited to show recent work, while his involvement was limited to graffiti pieces from the 1990s. At the last stop on the tour, Donnelly was invited to paint a mural – Warm Regards was his expressive gesture of "thanks" for being sidelined.
BAPE's founder, Nigo, was, as Donnelly puts it "an eccentric collector dude" who amassed fine cars, mid-century furniture and whose house featured exclusively KAWS artwork.
"Everyone who went to Tokyo – Jay Z, Pharrell, Kanye – wanted to see Nigo," recalls Donnelly. "And they went to his house where they saw the best Bentleys and the best Prouvé vintage furniture. That was their first impression when they saw the work, and that really got it out to a lot of people." 
It was Pharrell who provided Donnelly's entrée into the world of art fairs, auction houses and air kissing that today passes as the upper end of the contemporary art market. The French gallerist Emmanuel Perrotin was at Pharrell's house and "Pharrell cold-called me: 'Hey, Emmanuel's here! Talk to him!' It was very awkward. But that did start a 'hello' between us."
Perrotin is a legendarily sporting gallerist, but such was the artworld's suspicion of  "commercial" art in the mid-Noughties that it took even him a while to come round to KAWS. Today, Donnelly is embraced by both the art and the collectibles market: "Frieze and Comic Con – what's the difference?" he shrugs. "It's a different crowd, a different dress, a different network, but honestly? It's just making work and putting it into a room." Indeed, he contrasts the obsessive, knowledgeable collecting of ephemera he encountered in Japan with  the sometimes dubious machinations of the artworld: "Whether it was prototype toys or whatever, those collectors were connoisseurs of what they were looking at, they knew the history behind it, the year of the piece. People have interests, but some treat it with integrity and some don't."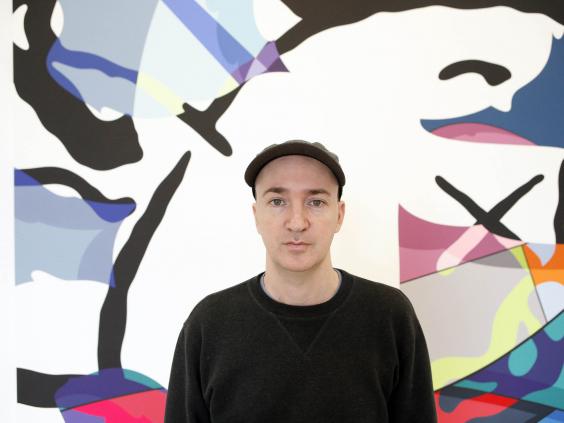 Even rendered in materials more fitting to artworld tastes, KAWS's figures have the impenetrable sheeny finish of a Disney figurine. The hierarchy of materials in art is something he finds hard to fathom. "I did a series called Permanent Thirty-Three (2008): bronze heads of me in different colours that I did when I was 33 years old. People approach the work in different ways – when it's eight inches and plastic it's a toy, if it's eight inches in painted bronze it's an artwork. I always felt that to be ridiculous."
Donnelly is an ardent collector of both toys and art, and frequently communicates his passion for the work of artists such as Peter Saul and Joyce Pensato to his 400,000-odd Instagram followers. Today he sees a role for himself in providing a route into art for hordes of young fans that might otherwise, as he once did, feel that they "couldn't go into a gallery – they'd be booked for shoplifting".
Beyond the mud and the sleet, this personal engagement with an audience that might otherwise feel unwelcome in a museum environment is a key part of what brings KAWS to Yorkshire Sculpture Park, and what brought Yorkshire Sculpture Park to KAWS. He may be an accepted member of the artworld now, but standing in the stately parkland of their rarefied rural locale, his vast, cartoonish sculptures with their unyielding, near featureless surfaces still reek of insubordination.
KAWS, 6 Feb to 12 June, Yorkshire Sculpture Park (ysp.co.uk)