The rain is crisping towards hail as it lashes a squat building in the West Yorkshire countryside. Inside, Brian Donnelly, known to a community of fans around the world by the alias KAWS, is installing a family of recent sculptures.
The head of each figure bears traces of a skull and crossbones – blobby bones take the place of ears and a frill of teeth stands in for the mouth, while their dead-men's eyes are X-marks-the-spot crosses. It's a cartoon pirate signature that makes them instantly recognisable as the work of KAWS.
The group in the gallery are diminutive siblings to a quintet of gargantuan figures installed on the other side of the valley in the Yorkshire Sculpture Park's lakeside gardens. "I love it," enthuses Donnelly. "I love the photos you can get from it and the rolling hills and these giant wooden pieces among all the trees."
As a pioneer of art-as-brand, with an eye-catching practice that draws heavily on urban artforms and a synthetic aesthetic, this is an incongruous setting for the New York-based artist's first major UK show.
A week ahead of the opening, the installation team is laying fresh turf around the plinths, and stabilising paths churned up into gritty mud by the cranes and trucks used to piece together the weighty hardwood sculptures, the largest of which – Small Lie (2013) – stands at 10 metres tall.
The characters in this exhibition have been part of the KAWS lexicon since his days as a graffiti provocateur in the 1990s, when he gained recognition modifying ads on the sides of phone booths in New York. Companion, Accomplice, Chum and Bendy – riffs on Mickey Mouse, Bugs Bunny, the Michelin Man and a giant spermatozoa – have been conveyed in spray paint, oil on canvas, T-shirt graphics and collectible toy form, eventually expanding, in the past decade,  to become super-sized works of sculpture.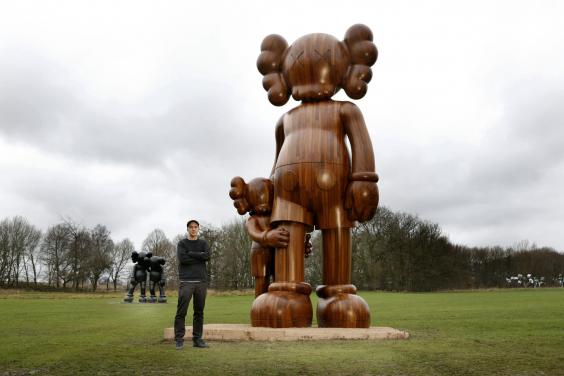 Their relationship to Donnelly hovers somewhere between avatar, id, conscience and inner child. The largest figure in the gallery is a five-metre-high Companion sitting with his head in his hands, originally commissioned for a ferry port in Hong Kong, and suggestive of the artist's own tendency to feel isolated in a numb crowd.
"I went on a site visit to Kowloon and there was just a sea of people," recalls Donnelly. "It's easy to pass people sitting on the street like this all day long – you don't think twice – but when you see something on that scale you might stop and think a little more about what's going on."
A neighbouring Companion – this partially dissected to reveal neon inner organs – is shown reclining. Its pose might recall, at a push, Antonio Canova's sleeping Endymion, but for Donnelly the composition sprang from simple empathy: "I was just thinking about giving the figure a break. This toy's sat on my shelf for some years and I pictured him relaxing."
Culture news in pictures
Culture news in pictures
1/30 27 May 2016

An image of an indigenous Australian man is projected onto the sails of the Sydney Opera House during the opening night of the annual Vivid Sydney light festival in Sydney

Reuters

2/30 26 May 2016

A woman walks on steps lined with plastic cups, an art project of four college students, in Wuhan, China

Reuters

3/30 25 May 2016

A view of the Pyramid of the Louvre museum covered with a gigantic black and white trompe l'oeil photo of the Louvre building by French artist JR in Paris. The exhibition 'Contemporary art JR at the Louvre' runs from 25 May to 27 June

EPA

4/30 24 May 2016

Artist paints a reproduction of one of the vincent Van gogh's painting for the 'Loving Vincent' film in Wroclaw, Poland. 'Loving Vincent', the world's first fully painted animation feature film, will be about the life and death of the Dutch famous painter Vincent van Gogh

EPA

5/30 23 May 2016

John Oliver, Jimmy Fallon and Jennifer Lawrence during a taping of "The Tonight Show Starring Jimmy Fallon" in New York City

Getty Images

6/30 22 May 2016

French Moroccan director Houda Benyamina (C) poses with the Camera d'Or next to actresses Jisca Kalvanda (L), Oulaya Amamra (2ndL) and Deborah Lukumuena (R) at the Palme D'Or Winner Photocall during the 69th annual Cannes Film Festival

Getty Images

7/30 21 May 2016

Swedish artist Andreas Englund signs one of his murals at the Urban Nation museum for urban contemporary art, in Berlin

Getty Images

8/30 20 May 2016

(L-R) Autor Tom Brokaw, Legion of Honor's Grand Chancellor General Jean-Louis Georgelin, Actor Tom Hanks, Ambassador of USA in France, Jane D. Hartley and Doctor Gordon "Nick" Mueller attend Tom Hanks, Tom Brokaw & Gordon "Nick" Mueller receive the Legion d'Honneur Medal at Palais de la Legion d'Honneur in Paris

Getty Images

9/30 19 May 2016

Visitors study work by Tod Papageorge in the gallery areas at the "Photo London 2016" event at Somerset House in central London. Featuring work from some of the world's most respected photographers, the event is aiming to put London on the map as the global city of photography

Getty Images

10/30 18 May 2016

A view of the building that will house planned Urban Nation - Museum for Urban Contemporary Art in Berlin. The street art museum is scheduled to open in 2017

EPA

11/30 17 May 2016

Kate Morais looks at the 'Colossal statues of a king and a queen' (283-246 BC) - which are reflected in a display cabinet glass - which stand over five meters tall during a preview of the 'Sunken Cities: Egypt's Lost Worlds' exhibition at the British Museum in London. This is the museum's first large scale exhibition of underwater archaeological finds and tells the story of two lost Egyptian cities and their recent discoveries beneath the Mediterranean, excavated off the coast of Egypt near Alexandria between 1996 and 2012

Getty Images

12/30 16 May 2016

Kurt Cobain's Univox electric guitar played and destroyed by Cobain at Nirvana's 13 July 1989 concert at Maxwell's in Hoboken, New Jersey is displayed during Julien's Auction Music Icons Press Exhibition at Hard Rock Cafe, Times Square in New York City

Getty Images

13/30 15 May 2016

Cast of the "From The Land Of The Moon (Mal De Pierres)" attend the premiere during the 69th annual Cannes Film Festival at the Palais des Festivals

Getty Images

14/30 14 May 2016

Jamala representing Ukraine with the song "1944" celebrates with the trophy after winning the final of the Eurovision Song Contest 2016 Grand Final in Stockholm

Getty Images

15/30 13 May 2016

A mural on a restaurant wall depicting US Presidential hopeful Donald Trump and Russian President Vladimir Putin greeting each other with a kiss in the Lithuanian capital Vilnius. Kestutis Girnius, associate professor of the Institute of International Relations and Political Science in Vilnius university, said: "This graffiti expresses the fear of some Lithuanians that Donald Trump is likely to kowtow to Vladimir Putin and be indifferent to Lithuanias security concerns. Trump has notoriously stated that Putin is a strong leader, and that NATO is obsolete and expensive"

Getty Images

16/30 12 May 2016

People visit the artwork titled Seven Magic Mountains by artist Ugo Rondinone, near Jean, Nevada. The artwork was recently completed in the desert south of Las Vegas

AP

17/30 11 May 2016

Justin Timberlake attends the "Trolls" Photocall during The 69th Annual Cannes Film Festival

Getty Images

18/30 10 May 2016

Curator Ben Russell poses with a 2.4 meter robot called Cygan, built in 1957, on display at the Science Museum before announcing a new robot exhibition for 2017

Getty Images

19/30 9 May 2016

A Palestinian artist paints a graffiti on a wall of the United Nations school of Beit Hanun, in the northern Gaza Strip

Getty Images

20/30 8 May 2016

Jon Snow collects the award for best news coverage on behalf of Channel 4 during the House of Fraser BAFTA TV Awards 2016 at the Royal Festival Hall in London

PA

21/30 7 May 2016

Illustration View of the 'Empires' exhibition of Huang Yong Ping as part of Monumenta 2016 to Grand Palais from 8 May till 18 June 2016

Getty Images

22/30 6 May 2016

People, including Russian servicemen, attend a concert of Mariinsky Theatre in the amphitheatre of the Syrian city of Palmyra, Syria

Reuters

23/30 5 May 2016

A child looks at an artwork titled 'Bi-lateral Relations' by Uruguay artists Fernando Foglino and Valentina Cardellino during the Latin America and Caribbean Art Festival Visual Art Exhibition 2016 at the World Art Museum of the China Millennium Monument in Beijing. The exhibition runs until 26 May, and is part of joint activities to mark the China-Latin America and Caribbean Cultural Exchange Year

EPA

24/30 4 May 2016

(L-R) David Furnish, Lady Gaga and Macy's CEO Terry J. Lundgren attend Love Bravery by Lady Gaga and Elton John Launch at Macy's Herald Square in New York City

Getty Images

25/30 3 May 2016

The Hofburg palace is illuminated by a projection of Viennese artist Viktoria Coeln for the project Dystopia Eutopia in Vienna, Austria

AP

26/30 2 May 2016

A visitor looks at paintings by Yemeni female artists displayed at a gallery during an exhibition entitled Women Creativity for Peace in the capital Sanaa

Getty Images

27/30 1 May 2016

A man looks at an art piece during the Oshtoora festival in an open desert north Fayoum, Egypt. Oshtoora festival, or "A temporary sate," is held only once a year in a different locations within Egypt. The festival is based on expression of music, arts, and cultures in an open natural environment

AP

28/30 30 April 2016

Actress Lupita Nyong'o attends "Eclipsed" To Launch A Dedications Series In Honor Of Abducted Chibok Girls Of Northern Nigeria at Golden Theatre in New York

Getty Images

29/30 29 April 2016

Kabuki actor Shido Nakamura (in red) performs in a final dress rehearsal for the kabuki theatre show 'Hanakurabe Senbonzakura' in Tokyo, Japan. The latest digital technology kabuki theatre piece 'Hanakurabe Senbonzakura' is part of the Niconico Chokaigi festival in Tokyo. The festival was organized by video website Niconico, combining Kabuki, a traditional Japanese theatre art and cutting edge animation technology, co-starring kabuki superstar Shidou Nakamura and the popular virtual idol Hatsune Miku

Getty Images

30/30 28 April 2016

Members of the Australian ballet perform in the scene from "Scent of the Love" during the dress rehearsal for the national premiere of Symphony in C that comprises of five short ballet works at the Opera House in Sydney

Getty Images
Donnelly was shod in fresh white Vans when he visited the Yorkshire Sculpture Park last summer, but he's not making that mistake again. Today he's wearing heavy-soled walking boots. Their label is not evident, but it's fair to assume that like many things Donnelly comes into contact with, they are obscure, limited-edition and highly covetable. A slight figure, and so softly spoken that at times his voice barely registers on a recording mic, Donnelly is nonetheless a member of that informal international club that defines a certain kind of 21st-century man-into-boy cool.
Peter Pan-like figures, they dictate an object fetishism that draws on the accoutrements of teendom and young manhood: graffiti, skateboarding, figurines, cartoons, sneakers, rare bands, rare brands, and other things that broadcast in-the-know-dom.
In the late 1990s, Donnelly shifted his focus from the telephone booths of New York to the savvy young entrepreneurs of Japan with whose eye for detail, urge to collect, and cool kid nerdiness he felt kinship.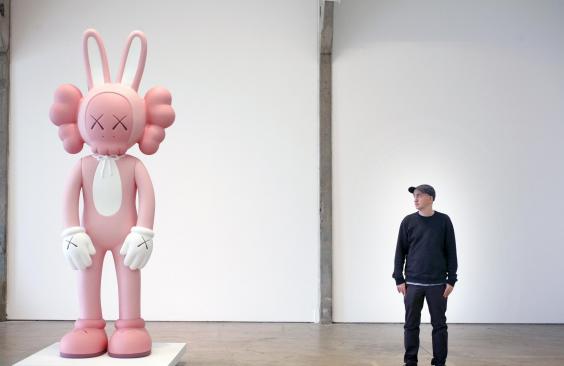 In Tokyo, he began producing collectible toy figurines, started his own brand (Original Fake), and collaborated with fashion houses, of which the most notable was BAPE, a label that was the apex of desirability for a certain tranche of hip and rarefied consumer. BAPE also had a gallery, and it was there that Donnelly first showed artworks of scale.
Thanks to Donnelly's decision to focus his energies on "product" rather than traditional artworks, the US art system, until very recently, gave him short shrift. His Original Fake brand was so popular that he "killed it" because it was taking over his life, but eight years ago he couldn't get gallery representation in his home country.
A waving turd character – Warm Regards – first appeared in response to a 2008 touring show in which Donnelly's peers were invited to show recent work, while his involvement was limited to graffiti pieces from the 1990s. At the last stop on the tour, Donnelly was invited to paint a mural – Warm Regards was his expressive gesture of "thanks" for being sidelined.
BAPE's founder, Nigo, was, as Donnelly puts it "an eccentric collector dude" who amassed fine cars, mid-century furniture and whose house featured exclusively KAWS artwork.
"Everyone who went to Tokyo – Jay Z, Pharrell, Kanye – wanted to see Nigo," recalls Donnelly. "And they went to his house where they saw the best Bentleys and the best Prouvé vintage furniture. That was their first impression when they saw the work, and that really got it out to a lot of people." 
It was Pharrell who provided Donnelly's entrée into the world of art fairs, auction houses and air kissing that today passes as the upper end of the contemporary art market. The French gallerist Emmanuel Perrotin was at Pharrell's house and "Pharrell cold-called me: 'Hey, Emmanuel's here! Talk to him!' It was very awkward. But that did start a 'hello' between us."
Perrotin is a legendarily sporting gallerist, but such was the artworld's suspicion of  "commercial" art in the mid-Noughties that it took even him a while to come round to KAWS. Today, Donnelly is embraced by both the art and the collectibles market: "Frieze and Comic Con – what's the difference?" he shrugs. "It's a different crowd, a different dress, a different network, but honestly? It's just making work and putting it into a room." Indeed, he contrasts the obsessive, knowledgeable collecting of ephemera he encountered in Japan with  the sometimes dubious machinations of the artworld: "Whether it was prototype toys or whatever, those collectors were connoisseurs of what they were looking at, they knew the history behind it, the year of the piece. People have interests, but some treat it with integrity and some don't."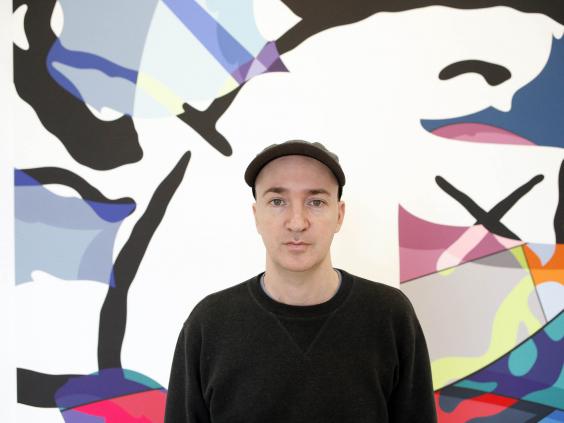 Even rendered in materials more fitting to artworld tastes, KAWS's figures have the impenetrable sheeny finish of a Disney figurine. The hierarchy of materials in art is something he finds hard to fathom. "I did a series called Permanent Thirty-Three (2008): bronze heads of me in different colours that I did when I was 33 years old. People approach the work in different ways – when it's eight inches and plastic it's a toy, if it's eight inches in painted bronze it's an artwork. I always felt that to be ridiculous."
Donnelly is an ardent collector of both toys and art, and frequently communicates his passion for the work of artists such as Peter Saul and Joyce Pensato to his 400,000-odd Instagram followers. Today he sees a role for himself in providing a route into art for hordes of young fans that might otherwise, as he once did, feel that they "couldn't go into a gallery – they'd be booked for shoplifting".
Beyond the mud and the sleet, this personal engagement with an audience that might otherwise feel unwelcome in a museum environment is a key part of what brings KAWS to Yorkshire Sculpture Park, and what brought Yorkshire Sculpture Park to KAWS. He may be an accepted member of the artworld now, but standing in the stately parkland of their rarefied rural locale, his vast, cartoonish sculptures with their unyielding, near featureless surfaces still reek of insubordination.
KAWS, 6 Feb to 12 June, Yorkshire Sculpture Park (ysp.co.uk)