The rain is crisping towards hail as it lashes a squat building in the West Yorkshire countryside. Inside, Brian Donnelly, known to a community of fans around the world by the alias KAWS, is installing a family of recent sculptures.
The head of each figure bears traces of a skull and crossbones – blobby bones take the place of ears and a frill of teeth stands in for the mouth, while their dead-men's eyes are X-marks-the-spot crosses. It's a cartoon pirate signature that makes them instantly recognisable as the work of KAWS.
The group in the gallery are diminutive siblings to a quintet of gargantuan figures installed on the other side of the valley in the Yorkshire Sculpture Park's lakeside gardens. "I love it," enthuses Donnelly. "I love the photos you can get from it and the rolling hills and these giant wooden pieces among all the trees."
As a pioneer of art-as-brand, with an eye-catching practice that draws heavily on urban artforms and a synthetic aesthetic, this is an incongruous setting for the New York-based artist's first major UK show.
A week ahead of the opening, the installation team is laying fresh turf around the plinths, and stabilising paths churned up into gritty mud by the cranes and trucks used to piece together the weighty hardwood sculptures, the largest of which – Small Lie (2013) – stands at 10 metres tall.
The characters in this exhibition have been part of the KAWS lexicon since his days as a graffiti provocateur in the 1990s, when he gained recognition modifying ads on the sides of phone booths in New York. Companion, Accomplice, Chum and Bendy – riffs on Mickey Mouse, Bugs Bunny, the Michelin Man and a giant spermatozoa – have been conveyed in spray paint, oil on canvas, T-shirt graphics and collectible toy form, eventually expanding, in the past decade,  to become super-sized works of sculpture.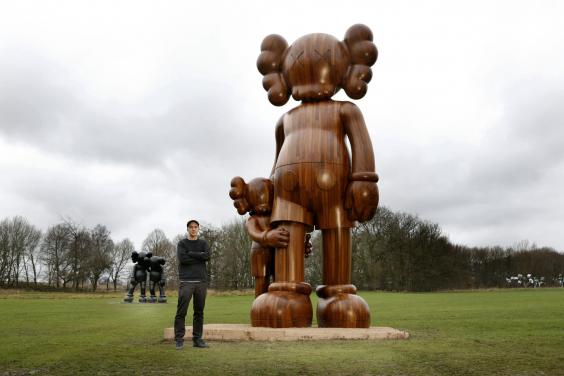 Their relationship to Donnelly hovers somewhere between avatar, id, conscience and inner child. The largest figure in the gallery is a five-metre-high Companion sitting with his head in his hands, originally commissioned for a ferry port in Hong Kong, and suggestive of the artist's own tendency to feel isolated in a numb crowd.
"I went on a site visit to Kowloon and there was just a sea of people," recalls Donnelly. "It's easy to pass people sitting on the street like this all day long – you don't think twice – but when you see something on that scale you might stop and think a little more about what's going on."
A neighbouring Companion – this partially dissected to reveal neon inner organs – is shown reclining. Its pose might recall, at a push, Antonio Canova's sleeping Endymion, but for Donnelly the composition sprang from simple empathy: "I was just thinking about giving the figure a break. This toy's sat on my shelf for some years and I pictured him relaxing."
Culture news in pictures
Culture news in pictures
1/30 19 July 2016

People apply wax on 'Le Penseur' (The Thinker), a sculpture by late French sculptor Auguste Rodin, to protect it from weather damages and pollution at the Rodin museum in Paris

AFP/Getty Images

2/30 18 July 2016

The painting 'Venus in Furs' hangs in the Picture Gallery in Park Sansouci in Potsdam, Germany. After having been missing for 70 years, the painting fom 1640 by a Flemish master was returned from private hands. The Foundation Prussian Palaces and Gardens Berlin-Brandenburg has been missing around 2,000 objects since the Second World War

EPA

3/30 17 July 2016

Artists of the French pyrotechnic company "Groupe F" perform during the show "A fleur de peau" (On edge) at the Venaria Reale Palace, in Venaria, near Turin

AFP/Getty Images

4/30 16 July 2016

Dancers of the British dance company Balletboyz perform in "Rabbit", choreographed by Pontus Lidberg, during the Malta Arts Festival in Valletta, Malta

REUTERS

5/30 15 July 2016

Singer Gwen Stefani performs on NBC's "Today" Show at Rockefeller Plaza in New York City

Getty Images

6/30 14 July 2016

People sit under illuminated giant raindrop-shapes at an interactive art installation to raise awareness of autism, in Shanghai

Rex Features

7/30 13 July 2016

An installation 'A wall of life jackets and their stories' by Andrew Wakeford and Fred George is on display at Johanneskirche in Saarbruecken, Germany. The installation is made of original life jackets found on the beaches of Greece and barbed wires, along with interviews and portraits of who have fled from the conflict in the Middle East to Europe. The exhibition runs from 15 July to 26 August

EPA

8/30 12 July 2016

Chinese artist Ai Weiwei poses next to a sculpture that is part of his installation "Circle of Animals/Zodiac Heads" in front of the Upper Belvedere palace in Vienna, Austria. From 14 July to 20 November 2016, the 21er Haus museum presents Ai Weiwei's solo show "translocation - transformation", with the central exhibit of a tea merchant family's ancestral temple from the Ming Dynasty, whose main hall will be reconstructed in the 21er Haus

AFP/Getty Images

9/30 11 July 2016

"Mediterranean Body", a monumental sculpture by COSKUN is seen at the 11th Taehwa River Eco Art Festival in Ulsan, South Korea. The artist, with his wooden monumental sculpture pays tribute to refugees who lose their lives at sea

Rex Features

10/30 10 July 2016

A festival-goer paints a mandala during the 2nd Samsara Yoga and Music Festival in the Toreki neighbourhood of Siofok, 102 kms southwest of Budapest, Hungary. Visitors can enjoy music performed on three stages and attend workshops, lectures and conversations with yoga trainers, instructors, therapeutists, psychologists, doctors and healers between 6 and 11 July

EPA

11/30 9 July 2016

Naked volunteers, painted in blue to reflect the colours found in Marine paintings in Hull's Ferens Art Gallery, participate in US artist, Spencer Tunick's "Sea of Hull" installation in Kingston upon Hull

AFP/Getty Images

12/30 8 July 2016

Mark Rylance (L) is returning to the West End stage in Nice Fish - and fans will be able to see him for free if they dress up as fish. Nice Fish, the critically acclaimed comedy by Rylance and prose poet Louis Jenkins, will have a limited run from November at London's Harold Pinter Theatre after a successful season in New York

PA

13/30 7 July 2016

Women wearing summer kimonos, called yukatas, look at goldfish during the 2016 EDO Nihonbashi Art Aquarium exhibition in Tokyo. The 10th anniversary of the festival will start on 8 July and will continue until 25 September, displaying some 8,000 goldfish in various special art exhibits

AFP/Getty Images

14/30 6 July 2016

Musician Tim Lopez (L) and Tom Higgenson of the Plain White T's perform at the Grove's Summer Concert Series in Los Angeles, California

Getty Images

15/30 5 July 2016

Tourists walk through a lantern installation in Zhangjiakou, Hebei Province, China

REUTERS

16/30 4 July 2016

One of London's most iconic venues has sent a pair of show tickets into space to celebrate the world premiere of Independence Day Live – a new film-and-orchestra event being held in September. The Royal Albert Hall has marked the occasion by blasting the tickets into the stratosphere on Independence Day itself

17/30 3 July 2016

People walk on the installation 'The Floating Piers' by Bulgarian-born artist Christo Vladimirov Yavachev, known as Christo, northern Italy

REUTERS

18/30 2 July 2016

Performers dressed as angels take part in the Place des Anges spectacle in Hull, part of UK City of Culture 2017 and the Yorkshire Festival. Up to 10,000 people have descended on Hull to watch Place des Anges. The aerial show sees white-clad angels appear on rooftops before taking off on suspended wires across the city. The event culminates with thousands of white feathers cascading onto the crowds below

PA

19/30 1 July 2016

EPA

20/30 30 June 2016

The world's largest disco ball is installed at the Duke Studios in Leeds ahead of The Big Disco event. The event, which is part of the Yorkshire Festival 2016, will see thousands of people partying under the Guinness World Record holding disco ball - which measures 10.33 metres in diameter and is two and a half times the size of a double decker bus

PA

21/30 29 June 2016

The first major solo exhibition by accessories designer, art director and fashion stylist Judy Blame has opened to the public and runs between 29 June and 4 September at the ICA, The Mall in London

22/30 28 June 2016

Prince Seeiso of Lesotho and Prince Harry on stage with the Basotho Youth Choir at the finale of the Sentebale Concert at Kensington Palace in London

Getty Images

23/30 27 June 2016

A woman looks at the Eugene Delacroix paintings made between 1849 and 1861 during a restoration at the Saints-Anges chapel inside the Saint-Sulpice church in Paris

AFP/Getty Images

24/30 26 June 2016

Chris Martin of 'Coldplay' performs on the Pyramid Stage on day 3 of the Glastonbury Festival at Worthy Farm

Getty Images

25/30 25 June 2016

Adele performing on stage at the Glastonbury Festival, at Worthy Farm in Somerset

PA

26/30 24 June 2016

US artist Joan Jonas poses during the presentation of her exhibition 'Joan Jonas: Stream or River. Flight or Pattern' at the Bitin Foundation in Santander, northern Spain. The display featuring experimental film and video-installation of pioneering Jonas will be open to the public from 25 June to 16 October 2016

EPA

27/30 23 June 2016

Evie Ferris and Georgia Scott-Hunter, Artists of The Australian Ballet next to one of Edgar Degas' iconic ballet dancer paintings 'Dancer with Bouquets' during the media preview for the 'Degas: A New Vision' exhibition at National Gallery of Victoria in Melbourne, Australia. The exhibition will run from 24 June to 18 September as part of the Melbourne Winter Masterpieces series

Getty Images

28/30 22 June 2016

Figures of characters from the comic series 'Uncle Walt' by US cartoonist Frank King are on display in the exhibition 'Pioneers of the Comic Strip. A different Avant-Garde' at the Schirn Kunsthalle museum in Frankfurt am Main, Germany. The exhibition that features the works of six primarily US illustrators created between 1905 and 1940, runs from 23 June 2016 to 18 September 2016

EPA

29/30 21 June 2016

(L-R) Actors Jonathan Holmes, Paul Moniz de Sa, Daniel Bacon, Chris Gibbs, Jemaine Clement, Penelope Wilton, Mark Rylance, Ruby Barnhill, Bill Hader, Rebecca Hall and Rafe Spall arrive on the red carpet for the US premiere of Disney's "The BFG," directed and produced by Steven Spielberg. A giant sized crowd lined the streets of Hollywood Boulevard to see stars arrive at the El Capitan Theatre

Getty Images for Disney

30/30 20 June 2016

Tony Bennett attends as the Friars Club Honors Tony Bennett With The Entertainment Icon Award - Arrivals at New York Sheraton Hotel & Tower in New York City

Getty Images
Donnelly was shod in fresh white Vans when he visited the Yorkshire Sculpture Park last summer, but he's not making that mistake again. Today he's wearing heavy-soled walking boots. Their label is not evident, but it's fair to assume that like many things Donnelly comes into contact with, they are obscure, limited-edition and highly covetable. A slight figure, and so softly spoken that at times his voice barely registers on a recording mic, Donnelly is nonetheless a member of that informal international club that defines a certain kind of 21st-century man-into-boy cool.
Peter Pan-like figures, they dictate an object fetishism that draws on the accoutrements of teendom and young manhood: graffiti, skateboarding, figurines, cartoons, sneakers, rare bands, rare brands, and other things that broadcast in-the-know-dom.
In the late 1990s, Donnelly shifted his focus from the telephone booths of New York to the savvy young entrepreneurs of Japan with whose eye for detail, urge to collect, and cool kid nerdiness he felt kinship.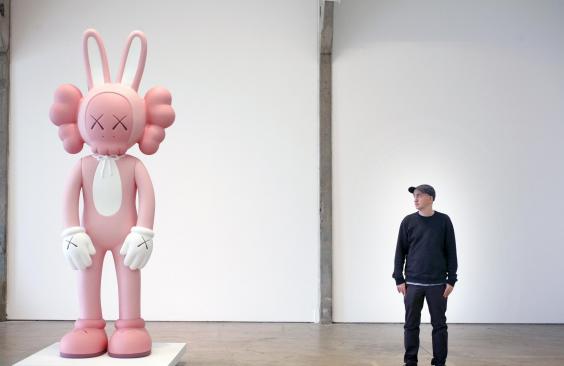 In Tokyo, he began producing collectible toy figurines, started his own brand (Original Fake), and collaborated with fashion houses, of which the most notable was BAPE, a label that was the apex of desirability for a certain tranche of hip and rarefied consumer. BAPE also had a gallery, and it was there that Donnelly first showed artworks of scale.
Thanks to Donnelly's decision to focus his energies on "product" rather than traditional artworks, the US art system, until very recently, gave him short shrift. His Original Fake brand was so popular that he "killed it" because it was taking over his life, but eight years ago he couldn't get gallery representation in his home country.
A waving turd character – Warm Regards – first appeared in response to a 2008 touring show in which Donnelly's peers were invited to show recent work, while his involvement was limited to graffiti pieces from the 1990s. At the last stop on the tour, Donnelly was invited to paint a mural – Warm Regards was his expressive gesture of "thanks" for being sidelined.
BAPE's founder, Nigo, was, as Donnelly puts it "an eccentric collector dude" who amassed fine cars, mid-century furniture and whose house featured exclusively KAWS artwork.
"Everyone who went to Tokyo – Jay Z, Pharrell, Kanye – wanted to see Nigo," recalls Donnelly. "And they went to his house where they saw the best Bentleys and the best Prouvé vintage furniture. That was their first impression when they saw the work, and that really got it out to a lot of people." 
It was Pharrell who provided Donnelly's entrée into the world of art fairs, auction houses and air kissing that today passes as the upper end of the contemporary art market. The French gallerist Emmanuel Perrotin was at Pharrell's house and "Pharrell cold-called me: 'Hey, Emmanuel's here! Talk to him!' It was very awkward. But that did start a 'hello' between us."
Perrotin is a legendarily sporting gallerist, but such was the artworld's suspicion of  "commercial" art in the mid-Noughties that it took even him a while to come round to KAWS. Today, Donnelly is embraced by both the art and the collectibles market: "Frieze and Comic Con – what's the difference?" he shrugs. "It's a different crowd, a different dress, a different network, but honestly? It's just making work and putting it into a room." Indeed, he contrasts the obsessive, knowledgeable collecting of ephemera he encountered in Japan with  the sometimes dubious machinations of the artworld: "Whether it was prototype toys or whatever, those collectors were connoisseurs of what they were looking at, they knew the history behind it, the year of the piece. People have interests, but some treat it with integrity and some don't."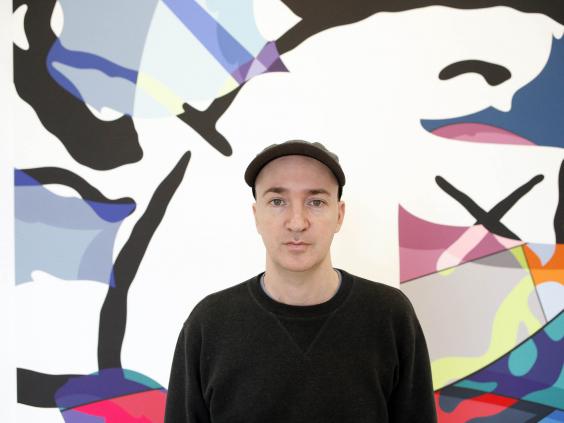 Even rendered in materials more fitting to artworld tastes, KAWS's figures have the impenetrable sheeny finish of a Disney figurine. The hierarchy of materials in art is something he finds hard to fathom. "I did a series called Permanent Thirty-Three (2008): bronze heads of me in different colours that I did when I was 33 years old. People approach the work in different ways – when it's eight inches and plastic it's a toy, if it's eight inches in painted bronze it's an artwork. I always felt that to be ridiculous."
Donnelly is an ardent collector of both toys and art, and frequently communicates his passion for the work of artists such as Peter Saul and Joyce Pensato to his 400,000-odd Instagram followers. Today he sees a role for himself in providing a route into art for hordes of young fans that might otherwise, as he once did, feel that they "couldn't go into a gallery – they'd be booked for shoplifting".
Beyond the mud and the sleet, this personal engagement with an audience that might otherwise feel unwelcome in a museum environment is a key part of what brings KAWS to Yorkshire Sculpture Park, and what brought Yorkshire Sculpture Park to KAWS. He may be an accepted member of the artworld now, but standing in the stately parkland of their rarefied rural locale, his vast, cartoonish sculptures with their unyielding, near featureless surfaces still reek of insubordination.
KAWS, 6 Feb to 12 June, Yorkshire Sculpture Park (ysp.co.uk)
Reuse content