While Banksy may not put his own work up for auction, that hasn't stopped others controversially selling his graffiti for huge profits.
Two murals, believed to have been left behind by the artist in Detroit and Bethlehem, are set to be auctioned off this September. The pair are expected to make as much as £638,000 ($1m) in Los Angeles.
Donkey Documents, which shows a soldier checking the paper work of a donkey, was originally painted in 2007 on the barrier between the West Bank and Israel.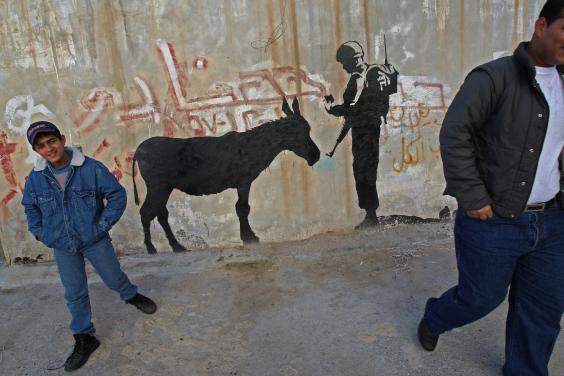 I Remember When All This Was Trees

was excavated from a decaying building in Detroit in 2010 and depicts a child with a red paint bucket painting the title of the work onto a dishevelled wall.
This piece is owned by a local non-profit gallery who will reportedly reinvest the money in an ambitious art redevelopment project, so say the Detroit Free Press. The auction house Julien's has, however, not revealed who is selling Donkey Documents.
Both pieces are of significant size, with Julien's claiming Donkey as the "largest and most significant intact Banksy mural in existence from his visit to Israel," according to the BBC. The mural will also be displayed in London before the auction, yet the location was not disclosed.
Banksy has often criticised others for selling on his work privately for profit, while some sales have even led to protests. Even with this objection, Banksy works often sell on for much more than expected: his work, Keep It Spotless, was estimated to make $350,000 but ended up making $1,700,000 when it finally went under the hammer.
Reuse content