The Victorian craze for 3D stereoscopic photography is to be the subject of a major gallery exhibition for the first time - thanks to former Queen guitarist Brian May.
The veteran rock star has lent his extensive personal collection of stereoscopic pictures - which use two photographs to conjure a 3D image - to Tate Britain for a new exhibition opening next month.
May, 67, who has been collecting the images for more than 40 years, told The Independent he was delighted that the Tate was highlighting a photographic technique that had been "neglected by art historians for 150 years".
The exhibition, A Poor Man's Picture Gallery: Victorian Art and Stereoscopic Photography, is focusing on photographs that recreate artworks in Tate's collection, such as Henry Wallis' Chatterton, and the card players in Hearts are Trumps by 19th Century painter Sir John Everett Millais.
Carol Jacobi, curator at Tate, said: "These photographs were a real craze in the 1850s and 1860s, all over the world, not just in Britain. This is the first major British gallery to focus on this form of photography." 
The two photographs in stereoscopic pictures - which are taken from a slightly different angle - are displayed side by side. When seen through a special viewer they give the illusion of three dimensions.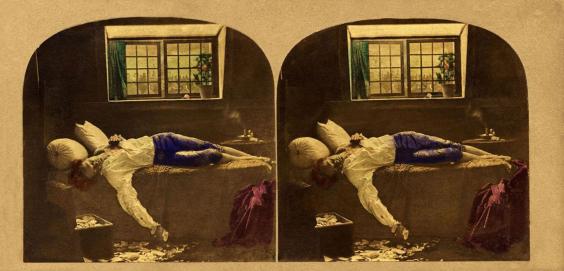 In the 1850s, they became hugely popular with the public and could be bought for a few shillings or even rented. Photographers including Michael Burr and Thomas Richard Williams were particular associated with the form.
"Stereoscopic photographs were so ubiquitous at the time and were seen as pretty disposable," Dr Jacobi said. "They are now quite difficult to track down. That's why we collaborated with Brian May, he has built a collection over 40 years."
There are 26 sets of stereoscopic photographs in the exhibition. Some will be hung on the wall for the exhibition and there will be 12 examples to be seen through a viewer.
May said his love of stereoscopic photography started from collecting 3D cards that came free in packets of Weetabix breakfast cereal.
"I sent away for the viewer which made the cards spring to life in stereoscopic splendour. When I saw that this magic could be achieved, I couldn't see the point of limiting photography to two dimensions," he said.
He continued to collect throughout his music career and touring with Queen, contacting photo dealers around the world. He  has built up a collection of tens of thousands of pieces stereoscopic material, though those from the mid-19th century are the rarest.
Dr Jacobi said: "In the 19th century, photograph versions of paintings had enormous audiences. Though most have been lost, these ones have never been displayed with the actual paintings."
Reuse content