Lord Green of Hurstpierpoint, the former head of HSBC who stepped down from the Government in December, has been unveiled as the chairman of the Natural History Museum, saying "I'm not the sort of person who can be inactive".
The Prime Minister appointed Lord Green to the role for a four-year period, the museum announced. He started by saying: "This is a great new learning experience for me."
During his tenure, the former banker hopes to oversee further expansion abroad at the institution he called a "major icon on the international stage".
He told The Independent: "I'm not a scientist, this is a new area of interest, but the Natural History Museum has a fascinating role to play in providing world class research on our planet and making it available, particularly to children."
Lord Green became group chief executive of HSBC in 2003, two decades after joining the bank, and became group chairman three years later.
He was appointed Minister for Trade and Investment in 2011, and upon the announcement last year that he would step down in December, David Cameron said he had done a "superb job".
As well as taking on the NHM chair, he said he has "a few other things on as well. I don't want a single, full-on, full-time job. I'm not the sort of person who can be inactive."
Lord Green replaces Oliver Stockton, who has been chair of the museum since 2006, and will work closely with museum director Dr Michael Dixon, who said the new appointment's "corporate and business experience will be extremely valuable".
"His knowledge of government and the way Whitehall operates is very useful," Dr Dixon said, continuing that the museum still receives a "significant" amount of Government funding.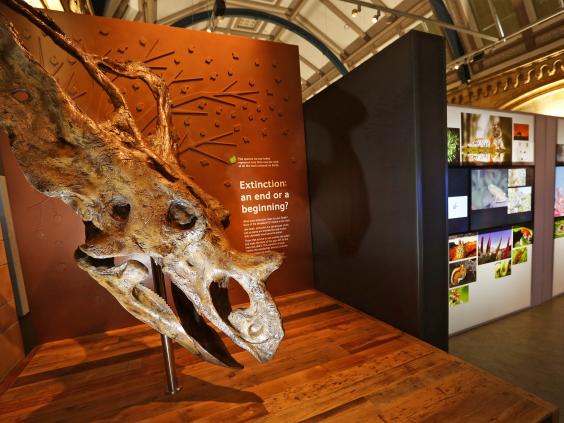 The museum is looking at a range of activities to generate extra revenue at a time when funding cuts are expected to become more severe. Lord Green said: "We have to be mindful that we operate on a financially viable basis for the indefinite future."
In asserting his credentials, Lord Green said he knew "how to chair meetings effectively, and my experience on the British Museum board will be extremely relevant as that's another great cultural icon of London.
"I think I know my way around Whitehall, and I have long international experience in banking and Government," he added.
The NHM will also work on how to deal with the growth of visitors in the next few years. Over the past decade, visitor number has increased from three million a year to over 5.4 million.
"On our busiest days we are pretty much at capacity," Dr Dixon said. "The challenge in the short term is to create more floor space and better circulation to accommodate more visitors on any given day."
The museum will particularly focus on expansion of its international partnerships and operations.
The NHM's database is increasing accessed from abroad, "and the scientific partnerships are international", Lord Green said. "Increasingly the international relationships are going to be important to institutions like the NHM."
Dr Dixon added that the collection was "a model of the world's biological and geological diversity. Our collections are truly international. Our approach is truly international; we collaborate on an international basis for research. We think there are commercial opportunities internationally."
The new chair's also revealed his favourite display of the museum was the mineral collection, a choice that he shares with his nine-year-old grandson.