You'll find the most infuriating exhibition in London at the Old Truman Brewery in Brick Lane. The Art of the Brick is simultaneously dumb and eerily thought-provoking.
That double reaction hits you within seconds of entering the first gallery. Dead ahead are alt-statues of Michaelangelo's David and the Venus de Milo. Above you, fixed to the ceiling, is the Creation of Adam, taken from the Sistine Chapel. To your left is Winged Victory, and a battleship grey version of Rodin's Thinker.
Now, let's see: that's 16,349 Lego bricks for David, 18,483 for Venus, 1,948 for Adam, 5,546 for Winged Victory, and 4,332 for the hunched-up Thinker. And to your right, in the dimly lit painting gallery, are Rembrandt's Self Portrait (1,948) Monet's San Giorgio at Dusk (3,708) and Edvard Munch's The Scream (3,991 bricks), who resembled a ketamined android clubber.
The self-proclaimed artist involved is the gee-whizz-faced Nathan Sawaya, an American ex-bank wonk so obsessed with the dinky acrylonitrile butadiene styrene bricks that he decided to create Lego sculptures. In art, he says, there are no rules. Which is very handy if you're not actually an artist and given to soundbites which could have been made up by a satirist.
Nathan Sawaya's structures
Nathan Sawaya's structures
1/6 A land of Lego

The artist at work

Erica Ann

2/6 A land of Lego

And some of his finished designs...

Erica Ann

3/6 A land of Lego

Sculptures made from Lego are shown at the Art of Brick Exhibition

AFP

4/6 A land of Lego

Lego sculptures entitled (L-R) 'Yellow Facemask, Red Facemask and Blue Facemask'' are displayed at the Art of Brick Exhibition

AFP

5/6 A land of Lego

A prehistoric creation from Nathan Sawaya

AFP

6/6 A land of Lego

A musical sculpture constructed of lego

AFP
Here's his hi-res on-screen caption for a 7ft-high pencil made of Lego: "It's a giant pencil. Way taller than me. It's a great piece if you want to write on the ceiling. Which was something I always wanted to do." Or this, for Zen-tweeters: "Swim against the current. Follow your own path. Find the courage within." Or this, referring to Incomplete, a Lego figure repairing its own crumbled torso: "Ever have those days when you've given so much of yourself that it feels like a hole has been left in you?"
Soundbites like these have helped to transform Sawaya into a perma-selfied humanoid product tailormade for our Facetime-cum-WTF world. Since 2007, his exhibitions have been seen by more than a million people all over the world. He insists that his sculptures are art.
He also highlights the sheer fun of fidgeting these glinting, interlocking plastic blocks into interesting form and children will certainly love this as a celebration of the Lego phenomenon. Since the 1950s, 560 billion Lego bricks have been manufactured at a rate currently running at 36 billion a year; the annual production of 306 million tiny rubber tyres is reported to make Lego the single biggest user of tyre rubber in the world.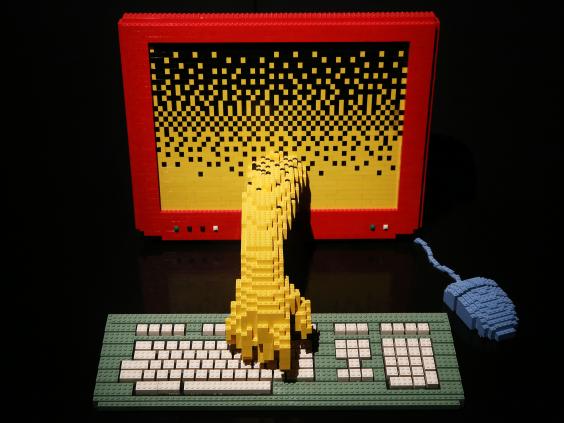 But a big Lego pencil is not art. Indeed, most of Sawaya's pieces are not art. However, at least three of the sculptures have the power to stop you in your tracks. And in these pieces Nathan Sawaya, perhaps unwittingly, poses questions about the nature – actually, the lack of nature – of 21st century reality.
Three huge brilliantly lit facemasks – one crimson, one blue, one yellow – produce profoundly unsettling effects. There's something almost shocking about their perfect clarity and stillness.
Why? It's because we're looking at a perfect pixel sculpture that isn't ephemeral; these Lego-pixels have been stopped in time. In our increasingly digitised and pixellated world, the facemasks are a startling and instructive kind of antimatter. However implausibly, they seem right on the verge of coming alive.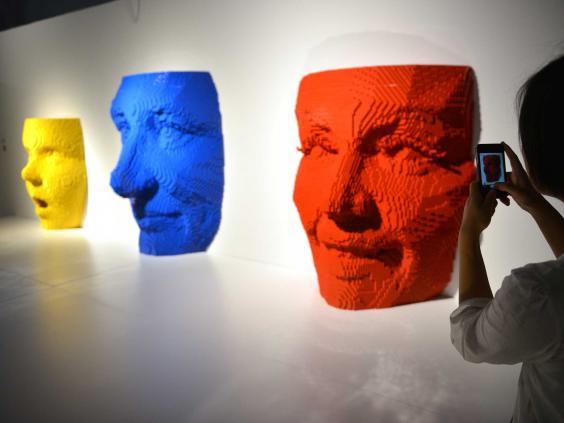 And they demonstrate something intriguing. Several years ago, researchers at MIT established that live pixellated images only remained in the memory, in detail, for a few days, unlike analogue images formed by continuous wavelengths of light. Furthermore, British neurosurgeon John Firth has said that the on-off pixel effect reduces the emotional content of our digitally imaged memories.
Are we remembering or feeling things as profoundly as we did, say, 10 years ago? Are we being pixel-stimulated into a kind of amnesia, whose early symptoms are knowing something or other (but not for long) about thousands of mostly irrelevant, constantly changing data?
Nathan Sawaya may possibly be descended from a 19th century Wild West snake-oil salesman, but in this trio of pieces he has produced something riveting that challenges our perceptions of form, colour and meaning.
And no goofy captions are required.