The descendants of Pablo Picasso became £50m richer today, but the mystery of the 271 "lost" works by the Cubist master stored in a garage remained intact.
At a trial in Grasse last month, the painter's handyman and his wife claimed that they had been given the paintings and sketches by Picasso's wife, Jaqueline in the period 1970 to 1972.  They said that they had stored them in a cardboard box in their garage for four decades before trying to authenticate them in 2010.
A lawyer representing Picasso's children and grandchildren told the trial that Pierre Le Guennec, 75, and his wife Danielle, 72, were a "front" for international art thieves. He said that the idea that the pair had left works worth around £50m in a garage was a "myth".
20th century's biggest art heists
20th century's biggest art heists
1/10 20th century's biggest art heists

Leonard Da Vinci's iconic Mona Lisa was stolen from the Louvre by employee Vincenzo Peruggia on 21 August 1911. The thief hid overnight in the Parisian art gallery before emerging to lift the famous muse off the wall, strip the painting of its frame and shove it up his smock. Peruggia's crime has been described as the greatest art theft of the 20th Century, but he and the painting were discovered in Italy two years later.

Getty Images

2/10 20th century's biggest art heists

Works by renowned Norwegian artist Edvard Munch have been stolen three times in separate heists. In 1994 his most famous work The Scream was lifted from the National Gallery in Oslo, but was recovered later that year. In August 2004 another version of The Scream was stolen along with Munch's Madonna from the Munch Museum, also in Oslo, by a gang of gunmen. The paintings were recovered two years later and three men convicted, but the gunmen remain at large. Another three Munch paintings including the recognisable Blue Dress were stolen from a hotel in Norway but recovered the next day in March 2005.

Getty Images

3/10 20th century's biggest art heists

Russborough House, a large estate belonging to Sir Alfred Beit, has been robbed four times since 1974 and works worth millions are yet to be recovered. Robbers and members of the IRA bound and gagged the Beit family in 1974 in order to steel nineteen paintings worth an estimated £8 million, all of which were subsequently recovered when the criminals were apprehended. Twelve years later another gang of thieves stole paintings thought to be worth £30 million in total. Sixteen were recovered but two remain missing. Gainsborough's Madame Baccelli, which had been stolen in the previous raid, was stolen again in 2001, along with a Bellotto. The two paintings were recovered and returned to the Beits, but just days later the house was robbed for a fourth time and another five paintings were taken. The latest hoard were returned just months later. Let's hope they've installed burglar alarm since then...

Getty Images

4/10 20th century's biggest art heists

Armed thieves broke into the National Museum of Fine Art in Stockholm, Sweden in 2005, robbing it of one Rembrandt and two Renoirs. The robbers fled by boat and it took five years for all three paintings to be recovered.

Getty Images

5/10 20th century's biggest art heists

Canada's Montreal Museum of Fine Arts was cleaned out by thieves in September 1972 when 18 paintings, jewellery and sculptures worth a staggering (for the time) $2 million were stolen. The works, which included a rare Rembrandt landscape and paintings by Delacroix and Gainsborough, have never been recovered.

Getty Images

6/10 20th century's biggest art heists

Panels from the Ghent Altarpiece, painted by masterly brothers Jan and Hubert Van Eyck, were stolen in 1934. The left panel has never been recovered as the presumed thief, who had sent a demand for a ransom, died before it could be issued, taking the secret of the painting's whereabouts with him to the grave.

7/10 20th century's biggest art heists

Three armed men used a crowbar to break into the Pinacoteca do Estado Museum in São Paulo in June 2008, making off with five extremely valuable paintings including Pablo Picasso's The Painter and the Model and Minotaur, Drinker and Women.

Getty Images

8/10 20th century's biggest art heists

Monet's Poppy Field at Vetheuil was among a host of impressionist paintings pinched from the Emile Bührle Foundation in Zurich in February 2008 by thieves in ski masks. The total hoard, which also included Edgar Degas' Ludovic Lepic and his Daughter, Van Gogh's Blossoming Chestnut Branches and Cezanne's Boy in the Red Vest, had a combined value of $163 million at the time of theft. The Monet and Van Gogh were recovered from a nearby parked car shortly after.

Getty Images

9/10 20th century's biggest art heists

Rembrandt's Jacob de Gheyn III has been stolen four times, earning it the nickname of the "takeaway Rembrandt". It was initially stolen from the Dulwich Picture Gallery in 1981 by four men who made off with it in a taxi. The painting was returned to the gallery soon after, only to be nicked again two years later when a burglar broke in via a skylight. The painting went missing for three years before it was discovered in a luggage rack of a train station in Münster, Germany. The painting has been nabbed twice more from the Dulwich Picture House since then, but no thief has ever been apprehended. Each time the picture has just turned up: once under a bench in graveyard and another time in the basket of an abandoned bicycle. Mysterious!

Getty Images

10/10 20th century's biggest art heists

On 18 March 1990 thieves disguised as policemen handcuffed security guards and stole 13 paintings worth a collective $500 million from the Isabella Stewart Gardner Museum in Boston, USA. It has been described as the biggest art heist in the world and remains as yet unsolved. Vermeer's The Concert, three Rembrandts and a series of drawings by Edgar Degas were among the valuable artworks seized.
In its delayed verdict today, the court, in effect, rejected both versions of events. The judges convicted the elderly couple of "receiving stolen goods" but gave them only suspended two year jail sentences.
The couple immediately announced  that they would appeal to try to recover the Picasso works.
The court ordered that the 271 minor pieces – unknown before 2010 – should be handed over to the Picasso Administration, which represents all the painter's descendants. The Picasso family said that it was "satisfied" with the verdict.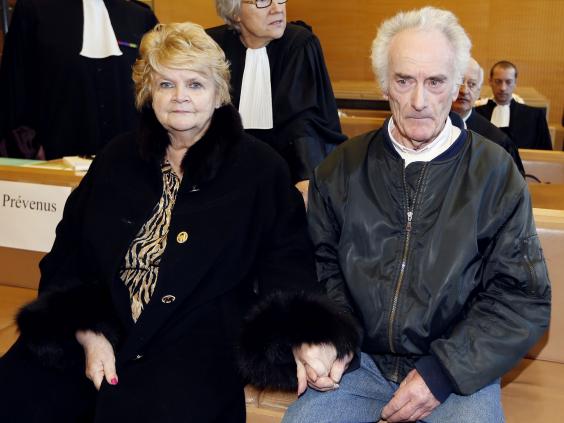 The state prosecutor, Laurent Robert  told last month's trial that the couple had been "overwhelmed" by events and had never made any money from the paintings and drawings.
He said that investigator believed that the works were stolen but it had been impossible to establish when, where or by whom. He recommended five year jail sentences against the Le Guennecs.
The panel of three judges decided today that the case against them, though proven, was strong enough only to merit suspended sentences.
The disputed pieces date from the period 1900 to 1932. They include portraits of Picasso's first wife, Olga, nine Cubist collages, a watercolour from the artist's "blue period"; gouaches, lithographs and 200 drawings. Although they contain  no major works, their total value is estimated at around £50m.
Pierre Le Guennec, an electrician, was a visiting handyman at Picasso's last home, a sprawling state near Mougins in the Cote d'Azur. He claims that in 1970-2  – just before the painter's death - Jacqueline Picasso gave him an unsolicited gift of a cardboard box containing 180 small works by the artist and a notebook with 91 drawings.
"For the most part, they were sketches and torn scraps, which didn't really attract my attention," he told the trial  last month. "If we had wanted to make money by selling them under our coats, we could have done so. But we never did."
In earlier interviews with French media, Mr Le Guennec  said that he had often chatted with Picasso over coffee and cake. "One evening, I was leaving my work, when Madame handed me a little package saying: 'This is for you'," he said.
The presiding judge, Jean-Christophe Bruyère, said kast month: "Picasso was at the height of his powers and you weren't even bothered enough to look inside? You ignored it  for 40 years.  Leaving aside any financial value, did you not even attach any sentimental value to the works? Didn't you want to hang any of them in your home?"
Mr Le Guennec replied: "I wanted to be discreet."  
In 2010, however, the couple took the works to Paris to have them authenticated by the artist's son Claude Picasso. Instead, they were seized and Mr Le Guennec and his wife were accused of  receiving stolen goods.
Jean-Jacques Neuer, a lawyer representing the Picasso family, told last month's trial that the Le Guennecs  were actually a front for an "international art laundering" gang. Stolen works that could not be sold were given to Mr Le Guennec to authenticate "because he had a relationship with Picasso."
"The myth of the little electrician was born," he said.
The couple's story of the sudden gift did not make sense, Mr Neuer said. "You have to believe imagine that Picasso kept hold of the works for 70 years and suddenly decided to give the lot away."
Reuse content