Fans of late fantasy writer Terry Pratchett have taken to the streets of London and Bristol to create some appropriately colourful artworks in tribute.
Bold graffiti featuring both the author's face and characters from his Discworld series has popped up in the capital's Brick Lane, while a further display can be found in Stokes Croft in the South West city.
The London mural depicts Josh Kirby's book sleeves for popular Pratchett books Reaper Man and Death, with the likes of wizard Rincewind and Death himself seen on the walls of the Pillow Cinema.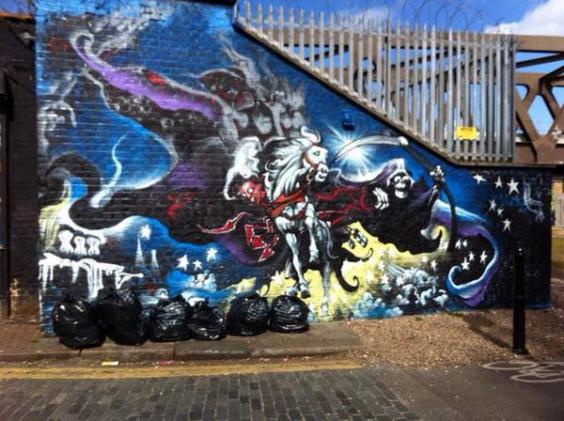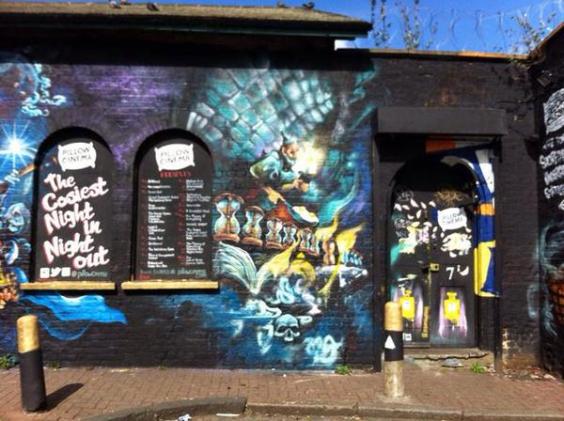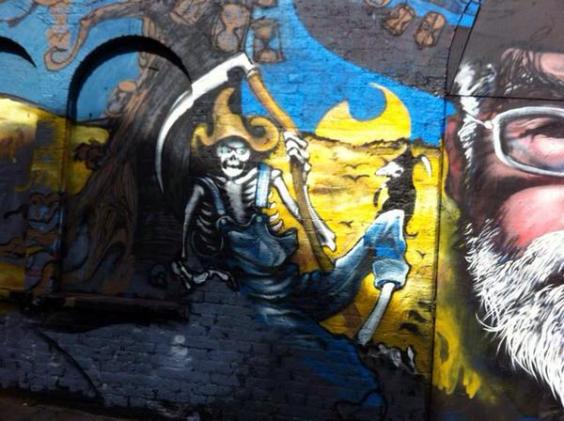 Pratchett died last month aged 66 after suffering from the "embuggerance" of Alzheimer's disease for eight years. He has sold more than 85 million books worldwide to date, the first Discworld novel being The Colour of Magic in 1983.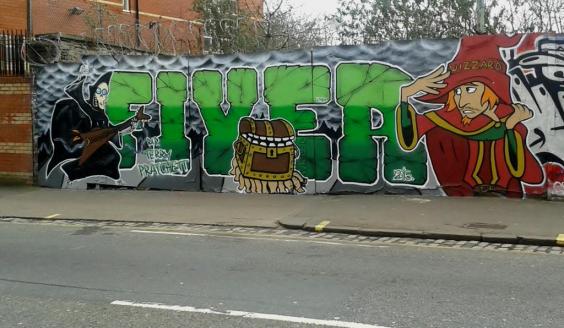 Pratchett was a passionate advocate for assisted suicide and a vocal supporter of the right to die campaign. He will be remembered for his wise words about a range of issues, including his thoughts on graffiti:
"You ignore graffiti at your peril. It's the heartbeat of a city. It's the voice of the voiceless."
Terry Pratchett: A career in quotes
Terry Pratchett: A career in quotes
1/13 "Inside every sane person there's a madman struggling to get out" –The Light Fantastic

Pratchett photographed in 1990

Corbis

2/13 "We Pratchetts are a feisty bunch"

Pratchett with his daughter Rhianna at home in 2009. Rhianna is now a writer in her own right and has written the storylines to video games such as Tomb Raider and Overlord

Rex Features

3/13 "It occurred to me that at one point it was like I had two diseases - one was Alzheimer's, and the other was knowing I had Alzheimer's"

Terry Pratchett delivers a petition on behalf of the Alzheimer's Research Trust calling for an increase in government funding for dementia research in 2008

Getty Images

4/13 "Imagination, not intelligence, made us human"

Terry Pratchett with his double-row of six computer screens in 2009

George Wright

5/13 "If you don't turn your life into a story, you just become a part of someone else's story"

Pratchett was awarded an OBE in 1998

PA

6/13 "Sometimes glass glitters more than diamonds because it has more to prove" - The Truth

Terry Pratchett launches his 25th novel of the 'Discworld' series, 'The Truth' in 2000

Corbis

7/13 "Time is a drug. Too much of it kills you"

In 2007, the year he announced he had Alzeihmer's

Getty Images

8/13 "You can't ask a fantasy writer not to want a knighthood"

Receiving his knighthood in 2009

AFP PHOTO/Ian Nicholson/POOL

9/13 "Life doesn't happen in chapters - at least, not regular ones"

Pratchett at home in 2009

Rex

10/13 "The trouble with having an open mind, of course, is that people will insist on coming along and trying to put things in it"

Pratchett at the world congress of the World Federation of the Right-to-Die Societies in Zurich, 2012

Corbis

11/13 "Inside every sane person there's a madman struggling to get out"

Attends the South Bank Sky Arts Awards in 2012

Getty Images

12/13 "Insanity is Catching"

Pratchett won the Bollinger Everyman Wodehouse Prize at the Telegraph Hay Festival, pictured with Snuff the pig in 2013

Getty

13/13 "People don't alter history any more than birds alter the sky, they just make brief patterns in it" - Mort

Campaigning for Dementia Friends in 2014

PA
Reuse content