A British artist has become the latest painter to admit leaving a mischievous hidden message in one of his paintings, following the revelation that a portrait of former US President Bill Clinton contained a veiled reference to the Monica Lewinsky scandal.
Mark Roscoe, a member of the Royal Society of Portrait Painters and a winner of the coveted Ondaatje award, has owned up to including a "ghost of a bird" and a cheeky message in a portrait of wildlife presenter Bill Oddie.
The painter told The Independent that he inserted the hidden joke, suggesting that his sitter was "long in the tooth", because he disliked the experience of meeting and working with him.
"Bill Oddie was a horrible person, quite awful actually, so I added a ghost of a bird with its name in Latin written alongside," said Roscoe.
"I was testing his knowledge as an ornithologist. It was my cheeky way of describing him – something along the lines of a "long-tailed tit", Aegithalos caudatus – as he was 'long in the tooth' and it sounded like a bit of an insult."
Can you spot the secret details in these works of art?
Can you spot the secret details in these works of art?
1/7 The Ambassadors, by Hans Holbein the Younger

Holbein was the master of hidden meaning and displayed that skill here. Look at the image from the lower corners and the blur in the foreground reveals itself as a sinister skull, a reminder of death.

2/7 The Music Lesson by Johannes Vermeer

You might not spot it but this 17th-century work by Dutch painter Vermeer is full of sexual tension and voyeurism. The musical young woman is playing the virginal (a symbol of purity) but is caught in the mirror looking towards the man. The blue-tinge shadows make the atmosphere suggestive, while there's an aphrodisiac pitcher of wine and phallic musical instrument in the foreground.

3/7 The Arnolfini Portrait by Jan van Eyck

In the equivalent of a 14th-century graffiti tag, Van Eyck left a message in the wall behind the couple in this portrait. It reads: "Jan van Eyck was here 1434." (Other artists who have hidden their names in paintings in this way include, allegedly, Jackson Pollock.)

4/7 Et In Arcadia Ego by Nicolas Poussin

This image of Greek shepherds around an ancient tomb bearing the words "Et In Arcadia Ego" has been the subject of suggestions that it holds the secret to everything from the location of hidden treasure to the location of the marital home of Jesus and Mary Magdalene. The painting and its alleged hidden meanings even featured in a 2006 court case involving Dan Brown, author of "The Da Vinci Code".

5/7 Isabella by John Everett Millais

In 2012, a curator at the Tate uncovered what is arguable a dirty secret in this Pre-Raphaelite work: a character in the foreground appears to have an erection. The discovery shook up the traditional stereotype of Victorians as prudes.

6/7 The Last Supper by Leonardo Da Vinci

Dan Brown really went to town with the Last Supper in 'The Da Vinci Code' but Hollywood nonsense aside – Mary Magdalene does not feature in this painting – art historians still get excited about Da Vinci's masterpiece, with one researcher claiming is contained a code above Christ, which reveals how a "universal flood" will wipe out humanity.

AFP

7/7 Mona Lisa by Leonardo Da Vinci

The true identity of the woman with the alluring smile in Da Vinci's 500-year-old Renaissance masterpiece is stilla mystery, but Italian art historians have spotted letters and numbers hidden within her eyes. In 2010 they found the letters LV in the right eye alongside a series of indistinct symbols in her left eye, whose meaning remains unclear.

AFP/Getty
The painting in question was commissioned as part of a BBC Star Portraits series hosted by the now disgraced painter and presenter Rolf Harris in 2007. One episode tasked three professional artists with capturing the former Goodie on canvas.
Oddie was yet to comment last night. There is still further mystery in the painting, however, as Roscoe also included several hidden messages within Oddie's flamboyant shirt but has said he won't reveal them.
The revelation that Roscoe included a joke at Oddie's expense comes after it emerged that a portrait of Bill Clinton by Nelson Shanks, which hung in the National Portrait Gallery in Washington but is no longer on display, included a dark shadow representing Monica Lewinsky's infamous semen-stained blue dress – a symbol of the sex scandal that rocked the White House throughout the 1990s.
Shanks told the Philadelphia Daily News that he could not get the "Monica thing" out of his head while painting the former President, and that the shadow in the painting is from a real blue dress he kept on a mannequin while he painted the portrait. Sensibly he removed it from his studio when Mr Clinton was sitting, however.
These are not isolated artistic incidents though, with examples of hidden meanings dating back to the work of Hans Holbein the Younger and Leonardo Da Vinci.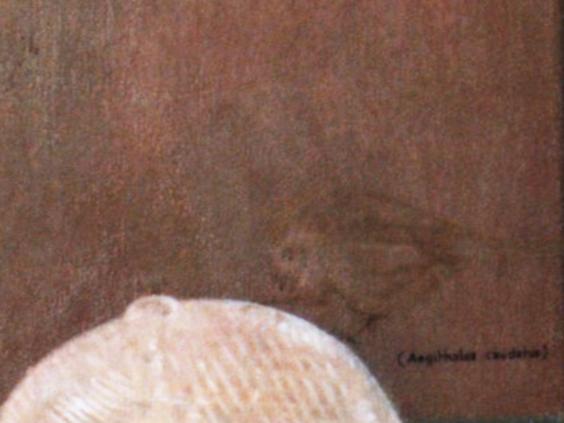 Daphne Todd, the first female president of the Royal Society of Portrait Painters, admitted on Wednesday that she had decided to take revenge on "an obnoxious young gentleman" whose portrait she had been commissioned to paint. She added devil horns to the picture, which would become visible only after 50 to 100 years as the top layer of paint fades.
Last night she told The Independent that she would never seek to "undermine" her clients by leaving a hidden message in a "final" painting. She said: "You have to respect who commissions you. I don't think I did anything wrong on this particular portrait of this young gentleman as it didn't affect the final painting. What they have hanging on their wall is a perfectly sensible painting."
For his part, Roscoe, who charges up to £15,000 for a full-length portrait, said that he was "not in the habit of insulting" his clients and that Oddie's portrait was an "exception", though he often includes a "subtle" and "hidden meaning" in works that is only known to his client.
"Occasionally it's something that's only visible after intense study," he said. "Pretty much every portrait I do has some kind of hidden meaning."
Establishment portrait artist Andrew Festing, whose sitters include the Queen and many Lords and Ladies of British society, has a more traditional approach.
"It's difficult enough to paint a true likeness of someone without going in for that sort of thing," he said. "Those sort of visual jokes and hidden messages are really for art historians. In fact, I'd go so far to say that many of the Great Masters didn't leave messages at all, it's so subjective. I would think art historians dream them up for something to write about."
Reuse content