When, on the 26 February 1977, the first edition of the science fiction comic 2000AD appeared in newsagents, it's important to understand the context which contributed to it becoming an icon of British pop culture.
At this point Action comic, its stablemate at IPC Magazines, was still going strong, albeit in recovery from an onslaught led by the Evening Standard, The Sun and Mary Whitehouse aimed at curbing its hyperviolent tendencies, while the anti-authority sound and attitude of punk culture was still raw in the minds of sensible adults incensed by the impression that youth culture had become a breakdown in society.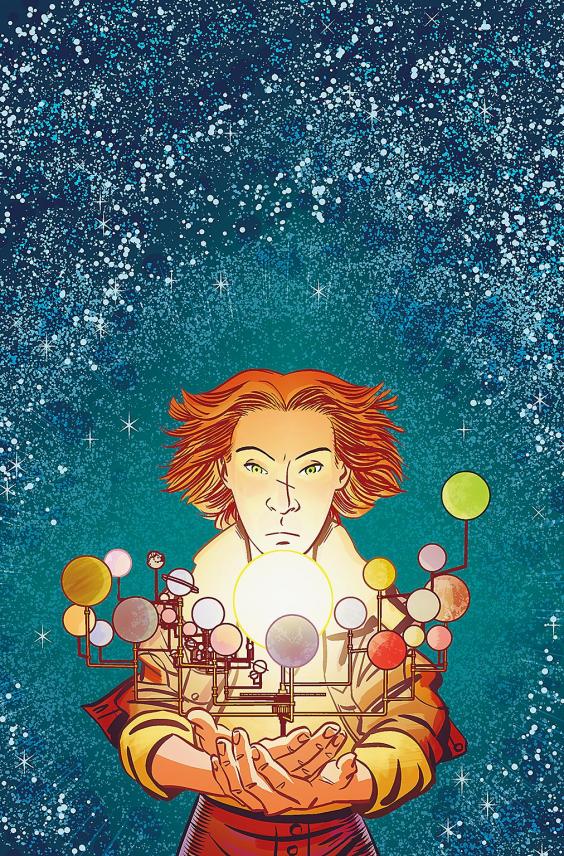 The first issue of 2000AD did little to suggest a bright future lay ahead, despite the free space-spinner toy on the front cover and the far-fetched adventures of a rebooted Dan Dare, the time-travelling dinosaur farmers of "Flesh" and the thinly veiled Six Million Dollar Man swipe "MACH One" within its pages. All were brutal and packed with action, yet none quite as much as "Invasion", a story about the "Volgan" (read: Soviet) invasion of the UK which saw the female Prime Minister executed in its early stages. Although Margaret Thatcher's election was two years away, the parallels were obvious.
Things were to get even more dystopian the very next week, with the arrival of Judge Dredd, the grim enforcer of the hellish, fantastical US eastern seaboard Mega-City One, his adventures a cop show set in a quasi-fascist police state where technology has given its citizens unlimited freedoms and unparalleled opportunities to commit crime. Risen from the ashes of an atomic war which laid waste to much of the world, the Mega-City could only be kept a lid on by the Judges, a paramilitary police force with extreme powers of judge, jury and executioner; gunning citizens down for jaywalking, for example.
Against all the odds it was Dredd – created by writer John Wagner and artist Carlos Ezquerra and named by then-editor Pat Mills, all still mainstay 2000AD creators – who stuck and became the defining character of the title for the next 40 years, its existence presumed to be so short at the time that the reference to the year 2000 was expected to still be a far-off future when inevitable closure arrived. Yet this weekend the self-styled "Galaxy's Greatest Comic" celebrates the beginning of its fifth decade with an already sold-out convention in London whose guestlist is a who's who of the British comics industry.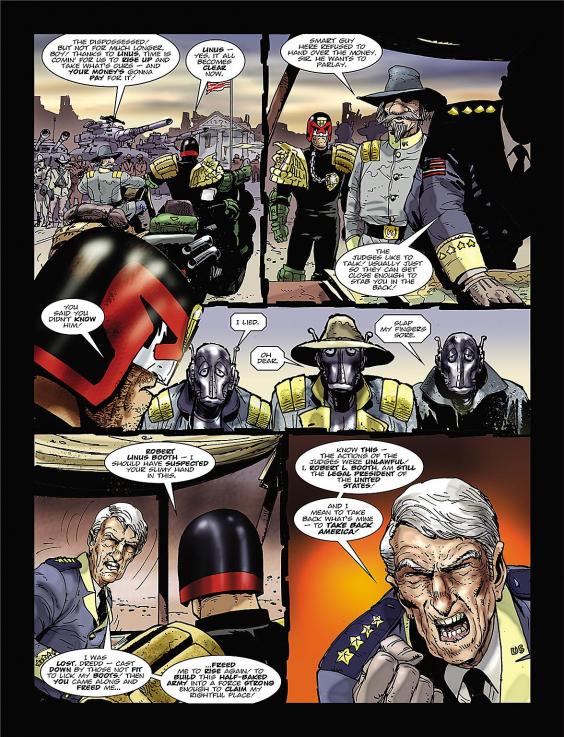 "Beyond its still-faithful readership, however, the title has also brought its influence to bear upon wider culture. Some examples include celebrity fan Simon Pegg's entire career, the fact that Mad Max: Fury Road was co-written and designed by classic 2000AD creator Brendan McCarthy, and the direct line of influence former 2000AD writer and Kick-Ass and Kingsman: The Secret Service creator Mark Millar had upon the entire Marvel Cinematic Universe. Not to mention Hollywood's recent – and largely unrequited – love affair with V for Vendetta and Watchmen co-creator Alan Moore, once a 2000AD stalwart who created the fondly remembered The Ballad of Halo Jones for the title in 1984, and both the movies based on Dredd himself, Sylvester Stallone's well-intentioned 1995 turkey and the deservedly cult 2012 update written by Alex Garland (28 Days Later, Ex Machina) and starring Karl Urban."
"The modern 2000AD is aimed at the older reader and it's got swear words in it, but the first 400 issues were aimed squarely at children," laughs Ben Wheatley, director of Kill List, High-Rise and the forthcoming Free Fire. "That's unbelievable! I was reading The Apocalypse War (Wagner, Ezquerra and co-writer Alan Grant's classic 1982 Dredd epic in which the Judge must repel an atomic invasion by the Soviet Mega-City) recently, and the Judges – and these are meant to be the heroes! – are executing their own citizens, shooting them in mass graves and dropping "collaborator" signs on them. They execute their own Chief Judge and Dredd pretends to commit suicide to escape, and then the climax is Dredd murdering about 10 billion people. It's unbelievable that that's a lead strip in a comic aimed at 10-year-olds. There's a darkness that runs through it, but also the idea that the failing hero, the antihero, can be exciting."
Culture news in pictures
Culture news in pictures
1/30 30 September 2016

An employee hangs works of art with "Grand Teatro" by Marino Marini (R) and bronze sculpture "Sfera N.3" by Arnaldo Pomodoro seen ahead of a Contemporary Art auction on 7 October, at Sotheby's in London

REUTERS

2/30 29 September 2016

Street art by Portuguese artist Odeith is seen in Dresden, during an exhibition "Magic City - art of the streets"

AFP/Getty Images

3/30 28 September 2016

Dancers attend a photocall for the new "THE ONE Grand Show" at Friedrichstadt-Palast in Berlin, Germany

REUTERS

4/30 28 September 2016

With an array of thrift store china, humorous souvenirs and handmade tile adorning its walls and floors, the Mosaic Tile House in Venice stands as a monument to two decades of artistic collaboration between Cheri Pann and husband Gonzalo Duran

REUTERS

5/30 27 September 2016

A gallery assistant poses amongst work by Anthea Hamilton from her nominated show "Lichen! Libido!(London!) Chastity!" at a preview of the Turner Prize in London

REUTERS

6/30 27 September 2016

A technician wearing virtual reality glasses checks his installation in three British public telephone booths, set up outside the Mauritshuis museum in The Hague, Netherlands. The installation allows visitors a 3-D look into the museum which has twenty-two paintings belonging to the British Royal Collection, on loan for an exhibit from 29 September 2016 till 8 January 2017

AP

7/30 26 September 2016

An Indian artist dressed as Hindu god Shiva performs on a chariot as he participates in a religious procession 'Ravan ki Barat' held to mark the forthcoming Dussehra festival in Allahabad

AFP/Getty Images

8/30 26 September 2016

Jean-Michel Basquiat's 'Air Power', 1984, is displayed at the Bowie/Collector media preview at Sotheby's in New York

AFP/Getty

9/30 25 September 2016

A woman looks at an untitled painting by Albert Oehlen during the opening of an exhibition of works by German artists Georg Baselitz and Albert Oehlen in Reutlingen, Germany. The exhibition runs at the Kunstverein (art society) Reutlingen until 15 January 2017

EPA

10/30 24 September 2016

Fan BingBing (C) attends the closing ceremony of the 64th San Sebastian Film Festival at Kursaal in San Sebastian, Spain

Getty Images

11/30 23 September 2016

A view of the artwork 'You Are Metamorphosing' (1964) as part of the exhibition 'Retrospektive' of Japanese artist Tetsumi Kudo at Fridericianum in Kassel, Germany. The exhibition runs from 25 September 2016 to 1 January 2017

EPA

12/30 22 September 2016

Jo Applin from the Courtauld Institute of Art looks at Green Tilework in Live Flesh by Adriana Vareja, which features in a new exhibition, Flesh, at York Art Gallery. The new exhibition features works by Degas, Chardin, Francis Bacon and Sarah Lucas, showing how flesh has been portrayed by artists over the last 600 years

PA

13/30 21 September 2016

Performers Sean Atkins and Sally Miller standing in for the characters played by Asa Butterfield and Ella Purnell during a photocall for Tim Burton's "Miss Peregrines Home For Peculiar Children" at Potters Field Park in London

Getty Images

14/30 20 September 2016

A detail from the blanket 'Alpine Cattle Drive' from 1926 by artist Ernst Ludwig Kirchner is displayed at the 'Hamburger Bahnhof - Museum for Contemporary Arts' in Berlin. The exhibition named 'Ernst Ludwig Kirchner - Hieroglyphen' showing the complete collection of Berlin's Nationalgallerie works of the German artist Ernst Ludwig Kirchner and will run from 23 September 2016 until 26 February 2017

AP

15/30 20 September 2016

A man looks at portrait photos by US photographer Bruce Gilden in the exhibition 'Masters of Photography' at the photokina in Cologne, Germany. The trade fair on photography, photokina, schowcases some 1,000 exhibitors from 40 countries and runs from 20 to 25 September. The event also features various photo exhibitions

EPA

16/30 20 September 2016

A woman looks at 'Blue Poles', 1952 by Jackson Pollock during a photocall at the Royal Academy of Arts, London

PA

17/30 19 September 2016

Art installation The Refusal of Time, a collaboration with Philip Miller, Catherine Meyburgh and Peter Galison, which features as part of the William Kentridge exhibition Thick Time, showing from 21 September to 15 January at the Whitechapel Gallery in London

PA

18/30 18 September 2016

Artists creating one off designs at the Mm6 Maison Margiela presentation during London Fashion Week Spring/Summer collections 2017 in London

Getty Images

19/30 18 September 2016

Bethenny Frankel attends the special screening of Disney's "Beauty and the Beast" to celebrate the 25th Anniversary Edition release on Blu-Ray and DVD in New York City

Getty Images for Walt Disney Stu

20/30 17 September 2016

Visitors attend the 2016 Oktoberfest beer festival at Theresienwiese in Munich, Germany

Getty Images

21/30 16 September 2016

Visitors looks at British artist Damien Hirst work of art 'The Incomplete Truth', during the 13th Yalta Annual Meeting entitled 'The World, Europe and Ukraine: storms of changes', organised by the Yalta European Strategy (YES) in partnership with the Victor Pinchuk Foundation at the Mystetsky Arsenal Art Center in Kiev

AP

22/30 16 September 2016

Tracey Emin's "My Bed" is exhibited at the Tate Liverpool as part of the exhibition Tracey Emin And William Blake In Focus, which highlights surprising links between the two artists

Getty Images

23/30 15 September 2016

Musician Dave Grohl (L) joins musician Tom Morello of Prophets of Rage onstage at the Forum in Inglewood, California

Getty Images

24/30 14 September 2016

Model feebee poses as part of art installation "Narcissism : Dazzle room" made by artist Shigeki Matsuyama at rooms33 fashion and design exhibition in Tokyo. Matsuyama's installation features a strong contrast of black and white, which he learned from dazzle camouflage used mainly in World War I

AP

25/30 13 September 2016

Visitors look at artworks by Chinese painter Cui Ruzhuo during the exhibition 'Glossiness of Uncarved Jade' held at the exhibition hall 'Manezh' in St. Petersburg, Russia. More than 200 paintings by the Chinese artist are presented until 25 September

EPA

26/30 12 September 2016

A visitor looks at Raphael's painting 'Extase de Sainte Cecile', 1515, from the Uffizi Gallery in Florence during the opening of a Raphael exhibition at the Pushkin State Museum of Fine Arts in Moscow, Russia. The first Russian exhibition of the works of the Italian Renaissance artist Raffaello Sanzio da Urbino includes eight paintings and three drawings which come from Italy. Th exhibit opens to the public from 13 September to 11 December

EPA

27/30 11 September 2016

Steve Cropper and Eddie Floyd perform during Otis Redding 75th Birthday Celebration - Rehearsals at the Macon City Auditorium in Macon, Georgia

Getty Images for Otis Redding 75

28/30 10 September 2016

Sakari Oramo conducting the BBC Symphony Orchestra, the BBC Symphony Chorus and the BBC Singers at the Last Night of the Proms 2016 at the Royal Albert Hall in London

PA

29/30 9 September 2016

A visitor walks past a piece entitled "Fruitcake" by Joana Vasconcelo, during the Beyond Limits selling exhibition at Chatsworth House near Bakewell

REUTERS

30/30 8 September 2016

A sculpture of a crescent standing on the 2,140 meters high mountain 'Freiheit' (German for 'freedom'), in the Alpstein region of the Appenzell alps, eastern Switzerland. The sculpture is lighted during the nights by means of solar panels. The 38-year-old Swiss artist and atheist Christian Meier set the crescent on the peak to start a debate on the meaning of religious symbols - as summit crosses - on mountains. 'Because so many peaks have crosses on them, it struck me as a great idea to put up an equally absurd contrast'. 'Naturally I wanted to provoke in a fun way. But it goes beyond that. The actions of an artist should be food for thought, both visually and in content'

EPA
Wheatley sounds anything but horrified, more stunned and impressed by the bravery of the creators. "I think I've been chasing that kind of boldness in my storytelling and my reading ever since," he says. "A lot of the writers and artists went off to shake up the US comics market and by extension they've shaken up cinema too. Mark Millar's the one really, isn't he? Obviously Alan Moore had a big part in it, but Millar's rejigging of the Marvel Universe with (2002 Avengers reboot series, alongside artist Bryan Hitch). The Ultimates is the bedrock of the Marvel Cinematic Universe. And that's cinema at the moment, or a big part of it."
For Alan Grant, sometime co-writer with Wagner of Dredd, mutant bounty hunter saga "Strontium Dog", robot bounty hunter comedy "Robo-Hunter" and more, the subversive social awareness of 2000AD in the 1980s was at least partly a reaction to the Thatcher era. "I know that John Wagner, Pat Mills and myself have always had a healthy dislike of authority, and I think that's reflected in our stories," says the Scot. "Our motto was, 'if it makes us laugh, it'll make other folk laugh, too.' I was probably the most political on 2000AD – I'd joined the Young Socialists for romantic reasons when I was a teenager, then when I moved to London I joined the Young Conservatives because their meeting place was conveniently close to my home. They asked me to leave because I was disruptive and my views were too left wing, so I became the Father of the Chapel for my NUJ branch and was surprised to discover that left-wingers are every bit as corrupt as right-wingers."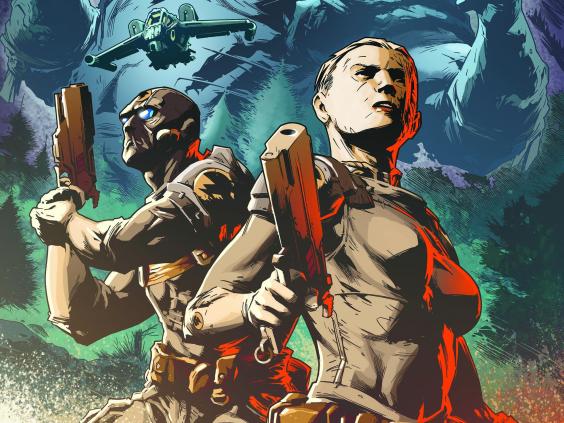 "We all had a lot of politics in us," says Wagner. "2000AD let us off the leash – largely, I think, because of its emphasis on the future. Such stories cry out for satire, for a skewed outlook on our world. Dredd is very rigid, he's had firm – and often incorrect – beliefs inculcated in him, and it takes an enormous effort of will to see past them. That he manages to do so quite as much as he does shows great strength of character and an overriding desire for justice. He sees himself as the good guy." So what does Dredd's future tell us about the present day? "Start building your shelter and make it quick…"
"The sensibility of a few of the strips had a punk vibe to them, like Dredd, "Strontium Dog", "Nemesis the Warlock" and "Sooner or Later"," says Brendan McCarthy, a 2000AD creator since the 1980s, long before he worked on Fury Road with director George Miller. "There was more of a 'music scene' influence in the comic back then, now it's more games and movies. The strong characters and original ideas appealed to me the most. 2000AD was like Monty Python to a previous British generation – an inspiring, galvanising focus. It paved the way for the so-called 'British Invasion' in the 1980s comic scene in the US, and for Hollywood glomming on to comics as a rich source of material."
That 2000AD still exists, now under the ownership of Oxford-based games developer Rebellion, is impressive; that its new and old stories are still so well-received among a readership which has aged with it, doubly so. Dredd is still there, often written by Wagner, alongside acclaimed new strips like Ian Edginton and INJ Culbard's "Brass Sun", set inside a mechanical solar system, and Al Ewing and Henry Flint's wild zombie comedy "Zombo".
"A sense of individuality and freedom is important to 2000AD," says current editor-in-chief Matt Smith. "It's an anthology, so you have a mix of voices, a mix of art styles, and every reader has their own favourites. A proper 2000AD story has action, humour, a good dose of satire, drama, and a real sense of suspense – when you get to an episode's cliffhanger ending, you're desperate to know what's going to happen next. The average age of our readership is probably mid-thirties, so a proportion of them are comparing against what they read in the 1970s and 80s. But you can't rely totally on the classic characters, you've got to bring in new ideas."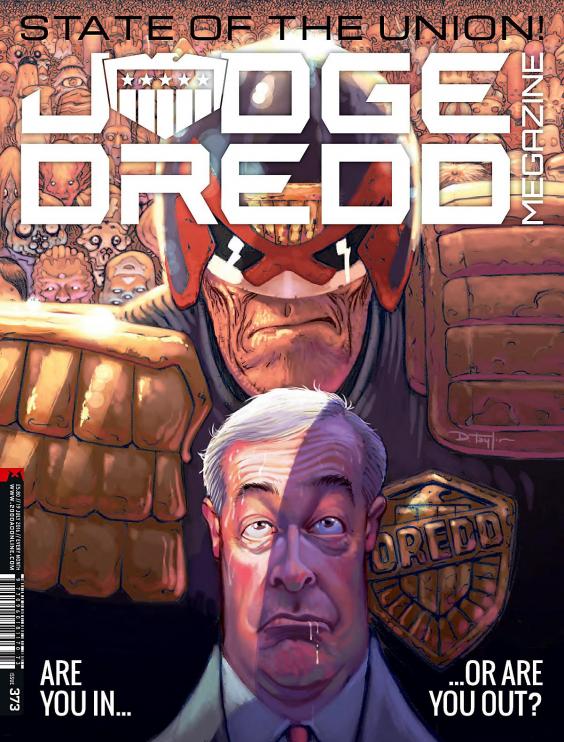 Pleasingly, the title also continues to revel in both uncanny prescience and a lack of respect for authority, as when Zombo featured "President Trump" as a character in 2011. "It was a total accident, I'm afraid," says writer Al Ewing. "Most of the gags in there aren't specific to Trump – even the 'you're fired' riff was more a generic 'business leader' riff when I wrote it – and it was only when Henry (Flint) designed the character that the parallels became apparent. Even then, in Zombo the President's hair is lush and full, he looks vaguely healthy, and he gains some measure of humanity and decency over the course of the strip…"
Last year, Nigel Farage was also the subject of a caricature cameo in Dredd from writer Edginton and artist Dave Taylor. "That was a very strange experience," says Edginton. "Dave and I hadn't purposefully set out to take potshot at Nigel, but we needed someone just like him for the story, so borrowing from life just seemed more fun and in-keeping with the 2000AD tradition of taking potshots at authority figures. And then it took off with a rocket, it was in all the newspapers, in print and online. I think it even made the TV. I think now, more than ever, it's vital to keep on tipping over those sacred cows and taking authority figures to task. At its very core, 2000AD made its readers question that authority, to not accept what they were told, be it from the left or right."
The 2000AD: 40 Years of Thrill-Power festival is at Novotel London West Saturday 11 February, and the 40th anniversary edition is available in comic shops, newsagents and online on Wednesday 22 February. For more information, visit 2000adonline.com
Reuse content