Anna Krien's book Night Games (Yellow Jersey, £12.99) is not so much about a sporting event as its aftermath, which involved a number of celebrated Aussie Rules players, a great deal of drink, and an allegation of gang rape, though in the end only one, peripheral, player was charged.
Krien sat through the trial and uses the case to explore what the subtitle terms the "dark heart of sport", in which the line between sexual consent and abuse can be bewilderingly blurred. Sadly topical here as well, this is a disturbing read, but its "painstaking intelligent but above all open-minded examination of an immensely complicated area", to quote the William Hill Sports Book of the Year judges, made it a worthy, if unexpected, winner.
While Alex Ferguson and Roy Keane dominated the bestseller charts, the most revelatory football book of the year was Bobby Moore: The Man in Full, by Matt Dickinson (Yellow Jersey, £20), which was shortlisted for the "Bookie Prize". England's World Cup winning captain was revered as a cool, decisive leader of men on the pitch, yet Dickinson reveals that off it he swilled lager, suffered from OCD, and was a diffident manager and disastrous businessman before dying, half-forgotten, in 1993. This is no hatchet job, because Dickinson's balanced account is at pains to credit Moore's many virtues.
Terry Venables's observation of Moore that "he wasn't just cool, he was refrigerated" appears in the ninth edition of The Book of Football Quotations, edited by Phil Shaw (Ebury, £14.99). It features 1,500 new "nannies" (nanny goats = quotes in football journospeak), including Joe Royle's considered view of excitable Italian striker Mario Balotelli (then with Manchester City): "Balotelli's like Marmite – you either love him or hate him. Me, I'm in between."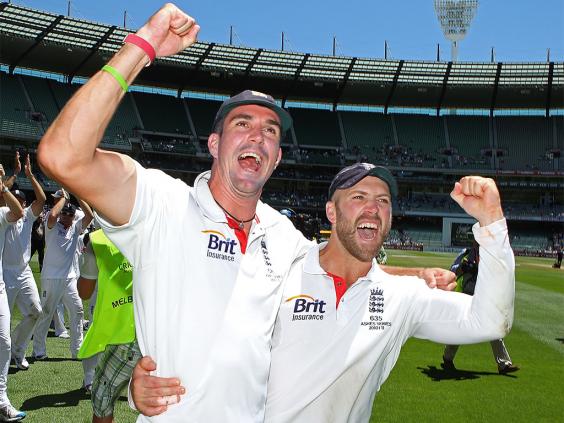 Kevin Pietersen definitely falls into the Marmite category. After England decided to dispense with his services, one sure bet was that the cricketer was going to air his side of the story. KP: The Autobiography (Sphere, £20) contains a litany of grievances against the national side's administrators, coaches and, not least, his team-mates, while downplaying his own manifest misdemeanours. For the most part his "Infamy, infamy, they've all got it infamy" tirade should be read for amusement, not information.
The prize for the year's most misleading title goes to Brian Moore's What Goes on Tour Stays on Tour (Simon & Schuster, £18.99), as the former England and Lions hooker leaves little to the imagination about what he and his fellow players got up to away from home. While acknowledging that many of their antics were puerile and irresponsible, he claims they were also enjoyable, so if your idea of fun is being tied to a tree and made to sing "Chanson D'Amour" while your captain pisses on your shoes, this is the book for you, though perhaps not for the young and impressionable.
Hard to imagine John Curry as a team player; Britain's Olympic ice-dancing champion in 1976 was a loner, whose year of triumph – he added European and world titles to his Olympic gold – was a glorious but brief interlude in an otherwise deeply unhappy life, according to Alone – The Triumph and Tragedy of John Curry (Bloomsbury, £18.99). Bill Jones's bleak but beautifully, and sensitively, written biography chronicles an unhappy childhood spent with a distant, depressive father who committed suicide when Curry was 16, and unfeeling coaches – "You will never make it as a skater or a man," one told him. After the Olympics he set up his own touring show, but by the end of the Eighties he was broke and ravaged by Aids, dying at the age of 44 in 1994. Jones does not gloss over Curry's faults – he could be viciously cruel and bullying, with a self-destructive streak – but also reminds us of his genius.
Skint Mob! – Tales of the Betting Ring (Simon Nott Publications, £9.99) is a self-published recollection of the author's years working as a bookmakers' gofer around Britain's racetracks. Nott's picaresque encounters with the likes of Armaloft Alex, Edible Tie Brian and Balertwine Barry are often very funny, with an elegiac edge as the rise of online betting threatens this world. While it won't win any prizes for prose style, not even the "Bookie Prize", it's an unpolished little gem.
Reuse content