They were always going to have a hard time getting the whip through Heathrow.
"It's not a whip," said the Slice Girls. "It's a studded suedette flogger."
"I'm going to have to check with my supervisor," said the scanner guy. "Oi, Bill, is a whip a weapon or what?"
The rubber chicken escaped detection.
Direct from "Bloody Scotland", they – the flogger, the chicken, several pairs of handcuffs, and a spanking feather – were all bound for Bouchercon, the biggest annual gathering of crime writers and fans in the world. This year it was in New Orleans. Which is where I first saw the Slice Girls, aka the writers AK (The Beauty of Murder) Benedict, Steph (Deep Down Dead) Broadribb, Louise (Venus Trap) and Voss et al strut their stuff. I should stress, they weren't always wearing black corsets and fishnet stockings.
More than 1,900 people crammed into the precincts of the fiendishly air-conditioned Marriott Hotel in Canal Street from Thursday to Sunday. Global superstars such as Lee Child and Harlan Coben and Sara Blaedel (recently voted Denmark's favourite author for the fourth time and translated into 33 languages), not to mention international rising star guest of honour (take a bow, Craig Robertson) were mingling with a legion of fans parading down the street on floats with a police escort and jazz bands and guys on stilts. 
But there was a fundamental mystery that I was in New Orleans to try and puzzle out. Why is it that while actual crime is going down, crime writing is going through the roof?
Rambo was there. Not Sylvester Stallone, but David Morrell, the author of the original novel, First Blood. I met him in a bar on Bourbon Street in the French Quarter. He had a neat moustache, thinning hair, and no bandana. He was sipping a Sauvignon. Turns out he based it all on his own students. He was a young professor at Penn State at the tail-end of the sixties. And they were coming back from Vietnam, hardened vets, and wondering how come he had been marking papers all the time they were getting their arses shot off in the jungle. (He was Canadian.) So he asked himself, what if one of these pissed-off, alienated, grizzled, warrior hippies should turn a small town into a war zone?
Morrell got the name from his wife. Classic Genesis moment. He was struggling with the opening pages and he still didn't have a name for his hero. He had actually written "blank". Then his wife came home and offered him an apple. "Honey, I'm trying to write," he says. "Come on," she says, "it's really good." He succumbs and takes a bite. Which is when it all begins. "It is good," he says. "What's it called?" Answer: a variety of apple known as a "Rambo". He liked the echo of "Rimbaud", the French poet. If she had given him a Granny Smith history could have been different. And the brilliant opening sentence would never have been: "His name was Rambo, and he was just some nothing kid for all anybody knew, standing by the pump of a gas station at the outskirts of Madison, Kentucky."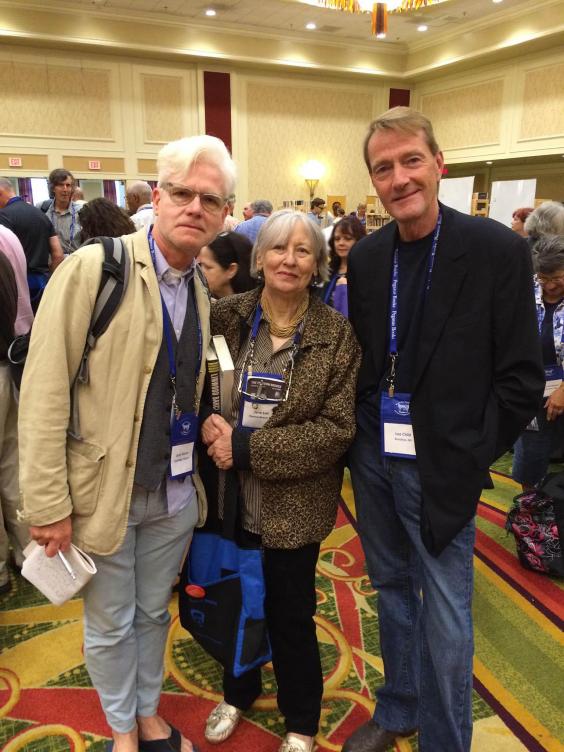 I bumped into Lee Child having a smoke outside and we had coffee together. Black. Like his hero, Jack Reacher, he only ever drinks black. Twenty or 30 cups a day. He said he'd just spent a week in the Orkneys and even there, in local news reports, he had come across the name Rambo twice, and nothing to do with apples either. "Rambo-like" behaviour. "It's become one of the most powerful signifiers in the world," he said. Maybe it is not so surprising that Child had to come up with a huge ex-military policeman vigilante, capable of quelling the most disgruntled, PTSD-fuelled, rampaging nutter with a single headbutt. His 21st outing, Night School, is published in November.
Symbolically speaking, Bouchercon was Apocalypse Now. Corpses everywhere. Sara Blaedel's latest is The Killing Forest. I would estimate more than 50 per cent of the thousands of novels on offer had some variation on kill, killer, killing, die, death, or dead in the title. If you include subtle or not-so-subtle hints of violence in the offing, that percentage goes up to about 100. Rambo-like. I went to one panel (You Always Hurt The One You Love) which was all about who you want to kill. "If I want to kill someone," Jeff Abbott (the Sam Capra series) said, "they're already dead". Probably everyone, I thought, given a fair shot, wouldn't mind bumping off a few people. Maybe a lot. If they could just press a button. Crime fiction is that button.
I hope no one offs Jane Lee. I really liked her and her soft southern accent. She said she loved England and had been to "the best fish and chip shop" in London. We met in the "smart" elevator which had a habit of hitting the 30th floor when you only wanted to go to three. She had been to every single Bouchercon since 1988, including London and Nottingham, except for two. One, in 2005, because "my house in Mississippi had been blown away" (by Hurricane Katrina). The second time was in 2010 when her husband had a heart attack. 
"You should have left him," said Lee Child, signing a book, in his ruthless way. 
"He is one of your biggest fans," she said. 
"Oh, well, in that case, I'm glad you stayed and looked after him. I hate to lose a reader," he said.
Jane's husband "gets so upset" at the sight of Tom Cruise playing the part of Jack Reacher in the movies (there is a new one premiering in October, Never Go Back). "Everybody knows," Jane said, "Lee Child is Jack Reacher." Fair comment, but so far as I know, Child was on his best behaviour and didn't beat any bad guys to death with his elbows the entire weekend.
Culture news in pictures
Culture news in pictures
1/30 30 September 2016

An employee hangs works of art with "Grand Teatro" by Marino Marini (R) and bronze sculpture "Sfera N.3" by Arnaldo Pomodoro seen ahead of a Contemporary Art auction on 7 October, at Sotheby's in London

REUTERS

2/30 29 September 2016

Street art by Portuguese artist Odeith is seen in Dresden, during an exhibition "Magic City - art of the streets"

AFP/Getty Images

3/30 28 September 2016

Dancers attend a photocall for the new "THE ONE Grand Show" at Friedrichstadt-Palast in Berlin, Germany

REUTERS

4/30 28 September 2016

With an array of thrift store china, humorous souvenirs and handmade tile adorning its walls and floors, the Mosaic Tile House in Venice stands as a monument to two decades of artistic collaboration between Cheri Pann and husband Gonzalo Duran

REUTERS

5/30 27 September 2016

A gallery assistant poses amongst work by Anthea Hamilton from her nominated show "Lichen! Libido!(London!) Chastity!" at a preview of the Turner Prize in London

REUTERS

6/30 27 September 2016

A technician wearing virtual reality glasses checks his installation in three British public telephone booths, set up outside the Mauritshuis museum in The Hague, Netherlands. The installation allows visitors a 3-D look into the museum which has twenty-two paintings belonging to the British Royal Collection, on loan for an exhibit from 29 September 2016 till 8 January 2017

AP

7/30 26 September 2016

An Indian artist dressed as Hindu god Shiva performs on a chariot as he participates in a religious procession 'Ravan ki Barat' held to mark the forthcoming Dussehra festival in Allahabad

AFP/Getty Images

8/30 26 September 2016

Jean-Michel Basquiat's 'Air Power', 1984, is displayed at the Bowie/Collector media preview at Sotheby's in New York

AFP/Getty

9/30 25 September 2016

A woman looks at an untitled painting by Albert Oehlen during the opening of an exhibition of works by German artists Georg Baselitz and Albert Oehlen in Reutlingen, Germany. The exhibition runs at the Kunstverein (art society) Reutlingen until 15 January 2017

EPA

10/30 24 September 2016

Fan BingBing (C) attends the closing ceremony of the 64th San Sebastian Film Festival at Kursaal in San Sebastian, Spain

Getty Images

11/30 23 September 2016

A view of the artwork 'You Are Metamorphosing' (1964) as part of the exhibition 'Retrospektive' of Japanese artist Tetsumi Kudo at Fridericianum in Kassel, Germany. The exhibition runs from 25 September 2016 to 1 January 2017

EPA

12/30 22 September 2016

Jo Applin from the Courtauld Institute of Art looks at Green Tilework in Live Flesh by Adriana Vareja, which features in a new exhibition, Flesh, at York Art Gallery. The new exhibition features works by Degas, Chardin, Francis Bacon and Sarah Lucas, showing how flesh has been portrayed by artists over the last 600 years

PA

13/30 21 September 2016

Performers Sean Atkins and Sally Miller standing in for the characters played by Asa Butterfield and Ella Purnell during a photocall for Tim Burton's "Miss Peregrines Home For Peculiar Children" at Potters Field Park in London

Getty Images

14/30 20 September 2016

A detail from the blanket 'Alpine Cattle Drive' from 1926 by artist Ernst Ludwig Kirchner is displayed at the 'Hamburger Bahnhof - Museum for Contemporary Arts' in Berlin. The exhibition named 'Ernst Ludwig Kirchner - Hieroglyphen' showing the complete collection of Berlin's Nationalgallerie works of the German artist Ernst Ludwig Kirchner and will run from 23 September 2016 until 26 February 2017

AP

15/30 20 September 2016

A man looks at portrait photos by US photographer Bruce Gilden in the exhibition 'Masters of Photography' at the photokina in Cologne, Germany. The trade fair on photography, photokina, schowcases some 1,000 exhibitors from 40 countries and runs from 20 to 25 September. The event also features various photo exhibitions

EPA

16/30 20 September 2016

A woman looks at 'Blue Poles', 1952 by Jackson Pollock during a photocall at the Royal Academy of Arts, London

PA

17/30 19 September 2016

Art installation The Refusal of Time, a collaboration with Philip Miller, Catherine Meyburgh and Peter Galison, which features as part of the William Kentridge exhibition Thick Time, showing from 21 September to 15 January at the Whitechapel Gallery in London

PA

18/30 18 September 2016

Artists creating one off designs at the Mm6 Maison Margiela presentation during London Fashion Week Spring/Summer collections 2017 in London

Getty Images

19/30 18 September 2016

Bethenny Frankel attends the special screening of Disney's "Beauty and the Beast" to celebrate the 25th Anniversary Edition release on Blu-Ray and DVD in New York City

Getty Images for Walt Disney Stu

20/30 17 September 2016

Visitors attend the 2016 Oktoberfest beer festival at Theresienwiese in Munich, Germany

Getty Images

21/30 16 September 2016

Visitors looks at British artist Damien Hirst work of art 'The Incomplete Truth', during the 13th Yalta Annual Meeting entitled 'The World, Europe and Ukraine: storms of changes', organised by the Yalta European Strategy (YES) in partnership with the Victor Pinchuk Foundation at the Mystetsky Arsenal Art Center in Kiev

AP

22/30 16 September 2016

Tracey Emin's "My Bed" is exhibited at the Tate Liverpool as part of the exhibition Tracey Emin And William Blake In Focus, which highlights surprising links between the two artists

Getty Images

23/30 15 September 2016

Musician Dave Grohl (L) joins musician Tom Morello of Prophets of Rage onstage at the Forum in Inglewood, California

Getty Images

24/30 14 September 2016

Model feebee poses as part of art installation "Narcissism : Dazzle room" made by artist Shigeki Matsuyama at rooms33 fashion and design exhibition in Tokyo. Matsuyama's installation features a strong contrast of black and white, which he learned from dazzle camouflage used mainly in World War I

AP

25/30 13 September 2016

Visitors look at artworks by Chinese painter Cui Ruzhuo during the exhibition 'Glossiness of Uncarved Jade' held at the exhibition hall 'Manezh' in St. Petersburg, Russia. More than 200 paintings by the Chinese artist are presented until 25 September

EPA

26/30 12 September 2016

A visitor looks at Raphael's painting 'Extase de Sainte Cecile', 1515, from the Uffizi Gallery in Florence during the opening of a Raphael exhibition at the Pushkin State Museum of Fine Arts in Moscow, Russia. The first Russian exhibition of the works of the Italian Renaissance artist Raffaello Sanzio da Urbino includes eight paintings and three drawings which come from Italy. Th exhibit opens to the public from 13 September to 11 December

EPA

27/30 11 September 2016

Steve Cropper and Eddie Floyd perform during Otis Redding 75th Birthday Celebration - Rehearsals at the Macon City Auditorium in Macon, Georgia

Getty Images for Otis Redding 75

28/30 10 September 2016

Sakari Oramo conducting the BBC Symphony Orchestra, the BBC Symphony Chorus and the BBC Singers at the Last Night of the Proms 2016 at the Royal Albert Hall in London

PA

29/30 9 September 2016

A visitor walks past a piece entitled "Fruitcake" by Joana Vasconcelo, during the Beyond Limits selling exhibition at Chatsworth House near Bakewell

REUTERS

30/30 8 September 2016

A sculpture of a crescent standing on the 2,140 meters high mountain 'Freiheit' (German for 'freedom'), in the Alpstein region of the Appenzell alps, eastern Switzerland. The sculpture is lighted during the nights by means of solar panels. The 38-year-old Swiss artist and atheist Christian Meier set the crescent on the peak to start a debate on the meaning of religious symbols - as summit crosses - on mountains. 'Because so many peaks have crosses on them, it struck me as a great idea to put up an equally absurd contrast'. 'Naturally I wanted to provoke in a fun way. But it goes beyond that. The actions of an artist should be food for thought, both visually and in content'

EPA
Down in the hotel bar, Mark Edwards was wearing a t-shirt emblazoned with a single word: ULTRAVIOLENCE. He is skinny and funny with square glasses and can sing Smiths songs from memory. He is also the author of a series of novels which have sold 1.7 million or so. He summarised his psychological thriller, The Magpies, as "neighbours from hell". "The books are written so they can be described in three words," he said. "And two of them are always 'from hell'." There is a schism in publishing between traditional print publishers and the new generation of online publishers. Edwards is published by Thomas and Mercer, the classy Amazon imprint, and has no less than four books currently in the Kindle top 20. You can actually buy his books too. They exist in the real world. But he can't get the Waterstones in Wolverhampton to stock them, despite being huge. "It's kind of embarrassing," he said. "I don't even ask them any more."
I queued up to get my copy of Bone Dust White signed. American author Karin Salvalagio, based in London, wrote that I was fast becoming her "favourite stalker". Nice. She had just finished participating in a collaborative experiment in which a short story was assembled by 20 or 30 writers, each one writing a sentence and then passing the laptop on to the next. She wrote: "Hector hesitated mid-grope." Everyone in the hundred-strong audience burst out laughing when she hit the full-stop. They were probably expecting Hector to stop hesitating and stick the knife in.
On my last day in New Orleans, AK Benedict, not only the creator of a time-travelling serial killer but Slice Girl too, took me to a cemetery. The Lafayette Cemetery No 1. I should stress that she did not kill me and bury me in an unmarked grave. She only thought about doing that. She loves a good cemetery. Wherever she goes she likes to visit a cemetery or two. She has an English degree from Cambridge and has composed music for film and television.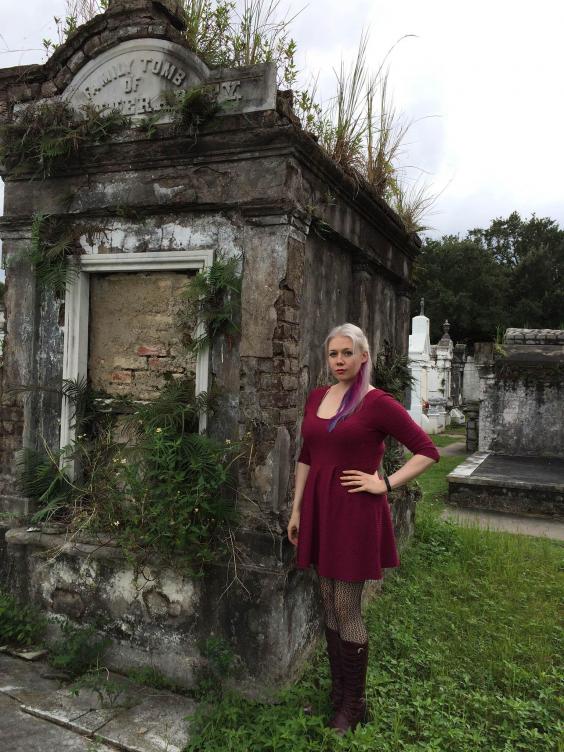 Crime fiction is not really all about death, Alexandra argued, as we wandered about the tombs. It is not for necrophiles. Just like being in a graveyard, you, the reader, say to yourself, "at this time you are alive". She added that the thought that "we all decompose in the end" made her feel "joyful". 
Mark Edwards, posing as a passing zombie, popped up from behind a crypt and said, "I need to write as many books as quickly as possible".
"Is that a quest for immortality?" Alexandra asked.
"No," he replied. "I just need to make a lot of money."
Fictional murder is a celebration of life.
The French sociologist, Emile Durkheim, argued that the "function" of crime was to enable citizens at large to recognise themselves as law-abiding. I suspect part of the point of crime fiction is mimetic deterrence: to persuade criminals to behave for once. Bill Loehfelm, author of Doing the Devil's Work, with a New Orleans-based detective, Maureen Coughlin, said that the silver lining of Hurricane Katrina was that it "eradicated crime completely for a while" because the gangs were blown not "out of the water" but into it.
The Italian historian Carlo Ginzburg rammed together Sherlock Holmes, Sigmund Freud, and an art historian under the heading of "the cynegetic paradigm". He argued that they were all descendants of hunter-gatherers following a trail, like a dog (cynegetic from the Greek for dog, kunē) with its nose to a scent. Today's Hercule Poirots and Sam Spades are still following the trail, deciphering the "hermeneutic code" (in Roland Barthes' resonant phrase).
But seeing the Slice Girls on stage in the Voodoo Gardens at the House of Blues on Saturday night reminded me of exactly why so many of us are hooked on the genre. If I have read their stiletto semiotics correctly, their cabaret act simulates sex and death, as if to say these really are your only two options. Either/or, or possibly and, the unattainable alchemical formula of the coincidentia oppositorum. But of course there is a third way. The way of the Slice Girls themselves and the unlimited realm of crime fiction too. They exist in the twilight zone of sublimation between sex and death. Crime fiction enables us to kill the time between one and the other. It is neither/nor.
As I was finally leaving Bouchercon, I bumped into AK Benedict again, getting into a taxi. She was on her way to another New Orleans cemetery. Lafayette No 2 possibly.
Andy Martin is the author of Reacher Said Nothing: Lee Child and the Making of 'Make Me' 
Reuse content