You may remember last month that George R. R. Martin held an online fundraiser on behalf of a wolf sanctuary in which a donation of $20,000 got you a grisly death in his next A Song of Ice and Fire novel, Winds of Winter.
13-year-old fan Jack didn't have $20,000, but he did have a handful of pocket money and a huge amount of passion for wolves.
He decided to write to the author, with Mashable obtaining a copy of his letter this week:
(Large version here)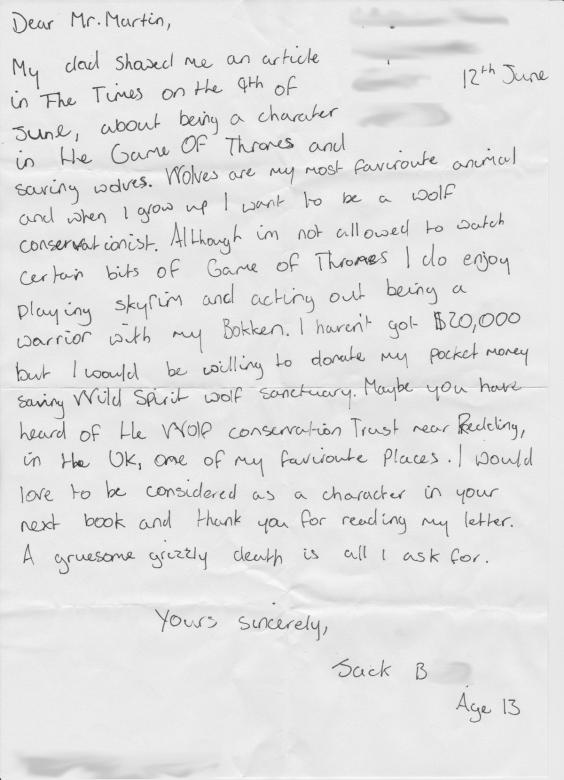 Martin responded, saying how moved he was by Jack's donation, and while he couldn't offer him a suitably bloody death, wolves profited hugely out of the exchange. Yay wolves!
From GRRM:
Dear Jack,
Thank you so much for your heartfelt, touching note.
I've heard that you donated all your £153 pocket money savings to my Prizeo fundraiser on behalf of the Wild Spirit Wolf Sanctuary. I cannot tell you how much that moved me. It pleases me no end to know that my novels, and the TV series based on them, have inspired readers as young as yourself to rally to the support of these majestic and too often stigmatized animals
Alas, I cannot promise you a grisly death in THE WIND OF WINTER. Those spots have already been filled by some very generous donors, and there's a limit to how many people even I can kill.
However, inspired by your example, my friends at Prizeo and I would love to follow your lead with a $10,000 in your name to the UK Wolf Conservation Trust. That's a wonderful organization that I've heard much about, and they are lucky to count people like you as supporters.
I wish you the best of luck in your future career as a wolf conservationist, and hope that you inspire many others to follow your lead.
Yours,
GRRM
It's a little disappointing that Martin couldn't throw in an extra death, the series already has hundreds after all, but I hope his reponse heartens the boy in his mission of wolf conservation.
Martin is currently working on the next book in the series, recently giving a big "f*ck you!" to anyone suggesting he'll die before finishing A Song of Ice and Fire.
Reuse content