The Black Notebook and The Cafe of Lost Youth by Patrick Modiano, trans. Mark Polizzotti and Euan Cameron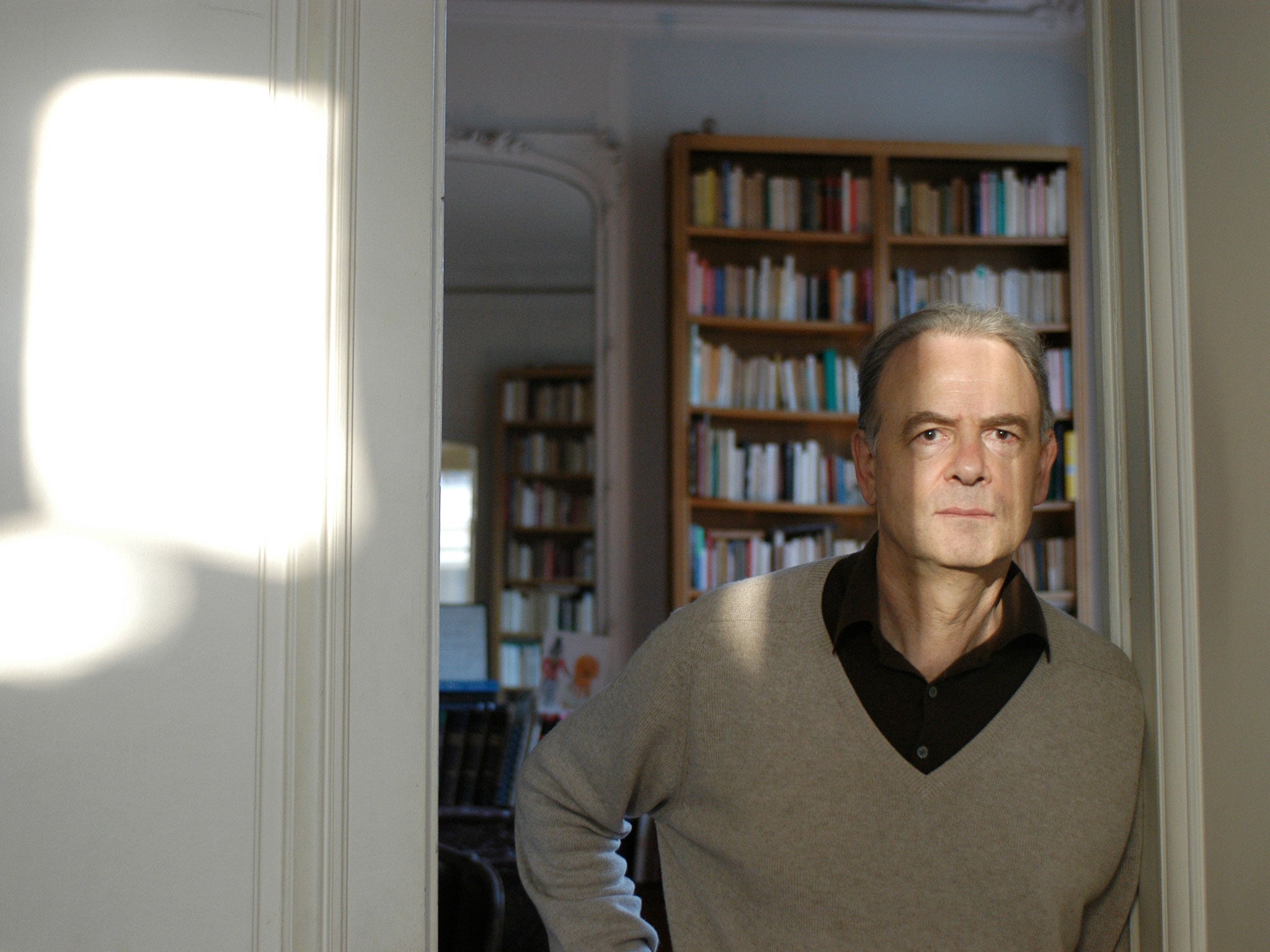 The Black Notebook and The Cafe of Lost Youth by Patrick Modiano, trans. Mark Polizzotti and Euan Cameron
Patrick Modiano's city is beautiful but antiquated
Click to follow
The Independent Culture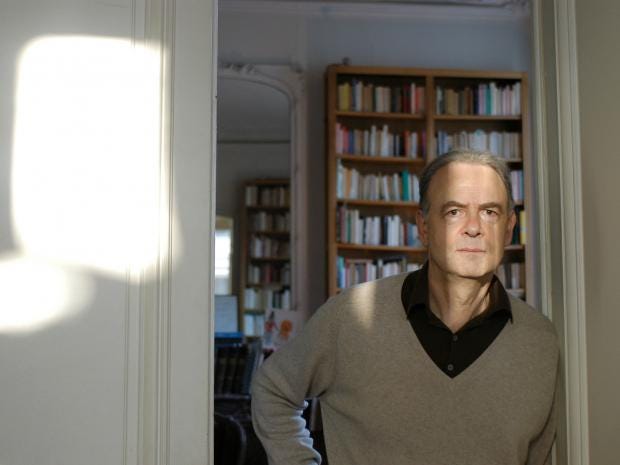 It's strange how much can change in a year. In October 2014 Patrick Modiano was lifted out of international obscurity courtesy of the Nobel Prize in Literature, and a whole swathe of readers were introduced to his obsessive, evocative fictions of a lost Paris, full of ghosts and memories. Do these books – so many of them, and all so weirdly similar – read differently in the wake of the Paris attacks in January and November?
Perhaps, but it's clear that the act of mourning can't be transferred: Modiano's Paris is not the Paris the jihadists attacked, and he has nothing to say about the problems and divisions the city has long faced. His books are set in its seedy suburbs, never in the impoverished concrete cités of the banlieues. When Parisians picked a book to symbolise their defiance following those atrocities, they didn't choose their new laureate; they turned to Ernest Hemingway, and his highly romanticised memoir of the 1920s, A Moveable Feast.
Culture news in pictures
Culture news in pictures
1/30 30 September 2016

An employee hangs works of art with "Grand Teatro" by Marino Marini (R) and bronze sculpture "Sfera N.3" by Arnaldo Pomodoro seen ahead of a Contemporary Art auction on 7 October, at Sotheby's in London

REUTERS

2/30 29 September 2016

Street art by Portuguese artist Odeith is seen in Dresden, during an exhibition "Magic City - art of the streets"

AFP/Getty Images

3/30 28 September 2016

Dancers attend a photocall for the new "THE ONE Grand Show" at Friedrichstadt-Palast in Berlin, Germany

REUTERS

4/30 28 September 2016

With an array of thrift store china, humorous souvenirs and handmade tile adorning its walls and floors, the Mosaic Tile House in Venice stands as a monument to two decades of artistic collaboration between Cheri Pann and husband Gonzalo Duran

REUTERS

5/30 27 September 2016

A gallery assistant poses amongst work by Anthea Hamilton from her nominated show "Lichen! Libido!(London!) Chastity!" at a preview of the Turner Prize in London

REUTERS

6/30 27 September 2016

A technician wearing virtual reality glasses checks his installation in three British public telephone booths, set up outside the Mauritshuis museum in The Hague, Netherlands. The installation allows visitors a 3-D look into the museum which has twenty-two paintings belonging to the British Royal Collection, on loan for an exhibit from 29 September 2016 till 8 January 2017

AP

7/30 26 September 2016

An Indian artist dressed as Hindu god Shiva performs on a chariot as he participates in a religious procession 'Ravan ki Barat' held to mark the forthcoming Dussehra festival in Allahabad

AFP/Getty Images

8/30 26 September 2016

Jean-Michel Basquiat's 'Air Power', 1984, is displayed at the Bowie/Collector media preview at Sotheby's in New York

AFP/Getty

9/30 25 September 2016

A woman looks at an untitled painting by Albert Oehlen during the opening of an exhibition of works by German artists Georg Baselitz and Albert Oehlen in Reutlingen, Germany. The exhibition runs at the Kunstverein (art society) Reutlingen until 15 January 2017

EPA

10/30 24 September 2016

Fan BingBing (C) attends the closing ceremony of the 64th San Sebastian Film Festival at Kursaal in San Sebastian, Spain

Getty Images

11/30 23 September 2016

A view of the artwork 'You Are Metamorphosing' (1964) as part of the exhibition 'Retrospektive' of Japanese artist Tetsumi Kudo at Fridericianum in Kassel, Germany. The exhibition runs from 25 September 2016 to 1 January 2017

EPA

12/30 22 September 2016

Jo Applin from the Courtauld Institute of Art looks at Green Tilework in Live Flesh by Adriana Vareja, which features in a new exhibition, Flesh, at York Art Gallery. The new exhibition features works by Degas, Chardin, Francis Bacon and Sarah Lucas, showing how flesh has been portrayed by artists over the last 600 years

PA

13/30 21 September 2016

Performers Sean Atkins and Sally Miller standing in for the characters played by Asa Butterfield and Ella Purnell during a photocall for Tim Burton's "Miss Peregrines Home For Peculiar Children" at Potters Field Park in London

Getty Images

14/30 20 September 2016

A detail from the blanket 'Alpine Cattle Drive' from 1926 by artist Ernst Ludwig Kirchner is displayed at the 'Hamburger Bahnhof - Museum for Contemporary Arts' in Berlin. The exhibition named 'Ernst Ludwig Kirchner - Hieroglyphen' showing the complete collection of Berlin's Nationalgallerie works of the German artist Ernst Ludwig Kirchner and will run from 23 September 2016 until 26 February 2017

AP

15/30 20 September 2016

A man looks at portrait photos by US photographer Bruce Gilden in the exhibition 'Masters of Photography' at the photokina in Cologne, Germany. The trade fair on photography, photokina, schowcases some 1,000 exhibitors from 40 countries and runs from 20 to 25 September. The event also features various photo exhibitions

EPA

16/30 20 September 2016

A woman looks at 'Blue Poles', 1952 by Jackson Pollock during a photocall at the Royal Academy of Arts, London

PA

17/30 19 September 2016

Art installation The Refusal of Time, a collaboration with Philip Miller, Catherine Meyburgh and Peter Galison, which features as part of the William Kentridge exhibition Thick Time, showing from 21 September to 15 January at the Whitechapel Gallery in London

PA

18/30 18 September 2016

Artists creating one off designs at the Mm6 Maison Margiela presentation during London Fashion Week Spring/Summer collections 2017 in London

Getty Images

19/30 18 September 2016

Bethenny Frankel attends the special screening of Disney's "Beauty and the Beast" to celebrate the 25th Anniversary Edition release on Blu-Ray and DVD in New York City

Getty Images for Walt Disney Stu

20/30 17 September 2016

Visitors attend the 2016 Oktoberfest beer festival at Theresienwiese in Munich, Germany

Getty Images

21/30 16 September 2016

Visitors looks at British artist Damien Hirst work of art 'The Incomplete Truth', during the 13th Yalta Annual Meeting entitled 'The World, Europe and Ukraine: storms of changes', organised by the Yalta European Strategy (YES) in partnership with the Victor Pinchuk Foundation at the Mystetsky Arsenal Art Center in Kiev

AP

22/30 16 September 2016

Tracey Emin's "My Bed" is exhibited at the Tate Liverpool as part of the exhibition Tracey Emin And William Blake In Focus, which highlights surprising links between the two artists

Getty Images

23/30 15 September 2016

Musician Dave Grohl (L) joins musician Tom Morello of Prophets of Rage onstage at the Forum in Inglewood, California

Getty Images

24/30 14 September 2016

Model feebee poses as part of art installation "Narcissism : Dazzle room" made by artist Shigeki Matsuyama at rooms33 fashion and design exhibition in Tokyo. Matsuyama's installation features a strong contrast of black and white, which he learned from dazzle camouflage used mainly in World War I

AP

25/30 13 September 2016

Visitors look at artworks by Chinese painter Cui Ruzhuo during the exhibition 'Glossiness of Uncarved Jade' held at the exhibition hall 'Manezh' in St. Petersburg, Russia. More than 200 paintings by the Chinese artist are presented until 25 September

EPA

26/30 12 September 2016

A visitor looks at Raphael's painting 'Extase de Sainte Cecile', 1515, from the Uffizi Gallery in Florence during the opening of a Raphael exhibition at the Pushkin State Museum of Fine Arts in Moscow, Russia. The first Russian exhibition of the works of the Italian Renaissance artist Raffaello Sanzio da Urbino includes eight paintings and three drawings which come from Italy. Th exhibit opens to the public from 13 September to 11 December

EPA

27/30 11 September 2016

Steve Cropper and Eddie Floyd perform during Otis Redding 75th Birthday Celebration - Rehearsals at the Macon City Auditorium in Macon, Georgia

Getty Images for Otis Redding 75

28/30 10 September 2016

Sakari Oramo conducting the BBC Symphony Orchestra, the BBC Symphony Chorus and the BBC Singers at the Last Night of the Proms 2016 at the Royal Albert Hall in London

PA

29/30 9 September 2016

A visitor walks past a piece entitled "Fruitcake" by Joana Vasconcelo, during the Beyond Limits selling exhibition at Chatsworth House near Bakewell

REUTERS

30/30 8 September 2016

A sculpture of a crescent standing on the 2,140 meters high mountain 'Freiheit' (German for 'freedom'), in the Alpstein region of the Appenzell alps, eastern Switzerland. The sculpture is lighted during the nights by means of solar panels. The 38-year-old Swiss artist and atheist Christian Meier set the crescent on the peak to start a debate on the meaning of religious symbols - as summit crosses - on mountains. 'Because so many peaks have crosses on them, it struck me as a great idea to put up an equally absurd contrast'. 'Naturally I wanted to provoke in a fun way. But it goes beyond that. The actions of an artist should be food for thought, both visually and in content'

EPA
There is some mention of France's colonial past in Modiano's books, but the wellspring of their politics is most often the Second World War, with its black marketeering, collaboration and anti-Semitism. Not that he ever treats these subjects directly; instead, he covers them in multiple gauzy layers of reticence and forgetfulness – romanticism of a different order. If the film noir of the post-war years was a study in moral complexity that played itself out, inevitably, in an act or acts of violence, then these are romans gris – no one ever actually kills anyone, but someone has always died, sometime in the past, and the story is an attempt to come to terms with that, in the sad cafés and too-changed streets of the present-day city.
That is not to say that the books are not interesting or powerful – or, in fact, very good indeed. The prose – elliptical, muted, eloquent – falls on the reader like an enchantment, and no less so in English than in French. No one is currently writing such beautiful tales of loss, melancholy and remembrance, and these two recent works are no exception.
In The Café of Lost Youth is an elegy for a particular café, Le Condé, in a particular area, l'Odéon, and for a particular disparate group that drank there – and for a particular girl among them, Louki. Different sections are narrated by a student hanger-on, a private detective, a would-be writer and Louki herself. The writer, Roland, is trying to put together a book about the "neutral zones" of Paris, while another regular at Le Condé doggedly fills a notebook with a record of everyone who comes in for a drink.
Although everyone has their reason for wanting to know more about Louki, and although she has the chance to tell her own story, in a way you have to take her on trust. She could be any softly spoken, alluring and mysterious twenty-something woman, and because Modiano's narrators have a tendency to skate over the salient facts, even as they chase them down, she risks slipping through your fingers – indeed, she seems designed to do so.
Unlike in Proust – an obvious point of comparison – time for Modiano is never really findable again: "I was alone outside the leather-goods shop Au Prince de Condé. I pressed my forehead against the window to see whether any vestige remained of the café...Nothing. Everything was sleek and shiny and covered in an orange material. And it was like this everywhere in the area. At least, no one was unlikely to meet any ghosts. The ghosts themselves were dead."
There is a woman in The Black Notebook, too, but she is more deeply embedded in one of the quasi-criminal groupings that keep cropping up in Modiano's world. Here, they are the "Unic hotel gang", named for their base in the rue du Montparnasse. "Dannie, Paul, Aghamouri, Duwelz, Gérard Marciano [and] 'Georges'" are the names the narrator, Jean, finds in his old notebook, where as a young man he had kept notes of their dealings. He had even been interrogated by the police over a "nasty incident" the woman, Dannie, had been involved in.
Like Louki, Danni is an obsession, largely because she is gone. The regret in Modiano is endemic, but stops short of self-parody. "Do we have the right to judge the people we love?" someone asks in The Black Notebook. "If we love them, it's for a reason, and that reason prevents us from judging them – doesn't it?"
These two books are certainly excellent ways into Modiano, but then his house is one with dozens of excellent entrances, and in the end a very small number of rooms in which to wander, wondering why it all looks so familiar.
MacLehose Press, £14.99. Order at £12.99 inc. p&p from the Independent Bookshop
Comments