The refined world of classical music and the murky depths of addiction are not typically mentioned together. But now a new documentary brings together addicts to face their biggest fears and play, not only together as an orchestra, but on stage for a special performance with the London Symphony Orchestra.
The documentary was the brainchild of the composer and musician – and recovered alcoholic – James McConnel, whose son Freddy, a talented singer-songwriter, died of a heroin overdose aged 18 in 2011. McConnel tracked down 10 classical musicians, many of whom had long since abandoned their once promising careers in music, and packed up their instruments, banishing them to the cupboard or attic. The irony is that while for many, music is cathartic and helps at times of difficulty, for others performing becomes panic-inducing.
One of these 10 musicians is Rachael Lander, an award-winning cellist who started playing at eight, became a junior at the Royal Northern  College of Music (RNCM) in Manchester aged 14 and whose career launched with a four-year stint in the National Youth Orchestra. As a member of its 18-player cello section, she played annual performances at the BBC Proms with world-class conductors including Simon Rattle. It was expected that a career as a professional orchestral musician would follow, in the footsteps of her parents (her father is a contrabassoonist in a philharmonic orchestra and her mother performs in musicals in the West End), but while she was studying at the RNCM, performance anxiety struck.
"I remember having my first on-stage panic attack during an NYO concert at the Albert Hall", the 30-year-old recalls when we meet at a London café. "It was the Queen Mother's centenary prom, a string snapped in the middle of the concert and I had to string it back up, and by the time I had done it I was so nervous,  shaking, and I remember thinking, 'Oh God I hope I'm not dying', because I didn't know what was going on. After that I started to dread every performance." She tried talking to friends, but her fears were dismissed as the everyday practical anxieties – over playing wrong notes or missing cues – that tend to plague musicians.
"I was afraid that if people knew how bad it was they'd think I was nuts. It was more like – can I sit on the stage without having a heart attack? I was ashamed of it and I spoke to my parents. They said, 'Everyone goes through it, you'll get through it', but I don't think they realised how bad it was."
Then she found a solution to the panic. Alcohol. During her earlier days at college, drinking was for Lander, as for many other students, a way to relax. At first she started taking beta-blockers and enjoying the odd drink before concerts to curb her anxiety, but the drinking escalated after a panic attack during a concert at college. "I was leading the cello section, and the panic was so bad my hands seized up and black spots were scudding before my eyes, I thought, 'I'm going to faint or scream on stage', so I just walked off. It was so humiliating and I thought 'It's never going to happen again.' So the next night I drank at the concert and I was fine, so I thought, 'this is how I'm going to get through it' and then of course it takes more and more to get that feeling. Then I'd have a drink before a rehearsal, on the way to rehearsals, until I was drinking to get out of bed." She would sneak vodka into water bottles to drink on stage. "It just seemed like a brilliant solution at the time. I didn't realise that it was going to get so ugly so quickly."
The professional engagements were rolling in, but at 22, during her final year at college, Lander decided to put music behind her for good. "I couldn't even be in a Tube station where they played classical music, and when I'd see people with cellos, the grief was really bad because I thought I'd never do that again. It was heart breaking." In place of music, she became a waitress and took up temp roles, dispensing parking permits for the council. "I thought, 'If I put the cello away I won't be this frightened and I won't have to drink', so that's what I did, I became a waitress, and unfortunately the panic was still the same. Nothing had changed."
Thankfully, Lander's addiction was relatively short, lasting four years. She's now married to Rob, an internet consultant and analyst, whom she met at rehab. The couple live in south London and are expecting their first child.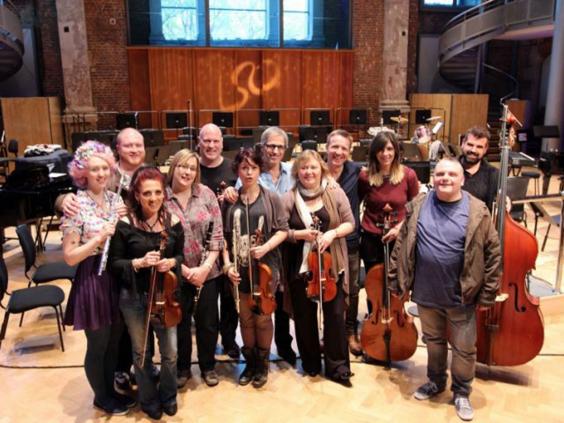 It was her best friend Kirsty who persuaded Lander to return to her musical roots. The violinist suggested forming a string quartet, RaVen, an antidote to the formal, structured orchestral role that Lander had come to associate with fear. For years now she has been an in-demand session cellist in the rock and pop world, performing for the likes of Elbow, Ellie Goulding and Robbie Williams. She performed on Alt-J's Mercury-winning debut album An Awesome Wave, and most recently she has been on tour with the Ivor Novello-winning band of the moment London Grammar, and will be joining them at Festival No 6 next month.
In some ways, you could say that of all the musicians that bravely take part in this gripping and worthwhile documentary, Lander, as the only professional performer, has the most at stake. This was a fact brought home during the making of the documentary when the Addicts Orchestra joined forces with the LSO, and Lander faced the awkward situation of explaining to musicians with whom she'd studied that she was on the other side, with the addicts. But she feels it was important to take part.
"The nicest thing was to connect with people who were willing to talk about that stuff," she reflects. "One of the reasons I did this is because I know I'm not the only one struggling with it and I'm hoping that people will maybe get some kind of courage to talk about it."  µ
'Addicts' Symphony' is on tonight at 11pm on Channel 4
Reuse content