Last year Russia's Eurovision entry was roundly booed as the teenage Tolmachevy twins paid the price for their mother country's aggression in Ukraine and homophobic laws.
But Russia has undergone a dramatic Eurovision reinvention and is now one of the favourites to win the competition, with an anthem appealing for peace and a new era of global tolerance.
Organisers of the geopolitical clash disguised as a music contest staged in Vienna have introduced "anti-booing technology" to avoid Polina Gagarina, Russia's entry, suffering the same fate as her predecessors.
Special sound reducers have been installed should the acrimony towards Russia's continuing actions in the Ukraine be reflected in a repeat of the negative audience reaction described as "very embarrassing" by producers.
However the technology looks unlikely to be activated. Gagarina's song, A Million Voices, was greeted ecstatically during the semi-finals.
Opening with the phrase, "We are the world's people, Different yet we're the same", Gagarina seeks to distance herself from Russian's anti-gay legislation and draw a line under previous controversies.
"We believe in a dream, Praying for peace and healing, I hope we can start again," sings Gagarina, who shocked less tolerant forces at home by planting a backstage kiss on Conchita Wurst, the bearded cross-dressing singer who won for Austria in 2014.
Vitaly Milonov, a leading St Petersburg lawmaker and the author of controversial legislation banning the spread of "propaganda of non-traditional sexual relations" to minors, disowned Polina. "Don't you dare soil Russia by hugging Euro-perverts," said Milonov.
A furious head of the Russian Orthodox Church, Patriarch Cyrill, said he hoped Russia loses, warning that "all of those bearded singers" who "impose that which is repulsive to our culture" will come to Moscow for next year's final if Europe chooses Gagarina.
Most controversial Eurovision moments
Most controversial Eurovision moments
1/8 Conchita Wurst, Austria (2014)

Russia's anti-gay president Vladmir Putin branded Eurovision a 'Europe-wide gay parade' and shortly afterwards, Austrian drag singer Tom Neuworth more than got his own back. Neuworth's bearded lady alter-ego Conchita Wurst triumphed with the Bond-style "Rise Like a Phoenix", shooting down homophobes who had sent her abuse in the run-up to the contest.

Getty Images

2/8 Donatan and Cleo, Poland (2014)

When Poland returned to Eurovision after a two-year absence, few suspected that girls dressed as milkmaids could be quite so raunchy. Controversially, the UK public voted this their favourite, while the national jury placed it last. Soprano Laura Wright called it "soft porn" and "two boobs too far".

Eurovision

3/8 Ping Pong, Israel (2000)

Israel and Syria were officially at war during this contest and just to make matters worse, Ping Pong decided to wave Syrian flags during rehearsals in a bid for peace. Unsurprisingly, Israeli politicians demanded they be banned for not representing national values and when they weren't, they left them to cover all their own expenses. The flags made a comeback in the final but they only received seven points.

YouTube

4/8 Stephane and 3G, Georgia (2009)

"We Don't Wanna Put In" was understandably read as a massive dig at Putin, just one year after Georgia's war with Russia. The European Broadcast Union deemed it "too political" for Eurovision and Georgia was asked to either change the lyrics or submit a different song. They refused and withdrew from the competition.

YouTube

5/8 Paul Oscar, Iceland (1997)

This gay pop singer sparked outrage when he performed "My Final Dance" backed by four latex-clad women provocatively frolicking on a white leather sofa. To this day it remains one of the most eyebrow-raising and overtly sexual Eurovision moments ever.

YouTube

6/8 Dana International, Israel (1998)

Conchita's been there, done that since, but Dana International was the first transgender person to represent their country at Eurovision back in the late Nineties. She caused uproar in Israel, with ultra-Orthodox Jews protesting in the streets and some even sending death threats. Naturally, she won with a feather-laden diva-like performance to show the haters who's the boss.

YouTube/BBC

7/8 Teapacks, Israel (2007)

Yet another Israeli controversy came with Teapacks' song "Push the Button", which included lyrics about "crazy rulers" and a "world full of terror". Some speculated that the track reflected Israeli anxiety about a nuclear war with Iran, but it was given the go ahead by Eurovision bosses.

YouTube

8/8 Jean-Claude Pascal, Luxembourg (1961)

Luxembourg's entry "Maybe It Isn't America (Because America Isn't the Be-All)" was sung in French and widely seen as anti-American, just as Ronald Reagan took up his presidency. It didn't do too well, finishing in 11th.

YouTube
"We need to support lullabies and patriotic and spiritual songs. We need our own contests and must promote our own culture, including those that show it to the whole world," Patriarch Kirill said.
Polina, who will sing to an outer-space Gagarin-inspired backdrop, admitted that representing a country as diverse as Russia was "quite a burden for me."
She is flattered to have been named a bookies favourite. "I am a fatalist, and I am afraid of getting too many compliments and good words. But of course it's a big pleasure to see this," the singer said.
Her song was constructed by an international team of authors, including Russians, Swedes and even an Australian who lives in Berlin.
The bookies expect Russia and Sweden's entry, Heroes by Måns Zelmerlöw, to head the public vote. Monika Kuszyńska, singing Poland's entry, will be the final's first disabled performer. Kuszyńska, who was paralysed after a car accident in 2006, will perform her own composition In The Name Of Love, from a wheelchair.
Australia, invited to compete as one-off special as part of the show's 60th anniversary celebrations, has taken the opportunity seriously, sending Guy Sebastian, a former winner of the Australian Idol competition to perform. Germany could host the 2016 contest if Australia wins, with other nations unwilling to bear the cost.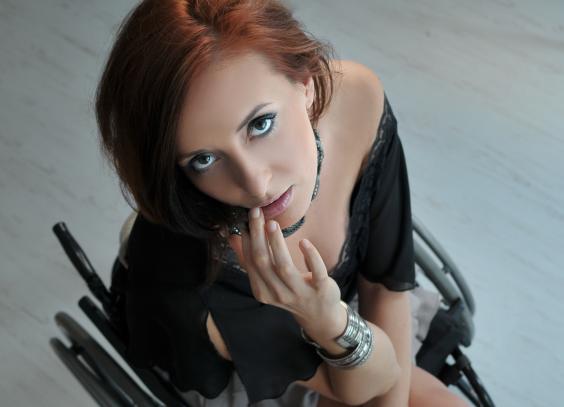 The UK's entry, duo Electro Velvet, are 40-1 outsiders for the event, celebrating its 60th anniversary which, will be watched by an estimated 200m viewers worldwide. Nigella Lawson will read out the results from the UK's voting jury during the broadcast.
Sir Terry Wogan, who quit presenting Eurovision for the BBC after 35 years, complaining that it had become fatally compromised by politics, said of last year's winner, Wurst: "I have to say that he was in danger of turning Eurovision into a freak show rather than a farce. This year looks like being the most bizarre contest of them all. With Russia singing about peace, Ukraine has pulled out."
Sir Terry said of Ms Lawson's contribution: "Let's hope she can cook the figures to the same recipe as all those Eastern Bloc countries do."
Eurovision Song Contest 2015, Saturday 8pm - 11:35pm, BBC One
Reuse content