When Sir Terry Wogan abandoned us in 2008 after yet another UK disappointment, many Eurovision fans thought the end was night.
But then Graham Norton emerged out of the hazy glitter and confetti mist to take his place as commentator and a perfect match was made.
Flamboyant, sarcastic and a huge fan of innuendo, any doubts that Norton was the man for the job evaporated faster than a glass of Bucks Fizz.
Let's remember some of his most cutting lines:
"Don't patronise me Nikolaj, I'm 51 not dead!" – Graham on the Eurovision host's suggestion that some viewers may not understand hashtags (2014)
"'We are Slavic girls, we know how to use our charming beauty, now shake what your mama gave you.' It's essentially a feminist anthem." – Graham gives his damning verdict on Poland's raunchy Donatan & Cleo (2014)
"Well, that wasn't embarrassing at all, well done." – Graham reacts to the Finnish results reader's surprise rap (2014)
"Oh look it's the Eiffel Tower! I keep forgetting it's there. They remind me every year." – Graham pulls out the sarcasm as France deliver their results (2014)
"Oh thank you, it's so fun! It's like the gay wedding I'll never have! It's gone in my wine!" – Graham reacts to Eurovision presenters showering him with confetti in his commentary booth (2014)
 "Scotty? I think not." – Graham reacts to the Eurovision hosts giving Scott Mills a nickname. (2014)
"If you've just joined us and thought, 'Ooh, Denise van Outen's let herself go', no, that's Cascada representing Germany" – Graham on Cascada following her performance (2013)
"Small children and pets should probably move from the room. Here's Cezar, proving that just because you can do something, doesn't mean you should." – Graham introduces Romania's mildly terrifying Cezar (2013)
Most controversial Eurovision moments
Most controversial Eurovision moments
1/8 Conchita Wurst, Austria (2014)

Russia's anti-gay president Vladmir Putin branded Eurovision a 'Europe-wide gay parade' and shortly afterwards, Austrian drag singer Tom Neuworth more than got his own back. Neuworth's bearded lady alter-ego Conchita Wurst triumphed with the Bond-style "Rise Like a Phoenix", shooting down homophobes who had sent her abuse in the run-up to the contest.

Getty Images

2/8 Donatan and Cleo, Poland (2014)

When Poland returned to Eurovision after a two-year absence, few suspected that girls dressed as milkmaids could be quite so raunchy. Controversially, the UK public voted this their favourite, while the national jury placed it last. Soprano Laura Wright called it "soft porn" and "two boobs too far".

Eurovision

3/8 Ping Pong, Israel (2000)

Israel and Syria were officially at war during this contest and just to make matters worse, Ping Pong decided to wave Syrian flags during rehearsals in a bid for peace. Unsurprisingly, Israeli politicians demanded they be banned for not representing national values and when they weren't, they left them to cover all their own expenses. The flags made a comeback in the final but they only received seven points.

YouTube

4/8 Stephane and 3G, Georgia (2009)

"We Don't Wanna Put In" was understandably read as a massive dig at Putin, just one year after Georgia's war with Russia. The European Broadcast Union deemed it "too political" for Eurovision and Georgia was asked to either change the lyrics or submit a different song. They refused and withdrew from the competition.

YouTube

5/8 Paul Oscar, Iceland (1997)

This gay pop singer sparked outrage when he performed "My Final Dance" backed by four latex-clad women provocatively frolicking on a white leather sofa. To this day it remains one of the most eyebrow-raising and overtly sexual Eurovision moments ever.

YouTube

6/8 Dana International, Israel (1998)

Conchita's been there, done that since, but Dana International was the first transgender person to represent their country at Eurovision back in the late Nineties. She caused uproar in Israel, with ultra-Orthodox Jews protesting in the streets and some even sending death threats. Naturally, she won with a feather-laden diva-like performance to show the haters who's the boss.

YouTube/BBC

7/8 Teapacks, Israel (2007)

Yet another Israeli controversy came with Teapacks' song "Push the Button", which included lyrics about "crazy rulers" and a "world full of terror". Some speculated that the track reflected Israeli anxiety about a nuclear war with Iran, but it was given the go ahead by Eurovision bosses.

YouTube

8/8 Jean-Claude Pascal, Luxembourg (1961)

Luxembourg's entry "Maybe It Isn't America (Because America Isn't the Be-All)" was sung in French and widely seen as anti-American, just as Ronald Reagan took up his presidency. It didn't do too well, finishing in 11th.

YouTube
"The song is called 'Alcohol is Free'. Ironic to sing that in Sweden, where it's anything else. You have to sell your car to get a pint." – Graham introduces Greek act Koza Mostra and Agathonas Iakovidis (2013)
"This will put fear into your heart – she's a devoted experimental jazz musician. She can do extraordinary things with her voice…not pleasant things but extraordinary." – Graham presents Albania's Eurovision entry Rona Nishliu (2012)
"He looks like a nice boy who's fallen in with the wrong lot, doesn't he?" Graham reacts to Eric Saade's performance of "Popular" for Sweden (2011)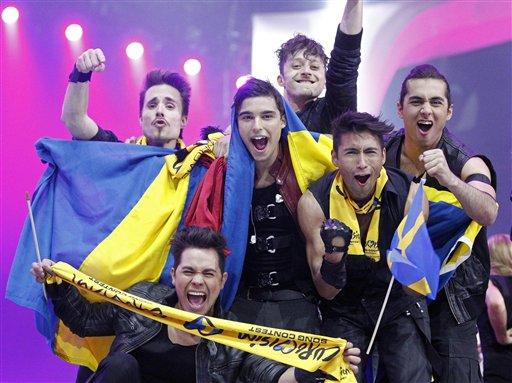 "It's an unusual Eurovision this year. There are lots of songs that are really quite good and brilliantly sung. This is not one of those. It's Russia." – Graham isn't a fan of Buranovskiye Babushki (2012)
"They're drinking quite a lot. It's almost like they think they're not going to perform again." – Graham on the UK's 2010 backing dancers. (2010)
"The bad news is, you're about to watch Albania. She's only 17, so please bear that in mind. Where was her mother? Why didn't she step in and say no?" – Graham drastically lowers expectations for Albania's performance (2009)
Reuse content