A billboard for the controversial US blockbuster American Sniper has been vandalised with the word 'murder' sprayed across it, as the debate over whether the film pays tribute to a heroic veteran or glorifies war continues to rage.
The graffiti, sprayed in red paint, appeared on a billboard in west Los Angeles overnight. The next day the advert had disappeared and fresh graffiti had appeared below the billboard, ABC News reports.
Clint Eastwood's film follows the story of Chris Kyle, a Navy Seal who with 160 confirmed kills in the Iraq war is considered to be the most lethal sniper in UN military history. Kyle was killed at a shooting range in 2013 by a veteran he was helping adjust to life at home.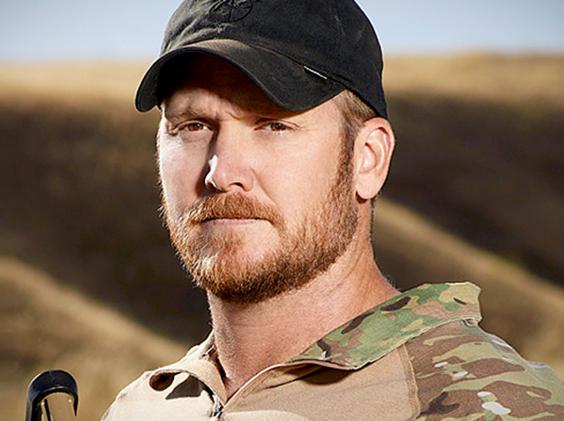 The film, based on Kyle's memoirs, has been a huge commercial success, taking in $107 million (£71m) over four days.
Its record-breaking opening weekend has been widely attributed to the strong support of America's conservative right and their appreciation of the film's patriotic themes. Dan Fellman, head of domestic distribution for Warner Bros., said their embrace of the film had been "huge".
"The audience watched this movie not as a war movie but as a movie about patriotism, a movie about a hero, a movie about family, a movie about serving our country," he told the Associated Press. "And it struck a chord right across the board."
However, others have dismissed the film as propaganda, accusing its director of glorying war.
Writing in the New Republic, American diplomat Dennis Jett wrote that single-mindedly treating Kyle as a patriot "allows Americans to ignore the consequences of invading a country that had no weapons of mass destruction, had nothing to do with 9/11, and had no meaningful ties to al-Qaeda."
American director and activist Michael Moore claimed snipers are "cowards", while Seth Rogan, the director of The Interview, said the film reminded him of a faux Nazi propaganda film featured by Quentin Tarentino in his film Inglorious Basterds.
Best films to watch in 2015
Best films to watch in 2015
1/9 Suffragette - 11 September

Meryl Streep is bound to make a formidable Emmeline Pankhurst in Sarah Gavron's new film about the British women's suffragette movement of the early 20th century. Streep is again working from a screenplay by Abi Morgan who also wrote The Iron Lady.

Getty Images

2/9 Far From The Madding Crowd - 1 May

Thomas Vinterberg turns his hand to Thomas Hardy and British costume drama. Memories of the John Schlesinger version with Alan Bates and Julie Christie will be hard to exorcise. Carey Mulligan and the mercurial Flemish actor Matthias Schoenaerts star as Bathsheba Everdene and Gabriel Oak.

3/9 Jurassic World - 12 June

The third Jurassic Park sequel is finally here starring Chris Pratt. The storyline goes something like this - theme park gets dinosaur to attrack visitors and it all goes horribly wrong. Should prove a fun one among cinema-goers.

Colin Trevorrow

4/9 Terminator: Genisys - 3 July

Arnold Schwarzenegger kept his promise - he's back and he's trying to stop Judgement Day.

5/9 Spectre - 6 November

Bond is back for the 24th time. So is arch-villain Blofeld. Director Sam Mendes did a sterling job with Skyfall but the last movie ended on a very downbeat note with poor old Judi Dench signing out of the series. The challenge now is to reinvigorate a franchise that is already well into its 50s.

Rex Features

6/9 Cake - 20 February

It's Rachel from Friends as you've never seen her before as Jennifer Aniston plays Claire Bennett - a woman who initiates a relationship with a widower while battling hallucinations of his dead wife.

7/9 Suite Francaise - 13 March

It will be intriguing to see how Saul Dibb's long-awaited adaptation of Irène Némirovsky's novel deals with a problem that has often confounded British film-makers: how to portray French characters played by English-speaking actors in Nazi-occupied, wartime Paris without slipping into 'Allo 'Allo!-style caricature. Michelle Williams and Kristin Scott Thomas lead Dibb's promising cast.

8/9 In The Heart Of The Sea - 13 March

Chris Hemsworth plays tough seafarer Owen Chase in this dramatic Moby Dick movie.

Warner Bros

9/9 Cinderella - 27 March

Kenneth Branagh's live action remake of Disney's classic tale stars Downton Abbey's Lily James. Helena Bonham-Carter and Cate Blanchett also star as the Fairy Godmother and evil stepmother.

Disney
Sarah Palin has also weighed into the debate, retaliating on her Facebook page with: "Hollywood leftists: while caressing shiny plastic trophies you exchange among one another while spitting on the graves of freedom fighters who allow you to do what you do, just realize the rest of America knows you're not fit to shine Chris Kyle's combat boots."
Eastwood has defended his film as apolitical, while actor Bradley Cooper, who played the role of Kyle, described it as more of a "character study".
Debate surrounding the film has failed to deter award boards however and American Sniper has been nominated for six Academy Awards, including Best Picture.
Reuse content