In Dirty Grandpa, Robert De Niro masturbates to pensioner porn, rubs suncream into a young woman's breasts, smokes pot, tries out gangsta slang, bumps, grinds and worse. In America, the critics have not been kind. Variety called it "the legendary actor's big-screen nadir"; Deadline went further with "not just the worst movie he has ever been in, but it may be the worst movie anyone has ever been in".
So, how does it feel to be the director who made Travis Bickle twerk? Dan Mazer grins. "I got the script and they said, 'De Niro is attached' and I said, 'Are. You. Sure? You mean, Robert De Niro? The actual Robert De Niro? And he's read it? And he's going to do all this?'" He had and he did. In the film, written by John M Phillips, De Niro plays a randy widower called Dick who goes on a road trip with his straitlaced grandson Jason (Zac Efron) and ends up on Daytona Beach at spring break.
"Everybody told me beforehand that De Niro was a directors' actor – if you ask him to do something, he'll do it 100 per cent," says Mazer. "It's true – he had complete and utter faith in me, for better or worse. At no point did he ever baulk, or say, 'No that's not for me'." They shot the masturbation scene on their second day working together. "And he was brilliant. He couldn't have been happier, better or more committed to it, Lord love him. I sort of regret it was on day two because I was more polite, more respectful, than I should have been. I should have pushed him."
Culture news in pictures
Culture news in pictures
1/30 19 July 2016

People apply wax on 'Le Penseur' (The Thinker), a sculpture by late French sculptor Auguste Rodin, to protect it from weather damages and pollution at the Rodin museum in Paris

AFP/Getty Images

2/30 18 July 2016

The painting 'Venus in Furs' hangs in the Picture Gallery in Park Sansouci in Potsdam, Germany. After having been missing for 70 years, the painting fom 1640 by a Flemish master was returned from private hands. The Foundation Prussian Palaces and Gardens Berlin-Brandenburg has been missing around 2,000 objects since the Second World War

EPA

3/30 17 July 2016

Artists of the French pyrotechnic company "Groupe F" perform during the show "A fleur de peau" (On edge) at the Venaria Reale Palace, in Venaria, near Turin

AFP/Getty Images

4/30 16 July 2016

Dancers of the British dance company Balletboyz perform in "Rabbit", choreographed by Pontus Lidberg, during the Malta Arts Festival in Valletta, Malta

REUTERS

5/30 15 July 2016

Singer Gwen Stefani performs on NBC's "Today" Show at Rockefeller Plaza in New York City

Getty Images

6/30 14 July 2016

People sit under illuminated giant raindrop-shapes at an interactive art installation to raise awareness of autism, in Shanghai

Rex Features

7/30 13 July 2016

An installation 'A wall of life jackets and their stories' by Andrew Wakeford and Fred George is on display at Johanneskirche in Saarbruecken, Germany. The installation is made of original life jackets found on the beaches of Greece and barbed wires, along with interviews and portraits of who have fled from the conflict in the Middle East to Europe. The exhibition runs from 15 July to 26 August

EPA

8/30 12 July 2016

Chinese artist Ai Weiwei poses next to a sculpture that is part of his installation "Circle of Animals/Zodiac Heads" in front of the Upper Belvedere palace in Vienna, Austria. From 14 July to 20 November 2016, the 21er Haus museum presents Ai Weiwei's solo show "translocation - transformation", with the central exhibit of a tea merchant family's ancestral temple from the Ming Dynasty, whose main hall will be reconstructed in the 21er Haus

AFP/Getty Images

9/30 11 July 2016

"Mediterranean Body", a monumental sculpture by COSKUN is seen at the 11th Taehwa River Eco Art Festival in Ulsan, South Korea. The artist, with his wooden monumental sculpture pays tribute to refugees who lose their lives at sea

Rex Features

10/30 10 July 2016

A festival-goer paints a mandala during the 2nd Samsara Yoga and Music Festival in the Toreki neighbourhood of Siofok, 102 kms southwest of Budapest, Hungary. Visitors can enjoy music performed on three stages and attend workshops, lectures and conversations with yoga trainers, instructors, therapeutists, psychologists, doctors and healers between 6 and 11 July

EPA

11/30 9 July 2016

Naked volunteers, painted in blue to reflect the colours found in Marine paintings in Hull's Ferens Art Gallery, participate in US artist, Spencer Tunick's "Sea of Hull" installation in Kingston upon Hull

AFP/Getty Images

12/30 8 July 2016

Mark Rylance (L) is returning to the West End stage in Nice Fish - and fans will be able to see him for free if they dress up as fish. Nice Fish, the critically acclaimed comedy by Rylance and prose poet Louis Jenkins, will have a limited run from November at London's Harold Pinter Theatre after a successful season in New York

PA

13/30 7 July 2016

Women wearing summer kimonos, called yukatas, look at goldfish during the 2016 EDO Nihonbashi Art Aquarium exhibition in Tokyo. The 10th anniversary of the festival will start on 8 July and will continue until 25 September, displaying some 8,000 goldfish in various special art exhibits

AFP/Getty Images

14/30 6 July 2016

Musician Tim Lopez (L) and Tom Higgenson of the Plain White T's perform at the Grove's Summer Concert Series in Los Angeles, California

Getty Images

15/30 5 July 2016

Tourists walk through a lantern installation in Zhangjiakou, Hebei Province, China

REUTERS

16/30 4 July 2016

One of London's most iconic venues has sent a pair of show tickets into space to celebrate the world premiere of Independence Day Live – a new film-and-orchestra event being held in September. The Royal Albert Hall has marked the occasion by blasting the tickets into the stratosphere on Independence Day itself

17/30 3 July 2016

People walk on the installation 'The Floating Piers' by Bulgarian-born artist Christo Vladimirov Yavachev, known as Christo, northern Italy

REUTERS

18/30 2 July 2016

Performers dressed as angels take part in the Place des Anges spectacle in Hull, part of UK City of Culture 2017 and the Yorkshire Festival. Up to 10,000 people have descended on Hull to watch Place des Anges. The aerial show sees white-clad angels appear on rooftops before taking off on suspended wires across the city. The event culminates with thousands of white feathers cascading onto the crowds below

PA

19/30 1 July 2016

EPA

20/30 30 June 2016

The world's largest disco ball is installed at the Duke Studios in Leeds ahead of The Big Disco event. The event, which is part of the Yorkshire Festival 2016, will see thousands of people partying under the Guinness World Record holding disco ball - which measures 10.33 metres in diameter and is two and a half times the size of a double decker bus

PA

21/30 29 June 2016

The first major solo exhibition by accessories designer, art director and fashion stylist Judy Blame has opened to the public and runs between 29 June and 4 September at the ICA, The Mall in London

22/30 28 June 2016

Prince Seeiso of Lesotho and Prince Harry on stage with the Basotho Youth Choir at the finale of the Sentebale Concert at Kensington Palace in London

Getty Images

23/30 27 June 2016

A woman looks at the Eugene Delacroix paintings made between 1849 and 1861 during a restoration at the Saints-Anges chapel inside the Saint-Sulpice church in Paris

AFP/Getty Images

24/30 26 June 2016

Chris Martin of 'Coldplay' performs on the Pyramid Stage on day 3 of the Glastonbury Festival at Worthy Farm

Getty Images

25/30 25 June 2016

Adele performing on stage at the Glastonbury Festival, at Worthy Farm in Somerset

PA

26/30 24 June 2016

US artist Joan Jonas poses during the presentation of her exhibition 'Joan Jonas: Stream or River. Flight or Pattern' at the Bitin Foundation in Santander, northern Spain. The display featuring experimental film and video-installation of pioneering Jonas will be open to the public from 25 June to 16 October 2016

EPA

27/30 23 June 2016

Evie Ferris and Georgia Scott-Hunter, Artists of The Australian Ballet next to one of Edgar Degas' iconic ballet dancer paintings 'Dancer with Bouquets' during the media preview for the 'Degas: A New Vision' exhibition at National Gallery of Victoria in Melbourne, Australia. The exhibition will run from 24 June to 18 September as part of the Melbourne Winter Masterpieces series

Getty Images

28/30 22 June 2016

Figures of characters from the comic series 'Uncle Walt' by US cartoonist Frank King are on display in the exhibition 'Pioneers of the Comic Strip. A different Avant-Garde' at the Schirn Kunsthalle museum in Frankfurt am Main, Germany. The exhibition that features the works of six primarily US illustrators created between 1905 and 1940, runs from 23 June 2016 to 18 September 2016

EPA

29/30 21 June 2016

(L-R) Actors Jonathan Holmes, Paul Moniz de Sa, Daniel Bacon, Chris Gibbs, Jemaine Clement, Penelope Wilton, Mark Rylance, Ruby Barnhill, Bill Hader, Rebecca Hall and Rafe Spall arrive on the red carpet for the US premiere of Disney's "The BFG," directed and produced by Steven Spielberg. A giant sized crowd lined the streets of Hollywood Boulevard to see stars arrive at the El Capitan Theatre

Getty Images for Disney

30/30 20 June 2016

Tony Bennett attends as the Friars Club Honors Tony Bennett With The Entertainment Icon Award - Arrivals at New York Sheraton Hotel & Tower in New York City

Getty Images
The 44-year old British director, best known as Sacha Baron Cohen's partner in crime, co-producer and co-writer on Ali G, Borat and Bruno, is used to putting outrageous things on screen. "When we were doing Bruno, I had to screen-test penises," he says cheerily. "I spent a day trying to find the perfect penis double for Sacha, literally looking at a parade of cocks. Then I had to put the chosen one on tape and play it in front of unsuspecting people. Once you've watched that 100 times in the edit, you become immune to it. I'm a little bit punchdrunk when it comes to offensiveness."
It all started out innocently enough, at primary school in Ruislip, west London, where Mazer won the prize for "having a sense of humour". His cab driver father honed it further, introducing his son to the Marx Brothers, Sgt. Bilko and Airplane! "It was that Jewish tradition where you'd go to family gatherings and it would be about who could josh most," says Mazer. "My Dad died a few years ago and wrote a letter to be read at his funeral in which he praised my brother for his sense of humour – he's a hairdresser – and me for my common sense. So, I'm not even the funniest person in my family."
Nor was he the funniest person in his school. At Haberdashers' Aske's Boys School, his contemporaries included Baron Cohen, David Baddiel, Matt Lucas and Robert Popper. "Which is insane. In the seven years at school I didn't see a single fight – it was lots of Jews, who don't like fighting, so what we would sublimate all of that aggression into a sense of humour. Whoever had the best insult or the most barbed tongue would win." Aged 15, when his friends were sneaking out to the pub, Mazer was going to the Comedy Store to see Arthur Smith and Nick Hancock.
He got a place at Peterhouse, Cambridge, to study law though spent most of his time in Footlights, where he performed mortifying sketches about eating cereal with Baron Cohen, David Mitchell, Robert Webb and Olivia Colman. After graduating with a 2:2, he started a traineeship with Planet 24, the company that produced The Big Breakfast and The Word. On his first day he had to find someone who would be willing to sacrifice one of their artificial limbs to win a holiday on The Word. Did he find one? "Yep. Defeat wasn't an option."
In the evenings, he did stand-up. "I never died but it was never transcendent. I thought, I can be an average stand-up all my life or I can concentrate on being a writer and find other funny people to work with." He did and had his big break on late-Nineties satirical lair-fest, The 11 O'Clock Show, which also made stars of Baron Cohen, Ricky Gervais, Mackenzie Crook and Daisy Donovan, whom Mazer married in 2005. They live in London and have two daughters, Maisy and Mini Ivy. "They're properly funny but I'm not sure an eight-year old should be funny in that way. A bit too sophisticated. And our five-year old just got in trouble at school for constantly rolling her eyes sarcastically. You just think, what are we breeding?"
The 11 O'Clock team had a reunion recently and watched an old episode. "We couldn't believe a) how offensive it was and b) how patchy it was in terms of its quality. It was very inconsistent, but brave. I did things that now as a responsible father/ husband/ citizen I would watch and think was offensive." Like what? "I remember going to shopping centres and I'd find old women, squirt their faces with cream and get them to pretend to be frothing at the mouth with rabies. That's somebody's mother! But as a 26-year old I just thought funny beats everything. Now that idiocy has gone."
In today's risk-averse climate, The 11 O'Clock Show would never have got past the pitch. Certainly nothing has replaced it. "What people have done since then is try to do a [British] Daily Show. When they did 10 O'Clock Live they tried to make it intelligent and the terrible thing is, the British sense of humour isn't that intelligent. People like cock jokes over here – much more than Americans. We hit the right level with The 11 O' Clock Show. It was dangerous, stupid, funny and idiotic."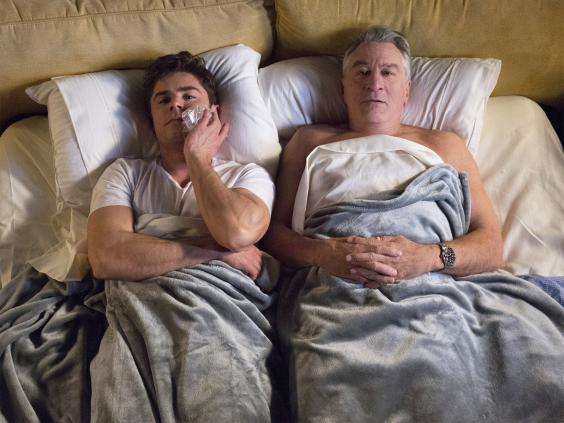 It also gave birth to Ali G, one of the great comic creations of recent decades. The best joke Mazer has ever written was for Ali G, he says. "We asked Victoria Beckham, 'do you want your son to grow up to be a footballer like David, or a singer like Mariah Carey?'" He guffaws. "That was the real skill of Ali G, Borat and Bruno – the combination of format and character."
Did he ever feel that he went too far? "I always feel guilty about the old Jewish couple in the B&B in Borat. [Borat goes to stay in a kosher B&B and is horrified to find himself in a "nest of Jews"] They didn't do anything wrong to anyone. Essentially in Borat, Bruno and Ali G, all of our targets were deserving: we wanted to be satirical, prove something, fire a shot across the bows of people who deserved it."
He misses working with all three creations. "Every day felt like doing a bank job, a heist. You'd get back at night and the adrenalin is like nothing you've ever felt." He and Baron Cohen are close friends, always tinker with each other's scripts and will work together again, though probably not on another candid character. "Never say never," he says. "We have families and kids now. Do I want to go out and get shot at by the KKK – again? Do I want to wake up at 5am at a Holiday Inn in Wichita to go out and find rednecks? That was a phase in my life where comedy was everything. Now there's a bit more perspective. And frankly, if you can sit on a film set, and have green tea and almonds brought to you, your appetite for that level of hardship is slightly diminished."
Mazer first set out his stall away from Baron Cohen in 2012, when he directed his debut film, a non-rom-com with Working Title called I Give It a Year, a sort of twisted Four Weddings and a Funeral. It led to a writing job on the new BridgetJones movie; he added "some jokes and funniness" at the end. "Hopefully I'm a slightly different voice in there – a flippant one."
He thinks that Hollywood only releases one funny film a year. "The studio system doesn't necessarily encourage comedy. It's so conservative, so unwilling to shock, that I think the things it comes out with are pretty safe. Unless you have an auteur who can override what the studio does – like Judd [Apatow]. I don't think it's any coincidence that his stuff is the funniest. Not that many mainstream Hollywood comedies make me laugh."
He is not keen on LA, and wants to stay in London, making British films. "But it's quite difficult to make big British films. So when you have to choose between Zac Efron and Robert De Niro and Ross Kemp and Angie from EastEnders… I love everything about my life here apart from the fact that sometimes I can't get to make as big a movie as I'd like to."
He has several scripts in development in Hollywood, one with Zach Galifianakis and Three Miles North of Molkom about a New Age nudist festival in Sweden. "Lots of comedies aren't particularly funny. I like to be able to make a comedy where you leave the cinema and think 'Well, I saw something there that I've never seen before.'" And if that includes De Niro on spring break, so be it.
'Dirty Grandpa' is out tomorrow
Reuse content