In Dirty Grandpa, Robert De Niro masturbates to pensioner porn, rubs suncream into a young woman's breasts, smokes pot, tries out gangsta slang, bumps, grinds and worse. In America, the critics have not been kind. Variety called it "the legendary actor's big-screen nadir"; Deadline went further with "not just the worst movie he has ever been in, but it may be the worst movie anyone has ever been in".
So, how does it feel to be the director who made Travis Bickle twerk? Dan Mazer grins. "I got the script and they said, 'De Niro is attached' and I said, 'Are. You. Sure? You mean, Robert De Niro? The actual Robert De Niro? And he's read it? And he's going to do all this?'" He had and he did. In the film, written by John M Phillips, De Niro plays a randy widower called Dick who goes on a road trip with his straitlaced grandson Jason (Zac Efron) and ends up on Daytona Beach at spring break.
"Everybody told me beforehand that De Niro was a directors' actor – if you ask him to do something, he'll do it 100 per cent," says Mazer. "It's true – he had complete and utter faith in me, for better or worse. At no point did he ever baulk, or say, 'No that's not for me'." They shot the masturbation scene on their second day working together. "And he was brilliant. He couldn't have been happier, better or more committed to it, Lord love him. I sort of regret it was on day two because I was more polite, more respectful, than I should have been. I should have pushed him."
Culture news in pictures
Culture news in pictures
1/30 30 September 2016

An employee hangs works of art with "Grand Teatro" by Marino Marini (R) and bronze sculpture "Sfera N.3" by Arnaldo Pomodoro seen ahead of a Contemporary Art auction on 7 October, at Sotheby's in London

REUTERS

2/30 29 September 2016

Street art by Portuguese artist Odeith is seen in Dresden, during an exhibition "Magic City - art of the streets"

AFP/Getty Images

3/30 28 September 2016

Dancers attend a photocall for the new "THE ONE Grand Show" at Friedrichstadt-Palast in Berlin, Germany

REUTERS

4/30 28 September 2016

With an array of thrift store china, humorous souvenirs and handmade tile adorning its walls and floors, the Mosaic Tile House in Venice stands as a monument to two decades of artistic collaboration between Cheri Pann and husband Gonzalo Duran

REUTERS

5/30 27 September 2016

A gallery assistant poses amongst work by Anthea Hamilton from her nominated show "Lichen! Libido!(London!) Chastity!" at a preview of the Turner Prize in London

REUTERS

6/30 27 September 2016

A technician wearing virtual reality glasses checks his installation in three British public telephone booths, set up outside the Mauritshuis museum in The Hague, Netherlands. The installation allows visitors a 3-D look into the museum which has twenty-two paintings belonging to the British Royal Collection, on loan for an exhibit from 29 September 2016 till 8 January 2017

AP

7/30 26 September 2016

An Indian artist dressed as Hindu god Shiva performs on a chariot as he participates in a religious procession 'Ravan ki Barat' held to mark the forthcoming Dussehra festival in Allahabad

AFP/Getty Images

8/30 26 September 2016

Jean-Michel Basquiat's 'Air Power', 1984, is displayed at the Bowie/Collector media preview at Sotheby's in New York

AFP/Getty

9/30 25 September 2016

A woman looks at an untitled painting by Albert Oehlen during the opening of an exhibition of works by German artists Georg Baselitz and Albert Oehlen in Reutlingen, Germany. The exhibition runs at the Kunstverein (art society) Reutlingen until 15 January 2017

EPA

10/30 24 September 2016

Fan BingBing (C) attends the closing ceremony of the 64th San Sebastian Film Festival at Kursaal in San Sebastian, Spain

Getty Images

11/30 23 September 2016

A view of the artwork 'You Are Metamorphosing' (1964) as part of the exhibition 'Retrospektive' of Japanese artist Tetsumi Kudo at Fridericianum in Kassel, Germany. The exhibition runs from 25 September 2016 to 1 January 2017

EPA

12/30 22 September 2016

Jo Applin from the Courtauld Institute of Art looks at Green Tilework in Live Flesh by Adriana Vareja, which features in a new exhibition, Flesh, at York Art Gallery. The new exhibition features works by Degas, Chardin, Francis Bacon and Sarah Lucas, showing how flesh has been portrayed by artists over the last 600 years

PA

13/30 21 September 2016

Performers Sean Atkins and Sally Miller standing in for the characters played by Asa Butterfield and Ella Purnell during a photocall for Tim Burton's "Miss Peregrines Home For Peculiar Children" at Potters Field Park in London

Getty Images

14/30 20 September 2016

A detail from the blanket 'Alpine Cattle Drive' from 1926 by artist Ernst Ludwig Kirchner is displayed at the 'Hamburger Bahnhof - Museum for Contemporary Arts' in Berlin. The exhibition named 'Ernst Ludwig Kirchner - Hieroglyphen' showing the complete collection of Berlin's Nationalgallerie works of the German artist Ernst Ludwig Kirchner and will run from 23 September 2016 until 26 February 2017

AP

15/30 20 September 2016

A man looks at portrait photos by US photographer Bruce Gilden in the exhibition 'Masters of Photography' at the photokina in Cologne, Germany. The trade fair on photography, photokina, schowcases some 1,000 exhibitors from 40 countries and runs from 20 to 25 September. The event also features various photo exhibitions

EPA

16/30 20 September 2016

A woman looks at 'Blue Poles', 1952 by Jackson Pollock during a photocall at the Royal Academy of Arts, London

PA

17/30 19 September 2016

Art installation The Refusal of Time, a collaboration with Philip Miller, Catherine Meyburgh and Peter Galison, which features as part of the William Kentridge exhibition Thick Time, showing from 21 September to 15 January at the Whitechapel Gallery in London

PA

18/30 18 September 2016

Artists creating one off designs at the Mm6 Maison Margiela presentation during London Fashion Week Spring/Summer collections 2017 in London

Getty Images

19/30 18 September 2016

Bethenny Frankel attends the special screening of Disney's "Beauty and the Beast" to celebrate the 25th Anniversary Edition release on Blu-Ray and DVD in New York City

Getty Images for Walt Disney Stu

20/30 17 September 2016

Visitors attend the 2016 Oktoberfest beer festival at Theresienwiese in Munich, Germany

Getty Images

21/30 16 September 2016

Visitors looks at British artist Damien Hirst work of art 'The Incomplete Truth', during the 13th Yalta Annual Meeting entitled 'The World, Europe and Ukraine: storms of changes', organised by the Yalta European Strategy (YES) in partnership with the Victor Pinchuk Foundation at the Mystetsky Arsenal Art Center in Kiev

AP

22/30 16 September 2016

Tracey Emin's "My Bed" is exhibited at the Tate Liverpool as part of the exhibition Tracey Emin And William Blake In Focus, which highlights surprising links between the two artists

Getty Images

23/30 15 September 2016

Musician Dave Grohl (L) joins musician Tom Morello of Prophets of Rage onstage at the Forum in Inglewood, California

Getty Images

24/30 14 September 2016

Model feebee poses as part of art installation "Narcissism : Dazzle room" made by artist Shigeki Matsuyama at rooms33 fashion and design exhibition in Tokyo. Matsuyama's installation features a strong contrast of black and white, which he learned from dazzle camouflage used mainly in World War I

AP

25/30 13 September 2016

Visitors look at artworks by Chinese painter Cui Ruzhuo during the exhibition 'Glossiness of Uncarved Jade' held at the exhibition hall 'Manezh' in St. Petersburg, Russia. More than 200 paintings by the Chinese artist are presented until 25 September

EPA

26/30 12 September 2016

A visitor looks at Raphael's painting 'Extase de Sainte Cecile', 1515, from the Uffizi Gallery in Florence during the opening of a Raphael exhibition at the Pushkin State Museum of Fine Arts in Moscow, Russia. The first Russian exhibition of the works of the Italian Renaissance artist Raffaello Sanzio da Urbino includes eight paintings and three drawings which come from Italy. Th exhibit opens to the public from 13 September to 11 December

EPA

27/30 11 September 2016

Steve Cropper and Eddie Floyd perform during Otis Redding 75th Birthday Celebration - Rehearsals at the Macon City Auditorium in Macon, Georgia

Getty Images for Otis Redding 75

28/30 10 September 2016

Sakari Oramo conducting the BBC Symphony Orchestra, the BBC Symphony Chorus and the BBC Singers at the Last Night of the Proms 2016 at the Royal Albert Hall in London

PA

29/30 9 September 2016

A visitor walks past a piece entitled "Fruitcake" by Joana Vasconcelo, during the Beyond Limits selling exhibition at Chatsworth House near Bakewell

REUTERS

30/30 8 September 2016

A sculpture of a crescent standing on the 2,140 meters high mountain 'Freiheit' (German for 'freedom'), in the Alpstein region of the Appenzell alps, eastern Switzerland. The sculpture is lighted during the nights by means of solar panels. The 38-year-old Swiss artist and atheist Christian Meier set the crescent on the peak to start a debate on the meaning of religious symbols - as summit crosses - on mountains. 'Because so many peaks have crosses on them, it struck me as a great idea to put up an equally absurd contrast'. 'Naturally I wanted to provoke in a fun way. But it goes beyond that. The actions of an artist should be food for thought, both visually and in content'

EPA
The 44-year old British director, best known as Sacha Baron Cohen's partner in crime, co-producer and co-writer on Ali G, Borat and Bruno, is used to putting outrageous things on screen. "When we were doing Bruno, I had to screen-test penises," he says cheerily. "I spent a day trying to find the perfect penis double for Sacha, literally looking at a parade of cocks. Then I had to put the chosen one on tape and play it in front of unsuspecting people. Once you've watched that 100 times in the edit, you become immune to it. I'm a little bit punchdrunk when it comes to offensiveness."
It all started out innocently enough, at primary school in Ruislip, west London, where Mazer won the prize for "having a sense of humour". His cab driver father honed it further, introducing his son to the Marx Brothers, Sgt. Bilko and Airplane! "It was that Jewish tradition where you'd go to family gatherings and it would be about who could josh most," says Mazer. "My Dad died a few years ago and wrote a letter to be read at his funeral in which he praised my brother for his sense of humour – he's a hairdresser – and me for my common sense. So, I'm not even the funniest person in my family."
Nor was he the funniest person in his school. At Haberdashers' Aske's Boys School, his contemporaries included Baron Cohen, David Baddiel, Matt Lucas and Robert Popper. "Which is insane. In the seven years at school I didn't see a single fight – it was lots of Jews, who don't like fighting, so what we would sublimate all of that aggression into a sense of humour. Whoever had the best insult or the most barbed tongue would win." Aged 15, when his friends were sneaking out to the pub, Mazer was going to the Comedy Store to see Arthur Smith and Nick Hancock.
He got a place at Peterhouse, Cambridge, to study law though spent most of his time in Footlights, where he performed mortifying sketches about eating cereal with Baron Cohen, David Mitchell, Robert Webb and Olivia Colman. After graduating with a 2:2, he started a traineeship with Planet 24, the company that produced The Big Breakfast and The Word. On his first day he had to find someone who would be willing to sacrifice one of their artificial limbs to win a holiday on The Word. Did he find one? "Yep. Defeat wasn't an option."
In the evenings, he did stand-up. "I never died but it was never transcendent. I thought, I can be an average stand-up all my life or I can concentrate on being a writer and find other funny people to work with." He did and had his big break on late-Nineties satirical lair-fest, The 11 O'Clock Show, which also made stars of Baron Cohen, Ricky Gervais, Mackenzie Crook and Daisy Donovan, whom Mazer married in 2005. They live in London and have two daughters, Maisy and Mini Ivy. "They're properly funny but I'm not sure an eight-year old should be funny in that way. A bit too sophisticated. And our five-year old just got in trouble at school for constantly rolling her eyes sarcastically. You just think, what are we breeding?"
The 11 O'Clock team had a reunion recently and watched an old episode. "We couldn't believe a) how offensive it was and b) how patchy it was in terms of its quality. It was very inconsistent, but brave. I did things that now as a responsible father/ husband/ citizen I would watch and think was offensive." Like what? "I remember going to shopping centres and I'd find old women, squirt their faces with cream and get them to pretend to be frothing at the mouth with rabies. That's somebody's mother! But as a 26-year old I just thought funny beats everything. Now that idiocy has gone."
In today's risk-averse climate, The 11 O'Clock Show would never have got past the pitch. Certainly nothing has replaced it. "What people have done since then is try to do a [British] Daily Show. When they did 10 O'Clock Live they tried to make it intelligent and the terrible thing is, the British sense of humour isn't that intelligent. People like cock jokes over here – much more than Americans. We hit the right level with The 11 O' Clock Show. It was dangerous, stupid, funny and idiotic."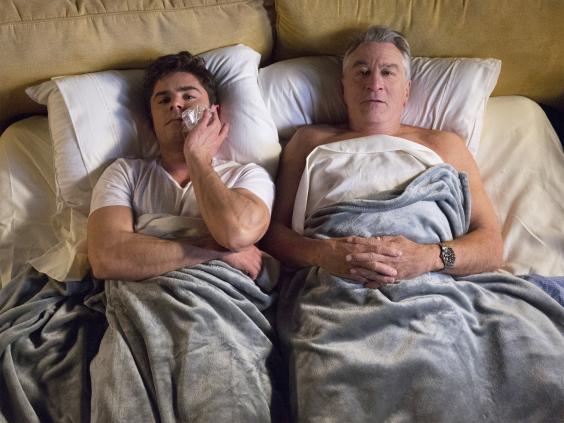 It also gave birth to Ali G, one of the great comic creations of recent decades. The best joke Mazer has ever written was for Ali G, he says. "We asked Victoria Beckham, 'do you want your son to grow up to be a footballer like David, or a singer like Mariah Carey?'" He guffaws. "That was the real skill of Ali G, Borat and Bruno – the combination of format and character."
Did he ever feel that he went too far? "I always feel guilty about the old Jewish couple in the B&B in Borat. [Borat goes to stay in a kosher B&B and is horrified to find himself in a "nest of Jews"] They didn't do anything wrong to anyone. Essentially in Borat, Bruno and Ali G, all of our targets were deserving: we wanted to be satirical, prove something, fire a shot across the bows of people who deserved it."
He misses working with all three creations. "Every day felt like doing a bank job, a heist. You'd get back at night and the adrenalin is like nothing you've ever felt." He and Baron Cohen are close friends, always tinker with each other's scripts and will work together again, though probably not on another candid character. "Never say never," he says. "We have families and kids now. Do I want to go out and get shot at by the KKK – again? Do I want to wake up at 5am at a Holiday Inn in Wichita to go out and find rednecks? That was a phase in my life where comedy was everything. Now there's a bit more perspective. And frankly, if you can sit on a film set, and have green tea and almonds brought to you, your appetite for that level of hardship is slightly diminished."
Mazer first set out his stall away from Baron Cohen in 2012, when he directed his debut film, a non-rom-com with Working Title called I Give It a Year, a sort of twisted Four Weddings and a Funeral. It led to a writing job on the new BridgetJones movie; he added "some jokes and funniness" at the end. "Hopefully I'm a slightly different voice in there – a flippant one."
He thinks that Hollywood only releases one funny film a year. "The studio system doesn't necessarily encourage comedy. It's so conservative, so unwilling to shock, that I think the things it comes out with are pretty safe. Unless you have an auteur who can override what the studio does – like Judd [Apatow]. I don't think it's any coincidence that his stuff is the funniest. Not that many mainstream Hollywood comedies make me laugh."
He is not keen on LA, and wants to stay in London, making British films. "But it's quite difficult to make big British films. So when you have to choose between Zac Efron and Robert De Niro and Ross Kemp and Angie from EastEnders… I love everything about my life here apart from the fact that sometimes I can't get to make as big a movie as I'd like to."
He has several scripts in development in Hollywood, one with Zach Galifianakis and Three Miles North of Molkom about a New Age nudist festival in Sweden. "Lots of comedies aren't particularly funny. I like to be able to make a comedy where you leave the cinema and think 'Well, I saw something there that I've never seen before.'" And if that includes De Niro on spring break, so be it.
'Dirty Grandpa' is out tomorrow