In Dirty Grandpa, Robert De Niro masturbates to pensioner porn, rubs suncream into a young woman's breasts, smokes pot, tries out gangsta slang, bumps, grinds and worse. In America, the critics have not been kind. Variety called it "the legendary actor's big-screen nadir"; Deadline went further with "not just the worst movie he has ever been in, but it may be the worst movie anyone has ever been in".
So, how does it feel to be the director who made Travis Bickle twerk? Dan Mazer grins. "I got the script and they said, 'De Niro is attached' and I said, 'Are. You. Sure? You mean, Robert De Niro? The actual Robert De Niro? And he's read it? And he's going to do all this?'" He had and he did. In the film, written by John M Phillips, De Niro plays a randy widower called Dick who goes on a road trip with his straitlaced grandson Jason (Zac Efron) and ends up on Daytona Beach at spring break.
"Everybody told me beforehand that De Niro was a directors' actor – if you ask him to do something, he'll do it 100 per cent," says Mazer. "It's true – he had complete and utter faith in me, for better or worse. At no point did he ever baulk, or say, 'No that's not for me'." They shot the masturbation scene on their second day working together. "And he was brilliant. He couldn't have been happier, better or more committed to it, Lord love him. I sort of regret it was on day two because I was more polite, more respectful, than I should have been. I should have pushed him."
Culture news in pictures
Culture news in pictures
1/30 1 July 2016

EPA

2/30 30 June 2016

The world's largest disco ball is installed at the Duke Studios in Leeds ahead of The Big Disco event. The event, which is part of the Yorkshire Festival 2016, will see thousands of people partying under the Guinness World Record holding disco ball - which measures 10.33 metres in diameter and is two and a half times the size of a double decker bus

PA

3/30 29 June 2016

The first major solo exhibition by accessories designer, art director and fashion stylist Judy Blame has opened to the public and runs between 29 June and 4 September at the ICA, The Mall in London

4/30 28 June 2016

Prince Seeiso of Lesotho and Prince Harry on stage with the Basotho Youth Choir at the finale of the Sentebale Concert at Kensington Palace in London

Getty Images

5/30 27 June 2016

A woman looks at the Eugene Delacroix paintings made between 1849 and 1861 during a restoration at the Saints-Anges chapel inside the Saint-Sulpice church in Paris

AFP/Getty Images

6/30 26 June 2016

Chris Martin of 'Coldplay' performs on the Pyramid Stage on day 3 of the Glastonbury Festival at Worthy Farm

Getty Images

7/30 25 June 2016

Adele performing on stage at the Glastonbury Festival, at Worthy Farm in Somerset

PA

8/30 24 June 2016

US artist Joan Jonas poses during the presentation of her exhibition 'Joan Jonas: Stream or River. Flight or Pattern' at the Bitin Foundation in Santander, northern Spain. The display featuring experimental film and video-installation of pioneering Jonas will be open to the public from 25 June to 16 October 2016

EPA

9/30 23 June 2016

Evie Ferris and Georgia Scott-Hunter, Artists of The Australian Ballet next to one of Edgar Degas' iconic ballet dancer paintings 'Dancer with Bouquets' during the media preview for the 'Degas: A New Vision' exhibition at National Gallery of Victoria in Melbourne, Australia. The exhibition will run from 24 June to 18 September as part of the Melbourne Winter Masterpieces series

Getty Images

10/30 22 June 2016

Figures of characters from the comic series 'Uncle Walt' by US cartoonist Frank King are on display in the exhibition 'Pioneers of the Comic Strip. A different Avant-Garde' at the Schirn Kunsthalle museum in Frankfurt am Main, Germany. The exhibition that features the works of six primarily US illustrators created between 1905 and 1940, runs from 23 June 2016 to 18 September 2016

EPA

11/30 21 June 2016

(L-R) Actors Jonathan Holmes, Paul Moniz de Sa, Daniel Bacon, Chris Gibbs, Jemaine Clement, Penelope Wilton, Mark Rylance, Ruby Barnhill, Bill Hader, Rebecca Hall and Rafe Spall arrive on the red carpet for the US premiere of Disney's "The BFG," directed and produced by Steven Spielberg. A giant sized crowd lined the streets of Hollywood Boulevard to see stars arrive at the El Capitan Theatre

Getty Images for Disney

12/30 20 June 2016

Tony Bennett attends as the Friars Club Honors Tony Bennett With The Entertainment Icon Award - Arrivals at New York Sheraton Hotel & Tower in New York City

Getty Images

13/30 19 June 2016

A woman walks in front of the paintings 'Without title' (1960), left, and 'Come closer' (1960), right, during the opening of the exhibition 'Xanti Schawinsky - From the Bauhaus into the World' in Magdeburg, Germany. The exhibition starts on 21 June and lasts until 25 September

AP

14/30 18 June 2016

Recording artist Johnny Bond (L) and Van McCann of Catfish and the Bottlemen perform onstage at Firefly Music Festival in Dover

Getty Images for Firefly

15/30 17 June 2016

Students from both the Richmond and Covent Garden schools perform for Prince Charles, Prince of Wales, in his role as President of The Royal Ballet, as he visits The Royal Ballet School, White Lodge campus in Richmond Park in London

Getty Images

16/30 16 June 2016

A part of the installation 'The Floating Piers' by Bulgarian-born artist Christo Vladimirov Yavachev known as Christo is seen on the Lake Iseo, northern Italy

REUTERS

17/30 15 June 2016

A unique outdoor gallery has been revealed in Hampstead Heath, to mark the return of the Affordable Art Fair in London. The colourful 'running gallery' previewed seven of the artworks going on show at the fair this week from 16 – 19 June. These works, along with thousands more original pieces will be going on sale as the fair opens – all priced between £100 - £5,000

Oliver Dixon/Imagewise

18/30 13 June 2016

The artwork 'Accumulation: Searching for Destination' (2014-2016) by Japanese artist Chiharu Shiota is on display at the show Unlimited in the context of the international art show in Basel, Switzerland. Unlimited is Art Basel's exhibition platform for projects that transcend the limitations of a classical art-show stand, including out-sized sculpture and paintings, video projections, large-scale installations, and live performances. Unlimited is curated by New York-based curator Gianni Jetzer. The Art Basel exhibition is open to the public from 16 to 19 June

EPA

19/30 12 June 2016

A costumed artist performs with fire during International Kiev Fire Fest show. Teams from Greece, Belarus, Lithuania, Slovakia, USA, Czech Republic, Scotland and Ukraine, take part with their fire-shows in the two-day festival in Kiev

Getty Images

20/30 14 June 2016

A man leaves his house as anotherone walks past murals painted as part of a program of the municipality that aims at rescueing public spaces of the historical center in Mexico City. The murals were made on shops' metallic shutters

AFP/Getty Images

21/30 11 June 2016

People look at an art installation named "Fog Assembly" by Danish artist Olafur Eliasson in the castle of Versailles, near Paris

Getty Images

22/30 10 June 2016

Tomatoes float in an aquarium which is part of an artwork entitled 'Something that Floats/Something that sinks' by Japanese artist Shimabuku during the 13th Triennial of smale-scale sculpture in Fellbach, Germany. The exhibition runs from 11 June until 2 October

EPA

23/30 9 June 2016

Swiss artist, Olaf Breuning, stands in front of his artwork 'Text Butt' (2015) in the NRW-Forum in Duesseldorf, Germany. The retrospective can be seen in Duesseldorf from 11 June until 21 August

EPA

24/30 8 June 2016

An artwork entitled 'Hang it all' by Colombian artist Gabriel Sierra is seen during the exhibition 'Under the Same Sun: Art From Latin America Today' at the South London Gallery. The gallery is the final venue on the exhibitionís international tour, following the Guggenheim Museum, New York in June 2014 and the Museo Jumex, Mexico City in November 2015

EPA

25/30 7 June 2016

An interior shows British artist Michael Landy's artworks in the exhibition 'Michael Landy. Out of Order' at the Museum Tinguely in Basel, Switzerland. Landy is one of the Young British Artists (YBAs) generation that emerged in London in the 1990s. The exhibition runs from 8 June to 25 September

EPA

26/30 6 June 2016

A Banksy mural is left painted on the side of one of the classrooms at Bridge Farm Primary in Bristol. The 14ft piece, showing a child with a stick chasing a burning tyre, was discovered at the school along with a letter to the caretaker and was said to be a thank you by the elusive artist after the school recently named a house after him

Getty Images

27/30 5 June 2016

More than 6,000 Colombians pose in the nude for American art photographer Spencer Tunick at Bolivar Square in Bogota. Tunick, famous for his pictures of huge crowds of naked people, convinced more than 6,000 Colombians to strip down in Bogota's main public square - all in the name of peace

Getty Images

28/30 4 June 2016

Bulgarian artist Christo poses in front of the monumental "Mastaba" art work at the Maeght Foundation (Fondation Maeght) on the opening day of the exibition in Saint-Paul, southeastern France. The exibition takes place from 6 June to 27 November

Getty Images

29/30 3 June 2016

Dutch King Willem-Alexander attents the opening of the SONSBEEK '16: transAction, an international contemporary art exhibition in Arnhem, The Netherlands

EPA

30/30 2 June 2016

A sculpture by Colombian artist Fernando Botero is displayed during the opening of an exhibition entitled 'Botero in Hong Kong' at Central district. The outdoor public art installation showcases nine monumental sculptures by Botero from 3 June to 14 August

EPA
The 44-year old British director, best known as Sacha Baron Cohen's partner in crime, co-producer and co-writer on Ali G, Borat and Bruno, is used to putting outrageous things on screen. "When we were doing Bruno, I had to screen-test penises," he says cheerily. "I spent a day trying to find the perfect penis double for Sacha, literally looking at a parade of cocks. Then I had to put the chosen one on tape and play it in front of unsuspecting people. Once you've watched that 100 times in the edit, you become immune to it. I'm a little bit punchdrunk when it comes to offensiveness."
It all started out innocently enough, at primary school in Ruislip, west London, where Mazer won the prize for "having a sense of humour". His cab driver father honed it further, introducing his son to the Marx Brothers, Sgt. Bilko and Airplane! "It was that Jewish tradition where you'd go to family gatherings and it would be about who could josh most," says Mazer. "My Dad died a few years ago and wrote a letter to be read at his funeral in which he praised my brother for his sense of humour – he's a hairdresser – and me for my common sense. So, I'm not even the funniest person in my family."
Nor was he the funniest person in his school. At Haberdashers' Aske's Boys School, his contemporaries included Baron Cohen, David Baddiel, Matt Lucas and Robert Popper. "Which is insane. In the seven years at school I didn't see a single fight – it was lots of Jews, who don't like fighting, so what we would sublimate all of that aggression into a sense of humour. Whoever had the best insult or the most barbed tongue would win." Aged 15, when his friends were sneaking out to the pub, Mazer was going to the Comedy Store to see Arthur Smith and Nick Hancock.
He got a place at Peterhouse, Cambridge, to study law though spent most of his time in Footlights, where he performed mortifying sketches about eating cereal with Baron Cohen, David Mitchell, Robert Webb and Olivia Colman. After graduating with a 2:2, he started a traineeship with Planet 24, the company that produced The Big Breakfast and The Word. On his first day he had to find someone who would be willing to sacrifice one of their artificial limbs to win a holiday on The Word. Did he find one? "Yep. Defeat wasn't an option."
In the evenings, he did stand-up. "I never died but it was never transcendent. I thought, I can be an average stand-up all my life or I can concentrate on being a writer and find other funny people to work with." He did and had his big break on late-Nineties satirical lair-fest, The 11 O'Clock Show, which also made stars of Baron Cohen, Ricky Gervais, Mackenzie Crook and Daisy Donovan, whom Mazer married in 2005. They live in London and have two daughters, Maisy and Mini Ivy. "They're properly funny but I'm not sure an eight-year old should be funny in that way. A bit too sophisticated. And our five-year old just got in trouble at school for constantly rolling her eyes sarcastically. You just think, what are we breeding?"
The 11 O'Clock team had a reunion recently and watched an old episode. "We couldn't believe a) how offensive it was and b) how patchy it was in terms of its quality. It was very inconsistent, but brave. I did things that now as a responsible father/ husband/ citizen I would watch and think was offensive." Like what? "I remember going to shopping centres and I'd find old women, squirt their faces with cream and get them to pretend to be frothing at the mouth with rabies. That's somebody's mother! But as a 26-year old I just thought funny beats everything. Now that idiocy has gone."
In today's risk-averse climate, The 11 O'Clock Show would never have got past the pitch. Certainly nothing has replaced it. "What people have done since then is try to do a [British] Daily Show. When they did 10 O'Clock Live they tried to make it intelligent and the terrible thing is, the British sense of humour isn't that intelligent. People like cock jokes over here – much more than Americans. We hit the right level with The 11 O' Clock Show. It was dangerous, stupid, funny and idiotic."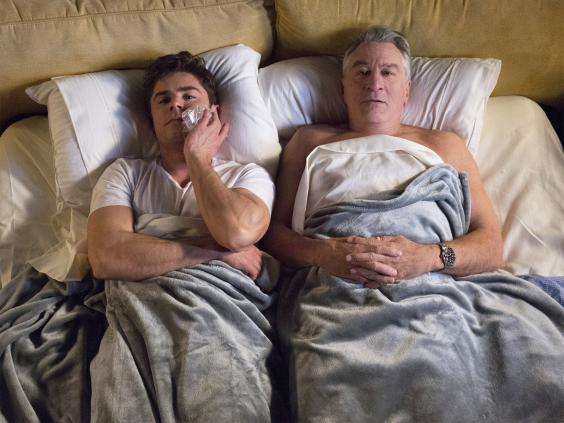 It also gave birth to Ali G, one of the great comic creations of recent decades. The best joke Mazer has ever written was for Ali G, he says. "We asked Victoria Beckham, 'do you want your son to grow up to be a footballer like David, or a singer like Mariah Carey?'" He guffaws. "That was the real skill of Ali G, Borat and Bruno – the combination of format and character."
Did he ever feel that he went too far? "I always feel guilty about the old Jewish couple in the B&B in Borat. [Borat goes to stay in a kosher B&B and is horrified to find himself in a "nest of Jews"] They didn't do anything wrong to anyone. Essentially in Borat, Bruno and Ali G, all of our targets were deserving: we wanted to be satirical, prove something, fire a shot across the bows of people who deserved it."
He misses working with all three creations. "Every day felt like doing a bank job, a heist. You'd get back at night and the adrenalin is like nothing you've ever felt." He and Baron Cohen are close friends, always tinker with each other's scripts and will work together again, though probably not on another candid character. "Never say never," he says. "We have families and kids now. Do I want to go out and get shot at by the KKK – again? Do I want to wake up at 5am at a Holiday Inn in Wichita to go out and find rednecks? That was a phase in my life where comedy was everything. Now there's a bit more perspective. And frankly, if you can sit on a film set, and have green tea and almonds brought to you, your appetite for that level of hardship is slightly diminished."
Mazer first set out his stall away from Baron Cohen in 2012, when he directed his debut film, a non-rom-com with Working Title called I Give It a Year, a sort of twisted Four Weddings and a Funeral. It led to a writing job on the new BridgetJones movie; he added "some jokes and funniness" at the end. "Hopefully I'm a slightly different voice in there – a flippant one."
He thinks that Hollywood only releases one funny film a year. "The studio system doesn't necessarily encourage comedy. It's so conservative, so unwilling to shock, that I think the things it comes out with are pretty safe. Unless you have an auteur who can override what the studio does – like Judd [Apatow]. I don't think it's any coincidence that his stuff is the funniest. Not that many mainstream Hollywood comedies make me laugh."
He is not keen on LA, and wants to stay in London, making British films. "But it's quite difficult to make big British films. So when you have to choose between Zac Efron and Robert De Niro and Ross Kemp and Angie from EastEnders… I love everything about my life here apart from the fact that sometimes I can't get to make as big a movie as I'd like to."
He has several scripts in development in Hollywood, one with Zach Galifianakis and Three Miles North of Molkom about a New Age nudist festival in Sweden. "Lots of comedies aren't particularly funny. I like to be able to make a comedy where you leave the cinema and think 'Well, I saw something there that I've never seen before.'" And if that includes De Niro on spring break, so be it.
'Dirty Grandpa' is out tomorrow
Reuse content