In Dirty Grandpa, Robert De Niro masturbates to pensioner porn, rubs suncream into a young woman's breasts, smokes pot, tries out gangsta slang, bumps, grinds and worse. In America, the critics have not been kind. Variety called it "the legendary actor's big-screen nadir"; Deadline went further with "not just the worst movie he has ever been in, but it may be the worst movie anyone has ever been in".
So, how does it feel to be the director who made Travis Bickle twerk? Dan Mazer grins. "I got the script and they said, 'De Niro is attached' and I said, 'Are. You. Sure? You mean, Robert De Niro? The actual Robert De Niro? And he's read it? And he's going to do all this?'" He had and he did. In the film, written by John M Phillips, De Niro plays a randy widower called Dick who goes on a road trip with his straitlaced grandson Jason (Zac Efron) and ends up on Daytona Beach at spring break.
"Everybody told me beforehand that De Niro was a directors' actor – if you ask him to do something, he'll do it 100 per cent," says Mazer. "It's true – he had complete and utter faith in me, for better or worse. At no point did he ever baulk, or say, 'No that's not for me'." They shot the masturbation scene on their second day working together. "And he was brilliant. He couldn't have been happier, better or more committed to it, Lord love him. I sort of regret it was on day two because I was more polite, more respectful, than I should have been. I should have pushed him."
Culture news in pictures
Culture news in pictures
1/30 19 May 2016

Visitors study work by Tod Papageorge in the gallery areas at the "Photo London 2016" event at Somerset House in central London. Featuring work from some of the world's most respected photographers, the event is aiming to put London on the map as the global city of photography

Getty Images

2/30 18 May 2016

A view of the building that will house planned Urban Nation - Museum for Urban Contemporary Art in Berlin. The street art museum is scheduled to open in 2017

EPA

3/30 17 May 2016

Kate Morais looks at the 'Colossal statues of a king and a queen' (283-246 BC) - which are reflected in a display cabinet glass - which stand over five meters tall during a preview of the 'Sunken Cities: Egypt's Lost Worlds' exhibition at the British Museum in London. This is the museum's first large scale exhibition of underwater archaeological finds and tells the story of two lost Egyptian cities and their recent discoveries beneath the Mediterranean, excavated off the coast of Egypt near Alexandria between 1996 and 2012

Getty Images

4/30 16 May 2016

Kurt Cobain's Univox electric guitar played and destroyed by Cobain at Nirvana's 13 July 1989 concert at Maxwell's in Hoboken, New Jersey is displayed during Julien's Auction Music Icons Press Exhibition at Hard Rock Cafe, Times Square in New York City

Getty Images

5/30 15 May 2016

Cast of the "From The Land Of The Moon (Mal De Pierres)" attend the premiere during the 69th annual Cannes Film Festival at the Palais des Festivals

Getty Images

6/30 14 May 2016

Jamala representing Ukraine with the song "1944" celebrates with the trophy after winning the final of the Eurovision Song Contest 2016 Grand Final in Stockholm

Getty Images

7/30 13 May 2016

A mural on a restaurant wall depicting US Presidential hopeful Donald Trump and Russian President Vladimir Putin greeting each other with a kiss in the Lithuanian capital Vilnius. Kestutis Girnius, associate professor of the Institute of International Relations and Political Science in Vilnius university, said: "This graffiti expresses the fear of some Lithuanians that Donald Trump is likely to kowtow to Vladimir Putin and be indifferent to Lithuanias security concerns. Trump has notoriously stated that Putin is a strong leader, and that NATO is obsolete and expensive"

Getty Images

8/30 12 May 2016

People visit the artwork titled Seven Magic Mountains by artist Ugo Rondinone, near Jean, Nevada. The artwork was recently completed in the desert south of Las Vegas

AP

9/30 11 May 2016

Justin Timberlake attends the "Trolls" Photocall during The 69th Annual Cannes Film Festival

Getty Images

10/30 10 May 2016

Curator Ben Russell poses with a 2.4 meter robot called Cygan, built in 1957, on display at the Science Museum before announcing a new robot exhibition for 2017

Getty Images

11/30 9 May 2016

A Palestinian artist paints a graffiti on a wall of the United Nations school of Beit Hanun, in the northern Gaza Strip

Getty Images

12/30 8 May 2016

Jon Snow collects the award for best news coverage on behalf of Channel 4 during the House of Fraser BAFTA TV Awards 2016 at the Royal Festival Hall in London

PA

13/30 7 May 2016

Illustration View of the 'Empires' exhibition of Huang Yong Ping as part of Monumenta 2016 to Grand Palais from 8 May till 18 June 2016

Getty Images

14/30 6 May 2016

People, including Russian servicemen, attend a concert of Mariinsky Theatre in the amphitheatre of the Syrian city of Palmyra, Syria

Reuters

15/30 5 May 2016

A child looks at an artwork titled 'Bi-lateral Relations' by Uruguay artists Fernando Foglino and Valentina Cardellino during the Latin America and Caribbean Art Festival Visual Art Exhibition 2016 at the World Art Museum of the China Millennium Monument in Beijing. The exhibition runs until 26 May, and is part of joint activities to mark the China-Latin America and Caribbean Cultural Exchange Year

EPA

16/30 4 May 2016

(L-R) David Furnish, Lady Gaga and Macy's CEO Terry J. Lundgren attend Love Bravery by Lady Gaga and Elton John Launch at Macy's Herald Square in New York City

Getty Images

17/30 3 May 2016

The Hofburg palace is illuminated by a projection of Viennese artist Viktoria Coeln for the project Dystopia Eutopia in Vienna, Austria

AP

18/30 2 May 2016

A visitor looks at paintings by Yemeni female artists displayed at a gallery during an exhibition entitled Women Creativity for Peace in the capital Sanaa

Getty Images

19/30 1 May 2016

A man looks at an art piece during the Oshtoora festival in an open desert north Fayoum, Egypt. Oshtoora festival, or "A temporary sate," is held only once a year in a different locations within Egypt. The festival is based on expression of music, arts, and cultures in an open natural environment

AP

20/30 30 April 2016

Actress Lupita Nyong'o attends "Eclipsed" To Launch A Dedications Series In Honor Of Abducted Chibok Girls Of Northern Nigeria at Golden Theatre in New York

Getty Images

21/30 29 April 2016

Kabuki actor Shido Nakamura (in red) performs in a final dress rehearsal for the kabuki theatre show 'Hanakurabe Senbonzakura' in Tokyo, Japan. The latest digital technology kabuki theatre piece 'Hanakurabe Senbonzakura' is part of the Niconico Chokaigi festival in Tokyo. The festival was organized by video website Niconico, combining Kabuki, a traditional Japanese theatre art and cutting edge animation technology, co-starring kabuki superstar Shidou Nakamura and the popular virtual idol Hatsune Miku

Getty Images

22/30 28 April 2016

Members of the Australian ballet perform in the scene from "Scent of the Love" during the dress rehearsal for the national premiere of Symphony in C that comprises of five short ballet works at the Opera House in Sydney

Getty Images

23/30 28 April 2016

The statue of Christ the Redeemer is illuminated in Brazilian flag colours, including a projected face designed by Brazil based Italian-French lighting artist Gaspare Di Caro, to celebrate 100 days until the start of the Olympic Games Rio 2016

Getty Images

24/30 27 April 2016

A visitor looks at an artwork during the opening of the exhibition Lumieres d'Afriques (Lights of Africa) at the Charles Donwahi Foundation in Abidjan. The exhibition conceived by African Artists for Development (ADD) displays artworks including photographs, paintings and sculptures by 54 African artists, one from each country of the continent, who have created their pieces inspired by the theme The Illuminated Africa. The exhibition runs from 27 April to 6 June 2016

Getty Images

25/30 26 April 2016

A general view of the new Georg Baselitz exhibition in London. White Cube presents Wir fahren aus, a major exhibition of new works by the German artist Georg Baselitz. The exhibition, which will span the entire gallery space, includes large-scale paintings, bronze sculpture and an extensive body of works on paper. Baselitz's first solo exhibition at White Cube Bermondsey draws together two familiar strands within the artist's practice: portraiture and the process of remixing, whereby images are repeated and reinterpreted over time using different techniques and mediums. The exhibition is open to the public 27 April and 3 July 2016

Rex

26/30 25 April 2016

Tourists stop to photograph artist Tony Matelli's "Sleepwalker", a lifelike figure is of a man in white briefs wandering in his sleep with outstretched arms installed on the Highline as part of the show "Wanderlust." Wanderlust is a group exhibition that runs between 21 April and March 2017 in various locations on the High Line

AFP or licensors

27/30 24 April 2016

Sand sculpturists stand by their creations at the Cheeca Lodge Resort in Islamorada, Florida. People gathered on the resort's beach to create sand art letters to spell out "Save Earth" during an Earth Day event in the Florida Keys

28/30 23 April 2016

Prince mural in Soho, New York, as artists from all over the world pay tributes to the music legend

Copyright (c) 2016 Rex Features. No use without permission.

29/30 22 April 2016

A view of the poppy installation at St. Magnus Cathedral in Kirkwall, Scotland. The poppy sculpture Weeping Window has opened as part of a UK tour organised by 14-18 NOW, marking the start of the UK's Battle of Jutland centenary commemorations. The sculpture is part of Blood Swept Lands and Seas of Red by artist Paul Cummins and designer Tom Piper

2016 Getty Images

30/30 21 April 2016

Street art horse sculpture depicting rock icons who died young, including Jimi Hendrix, Kurt Cobain and Janis Joplin is displayed in Bath, UK

Copyright (c) 2016 Rex Features. No use without permission.
The 44-year old British director, best known as Sacha Baron Cohen's partner in crime, co-producer and co-writer on Ali G, Borat and Bruno, is used to putting outrageous things on screen. "When we were doing Bruno, I had to screen-test penises," he says cheerily. "I spent a day trying to find the perfect penis double for Sacha, literally looking at a parade of cocks. Then I had to put the chosen one on tape and play it in front of unsuspecting people. Once you've watched that 100 times in the edit, you become immune to it. I'm a little bit punchdrunk when it comes to offensiveness."
It all started out innocently enough, at primary school in Ruislip, west London, where Mazer won the prize for "having a sense of humour". His cab driver father honed it further, introducing his son to the Marx Brothers, Sgt. Bilko and Airplane! "It was that Jewish tradition where you'd go to family gatherings and it would be about who could josh most," says Mazer. "My Dad died a few years ago and wrote a letter to be read at his funeral in which he praised my brother for his sense of humour – he's a hairdresser – and me for my common sense. So, I'm not even the funniest person in my family."
Nor was he the funniest person in his school. At Haberdashers' Aske's Boys School, his contemporaries included Baron Cohen, David Baddiel, Matt Lucas and Robert Popper. "Which is insane. In the seven years at school I didn't see a single fight – it was lots of Jews, who don't like fighting, so what we would sublimate all of that aggression into a sense of humour. Whoever had the best insult or the most barbed tongue would win." Aged 15, when his friends were sneaking out to the pub, Mazer was going to the Comedy Store to see Arthur Smith and Nick Hancock.
He got a place at Peterhouse, Cambridge, to study law though spent most of his time in Footlights, where he performed mortifying sketches about eating cereal with Baron Cohen, David Mitchell, Robert Webb and Olivia Colman. After graduating with a 2:2, he started a traineeship with Planet 24, the company that produced The Big Breakfast and The Word. On his first day he had to find someone who would be willing to sacrifice one of their artificial limbs to win a holiday on The Word. Did he find one? "Yep. Defeat wasn't an option."
In the evenings, he did stand-up. "I never died but it was never transcendent. I thought, I can be an average stand-up all my life or I can concentrate on being a writer and find other funny people to work with." He did and had his big break on late-Nineties satirical lair-fest, The 11 O'Clock Show, which also made stars of Baron Cohen, Ricky Gervais, Mackenzie Crook and Daisy Donovan, whom Mazer married in 2005. They live in London and have two daughters, Maisy and Mini Ivy. "They're properly funny but I'm not sure an eight-year old should be funny in that way. A bit too sophisticated. And our five-year old just got in trouble at school for constantly rolling her eyes sarcastically. You just think, what are we breeding?"
The 11 O'Clock team had a reunion recently and watched an old episode. "We couldn't believe a) how offensive it was and b) how patchy it was in terms of its quality. It was very inconsistent, but brave. I did things that now as a responsible father/ husband/ citizen I would watch and think was offensive." Like what? "I remember going to shopping centres and I'd find old women, squirt their faces with cream and get them to pretend to be frothing at the mouth with rabies. That's somebody's mother! But as a 26-year old I just thought funny beats everything. Now that idiocy has gone."
In today's risk-averse climate, The 11 O'Clock Show would never have got past the pitch. Certainly nothing has replaced it. "What people have done since then is try to do a [British] Daily Show. When they did 10 O'Clock Live they tried to make it intelligent and the terrible thing is, the British sense of humour isn't that intelligent. People like cock jokes over here – much more than Americans. We hit the right level with The 11 O' Clock Show. It was dangerous, stupid, funny and idiotic."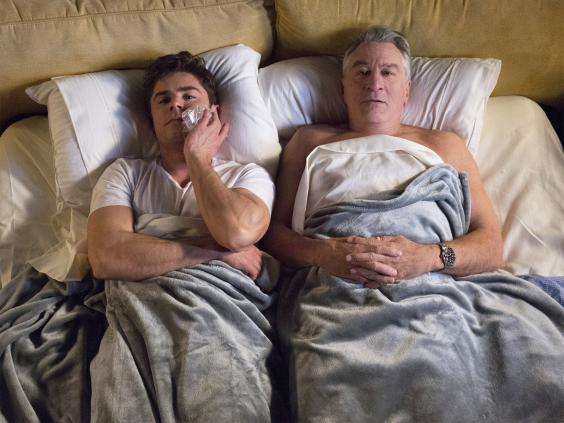 It also gave birth to Ali G, one of the great comic creations of recent decades. The best joke Mazer has ever written was for Ali G, he says. "We asked Victoria Beckham, 'do you want your son to grow up to be a footballer like David, or a singer like Mariah Carey?'" He guffaws. "That was the real skill of Ali G, Borat and Bruno – the combination of format and character."
Did he ever feel that he went too far? "I always feel guilty about the old Jewish couple in the B&B in Borat. [Borat goes to stay in a kosher B&B and is horrified to find himself in a "nest of Jews"] They didn't do anything wrong to anyone. Essentially in Borat, Bruno and Ali G, all of our targets were deserving: we wanted to be satirical, prove something, fire a shot across the bows of people who deserved it."
He misses working with all three creations. "Every day felt like doing a bank job, a heist. You'd get back at night and the adrenalin is like nothing you've ever felt." He and Baron Cohen are close friends, always tinker with each other's scripts and will work together again, though probably not on another candid character. "Never say never," he says. "We have families and kids now. Do I want to go out and get shot at by the KKK – again? Do I want to wake up at 5am at a Holiday Inn in Wichita to go out and find rednecks? That was a phase in my life where comedy was everything. Now there's a bit more perspective. And frankly, if you can sit on a film set, and have green tea and almonds brought to you, your appetite for that level of hardship is slightly diminished."
Mazer first set out his stall away from Baron Cohen in 2012, when he directed his debut film, a non-rom-com with Working Title called I Give It a Year, a sort of twisted Four Weddings and a Funeral. It led to a writing job on the new BridgetJones movie; he added "some jokes and funniness" at the end. "Hopefully I'm a slightly different voice in there – a flippant one."
He thinks that Hollywood only releases one funny film a year. "The studio system doesn't necessarily encourage comedy. It's so conservative, so unwilling to shock, that I think the things it comes out with are pretty safe. Unless you have an auteur who can override what the studio does – like Judd [Apatow]. I don't think it's any coincidence that his stuff is the funniest. Not that many mainstream Hollywood comedies make me laugh."
He is not keen on LA, and wants to stay in London, making British films. "But it's quite difficult to make big British films. So when you have to choose between Zac Efron and Robert De Niro and Ross Kemp and Angie from EastEnders… I love everything about my life here apart from the fact that sometimes I can't get to make as big a movie as I'd like to."
He has several scripts in development in Hollywood, one with Zach Galifianakis and Three Miles North of Molkom about a New Age nudist festival in Sweden. "Lots of comedies aren't particularly funny. I like to be able to make a comedy where you leave the cinema and think 'Well, I saw something there that I've never seen before.'" And if that includes De Niro on spring break, so be it.
'Dirty Grandpa' is out tomorrow