Blockbuster season will swiftly soon be upon us. In the last week of November, six days after the release of the newest Hunger Games movie and nearly a month before Star Wars: The Force Awakens blitzes cinemas, The Good Dinosaur, the latest film from digital animation studio colossus Pixar, will be released. The premise of The Good Dinosaur is that the asteroid that wiped out dinosaurs missed Earth. With them never becoming extinct, the film chronicles the relationship between Arlo, a young orphaned Apatosaurus, and a human caveboy named Spot.
The Good Dinosaur was originally due for release 18 months ago; it wasn't always the plan for 2015 to mark the first time that two Pixar films will be released in the same year (Inside Out is still going strong several months after release). The delay was caused by a radical rethink within Pixar that resulted in the replacement of both the film's director and its leading stars, which even in view of the freewheeling ethos of the Disney subsidiary – originally created as part of George Lucas's film empire and later owned by Steve Jobs – has raised eyebrows in Hollywood.
It would take a brave man to bet against Pixar. Led by Toy Story 3 and Monsters, Inc., Pixar has produced a staggering 10 of the Top 100 highest grossing films in the UK and has won the Best Animated Feature Oscar seven times. And changes are commonplace in animation (directorial switches also occurred on Pixar's Ratatouille and Cars 2 while Al Pacino found his iconic voice as villain Eduardo in Universal's Despicable Me 2 jettisoned two months before the film's premiere). But not since Brad Pitt's zombie film World War Z has a Hollywood blockbuster's fluctuating course been so closely scrutinised. 
Peter Sohn, the director of The Good Dinosaur, is making his feature filmmaking debut, having worked in Pixar's art, story and animation department for 15 years. During a presentation in Toronto Sohn, who took over The Good Dinosaur from original director Bob Peterson, who had come up with its concept and developed it for several years, cited an in-house Pixar mantra: "Fail as fast as you can." 
Later, in a nearby hotel suite, the ebullient Sohn sheds light on the colourful evolution of the film. "We worked on everything and everything changed in terms of the character designs and the world [of the film] itself," he says. Peterson envisioned The Good Dinosaur as an esoteric study of the reptile, inspired by the dinosaur animatronics he saw during a childhood visit to the 1964 New York World's Fair. The dinosaurs in the film were originally modelled on Amish farmers Peterson observed while growing up in Ohio (they're big into mining childhood memories at Pixar). The dynamic between dinosaur and boy was more quirky father-and-son than heartwarming coming-of-age fable.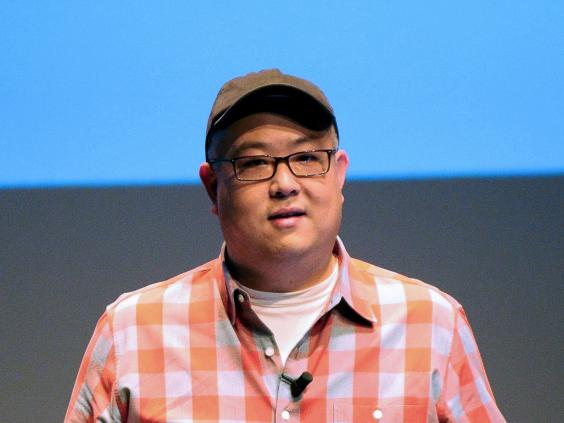 Sohn, who began The Good Dinosaur as co-director, explains he rebooted it as a simpler story about a dinosaur who, following the loss of his father, grows up to better navigate the world around him, and in the process created Pixar's first western. It is estimated that the changes led to almost 70 Pixar employees being laid off with the script being entirely rewritten and the film made in half the time the studio would normally take. 
Yet Sohn emphasises the production stresses were necessary in order for it to maximise the chances of extending Pixar's record of resonating with children (and their parents). "It is challenging," he says of its evolution. "If it's the most challenging out of the other ones [Pixar films], I don't know. Most of the films I've worked on have gone through some really tough times. This one for me is challenging only because I love Bob and the changes that happened were really … it was fast but it was important because everyone's priority, including Bob's, was to try to make the best movie possible." 
The changes affected higher-profile names than Peterson. "Once we made Arlo a younger character, a lot of the voices changed," says Sohn. Out went John Lithgow, Neil Patrick Harris and Judy Greer. In came Sam Elliott and Anna Paquin as well as Raymond Ochoa and Jack Bright as Arlo and Spot respectively. "Finding that more youthful feel," says Sohn, "created a ripple action for all the characters that Arlo meets." 
How did the stars take the news? "That happened earlier than when it was released in the press. When that hit people were like, 'Wow that's so late.' But all that stuff had happened before." Sohn pauses. "It's a tough thing but I believe everything we had done in the previous version helped us out. You have to try things that even though they may not work will lead you to another direction and learning about who those [replaced] characters were helped me to define other ways to go."
Pixar has long prided itself on doing things differently to most Hollywood outfits. Animators zoom around the atrium of its California headquarters on scooters and Ed Catmull, Pixar president, once defined the company as aspiring to be "the antithesis of the free-agency practices that prevail in the movie industry … I believe that community matters." It's a safe assumption that The Good Dinosaur's convoluted genesis tested their community culture. Peterson is still at Pixar and has co-written Finding Dory, the sequel to Finding Nemo. "Bob was a great mentor for me," says Sohn. "At the same time he's still there, still loved and using his talents as best he can."
Sohn equates the making of The Good Dinosaur with the film's message: "Hopefully people find the themes in the film to be strong, but it goes to a simple idea of how to get through fear." Some Pixar directors have flown the nest to make feature films for other studios but Sohn seems content to stay there his entire career. "It's become a family to me," he says. "When I was growing up in New York, it was all about your skin colour and minorities were separated and segregated-the Puerto Ricans here, the Japanese there. At Pixar it's like a tribe where everyone loves movies passionately. When I was at Warner Brothers years ago, when you were done with a job everyone was laid off and you had to find another gig. It was competitive and cutthroat. Pixar doesn't work that way. They try to create a community when after your film's done, you can stay and hang on a little bit."
Reaction to early footage from The Good Dinosaur suggests it might well transcend its creative turbulence to supply iconic Pixar moments to rank with the balloon sequence in Up and the transfer of toys in Toy Story 3. It features on several Best Animated Feature Oscar shortlist predictions and it further benefits from dinosaurs being "hot" thanks to last summer's Jurassic World.
Pixar recently unveiled its release schedule for the next five years but some industry observers saw the studio's announcement that The Incredibles sequel is not due until 2019 and Toy Story 4 pushed back a year to June 2018 as indication that they are keen to avoid a repeat of The Good Dinosaur's protracted trajectory.
Regardless, of the outcome Sohn insists confronting creative extinction has made him stronger. Discussing The Good Dinosaur with him made me think of Picture, New Yorker writer Lillian Ross's classic book recounting the making of John Huston's 1951 misfire The Red Badge of Courage. I mention this to Sohn who tells me he's fond of the tome: "That book pairs great with Katherine Hepburn's account of the making of The African Queen, which Huston directed straight afterwards. That was a whole other spectrum because that movie was successful. There are two sides of the story." Pixar will be hoping The Good Dinosaur's story turns out to be the Hepburn version.
The Good Dinosaur is released on 27 November