Disney has been forced to recall a line of Darth Vader children's onesies because obviously they pose a choking hazard. They really should have known this given the Sith lord's reputation.
The bodysuits, which bear the slogan "If only you knew the power of the Dark Side", were flagged by the Consumer Product Safety Commission after going on sale in Disney stores.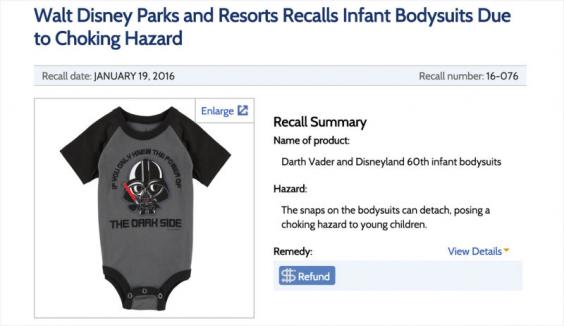 Fortunately, they're not actually imbued with Force Choke abilities, but have "snaps on the bodysuits can detach, posing a choking hazard to young children" (a lesser known Sith torture method). The garments were recalled before anyone was injured.
Star Wars merchandise has been flying off the shelves and servers in the wake of the release of The Force Awakens.
A sequel will arrive in 2017, but today we learned its release has been pushed back from May to December.
Looper's Rian Johnson will direct the sequel, which has yet to be given a proper title, though it does have a secret working one.