Gerard Butler's upcoming disaster movie London Has Fallen has come under heavy criticism after its first look trailer debuted online between the Tunisia massacre and the tenth anniversary of the London terror attacks.
The Olympus Has Fallen sequel is not due in cinemas until early next year, but the timing of the teaser clip's release has been branded "extremely insensitive" by the chairman of an organisation set up in tribute to victims of the 7/7 bombings.
Philip Nelson of The Tavistock Square Memorial Trust told The Mirror he was alarmed after seeing images of Big Ben with its clock face blown out.
"This is not the first time that Hollywood has been insensitive," he said. "If the story is about terrorism then this is extremely sensitive.
"People have also recently died of a terrorist attack in Tunisia. [The Trust] has had lots of help from America so I just think that these are the wrong images to portray. Is the summer the best time to be promoting this film anyway?"
London Has Fallen's 60-second trailer opens with shots of iconic landmarks from the London Eye to Buckingham Palace, before a series of fiery explosions across the capital spark panic, high-speed police chases and lots of worried looks from Morgan Freeman.
"In 2013...Olympus fell...in 2016...London will fall," text overlays read, as a terrifying dystopian vision is revealed.
The official synopsis promises a dramatic storyline based on what happens after the British Prime Minister mysteriously dies. As the western world's leaders gather to attend his funeral, a deadly plot is launched to kill them and devastate London. The only three people with the power to stop this chaos are the US president (Aaron Eckhart), his secret service head Mike Banning (Butler) and a rightly distrusting English MI6 agent (Charlotte Riley).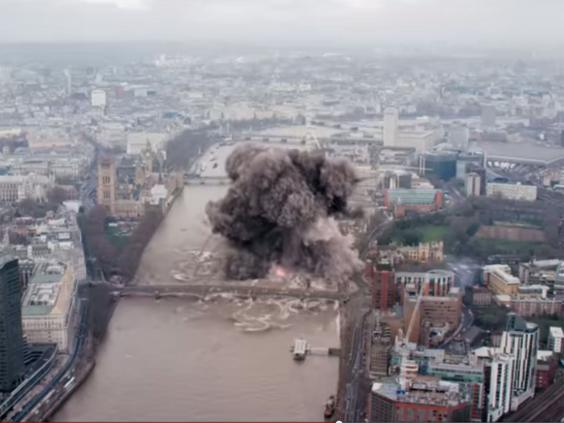 Nelson is not the only one to question the lack of sensitivity in the timing, with many film fans taking to Twitter to air their views before Britain marks ten years since 52 people died and more than 700 were injured at Russell Square, Aldgate, Edgeware Road and Tavistock Square.
surely releasing the trailer for 'london has fallen' just under a week before the 10th anniversary of 7/7 is a touch insensitive?

— michael devlin (@mdvln) July 1, 2015
We can probably expect #LondonHasFallen money shots to be used in Isis propaganda videos of the future #insensitive #twattery

— Oliver Warman (@MrOliverWarman) July 2, 2015
The released of the #LondonHasFallen trailer a week before 10th anniversary of the 7/7 incident is a touch insensitive.. Wrong timing.

— اليف (@alyph_jr) July 2, 2015
Official memorial events are scheduled for tomorrow, Tuesday 7 July, with Prime Minister David Cameron, London Mayor Boris Johnson and other politicians joining survivors, relatives of victims and members of the emergency services in solidarity against terrorism.
Lionsgate representatives are yet to respond to a request for comment.
Terror plots foiled by British security since 7/7 attack
Terror plots foiled by British security since 7/7 attack
1/10 'Poppy terror plot'

Nadir Ali Sayed, 21, his cousin Yousaf Shah Syed, 19, and Haseeb Hamayoon, 27, were charged with terrorism offences over an alleged plot to behead a member of public. The trio were arrested in London and High Wycombe, Buckinghamshire on 6 November - three days before Remembrance Sunday

2/10 Heathrow airport arrests

A 19-year-old from Coventry man was arrested at London's Heathrow airport on suspicion of preparing for acts of terrorism in November 2014

3/10 Extradition of Abu Hamza

Radical muslim cleric Abu Hamza was used as an example of the kind of people the Home Office has extradited

Getty

4/10 South East Counter Terrorism Unit arrests

Six people were arrested on suspicion of terrorism offences after a series of dawn raids in the south of England in October 2014. Three men and three women were detained separately in two properties in Portsmouth, one in Farnborough and one in Greenwich following an operation by the South East Counter Terrorism Unit. Counter-terror officers said they had disrupted what was believed to be the early stages of what could have turned into a "significant plot"

5/10 Law student arrest

A law student who was the subject of a controversial secret trial was convicted for possessing a bomb-making manual, it can now be reported. Erol Incedal, 26, is said to have kept the manual on a memory card adhesive-taped to the inside of his iPhone cover. He now faces a retrial starting on 23 February next year after jurors failed to agree whether he was plotting a terrorist attack

PA

6/10 October 2014 arrests

Three men were arrested in central London on 13 October as part of an investigation into Islamist-related terrorism. The arrests come nearly a week after five men were arrested in dawn raids that Whitehall officials said "may have foiled the early stages" of a plan to attack the UK

Peter Macdiarmid/Getty Images

7/10 Anjem Choudary arrest

Anjem Choudary, the radical activist and co-founder of the banned al-Muhajiroun group, was arrested in September 2014 as efforts intensify to disrupt the ideological backers of young British Muslims travelling to fight in foreign conflicts. Mr Choudary was among nine men held on suspicion of supporting a banned terrorist group and encouraging terrorism. The arrests came shortly after Mr Choudary fired off a series of angry tweets after David Cameron called on MPs to back air strikes against Islamic State militants in Syria

Oli Scarff/Getty Images

8/10 North West Counter Terrorism Unit funds seizing

Police seize £250,000 of cash intended to fund Isis at Manchester Airport and north-west ports. Using powers under the Terrorism Act, the money was confiscated by officers from the North West Counter Terrorism Unit

Getty Images

9/10 Tarik Hassane arrest

A medical student who was offered a place at a London university has been named among four men who are being questioned by counter-terror police after a series of raids across the capital. Tarik Hassane, 21, is believed to have been Tasered when he was arrested on suspicion of being involved in a "significant" Islamist terror plot on 7 October

10/10 Abu Qatada removed from UK

Radical preacher Abu Qatada will not be returning to the UK after being cleared of terror charges in Jordan

Reuters
Paramount Pictures was forced to apologise last July for a Teenage Mutant Ninja Turtles promotional poster, which announced that the film would arrive on 11 September and featured an image of the turtles leaping from a burning New York skyscraper.
The poster was judged severely insensitive by many as it was found to be reminiscent of the 2001 terrorist attacks, during which people were photographed jumping from the burning World Trade Centers. It was immediately discontinued.
Reuse content