Marvel Studios has unveiled a raft of new movies, including Black Panther and Captain Marvel: its first films to feature a black male lead and a female lead.
At a fan event in Hollywood on Tuesday, Marvel president Kevin Feige announced the names of eight films the studio plans to release over the next five years.
Doctor Strange, telling the tale of a former neurosurgeon who turns to magic, will be the first in line with a 2016 release date.
But announcements on Black Panther and Captain Marvel  were the most important for the company on Tuesday.
While Marvel has female superheroes including Black Widow, recently played by Scarlett Johansson, Captain Marvel will be the studio's first film with a female lead, in what appears to be an effort to attract more female fans.
Marvel's best superheroes
Marvel's best superheroes
1/19 Black Widow

The Black Widow (Natasha Romanoff) played by Scarlett Johansson

AP

2/19 Spider Man

British actor Andrew Garfield as Spider-Man

PA

3/19 Captain America

Chris Evans in 'Captain America: The First Avenger'

Rex

4/19 Iron Man

Robert Downey Jr in Iron Man 3, who won favourite action movie star at the People's Choice Awards 2014

Iron Man 3

5/19 Wolverine

Hugh Jackman bears his claws and loses the plot in X-Men movie 'The Wolverine'

Twentieth Century Fox Film

6/19 Hulk

Edward Norton as Hulk in The Incredible Hulk

YouTube

7/19 Thor

Chris Hemsworth as Thor. Recently Marvel revealed its plans to make the hammer-wielding Norse superhero Thor a woman

Rex Features

8/19 Hank

Nicholas Hoult as Kan in 'X-Men: Days of Future Past'

AP

9/19 Raven Darkhölme

Jennifer Lawrence as Raven Darkhölme in X-Men: Days of Future Past

10/19 Hawkeye

Jeremy Renner as Hawkeye in 'Avengers Assemble'

Marvel

11/19 Winter Soldier

Sebastian Stan as the villainous Winter Soldier in the 'Captain America sequel

Marvel

12/19 The Avengers

The Avenger's superheroes

Marvel

13/19 Cyclops

The optic blast hero has long been played by James Marsden

YouTube

14/19 Professor X

Patrick Stewart landed the role as Professor Charles Xavier in Bryan Singer's comic-book blockbuster X-Men

Rex Features

15/19 Rocket Raccoon

Bradley Cooper voices Rocket Raccoon in Guardians of the Galaxy

Marvel

16/19 Groot

Also known as the Monarch of Planet X, Groot is played by Fast and Furious star Vin Diesel in Guardians of the Galaxy

Marvel

17/19 Drax

Known as 'the destroyer', Drax is played by actor Dave Batista in Guardians of the Galaxy

YouTube

18/19 Gamora

A soldier and assassin played by Zoe Saldana in Guardians of the Galaxy

YouTube

19/19 Guardians of the Galaxy

Bill Mantlo's comic creation on screen in Guardians of the Galaxy

Marvel
Feige added that the studio is still looking for an actress to play the alter-ego of Carol Danvers, but added there is plenty of time with the film due for release in July 2018.
And 42 actor Chadwick Boseman, who will appear in the third installment of Captain America, will become Marvel's first black leading actor in Black Panther. Set to premiere in 2017, Boseman will play the superhero alter-ego of T'Challa.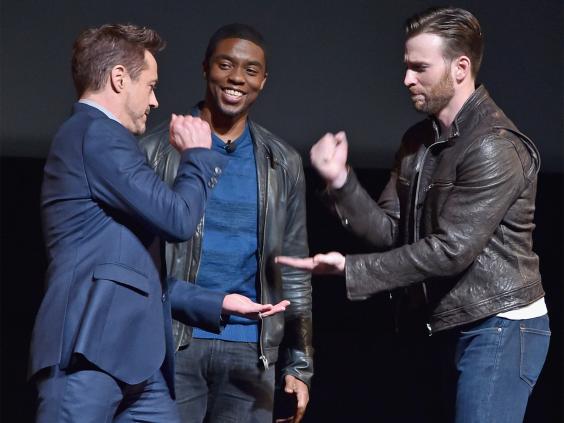 At Tuesday's event, Boseman appeared alongside fellow Captain America: Civil War actor Chris Evans, and Iron Man's Robert Downey Jr.
The announcement follows a succession of hits for Marvel Studios, from Iron Man to Captain America and Chris Hemsworth's Thor.
In July 2017, Hemsworth and Tom Hiddleston, who plays popular supervillain Loki, will return in Thor: Ragnarok. Feige said the film will set a new timeline of events that will be followed in future Marvel films, which are often interconnected.
Avengers: Infinity War, the third installment of the ensemble superhero franchise, will be split into two parts, with part one released in May 2018 and part two in May 2019.
In addition to new solo superheroes, Marvel will unveil the ensemble cast of Inhumans in 2018 for its 20th film, with Feige saying he hopes it will lead to numerous spin-off franchises.
The full list of Marvel Studio films unveiled today:
"Captain America: Civil War" - May 6, 2016
"Doctor Strange" - Nov. 4, 2016
"Guardians of the Galaxy 2" - May 5, 2017
"Thor: Ragnarok" - July 28, 2017
"Black Panther" - Nov. 3, 2017
"Avengers: Infinity War - Part 1" - May 4, 2018
"Captain Marvel" - July 6, 2018
"Inhumans" - Nov. 2, 2018
"Avengers: Infinity War - Part 2" - May 3, 2019
Additional reporting by Reuters
Reuse content