A lot has changed in Hollywood since Michael Douglas started acting 50 years ago. But while the 70-year-old is happy to keep up with the young, there's one thing he doesn't like about up-and-coming actors today.
Douglas has spoken out against US actors' obsession with social media, claiming that American talent will suffer as a consequence of young stars "getting caught up in their image".
"There's something going on with young American actors - both men and women - because the Brits and Australians are taking many of the best American roles from them," he told The Independent.
"Clearly, it breaks down on two fronts. In Britain they take their training seriously while in the States we're going through a sort of social media image conscious thing rather than formal training. Many actors are getting caught up in this image thing which is going on to affect their range.
"With the Aussies, particularly with the males it's the masculinity. In the US we have this relatively asexual or unisex area with sensitive young men and we don't have many Channing Tatums or Chris Pratts, while the Aussies do. It's a phenomena."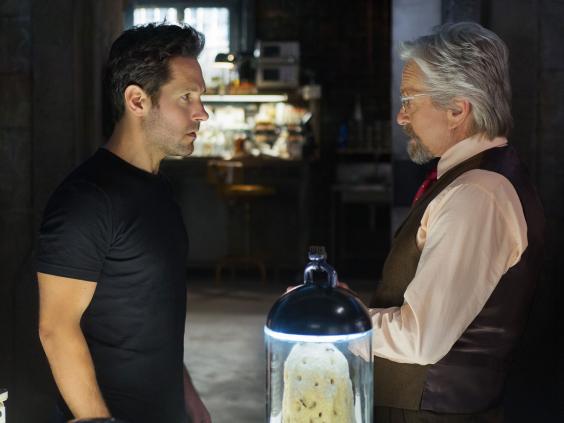 The Wonder Boys actor also spoke about how Carey Mulligan had managed to take on the role as a New York school girl, a part which would have traditionally gone to an American actress.
"There's a crisis in young American actors right now," he says. "Everyone's much more image conscious than they are about actually playing the part."
Asked whether he agreed with Dustin Hoffman's view that the film industry is the "worst it has ever been", Douglas said he understood Hoffman but believes other outlets such as Netflix and HBO are now doing what would have been traditionally done in cinema.
"I understand what he's saying, but I think you have to look at the delivery system. There's a lot of good stuff being made in the cable area, good writing there. Kramer vs Kramer, those great mainline films he was in aren't being made anymore [for cinema] but are in a different delivery system.
The 10 best films of all time
The 10 best films of all time
1/10 Citizen Kane (1941)

Orson Welles is trying so hard to make a "great" film. He is using every technique at his disposal - deep focus cinematography, flashbacks, tricks with sound borrowed from his radio work. In spite of all the formal trickery, it's still a film with huge pathos

Getty

2/10 Taxi Driver (1976)

This is an adolescent film, full of shock tactics and posturing on behalf of both director Martin Scorsese and writer Paul Schrader but it possesses extraordinary, miasmatic power

AP/Colombia Pictures

3/10 The Searchers (1956)

John Ford's vicious revenge western ends in ambiguous but very affecting fashion - like John Wayne's character Ethan Edwards, it's not a film that makes any attempt to ingratiate itself, and is all the moving as a result

AP/Warner Bros.

4/10 Vertigo (1958)

Hitchcock's endlessly fascinating, wildly overdetermined film works both as a psychological thriller and as a study of love, loss and self-deception

AP/Paramount

5/10 Persona (1966)

Ingmar Bergman's boldest and most experimental film boasts extraordinary performances from its two female leads, Liv Ullmann and Bibi Andersson

Rex Features

6/10 La Regle Du Jeu (1939)

"The awful thing about life is this: everyone has their reasons," runs the most famous line from Jean Renoir's country house drama made on the eve of the Second World War. Not the most flashy piece of filmmaking from a formal point of view but few other movies have the richness of characterisation found here

Rex Features

7/10 Barry Lyndon (1975)

Stanley Kubrick's most emotional film. It's exquisitely crafted and makes extraordinary use of natural light. Kubrick combines Hogarth-style bawdiness and satire with a very dark drama about ambition dashed, bereavement and heartbreak

Rex Features

8/10 Tokyo Story (1953)

Ozu's deceptively simple but profound drama about family ties. Once you've seen it, you'll never neglect your mum and dad again

Rex Features

9/10 Rome, Open City (1945)

A neo-realist classic that benefits from the extraordinarily straitened circumstances in which it was made

Rex Features

10/10 The Gold Rush (1925)

The one in which Chaplin eats his boots...

Getty
"Most of the great screen writers have gone into the cable area because that's where they can also produce. The problem in making a film for cinema is the cost of distribution. People can scrape together money for a movie but not the advertising."
Douglas also commented on a possible Falling Down remake, saying: "That's never really come about because [the film] was about a particular time. It was a story about the end of the cold war, and I think it was a time warp, it needed that particular time."
The actor next stars in Ant-Man, the final film in Marvel's "Phase Two" series, which started with Iron Man 3 and included this year's Avengers: Age Of Ultron.
The movie also stars Paul Rudd as Ant-Man, Evangeline Lilly as Hope van Dyne and Corey Stoll as Darren "Yellowjacket" Cross.
Directed by Peyton Reed and produced by Kevin Feige, Ant-Man is released in UK cinemas on 17 July 2015.
Reuse content