The director of Pride has defended controversial US marketing of the gay rights movie after references to its subject matter were removed from DVD covers.
Wording was changed to take out a reference to "gay and lesbian activists" and a banner reading "Lesbians and Gays Support the Miners" no longer appears on the back.
But while Matthew Warchus admits the promotional strategy was "clumsy and a bit foolish", he also thinks it is "valid".
"This is a film that is loved by people of all political persuasions and sexual orientations," he told BBC Radio 5 Live. "I'm just keen for as many people who have yet to see the film to see it."
The British filmmaker, 48, added that he "didn't want to preach to the converted" but instead hopes to "find a mainstream audience and broaden people's minds".
"I think someone in the marketing department in the US used their marketing judgement to try to remove any barrier to the widest possible audience," he said. "It's clumsily done but I understand it and it's a valid instinct."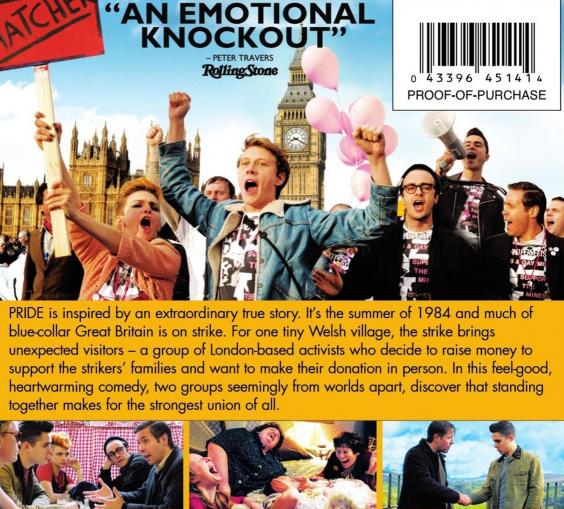 CBS Films is reportedly "looking into" why gay references were removed from the US DVD cover but points out that its website still carries the original synopsis.
"Pride is inspired by an extraordinary true story. It's the summer of 1984, Margaret Thatcher is in power and the National Union of Mineworkers is on strike, prompting a London-based group of gay and lesbian activists to raise money to support the strikers' families," it reads.
"Initially rebuffed by the Union, the group identifies a tiny mining village in Wales and sets off to make their donation in person."
CBS Films has also since tweeted a Los Angeles Times review of Pride, explicitly mentioning its theme of "gay and lesbian support for striking Welsh miners in the Eighties".
Pride was awarded Best Film at the British Independent Film Awards, with lead stars Andrew Scott and Imelda Staunton also winning gongs. It won the Queer Palm prize at the Cannes Film Festival in May and picked up a nomination for Best Film, Comedy or Musical at the Golden Globes.
Golden Globe 2015 nominees
Golden Globe 2015 nominees
1/18 The Theory of Everything

Felicity Jones and Eddie Redmayne have sparked Oscars talk with this moving Stephen Hawking biopic

Working Title Films

2/18 Birdman

Michael Keaton and Edward Norton in a scene from Alejandro González Iñárritu's existential comedy Birdman

Rex Features

3/18 Selma

Martin Luther King biopic Selma

Paramount Pictures

4/18 Boyhood

Coming-of-age film Boyhood has attracted its share of five-star reviews

5/18 The Imitation Game

The Imitation Game stars Benedict Cumberbatch as genius World War II codebreaker Alan Turing

Snap Stills/REX

6/18 Nightcrawler

Jake Gyllenhaal stars as creepy LA crime journalist Lou Bloom in Nightcrawler

AP

7/18 The Judge

Robert Duvall as big city lawyer Hank Palmer in The Judge

8/18 Whiplash

JK Simmons and Miles Teller in a scene from intense music drama Whiplash about a young jazz drummer and his abusive yet inspiring teacher

AP

9/18 Cake

Jennifer Anniston stars as Claire, who starts a relationship with a widower while confronting hallucinations of his dead wife

10/18 St Vincent

Melissa McCarthy, Jaeden Lieberher and Naomi Watts in Theodore Melfi's comedy drama St. Vincent

The Weinstein Company

11/18 Still Alice

Julianne Moore receives a devastating diagnosis as linguistics professor Alice Howland in Still Alice

12/18 Wild

Reese Witherspoon plays a woman who undertakes a 1100 mile hike on her own to overcome the trauma of a recent catastrophe in Wild

13/18 Gone Girl

Ben Affleck and Rosamund Pike star in marriage thriller Gone Girl based on Gillian Flynn's bestselling novel

Twentieth Century Fox

14/18 Foxcatcher

Steve Carell and Channing Tatum star as Olympic wrestler Mark Schultz and multi-millionaire sponsor John du Pont in Foxcatcher

YouTube

15/18 Interstellar

Matthew McConaughey and Anne Hathaway do the time travel thing in this space epic from Christopher Nolan

Warner Bros

16/18 The Grand Budapest Hotel

Wes Anderson's film was nominated for best screenplay

Martin Scali

17/18 Pride

Nominated for best comedy or musical

18/18 Into The Woods

Nominated for best comedy or musical

PA/Disney
The DVD was released by Sony Pictures and CBS Films in the US on 23 December and will reach UK stores in March.
Elsewhere, Warchus will replace Kevin Spacey as artistic director of London's Old Vic theatre later this year.
Reuse content