After months of rumours, it looks like we may finally know who is singing the theme song to the next James Bond film, Spectre.
Well, we still don't actually know, but everything is pointing in the direction of – you guessed it - Ellie Goulding.
It all started when her friend, Sam Smith, denied reports he may be singing the theme song, instead pointing the finger towards Goulding. Then, just weeks ago, the 'Love Me Like You Do' singer tweeted out "Live and let die," the title of the 1973 Bond film, starring Roger Moore in the iconic role.
Now, the singer has hinted once more that she has the gig, posting a photo of herself leaving Abbey Road Studios with the caption "That's a wrap," which many suspect is a reference to her finishing the theme song.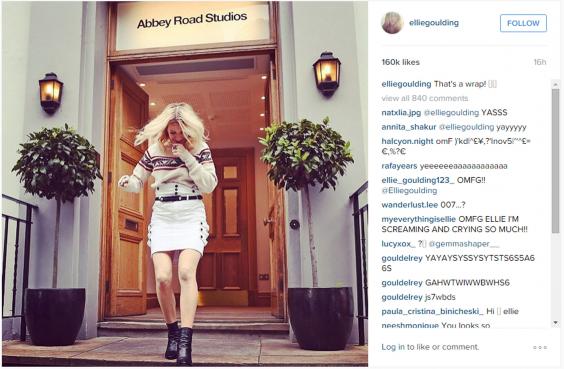 If that wasn't enough, Betfair have suspended betting on Goulding to sing the theme song, even though her odds were previously 25/1.
Cormac Dowling, Novelties and Politics trader for Betfair commented, said: "Accompanying the rumours in the past week that Spectre's theme tune has already been recorded [there] has been an overwhelming number of bets coming through for the English singer songwriter, forcing us to suspend betting."
Earlier this month, director Sam Mendes revealed the theme song had already recorded and that "it's fantastic." If this were true, why would Goulding leaving the studio after that interview be seen as a hint towards the Bond theme? Has she just been doing retakes or is she really not doing it?
Reuse content