No-one knows much about Captain Phasma, but she is already one of the most intriguing characters in Star Wars: The Force Awakens - a female role with no damsel in distress nature or "sass", just simply a badass killing machine with no cleavage accentuating costume a la Wonder Woman.
One Facebook user still couldn't get their head around Gwendoline Christie's character not having boob plates or a pink helmet or Hello Kitty throwing stars however, writing on Star Wars' official Facebook page: 'Not to be sexist but it's really hard to tell that's female amor for me'.
Star Wars quickly shot back: "It's armor. On a woman. It doesn't have to look feminine."
Well played @StarWars, well played... :) pic.twitter.com/xL3HyPALkc

— Man vs Pink (@ManVsPink) August 28, 2015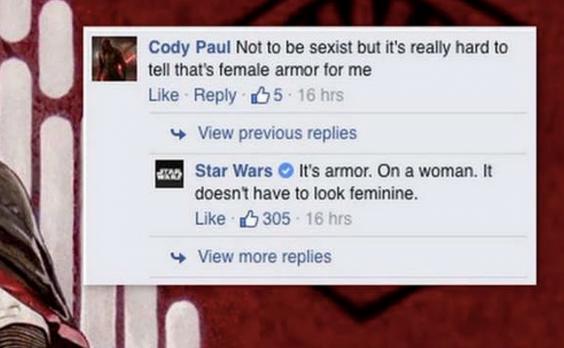 Our final #StarWars reveal: meet Gwendoline Christie as Captain Phasma. http://t.co/CAJ7BnfUPR

— VANITY FAIR (@VanityFair) May 4, 2015
As with Adam Driver's similarly mysterious Kylo Ren, it will be interesting to see what kind of role Captain Phasma plays in the sequel.
Director JJ Abrams said that the name is derived from the 1979 horror film Phantasm, as Phasma's chrome armour reminded him of the film's antagonist, a murderous silver sphere.
Star Wars: The Force Awakens opens in cinemas on 18 December, 2015.
Reuse content